Reusable produce bags can help provide freshness and the best options are from Ecotrees and Qrafty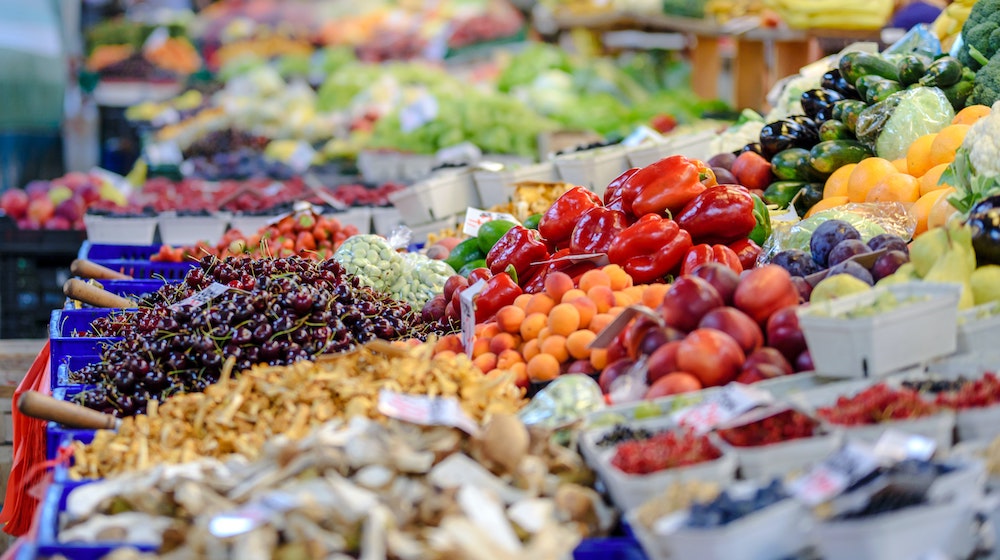 There really is no reason why anyone who regularly shops at any big box retailer like Walmart, Target, Costco, and others should still be using flimsy plastic bags. So many stores have movements and plans to "go green" by a specific date, eliminating the use of single plastic bags, along with other efforts. Maybe it is time to just hit the nail on the head, stop offering plastic bags, and for customers to invest in reusable produce bags, grocery bags, and general shopping bags.
Since grocery shopping is probably the most regular type of shopping, aside from mindless Amazon shopping, that people do, we will focus here. Grocery shopping includes a wide range of products, including hot, cold, heavy, and light, things that can be smashed or damaged, differently shaped items, and more. This means that more than one type of reusable bag is required to shop efficiently, including reusable produce bags.
To get straight to the point, yes. Reusable produce bags are worth it for multiple reasons. Let us start with the obvious, reusable bags are better for the environment compared to single-use plastic bags. Reusable produce bags allow customers to do their part for the environment by reducing their carbon footprint.
Plastic bags take millions of years to break down, and more often than not, single-use plastic bags end up in a landfill or on the side of the road somewhere.
Another factor that makes reusable plastic bags worth it is their durability and versatility. Reusable bags are often constructed from strong materials. There is no need to double bag a reusable bag with a heavy grocery load. The bags can also be used for things like keeping a suitcase organized for a trip, storing toys, and more.
Reusable product bags are also washable. Grocery shopping and general use will make the bags dirty over time. Shoppers don't have to worry about dirty bags, though. Just throw the bag in the wash, just like another load of laundry, and good as new.
Everyone may have different opinions or preferences regarding the best material for reusable produce bags. However, it is important to note that the best fabrics for producing bags should provide some type of airflow or breathability. Muslin is said to provide the ideal airflow for produce and be one of the best materials for a reusable produce bag.
Other factors to consider when shopping for a reusable produce bag include the flexibility and durability of the material. Due to its natural stretch, Tricot is an excellent choice for a reusable produce bag. Other materials that make ideal fabric for reusable produce bags include cotton, mesh, polyester, nylon, and linen.
At some point or another, everyone has found a plastic produce bag from the store, tied up with rotting produce inside. It may not have even been but a few days old, either. This quick rot happens because plastic provides no ventilation and traps gas inside. Quality reusable produce bags do the opposite and keep food fresher and longer.
As mentioned above, an ideal reusable produce bag is made from a material that provides optimal airflow. Bags with holes and ventilation allow for the release of a gas called ethylene, which, when trapped, causes fruit or vegetable to go bad. Produce trapped in a plastic bag can begin to rot in as little as 24 hours, which is less than ideal when you planned a meal on Thursday but bought groceries on Monday.
Check out the list below for anyone ready to ditch their ever-growing stockpile of plastic grocery bags and invest in a stash of reusable grocery bags. Keep in mind all the different factors of grocery shopping.
Sometimes people go in for themselves or an entire family, and some shop for the week, while others may make multiple trips throughout the week. Everyone has different shopping needs, and investing in reusable shopping bags may be an investment in a few different types of bags.
Canvas Grocery Bags – $34.99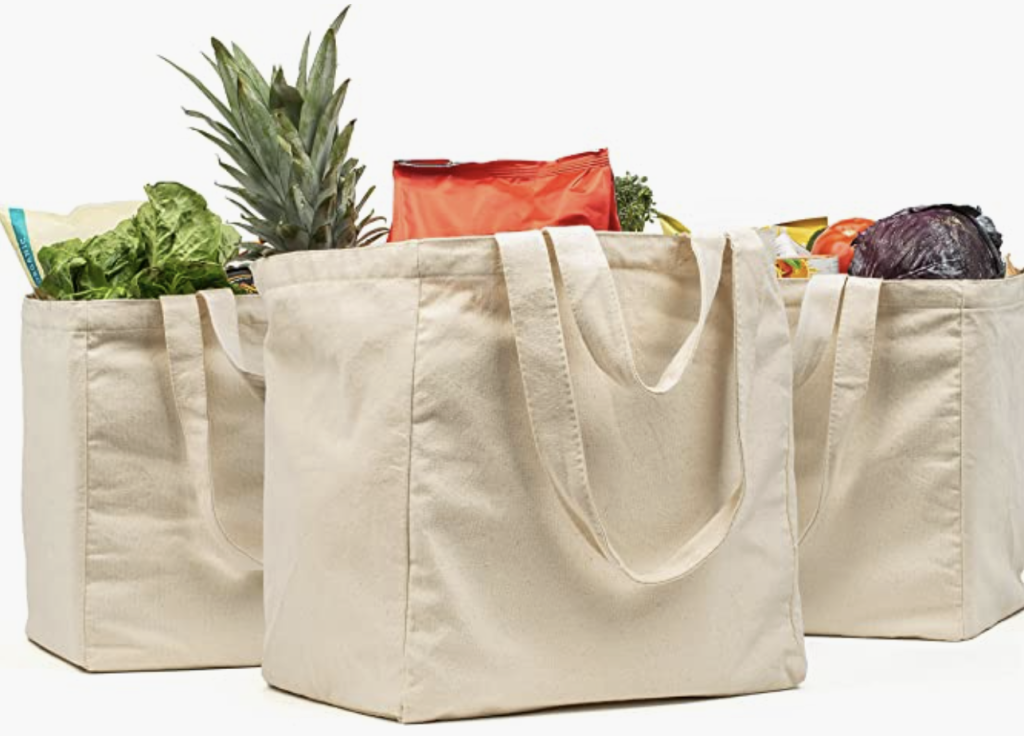 A quality canvas bag makes one of the best reusable produce bags. This three-pack is made from unbleached cotton canvas with a cotton lining and is machine washable. This bag is also durable, as each one holds up to 80 lbs of groceries! This high-quality, durable bag is also designed with a double handle option, short and long to ensure users have the best grip.
Inside this reusable produce bag, users will find deep side pockets built in. There are six pockets in total which are actually designed for soda bottles. A pineapple or other produce could easily fit in one of the side pockets. Since there are multiple pockets, keeping produce organized by specific type is easy and stress-free.
Ecotrees Reusable Produce Bags – $17.49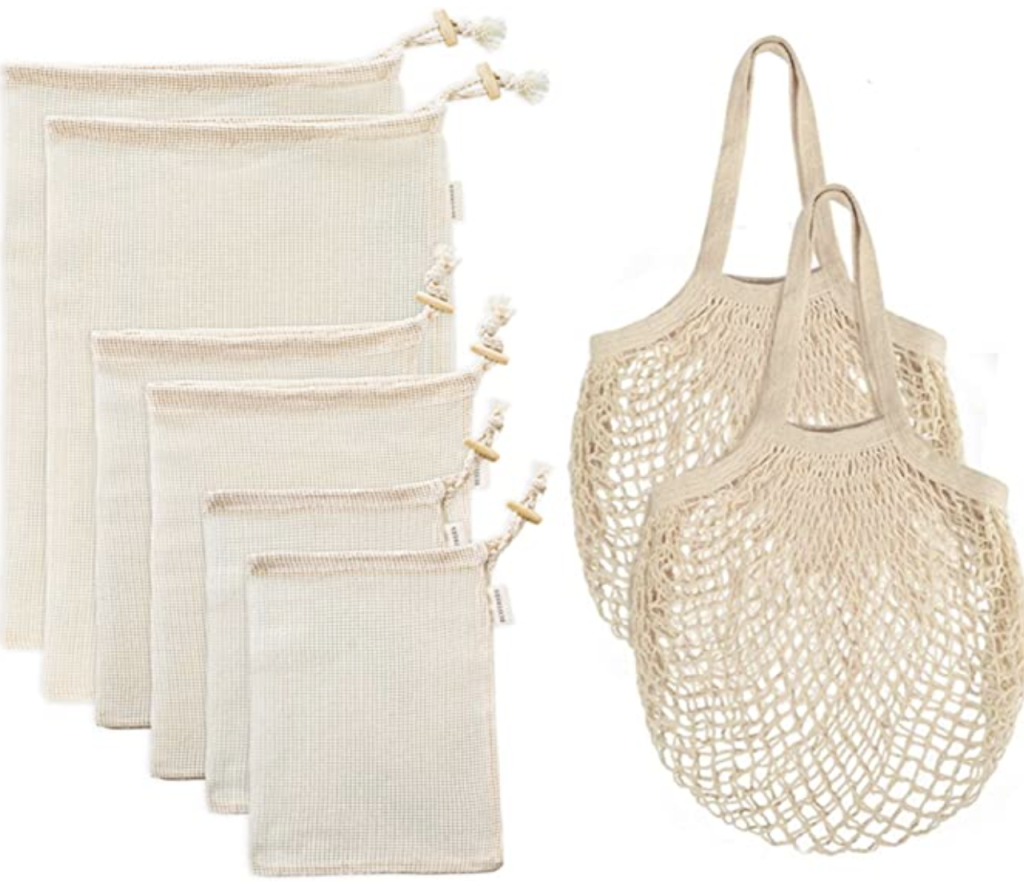 This particular set of reusable produce bags is constructed from organic cotton and offers much versatility. Customers can use this bag set to tote onions, apples, limes, things like makeup, toys, clothing, and much more. For added convenience, these bags can be thrown in the washer and are quick-drying.
The Ecotrees Reusable Produce Bags set comes with eight total bags in four different sizes and styles. Customers can shop with two large handle bags and four reusable produce bags ranging in size from about 9 inches tall to over 17 inches tall. The produce bags feature a durable drawstring that keeps food items secure. This variety of bags and thoughtful design features makes separating cilantro and keeping lemons together simple.
Qrafty Produce Bags – $12.99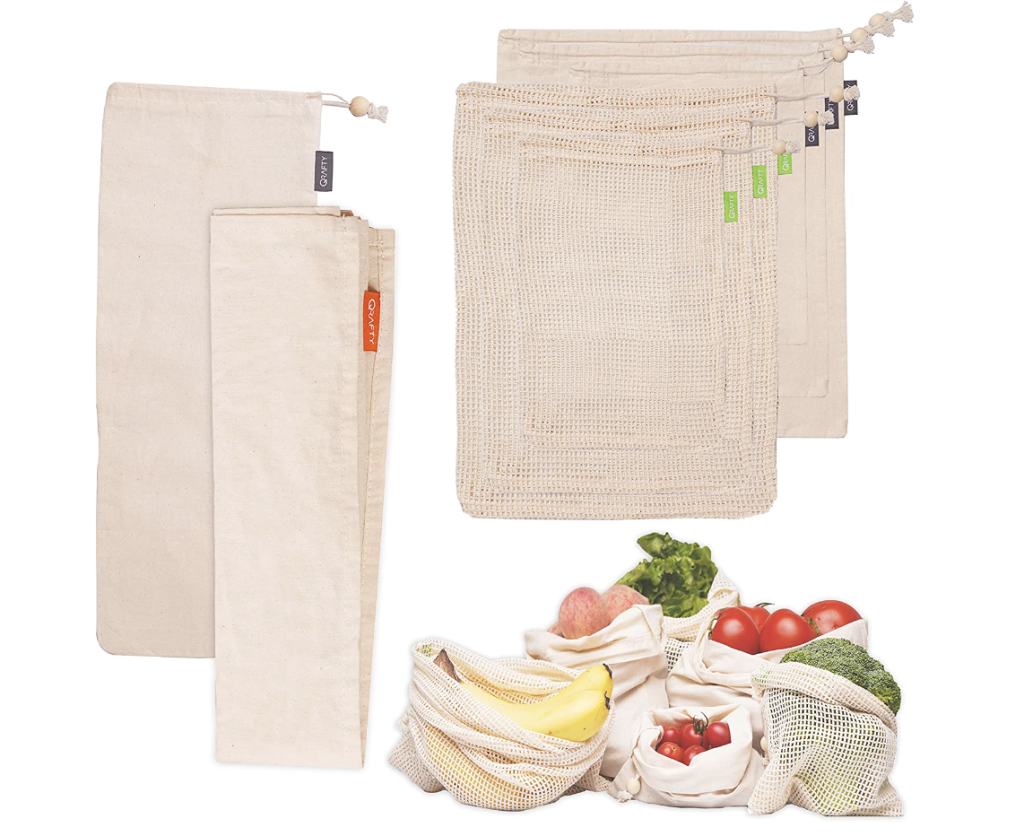 The Qrafty reusable produce bags offer even more size variety for customers and shoppers. This set features long and rectangular bags, ideal for fresh carrots or celery. This variety allows customers to shop for anything on their grocery list and have the perfect transport bag.
In total, eight bags come in this set, all of which are crafted from high-quality, food-safe materials. Some of the reusable produce bags in this set come in mesh, and others come in muslin. With this set being affordable and offering such a variety of different types of bags, this a great initial investment to allow someone a chance to decide if they have a preference in material and what exactly their needs are.
Insulated Cooler Bag – $20.88
This insulated cooler bag makes a great reusable produce bag for produce from refrigerated sections. The handles go from the bottom of the bag to the top, and this cooler is constructed from heavy-duty, non-woven PP. This bag is large-capacity with the ability to hold 20 gallons.
When this reusable produce bag or insulated cooler is not in use, it can easily be folded up and kept in the back of the car. In addition to toting produce, this bag can store and transport milk, ice cream, cheese, yogurt, and all other cold items on one's shopping list. Keeping cold items together also helps to keep them colder for longer.
Gophra Reusable Grocery Bags – $11.99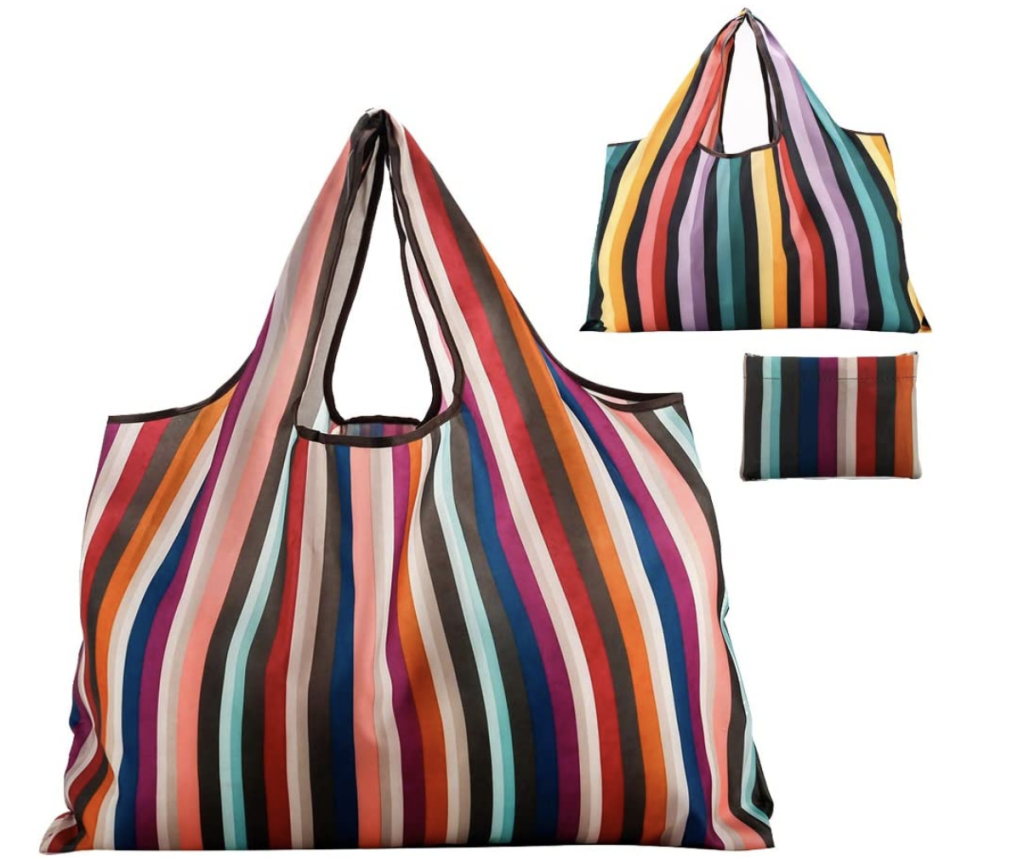 Since this list of some of the best reusable shopping bags includes smaller bags for produce, we thought of how exactly one might carry all those smaller bags into the house and possibly upstairs.
The Gophra Reusable Grocery Bags, which come in a set of two, is the perfect solution. Machine washable, large in size, and constructed from heavy-duty nylon, these bags are a great addition to a quality set of reusable shopping bags.
Easily put organized fruit and vegetables that are already in bags from another set on our list into one of the Gophora bags and easily carry groceries into the house. Additionally, sometimes people just want to run into the store as fast as possible and get the tortillas, tomatoes, onion, and limes that they need for dinner tonight and get out.
These types of trips often turn into grabbing random extras, and this large capacity bag allows for things to easily be tossed in.
While reusable produce bags are great and eco-friendly, we understand that people might be looking for alternatives. What can one possibly use to shop for produce and other grocery items? Well, we've got you covered with some potential alternatives to try.
Collapsable Laundry Basket – $27.49
A collapsable laundry basket could be a great alternative for a reusable produce bag. This particular laundry basket is collapsable, which means that when not in use, it can fold down and be stored in the back of the car. I understand you may still be thinking negatively about this but continue reading for an explanation of why a laundry basket makes for a great reusable produce bag alternative.
Imagine you pull up to Walmart and walk into the store with your laundry basket that fits perfectly inside the cart. You begin filling the laundry basket, mindfully shopping. Heavy items should go on the bottom, and weight should be evenly distributed when using this shopping method.
Once a customer makes it through checkout and starts heading to the car, one thing only needs to be unloaded. And once the shopper has made it home, all one has to do is carry a single load inside.
This method may be particularly appealing for people who have to carry things upstairs. A basket might be easier to carry compared to a bunch of bags cutting off your circulation.
Heavy Duty Moving Bags – $39.99
Now that I have your interest in the one-item carry method, allow me to offer another alternative, a heavy-duty moving bag. During the transition from single-use plastic bags to reusable produce bags, one may have found that they like the produce bag alternative but still want something to make carrying grocery bags easier. This is where the heavy-duty moving bags come into play.
When loading groceries into the car, load them inside a heavy-duty moving bag. These heavy-duty moving bags are durable and hold up to 23 gallons or 50 pounds. A zipper keeps everything inside secure and in place. Users can choose from long handles to carry or utilize the built-in backpack straps to carry their grocery load from the car to the house.
This is another great option for anyone who has to climb stairs to make it inside. Additionally, this is great for mothers or caregivers who may be looking for a hands-free option. Grabbing the heavy-duty moving back and wearing it like a backpack makes grabbing the car seat and carrying things in the house a whole lot easier.
Folding Wagon – $122.99
This reusable produce bag alternative offers solutions to many problems. Since the pandemic, many people have been extra germ conscious. Shoppers can roll this wagon inside without having to touch a nasty, and often times wobbly, shopping cart. Simply roll through the store and fill the folding wagon with groceries.
This folding wagon is heavy-duty and can hold up to 330 pounds. The iron frame and swivels make this product strong and easy to use. The wagon is also collapsable, which makes storing the wagon a breeze. Users can store the cart in the back of the car or in the house or garage for convenience.
This method might work best for anyone who doesn't have stairs to consider. Once home, simply roll the wagon inside and unload the groceries. If the folding wagon was inside the store, consider a little sanitization spray on the wheels before loading it in the car or bringing it inside the house. Additionally, individual reusable produce bags can be loaded into the wagon and then wheeled inside.
Whatever reusable produce bag and transport method you choose to begin the transition from single-use plastic bags to the eco-friendly alternative, consider individual needs and how exactly you grocery shop. Take into consideration how much product you actually purchase in a single grocery store trip, how often you shop, and why exactly you are looking into purchasing reusable produce shopping bags.
---