Some great Old Navy joggers are available right now at the store for men, women, and children.

Old Navy Joggers are a perfect wardrobe piece for anyone, from babies to grandparents. Joggers are versatile pants that can be used for lounging, working out, or put together for an elevated athleisure look. It is easy to create a fashionable look with a favorite pair of sneakers or even a favorite pair of heels or dress shoes for a business casual ensemble.
Joggers are comfortable, often stretchy, and feature an elastic or drawstring waist. Old Navy Joggers have a tapered fit and a cuff at the bottom of the leg. Joggers are much more breathable than leggings, other workout pants, and even jeans. These pants have the potential to replace every other pant in one's wardrobe just from a comfort perspective alone. 
Old Navy Joggers should not be confused with any plain ole' pair of sweatpants. Sweatpants are typically thick and heavier compared to lightweight jogger pants. Additionally, sweatpants are often baggy, whereas joggers are more form-fitting while still giving you room to move and stretch. 
To help any family step out in a comfortable and fashion-forward way, we have compiled a list of Old Navy Joggers for the entire family. Joggers could often be considered unisex, so don't hesitate to purchase something that may be labeled for one gender or the other, especially for kids. One of the best things about Old Navy Jogger pants is that they can often be found on sale at an already affordable price.
Mid-rise Vintage Street Jogger Pants – $29.99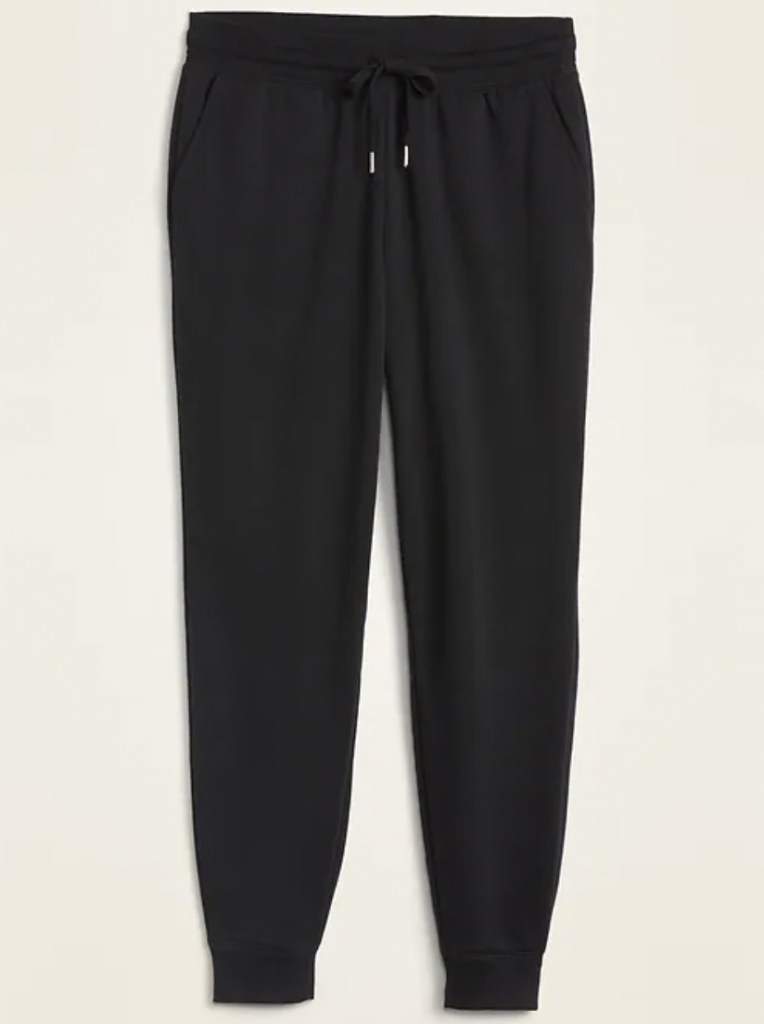 These Old Navy Joggers are the perfect wardrobe staple to pair up or down. The display picture on the Old Navy website gives a perfect example of dressing these pants up while still being comfortable. Pair these joggers with a fashion-forward mule, a simple top, and an oversized blazer for a chic and comfortable outfit.
Another outfit option would be to pair these pants with a sandal or sneakers, with a jean jacket atop a T-shirt or cropped workout top for a relaxed, casual outfit, perfect for any mom on the go.
Any mom, grandma, aunt, or older sister will find these Old Navy Joggers to be comfortable enough to lounge around in, cute enough to feel put together in a while stepping out of the house, and have enough flexibility to chase around the kids or even go for some yoga.
These pants hit just below the waist and have an elastic, drawstring waistband for the perfect fit. The material is a soft-wash French terry that is warm yet cool.
Available in sizes XS-4XL, these Old Navy Joggers have inclusive sizing. Additionally, there are pockets, and a vintage feel to these pants. No matter what activity one plans to do, these joggers can be worn and should be a staple in anyone's wardrobe.
Build-In Flex Modern Jogger Pants -$38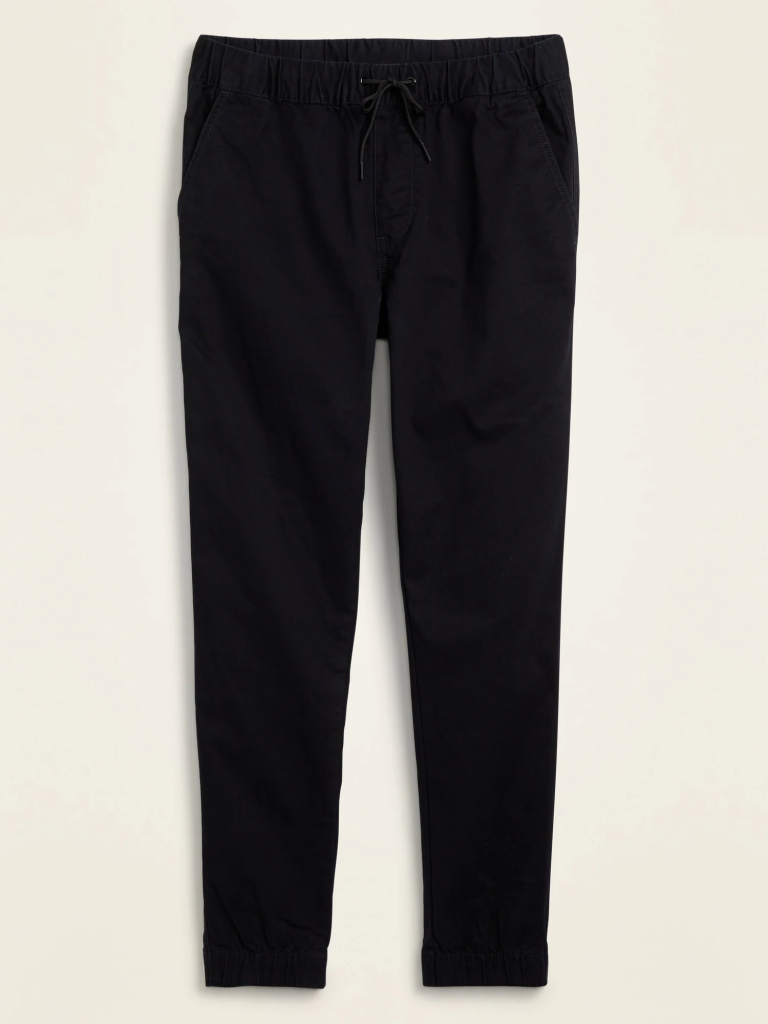 Again with the inclusive sizing, these Old Navy Joggers for men, (or women,) come in sizes XS-4XL and in a variety of colors. Designed with innovation and advanced technology that gives a built-in flex for movement and comfort, dad, granddad, uncle, or big brother will want to own these pants in every available color. The joggers also feature easy off-and-on technology with an elastic waist and drawstring.
To make these Old Navy Joggers even more inclusive, they come in two lengths, regular with a 29-inch inseam and tall with a 31-inch inseam. The pants have a tapered leg and hit at the ankle. This particular pair of joggers are made from 98 percent cotton and 2 percent spandex, with hip pockets and pockets in the back. 
For any dad on the go or on a casual Friday at the office, these Old Navy Joggers are the perfect pant. Consider pairing these joggers with a favorite high-top sneaker and a vintage sweatshirt for a fun, '90s vibe. For the office or any occasion where one would want to be comfortable but still put together, pair these joggers with dress shoes, a nice dress shirt, and a blazer. 
Vintage Gender-Neutral Zip-Pocket Jogger Sweatpants for Kids – $17.97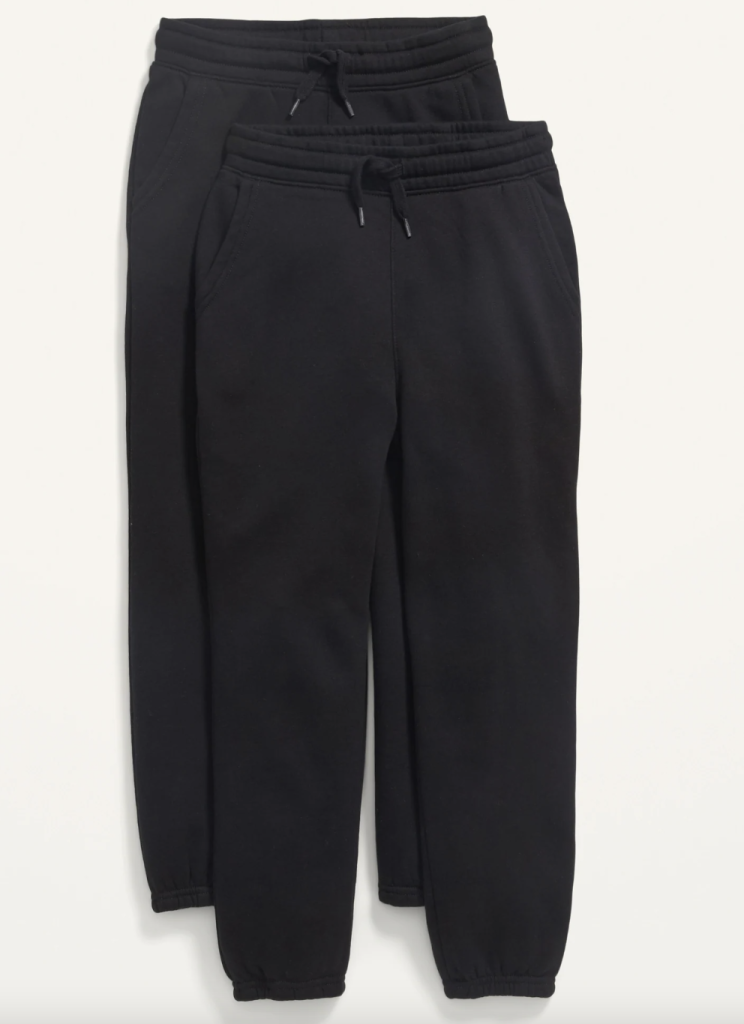 Old Navy Joggers are the perfect solution to many parenting wardrobe problems. Kids, especially the younger ones, are working on mastering all bathroom duties (or dooties) independently. Between the buttoning, unbuttoning, and everything else that comes along with independently using the restroom, it's a lot for one kid to handle. With an elastic waist that allows for easy on and off, joggers give parents and kids the best option without having to dress kids in bulky sweatpants every single day.
This particular pair of Old Navy Joggers features a fun camouflage design that is tough enough for boys and fashionable enough for girls and vice versa. Additionally, this pair of joggers features zip pockets, so kids can rest assured that the dollar bill they got from Uncle Tyler is safe and sound, along with the rock they picked up while walking to the car.
These gender-neutral Old Navy Joggers are available in sizes XS-XXL and are made from a blend of 58 percent cotton and 42 percent polyester. To aid in the ease of climbing, jumping, and playing, there is a mechanical stretch incorporated into the design. Fashionable enough for family pictures and comfortable enough for the longest playground days, Old Navy Joggers are a sure bet for brothers and sisters alike.
Unisex Double Weave Cinched-Hem Joggers for Baby – $14.99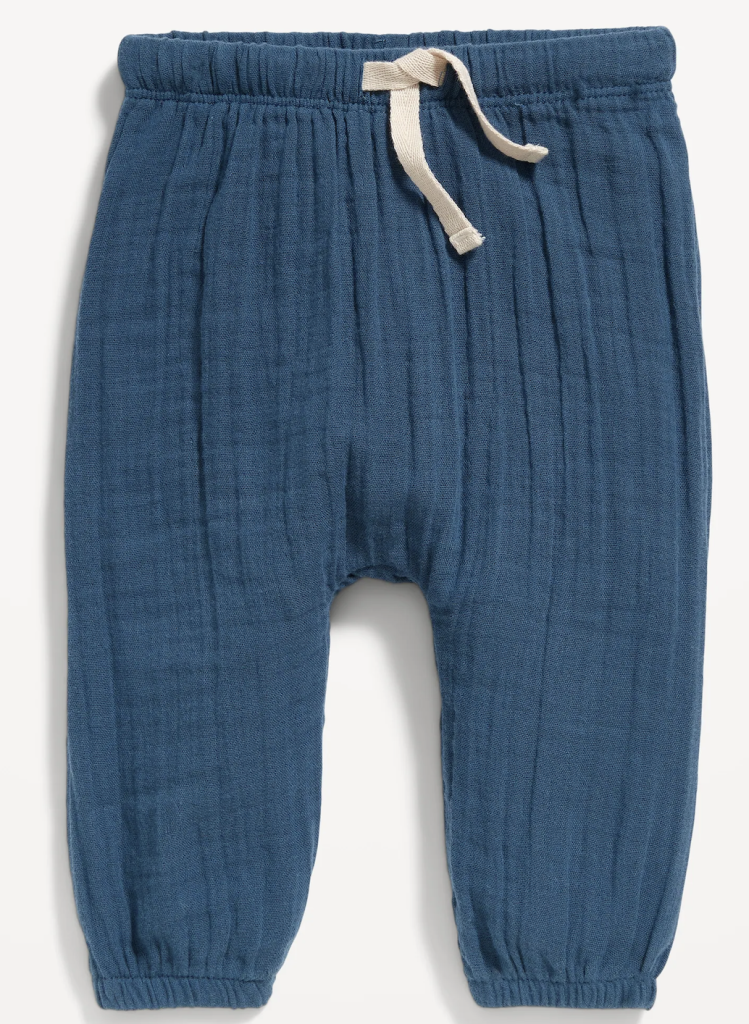 We didn't forget about the little baby in your life. This might just be the perfect Old Navy Jogger, and we sort of wish they came in adult sizes. This jogger is made from 100 percent cotton with a crinkle texture that has the look of linen. They come in seven solid colors, perfect for any modern mom to complete her baby's wardrobe. 
Babies with chunky thighs need not feel restricted, as these Old Navy Joggers are relaxed through the thigh. From new babies to walkers up to 24 months, these joggers should be purchased in every color to complete the perfect outfit. All one needs to do is pair them with a favorite onesie for a complete look.
---