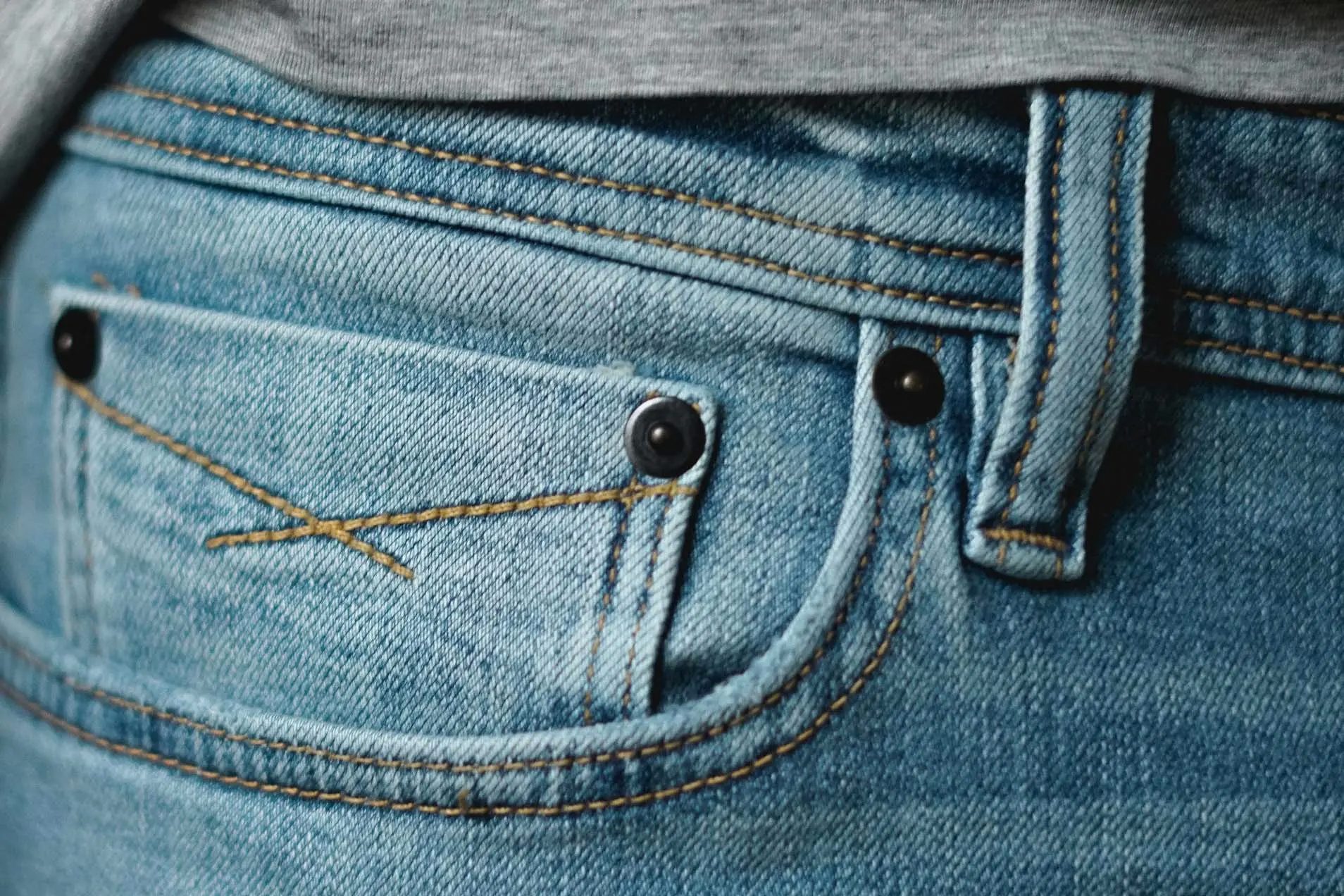 Anything you may want or need (or even things you don't need) can now be found online, from food to electronics to even clothing. It's a godsend for men who, in general, hate being forced to wander around stores. Stores are now irrelevant and the best jeans money can buy are found online.
You can get them by ordering from these big name brands, but recently a number of men's online only jeans startup companies have begun to appear. You've probably seen their ads in your Facebook timeline, with men of varying sizes flexing and stretching to show how comfortable their pants are. But which of these online jeans startup actually delivers. Which one is best? We have the answer.
We've taken the top two men's online jeans startups and put them through the Tell Me Best wringer. We've tested them, we've compared them, and we're here to tell you which of the top two is best. Is it Mugsy or Revtown? Here's the answer…
MUGSY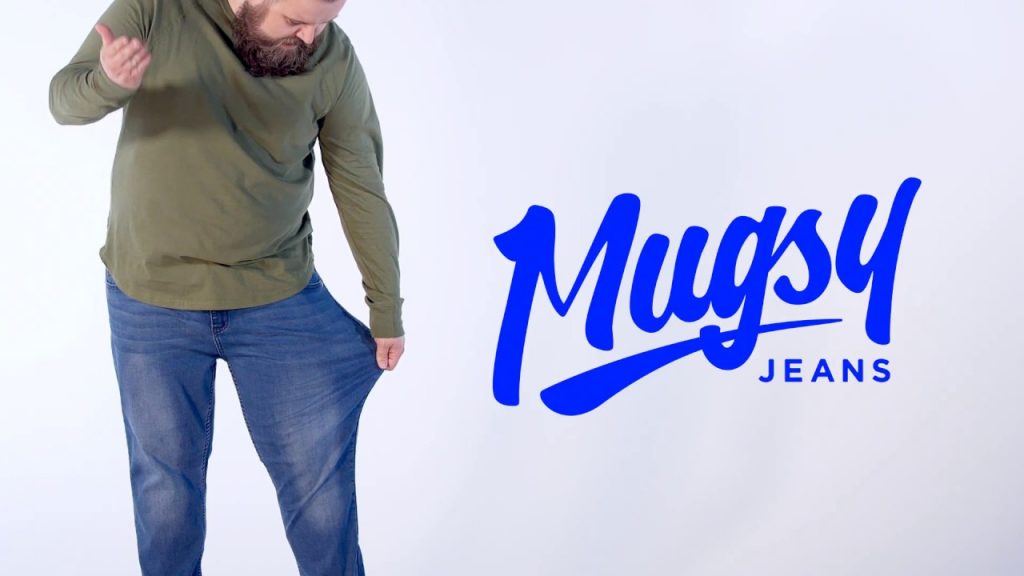 To many, Mugsy is the jean to beat all. They advertise "Life-Changing Flexibility" and that is key when it comes to how men want their jeans to fit. Gone are the days of baggy jeans as tighter-fitting jeans have become the norm. Their first concern is how comfortable men feel wearing their pants.
Leo Tropeano is the founder of Mugsy jeans and before he took on the challenge of developing the best comfortable jeans, he was rockin' the baggy jean look that many men preferred. He wore them not out of fashion, but for the comfort they gave men. He, like many men, couldn't get into the slimmer or skinny jeans because they were all too tight.
So, like all good entrepreneurs, Leo went to work on tighter-fitting jeans with the ultimate comfort. He worked for years with clothing industry experts, tested thousands of different fabrics, finally landing on a combination that afforded men the style they desired while dealing with the comfort they craved. Thus, Mugsy jeans were born.
Mugsy boasts their denim is so high-tech and comfortable, you'll feel like you're wearing sweatpants when inside their jeans. That's the Mugsy hype, but the question is: do they actually deliver? Yes. They do.
When we tried them and that claim proved totally accurate. Mugsy jeans are stretchy, light, and they really do feel nearly as comfortable as sweatpants. Of course, they aren't sweatpants and they look like they really, really tight fitting. It won't bother you, you won't feel it, but if you look in a mirror you'll see it. And maybe that's their biggest problem.
Not every man wants to rock the ultra-tight skinny jeans look. If you're a generic Dad in your 30s or 40s, you may not want to wear pants so tight they look like they belong on a 20-year-old Portland bartender who spends his weekends showing off for girls on a jet ski. Sure, they're comfortable, but will you feel comfortable wearing this look…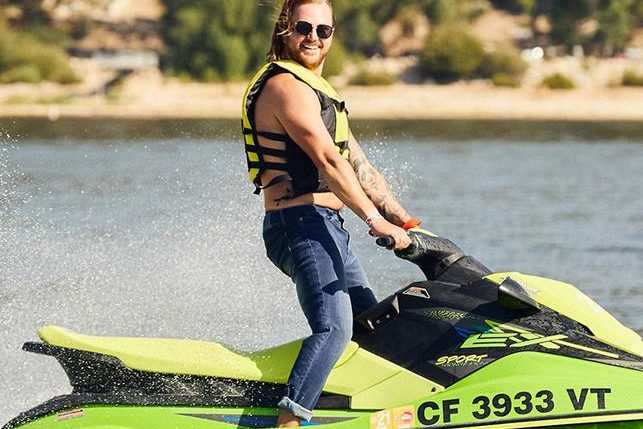 For some of you the answer is yes, and if you're looking for really comfortable, super skinny jeans, then this is what you want. If super-tight looking skinny jeans is not your thing, then Mugsy has nothing for you. They don't offer a looser fit or a more Dad friendly style. They're comfortable, but they only deliver a certain look with little variation between their jeans styles. You can get Fultons or Logans or whatever from Mugsy, but whatever the flavor you're still getting tight-fitting skinny jeans.
Mugsy jeans do have one physical store, located in Chicago, so the bulk of their business is conducted online. Mugsy's website offers a nice, simple setup with a menu that can take you wherever you need to go or even offer you suggestions if you are unsure what you're looking for.
Article continues below headlines
---
So you've decided you're all in on skinny jeans. Great, but if you want the most comfortable skinny jeans on the market then you'll have to pay for it.
Mugsy's price point begins at $98 for a pair of their jeans. You can filter through their large selection and see that no matter the style (Bucks, Fultons, Logans, Lake Shores, Grands, Kinzies) or fit, the price sits "comfortably" at $98. Of course, they do run the occasional sale to knock a few dollars off the final price, but you have to be diligent to find the sale.
Maybe you could get a pair of uncomfortable Levis at Kohls for less, but given the prices of men's jeans, $98 really isn't that bad. If you're looking for comfort, they're worth it.
REVTOWN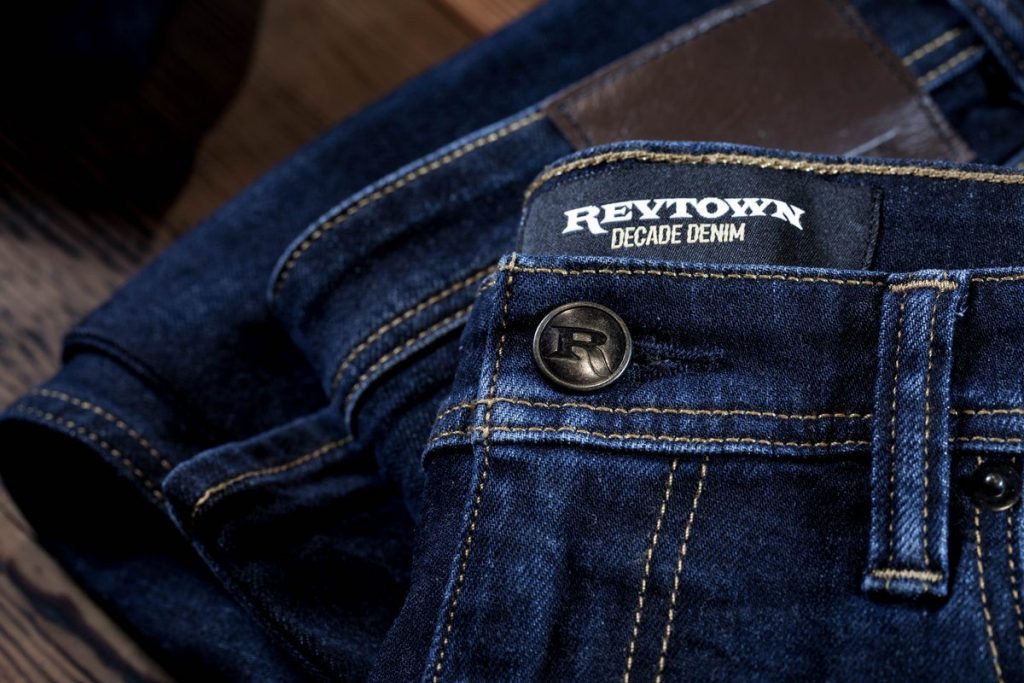 Revtown jeans is an online startup created by three former Under Armour alums – Steve Battista, the former senior vice president of creative, Henry Stafford, the former chief merchandising officer, and Matt Maasdam, the former head of Under Armour's e-commerce unit.
Their goal when they decided to part ways with Under Armour was to create jeans that incorporated quality denim with straightforward fits and gave their wearers unbelievable comfort. So far, so good for the trio.
The search for what they feel is the ultimate comfort in jeans led the three to Italy where they worked with experts to create Decade Denim. This material is comprised of premium Italian yarn infused with a four-way dynamic stretch.
Revtown offers three fits – Sharp, Taper, and Automatic. The Sharp is a slim fit that is more precise to one's size. Taper is Revtown's take on skinny jeans, and Automatic leans more towards the baggy jean (more mobile and forgiving) without giving its wearer a sloppy appearance.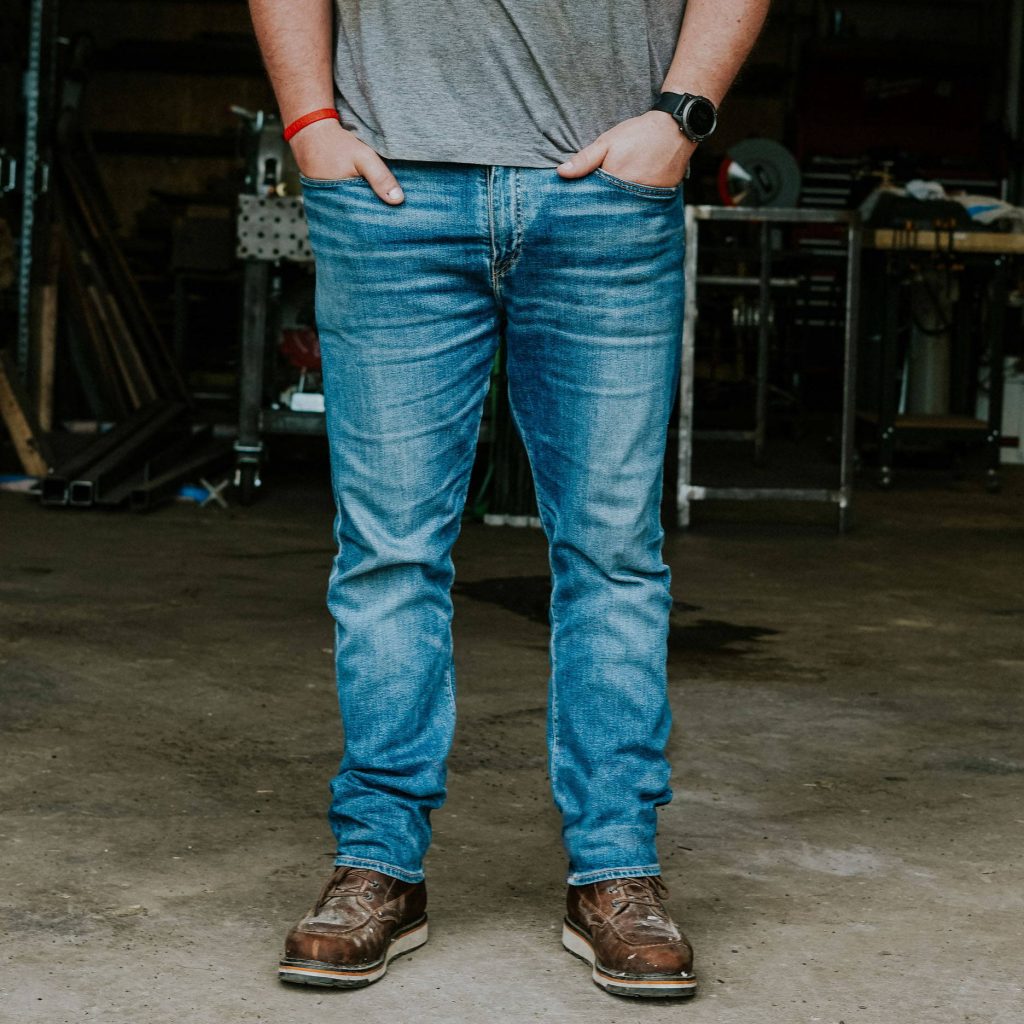 To make things easier for the buyer, on Revtown's website, you only need to enter your height, weight, age, and body type and Revtown will recommend their best fit for you. Along with their Sharp, Taper, and Automatic, Revtown also offers Khaki, Tech, Lightweight, and Selvage style jeans.
We tried out Revtown and were immediately impressed. Not only are they incredibly light and comfortable, they offer enough variety in style and fit that they work for all sorts of men. If you're looking for high-fasion skinny jeans they have those. If you're looking for something a little bit more forgiving they have that too.
The best thing about Revtown jeans is that they aren't tight around the waist. They've used their extra stretchy denim to distribute the pressure needed to keep them up evenly across your hips. That plus their lighter than average for jeans weight means you can wear them without a belt, they'll stay up, and even if you have a bit of a Dad bod belly they won't strangle you around the waist.
Not only does Revtown offer a wider variety of cuts and fits than Mugsy, they're cheaper too. Their slogan of Premium denim, ridiculous comfort should also include that they are smartly priced. Revetown jeans start at only $79 each.
Which Is Best? Mugsy Or Revtown?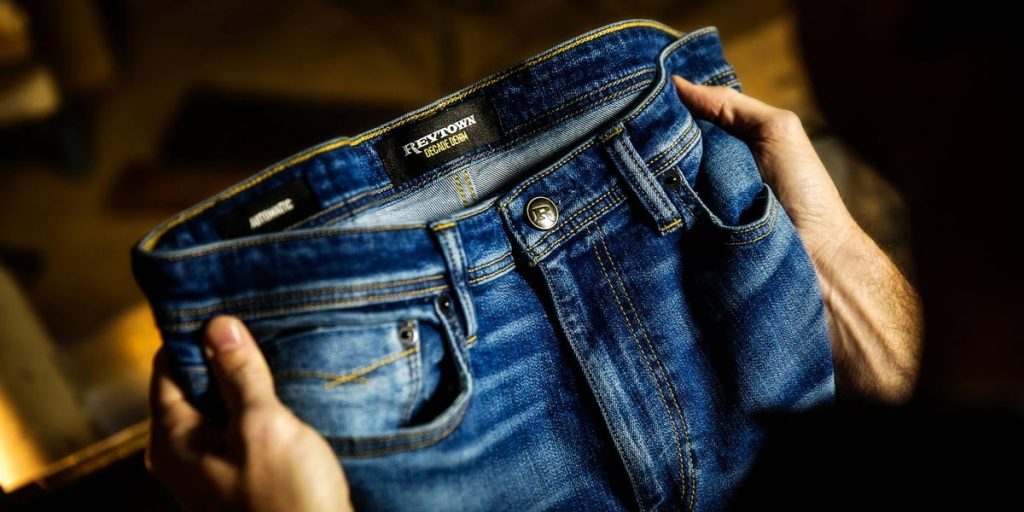 We've tested them both in our office. We've run around doing squats, sitting in chairs, going up and down stairs. We got our wives to look at them and tell us they don't care what we wear, what we really need to do is stop sitting in chairs writing about men's jeans and start working out. The testing was grueling, but we got a clear answer. We know which is best.
Our pick for the best men's online jeans startup is Revtown. Both jeans are incredibly comfortable but Revtown's wider variety of styles means they'll appeal to a wider variety of men. And given that Revtowns cost $20 less, there's really no reason to buy anything from Mugsy as long as Revtown exists.
The days wandering around stores looking at Levi's, Lee, and Wrangler are gone. Revtown stands tall as the best pair of jeans you can buy online, right now.
Other Online Jeans Startups Of Note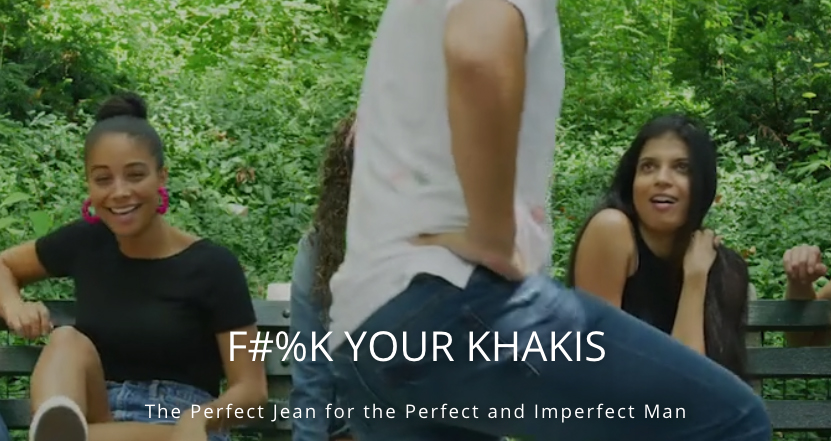 Mugsy and Revtown may be the leaders in the men's online jeans startup space, but there are many other competitors. One of the biggest and most worth mentioning here is The Perfect Jean.
For The Perfect Jean, it's pretty simple. They even say so on the first page of their website. F#%K Your Khakis. Right to the point. And if you watch the look on the ladies' faces as the men stretch themselves in The Perfect Jean right in front of them, the gals look to be on board.
The Perfect Jean are not "pure" denim material. These jeans boast a mixture of materials that includes cotton, Polyester, Viscose, and Spandex. If Viscose is something you've never heard of, well, it's basically artificial silk.
The Perfect Jean comes in four basic washes: Black, Dark Blue, Medium Blue, and Indigo while offering three different fits – Skinny, Slim, and Athletic.
When it comes to price point, The Perfect Jean is in lockstep with Revtown at their entry price is $79.99. Again, this may cause some buyer to step back before pushing the "purchase" button but if it's you seek, then comfort is what one will get with The Perfect Jean's "perfect" price.
Men's Jeans On A Budget
If you're looking for something cheaper, the internet is filled with options. They just won't look or feel as good.
Here's a pair of $29 jeans from a company called Sojun…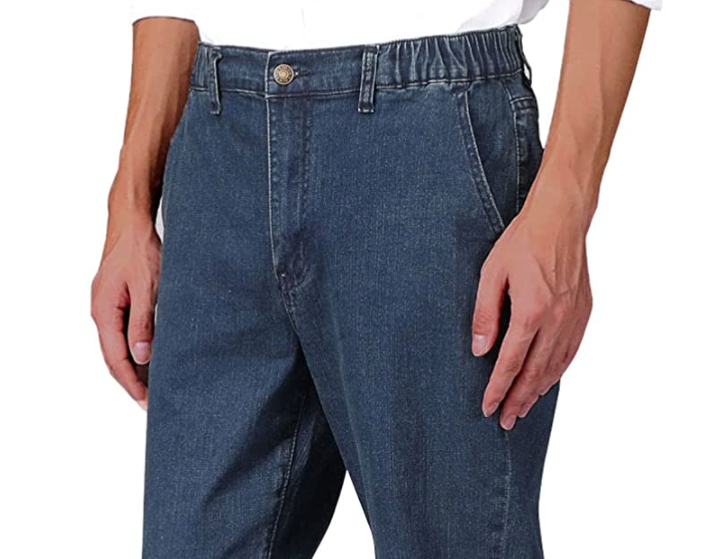 The elastic waistband makes them look like something meant for a 3-year-old. Even the material looks cheap. Odds are the whole thing will simply unravel and disintegrate the second it goes through the wash. Do not get those.
If you're dead set on getting new jeans on the cheap, you're probably best off using the internet to order an old, reliable brand like Wrangler. You can get most pairs of Wranglers for under $30 and while they won't be at all comfortable or fashionable, they're pretty durable and don't look like they were meant for a toddler.