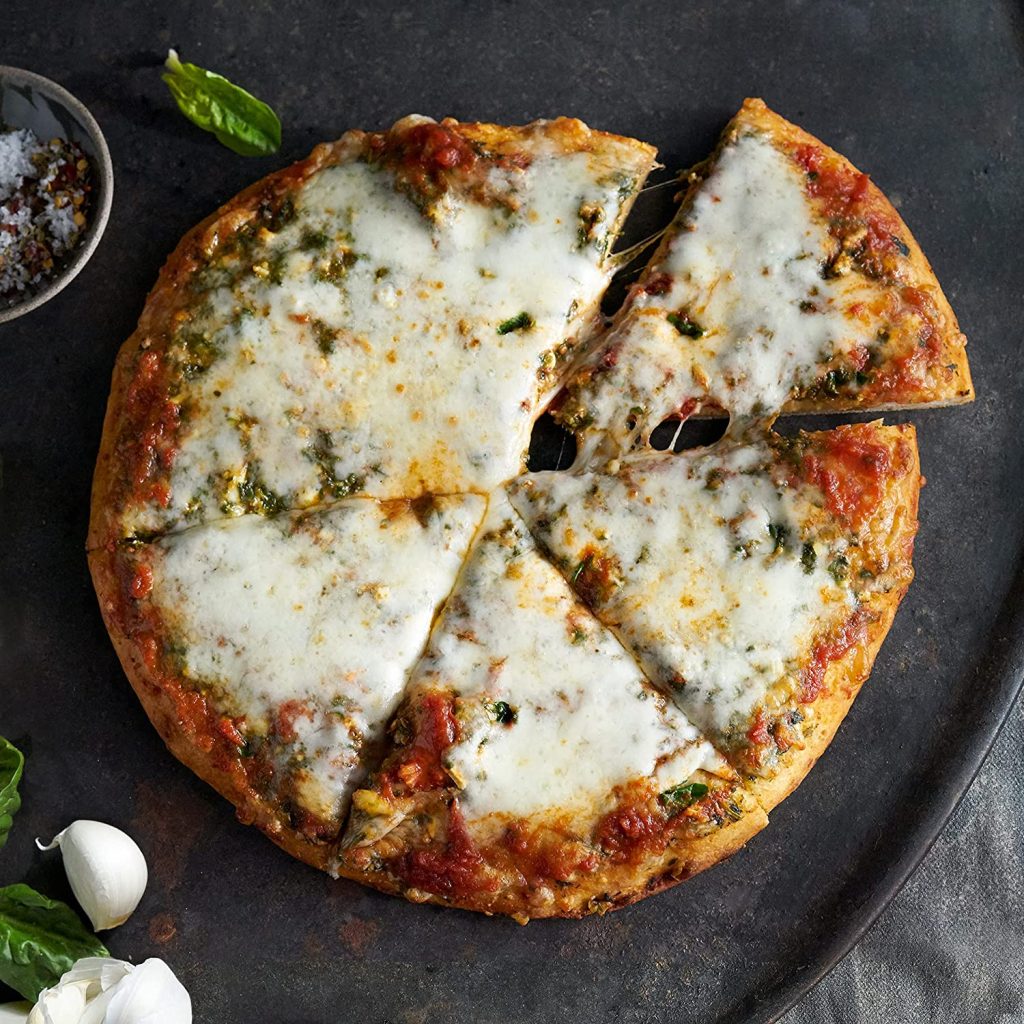 Ah, Frozen pizza. If there was ever a better quicker, easier, more convenient meal, we can't think of one. All you have to do is just pop it into the oven and have your pizza slicer ready to rock in less than 20 minutes.
In a one-year time span, from April 2019 to April 2020, sales of frozen pizzas jumped almost 100%. Some of this was pre-pandemic, so you can see just how popular a meal it has evolved become. That popularity shows no signs of slowing down either. Statista reported that consumers spent a total of $6.06 billion on Frozen pizza in 2021, up from $5.47 billion the year prior. It's easy to see why, not only are frozen pizzas easy to cook, but there is also little clean-up after you're done, and you can conveniently stash them in the freezer. One or two extras and there is always an option for dinner when you don't feel like pulling out the big guns.
Now, with the country finally fully open for business after a long two years, your social calendar is sure to have some filled-up nights. A good frozen pizza can take care of your dinner needs while you become socially active once again.
There are tons of options when it comes to frozen pizzas. Problem is, some of them aren't so good and with so many to choose from, you may not know the good from the bad. There are different styles of crust, from thin to thick, and even cheese stuffed. There are many different toppings from all veggies to all meat to all cheese.
You also have the popular name brands, but even some of those just don't cut it. So, what makes a decent frozen pizza? Is it the toppings? The cheese? The sauce? In our experience, it is a combination of all three.
Some of you may go for the simple cheese pizza so you can add your own toppings. Not a bad way to go if you want to spend one second more of prep time than it does to simply open the box, peel away the plastic covering, and pop it in the over.
We're going to try to help you out. Some of the frozen pizza brands we suggest you may not have heard of, but some you for sure have. All of these are great frozen pizzas in a pinch, but they are also great selections if your kids are having a sleepover or even for a birthday party.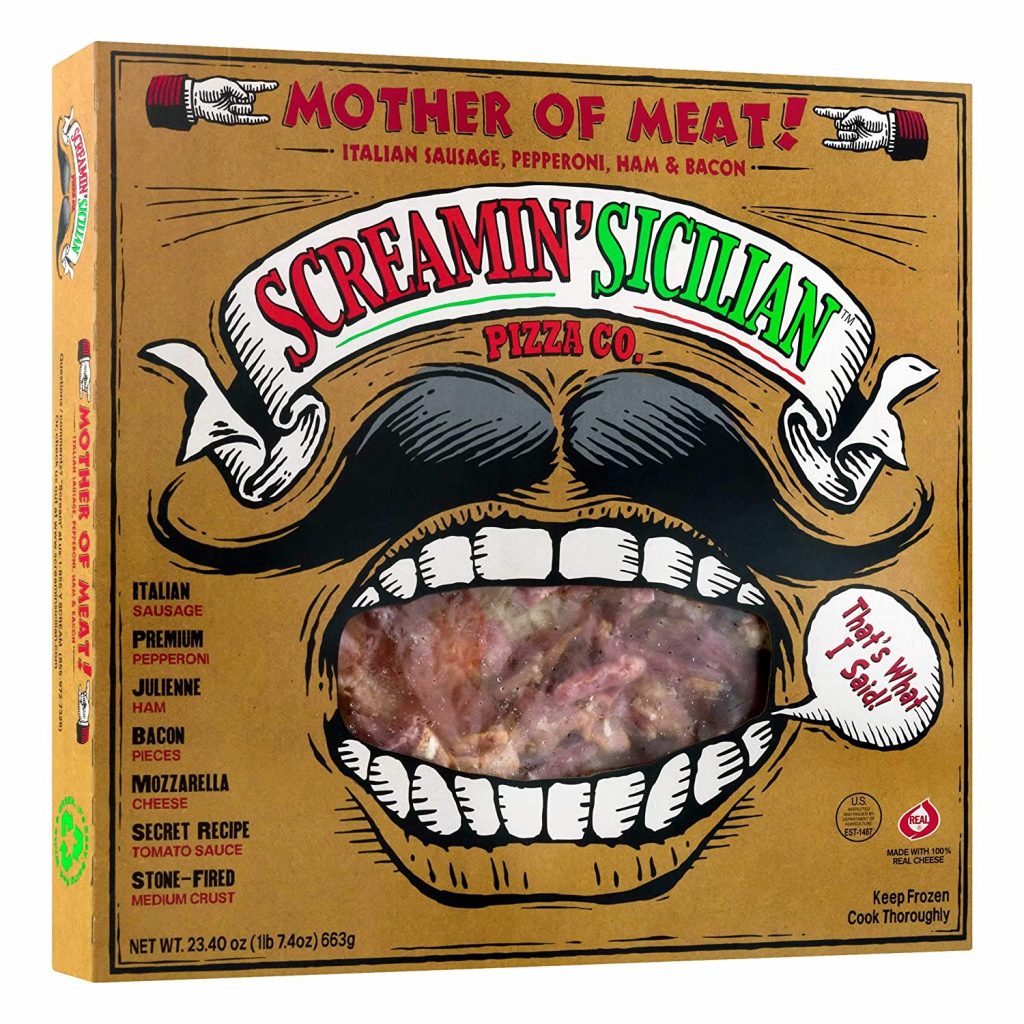 WHY WE LIKE IT – We are not going to lie here. The name alone is an eye-catcher and the big handlebar mustache with the open, screaming mouth does the job as well. Screamin' Sicilian may not be a brand name you're familiar with, but they have put together a fine frozen pizza pie.
This one is their Mother of Meat selection and they ain't lying when they say it's a Mother of Meat. On top of their great crust and sauce, the pizza also comes covered with Italian Sausage, Pepperoni, Julienne Ham, and Bacon. A lot of each.
On short notice, this is one of the best-frozen pizzas on the market.
PRICE – $8.79 on Amazon Fresh.
Article continues below headlines
---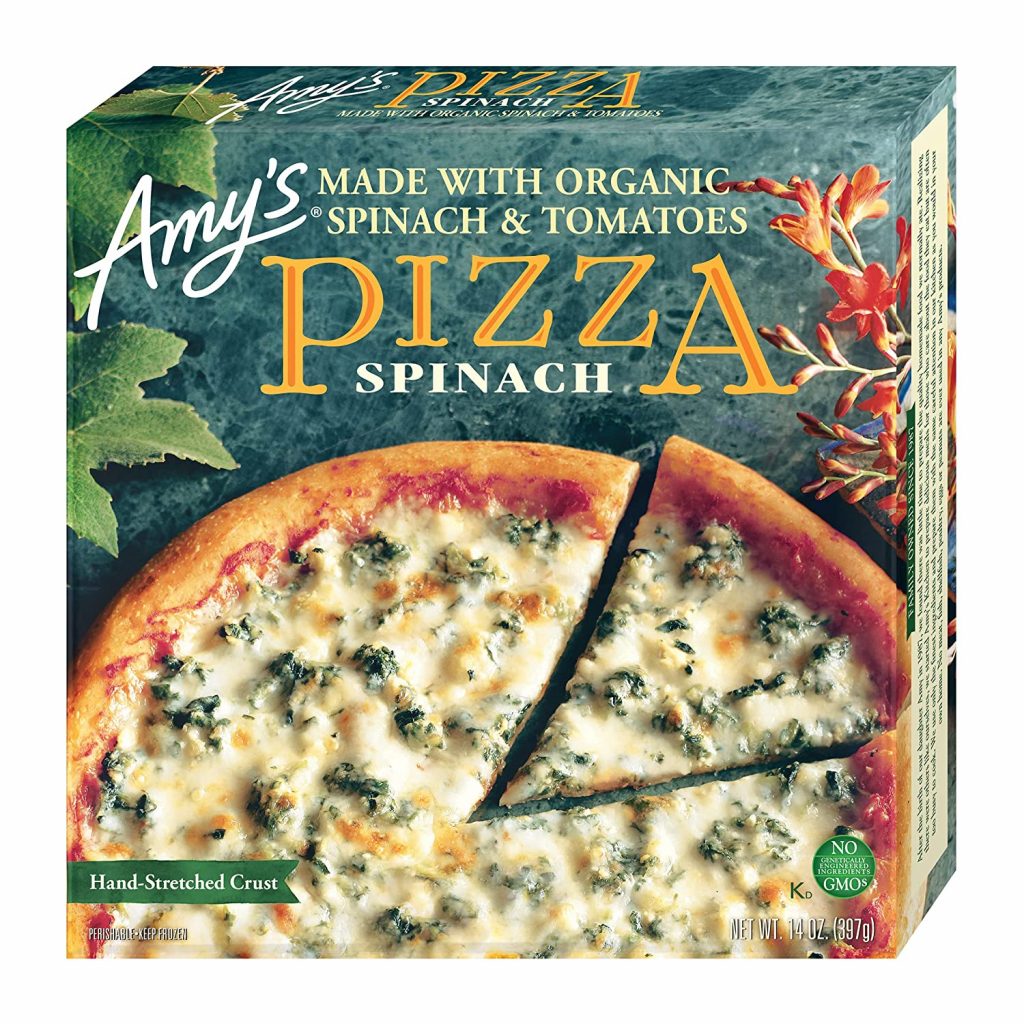 WHY WE LIKE IT – Amy's is a very dependable brand, and this pizza will not disappoint. Well, unless you aren't into Spinach Pizza. But if you are, you will love Amy's blend of spinach, feta cheese, basil, and even mozzarella cheese. The crust is made with organic wheat flour and virgin olive oil.
While this pizza is top-notch, Amy's also has plenty of other options if you are one who doesn't believe spinach (along with pineapple) belongs on pizza.
PRICE – $8.69 on Amazon Fresh.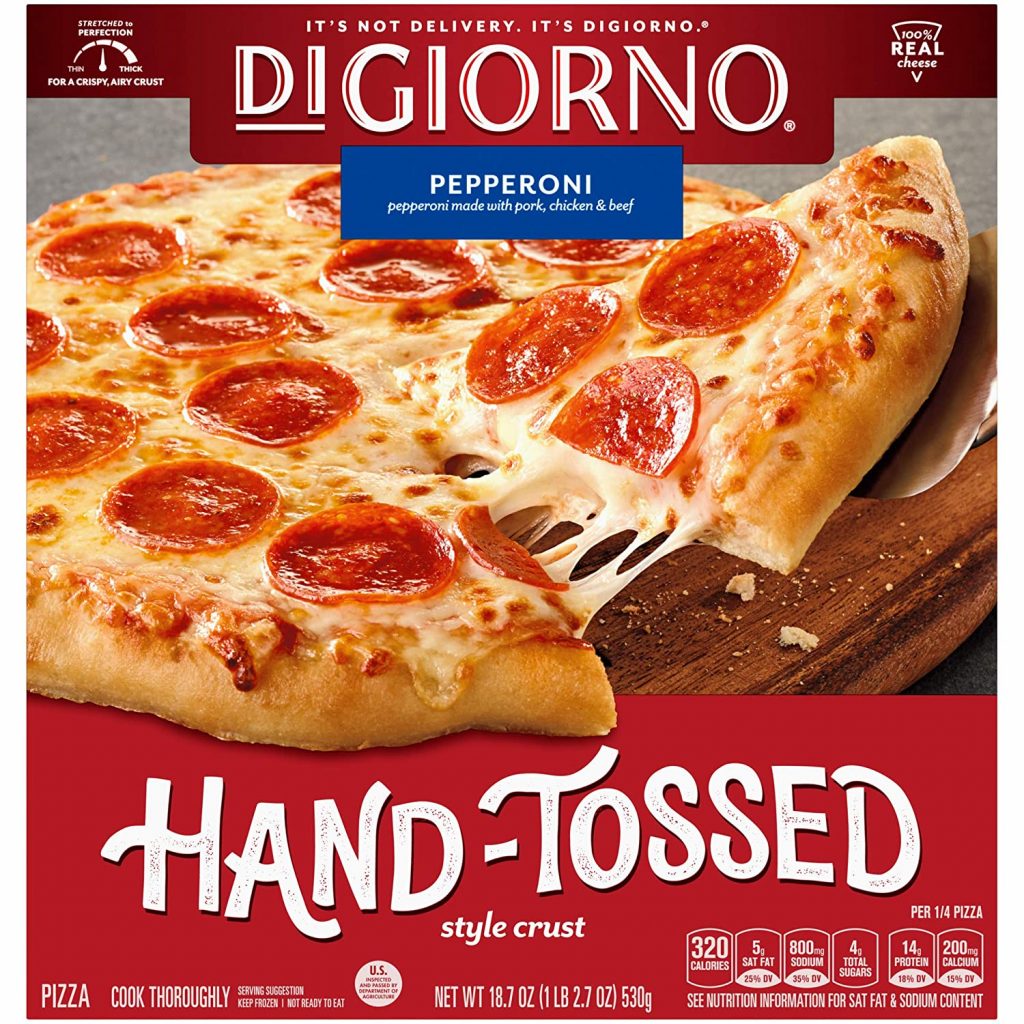 WHY WE LIKE IT – This is one name that frozen pizza connoisseurs will immediately recognize. DiGiorno's pepperoni pizza is as classic as it gets.
The crust is hand-tossed that is drizzled with extra virgin olive oil to give it a crispy outside while keeping the inside of the crust soft and airy. DiGiorno has its own premium sauce to go along with big slices of pepperoni to make everyone happy.
Not only does DiGiorno offer their hand-tossed crust, but they also have their rising crust pizza as well as their cheese-stuffed crust.
PRICE – $7.29 on Amazon Fresh.
WHY WE LIKE IT – When California Pizza Kitchen first started opening restaurants, they wanted to offer customers a different take on traditional pizza. They started a more eclectic line of pizza with toppings that were non-traditional at best. With its success, the California Pizza Kitchen began to produce its lineup of frozen pizzas.
This one is their Margherita Thin Crust pizza and is actually one of their more traditional choices. The thin crust is topped with Roma tomatoes, mozzarella, and fontina cheeses, with basil over Italian herb tomato sauce.
If California Pizza Kitchen is what you desire, they also offer a frozen Mushroom, Pepperoni, and Sausage pizza as well as their signature BBQ Chicken pizza.
PRICE – $7.49 on Amazon Fresh.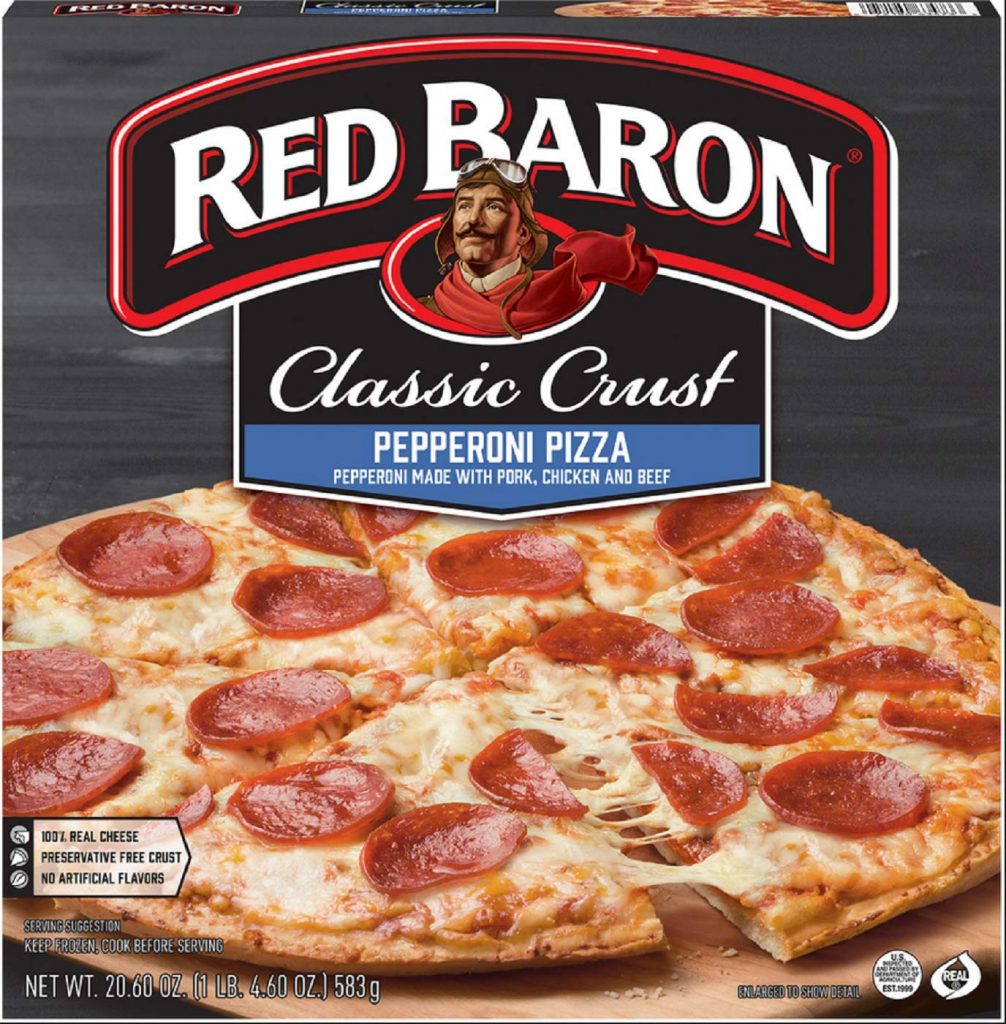 WHY WE LIKE IT – This is as probably as cheap as you are going to get when purchasing a frozen pizza. And, for the price, it isn't all that bad.
Red Baron, who actually was a WWI flying ace, has been serving frozen pizza since 1976 and in their 45 years, not much has changed. Their classic crust isn't too thick nor is it too thin. Their sauce is a zesty tomato sauce, and their pepperoni pizza is layered with just enough pepperoni.
PRICE – $4.79 on Amazon Fresh.
NOW SERVING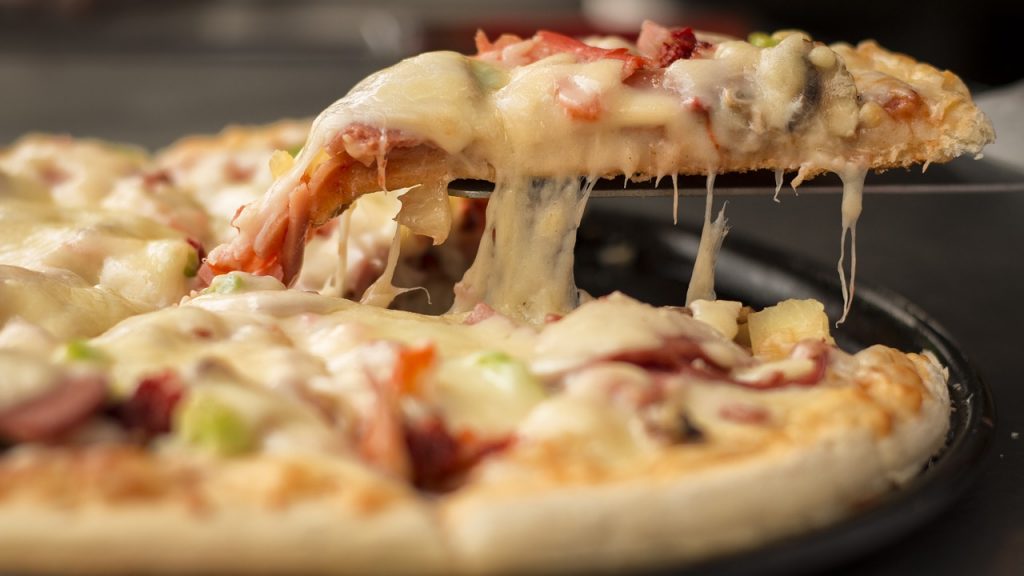 There are plenty of frozen pizzas in your local grocery store freezers that will get you by. There are also some that you are going to want to leave behind, never to try. The above pizzas will not only get you by, but they will get the job done well enough that you'll want to go back for more. The Screamin' Pizza looks particularly delicious for dinner tonight.
The prices on all of the above are also a winner for your pocketbook and if Red Baron is your choice, then you are sure to get the most out of your dollar.
If you haven't tried it out yet, give Amy's a shot. She puts together a nice pie. If your favorite didn't make the list, tell us what it is. We are always on the lookout for a nice frozen pizza pie.