The best vintage whiskey decanter sets come from Reed and Barton and Crate & Barrel
If you are a whiskey fan, and even more a fan of entertaining around the almost age-old beverage, then having a certain style is going to be important. That's where the best vintage whiskey decanter sets come into the proverbial mix. There are a number of different options out there depending on your personal tastes, with vintage and even newer looks across the board.
Vintage whiskey decanter sets can make wonderful additions to wet bars or serve as nice display pieces in your study or library. They are ideal for the bartending savant and are perfect for those who love to entertain because they present so well. Ultimately, they are just a nice thing for anyone who enjoys whisky to have. Thus, we here at Tell Me Best combed through the top whiskey decanter sets available to determine the best ones on the market and have discovered ones to suit every budget and taste.
REED AND BARTON NEW VINTAGE WHISKEY DECANTER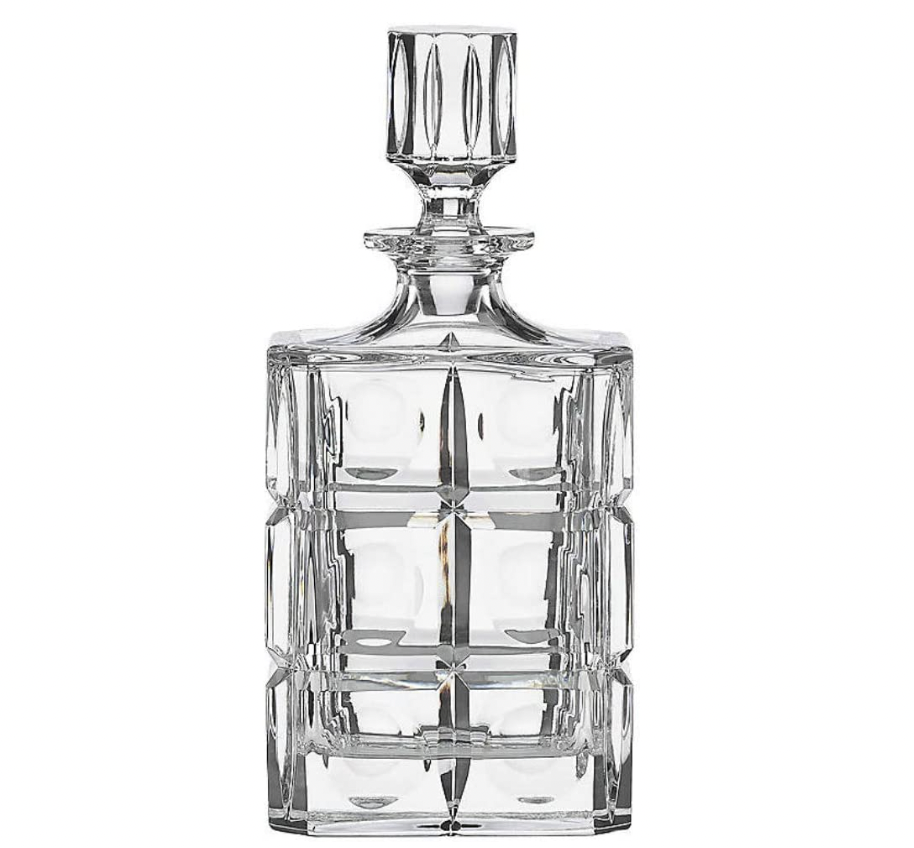 Price – $83.50 on Amazon
WHY IT'S THE BEST – The square cut of the Reed and Barton New Vintage Odeon Whiskey Decanter gives it that certain old-feel look you might be going for in your bar. The thick glass and hard edges certainly exude a vintage whiskey decanter feel and stylistically, this is right up a certain alley for a group of fans.
It's made of crystal which will give it a heavier feel when sitting atop any home bar and the Odeon version lends itself to taking up more visual space because of how's crafted. This is a great deal on Amazon for the quality and there's a reason it is one of the higher-rated vintage whiskey decanters out there.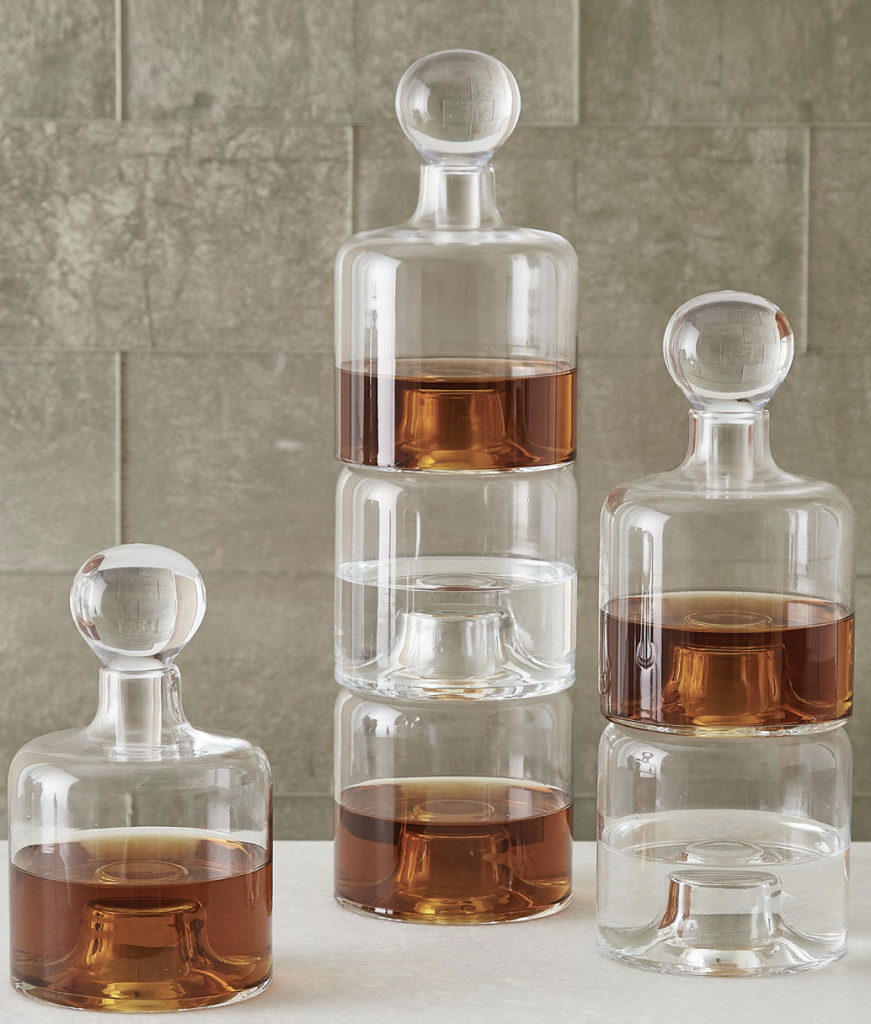 PRICE – $110 for a single decanter or $250 for a set of three at Neiman Marcus
WHY IT'S THE BEST – The Global Views Stacking Decanter serves both form and functionality making it ideal for the person who is limited on space, but still would like to own an attractive-looking vintage whiskey decanter set. Its stackability makes it easy to store in the most narrow of spaces and that very feature itself also makes it a worthy conversation piece.
What's more is that each glass decanter is hand-crafted with precision and fine attention to detail, ensuring that quality is always at the forefront.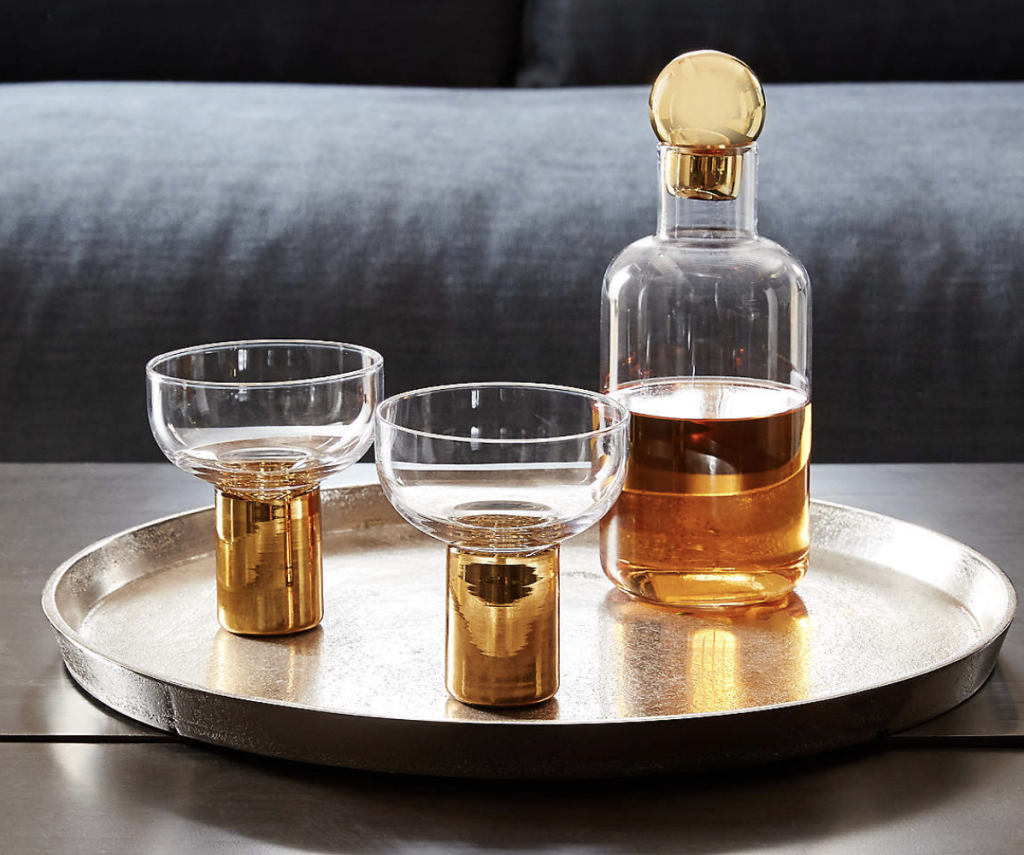 PRICE – $39.95 at Crate & Barrel
WHY IT'S THE BEST – The Calder whiskey decanter set is perfect if you are on a tight budget but still prefer to serve and sip your whiskey out of a decanter versus any old cup. The Calder was exclusively designed for Crate & Barrel by Aaron Probyn and boasts a sleek with an almost vintage whiskey decanter feel.
It is tastefully adorned with touches of brass to accent its clear glass. This whiskey decanter set can hold up to 27.5 ounces and is also great for serving other popular spirits like bourbon or tequila. This budget-friendly vintage whiskey decanter set truly serves as the perfect accompaniment for any party or gathering.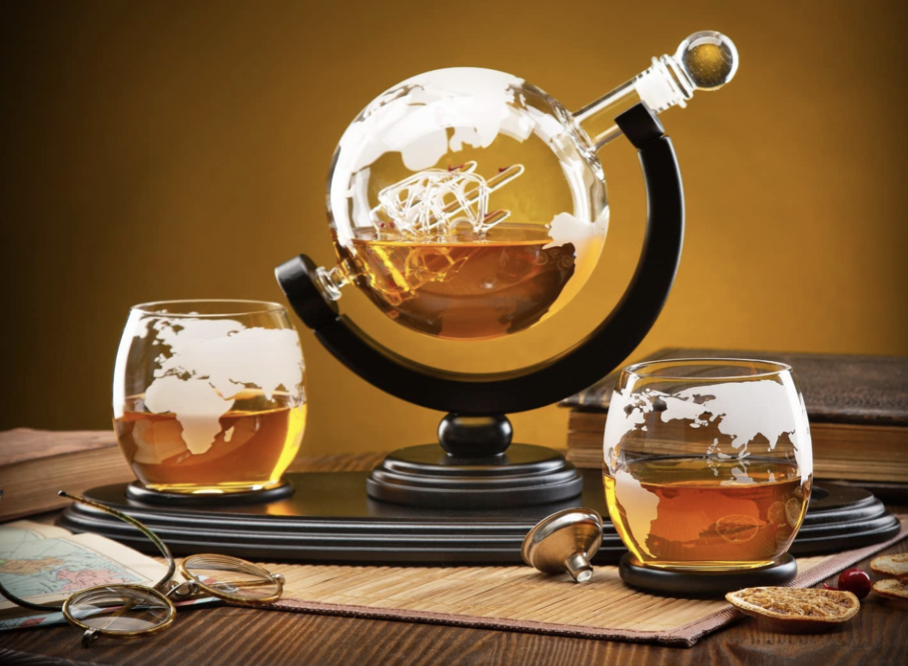 PRICE – $54.56 on Amazon
WHY IT'S THE BEST – The Globe Whiskey Decanter Gift Set is the set to have if you are looking to tastefully display your favorite whiskey. While not technically a vintage whiskey decanter set by strict terms, its older feel would look wonderful as an accent in any library, study, or man cave. Each Globe Whiskey Decanter Gift Set is made of handblown glass that is professionally crafted by some of the world's most talented artisans.
For added peace of mind, each and every set is guaranteed to be free of lead or any other potentially harmful substances, only further affirming the overall quality of this set. It would also make a wonderful gift for anyone who enjoys whiskey. It truly is a display piece that exudes both an aura of utter sophistication and class. As an added bonus, this stylish collection comes at a price that won't break the bank.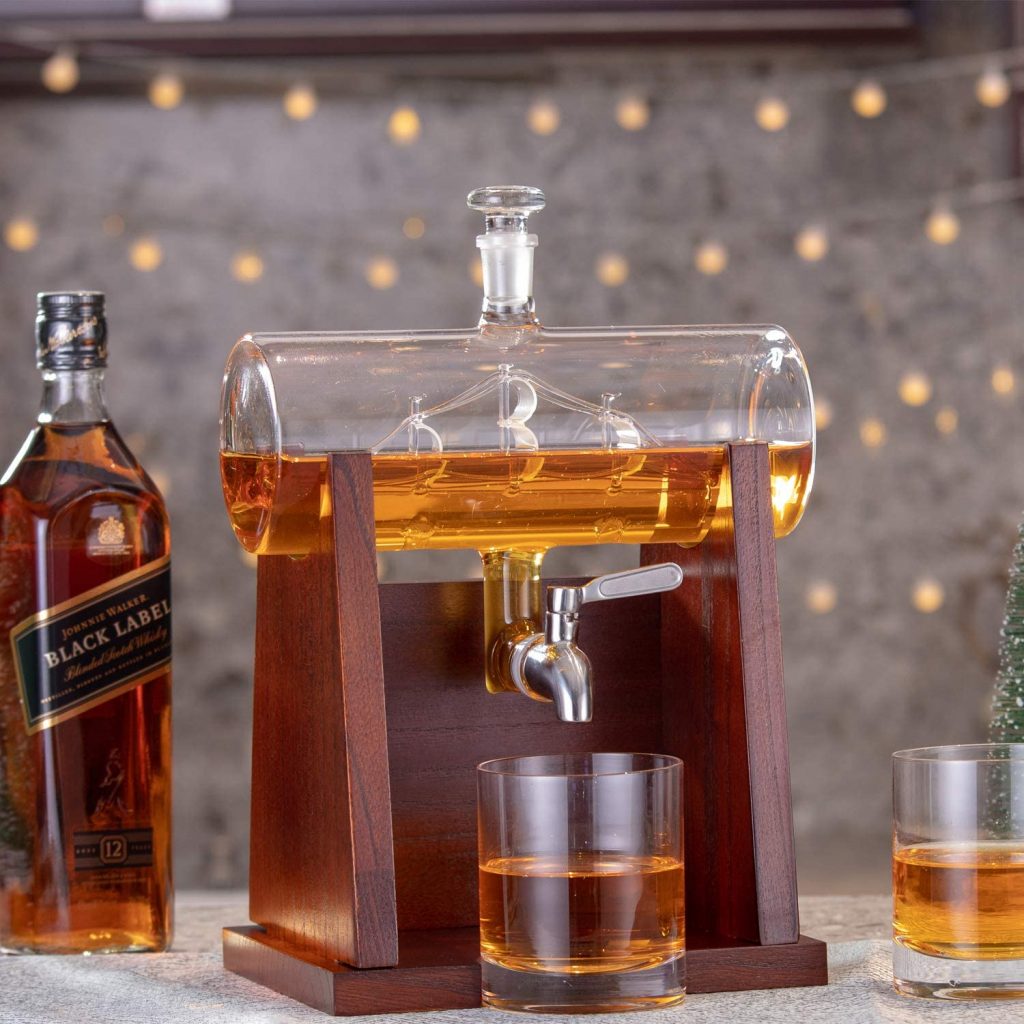 PRICE – $79.99 on Amazon
WHY IT'S THE BEST – If you have a wet bar, then the Jillmo whiskey decanter set is the perfect set to buy. Its look alone will serve as the start for many a conversion. How could it not, with its cleverly designed keg-like style that is ideal for guests wanting to serve themselves with a vintage whiskey decanter feel.
It also makes the designated bartender's job just that much easier at parties. This whiskey decanter set is handmade and comprised of lead-free crystal glass. Both the faucet and stopper at the top were crafted to be airtight, ensuring that the integrity of the whiskey never deteriorates.
As an added convenience, this decanter collection is also multi-purpose, it is perfect for use with a range of other spirits and would even make for a fun way to serve pre-mixed cocktails or sangria. For what you get, the cost of this set makes it a worthwhile investment.
---
WHISKEY WAS FIRST DISTILLED IN THE 15TH CENTURY
Whiskey is an age-old beverage of Gaelic origin. It was first distilled in the 15th century Ireland and Scotland when knowledge of the Latin distillery technique known as "aqua vitae" or "life water" reached the region. So there's good reason to want to have an old-world feel with a vintage whiskey decanter.
Today there are a plethora of different varieties typically made from barley, corn, rye, or wheat. The aging process takes place, similar to wine, in wooden barrels and it is one of the most widely distributed spirits in the world.
Here in the United States staple brands most commonly enjoyed include classics like Jack Daniels, Jim Bean, and Buffalo Trace. So if you are among those who occasionally like to indulge in a glass of this time-honored beverage, why not do so in style out of an attractive and well-crafted whiskey decanter set?
Whether you prefer to savor a glass of Jack Daniels or Jim Bean or perhaps are a Whiskey connoisseur who is familiar with some of the more obscure varieties, there is really no way more ideal to indulge in the centuries-old beverage than out of a whiskey decanter set.
If you are on a budget, then the Calder by Crate & Barrel is the way to go and if money is no object then don't hesitate to secure one of Lalique's Wingen decanters. And you really can't go wrong with any of the other three conversation-starting pieces that are all not too hard on the budget and will display nicely in virtually any setting. So pick your poison and get pouring. Salud!