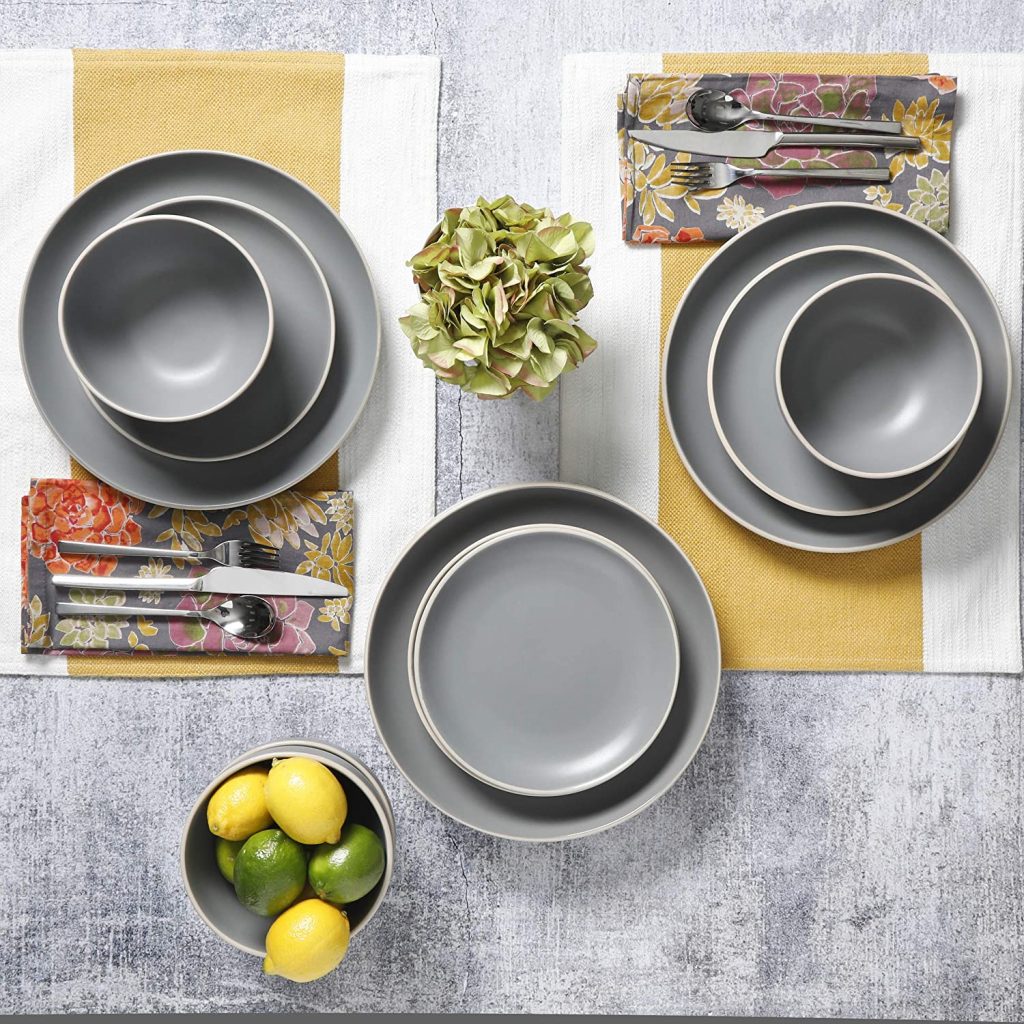 A new dinnerware set might not be at the forefront of your holiday shopping list, but perhaps it should be, and for good reason. Hear us out. The past two years have been really tough on society. Suffering through a global pandemic served to shake the world in ways that were at times difficult to comprehend. It has fueled a supply chain crisis and gave birth to nationwide labor shortages. However, despite all of the challenges that COVID-19 has presented, for many, it served as a positive catalyst that helped to reorient their perspective on what in life is truly important. It caused many to realize that at the end of the day family matters so much more than impressing a boss or bringing home a big paycheck.
Making memories with family is priceless, and as the holidays approach, for the first time in two years many are gathering together once again and sitting down to converse, laugh, reminisce, and most importantly indulge in delectable cuisines. These are sure to be reunions worth savoring, and what better way to mark such momentous events than with a beautifully adorned dinner table around which your family can gather and enjoy each other's company. For this reason, we decided to search far and wide in order to find the very best dinnerware sets online so that your table will look at its most pristine for when your family, at long last, come together once again.
We believe that a great dinnerware set should be both timelessly elegant and cost-effective. Thus we've narrowed down our choices for the best ones by honing in on price, quality, versatility, and design. What we came up with is a selection of stellar dinnerware sets that are sure to be the highlight of any dinner table. Go ahead, dive right in and explore what we've found.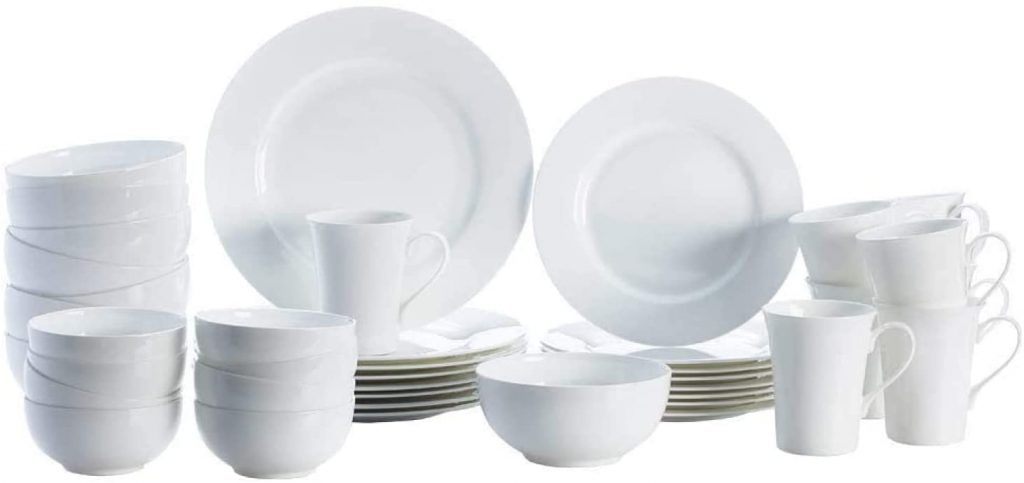 WHY WE LIKE IT – William Sonoma is a brand known for its quality craftsmanship and the Brasserie dinnerware set is a wonderful representation of just that. The look of this set was inspired by the types of dishes often found in Parisian bistros and brasseries. Their white color is as classic as it is timeless and they are made of sturdy high-fired porcelain that has been finished by a gorgeous glossy glaze. The Brasserie set comes in 5-piece, 16-piece, and 20-piece options to suit a wide array of tables and family sizes. As an added convenience, all the dinnerware in this set is both microwave and dishwasher safe. This particular dinnerware option is a little more on the pricey side, that being said, it is a set that is meant to last making the higher cost a worthwhile investment in the long run.
PRICE $229.80 for a 16-piece set at William Sonoma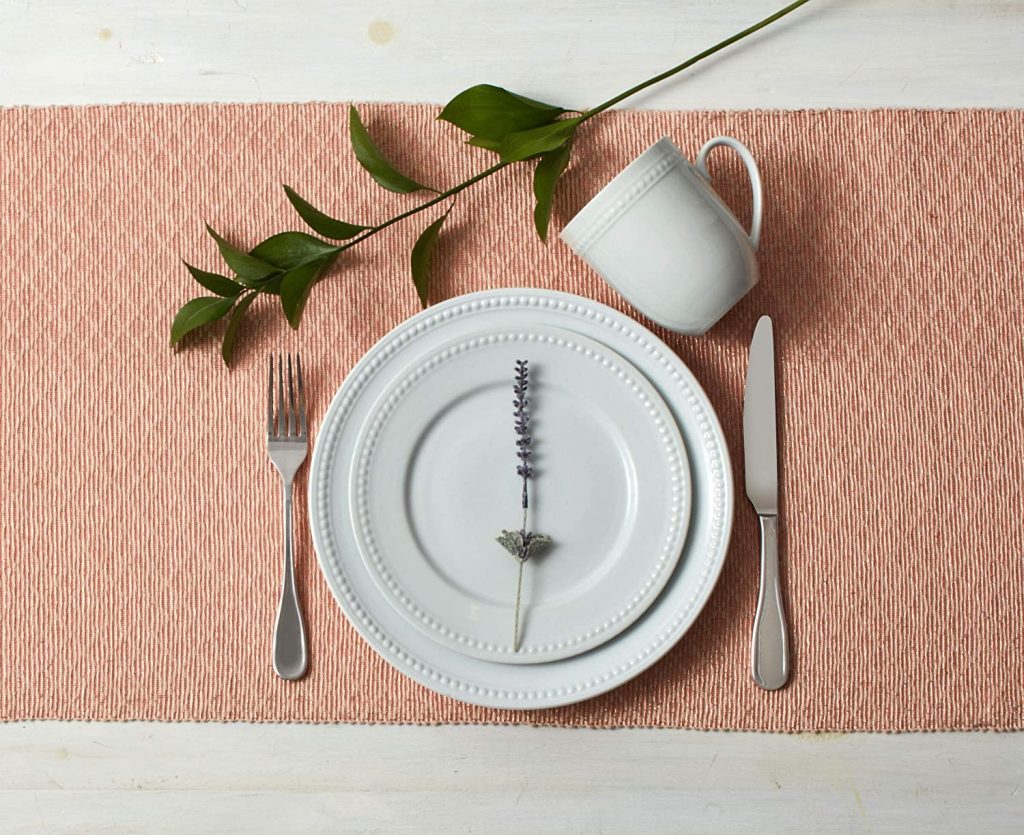 WHY WE LIKE IT – The Aspen dinnerware set is the epitome of class and simple elegance. It is available in solid white, or in white with edges delicately trimmed in either grey or black. They are made of durable, chip-resistant, and lightweight porcelain. All pieces are microwave and dishwasher safe and another nice perk is that the dishes in this set can also be placed in a warm oven without worry.
PRICE – $44.95 for an 8-piece set or $89.90 for a 16-piece set at Crate & Barrel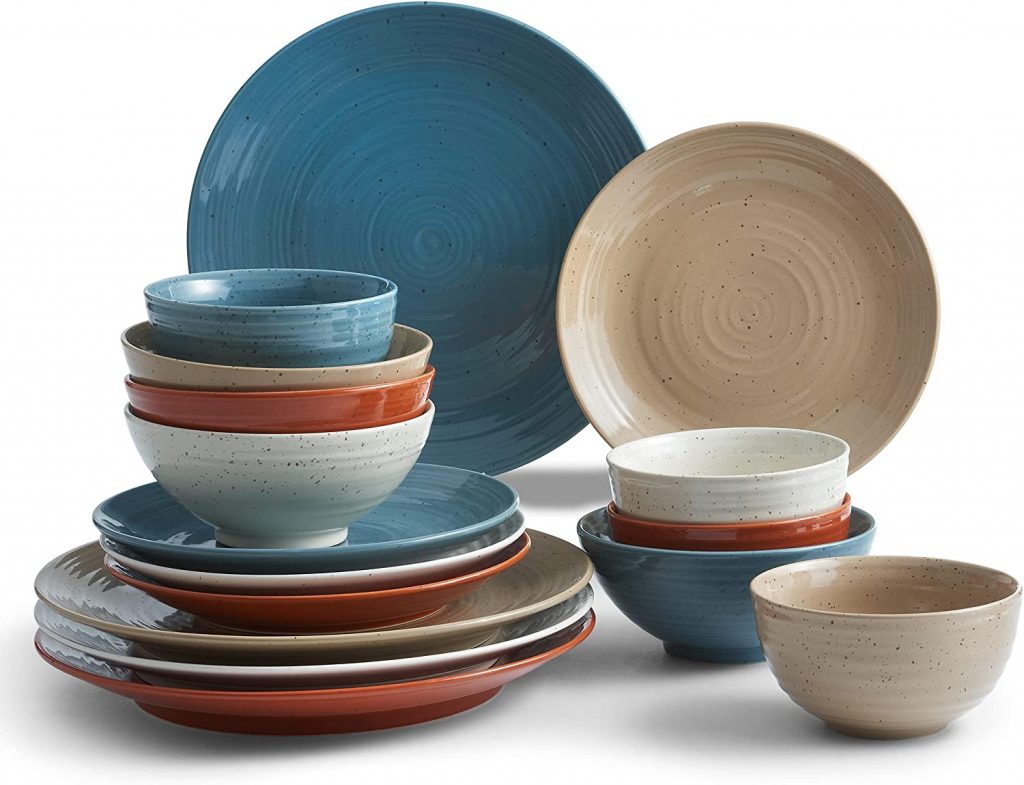 WHY WE LIKE IT – This dinnerware set is for folks looking to adorn their tables with a more colorful flair. Like the set's name suggests the Sango Sierra is very reminiscent of an artist's palette. What's interesting is that the inspiration from this set comes directly from the artisans who make pottery in Central Java, Indonesia. That little fun fact can definitely serve as a conversation starter, however, even the unique look of the set itself might be enough to spark a few remarks. This multicolored set is comprised of neutral tones in blue, red, and beige and all are finished with flecks of color that complement the base shade of each dish. The speckling on every plate is unique to that dish as the final touches are all hand-applied. The only downside is that it is recommended that the pieces in this collection be hand washed.
PRICE – $68.90 for a 16-piece set on Amazon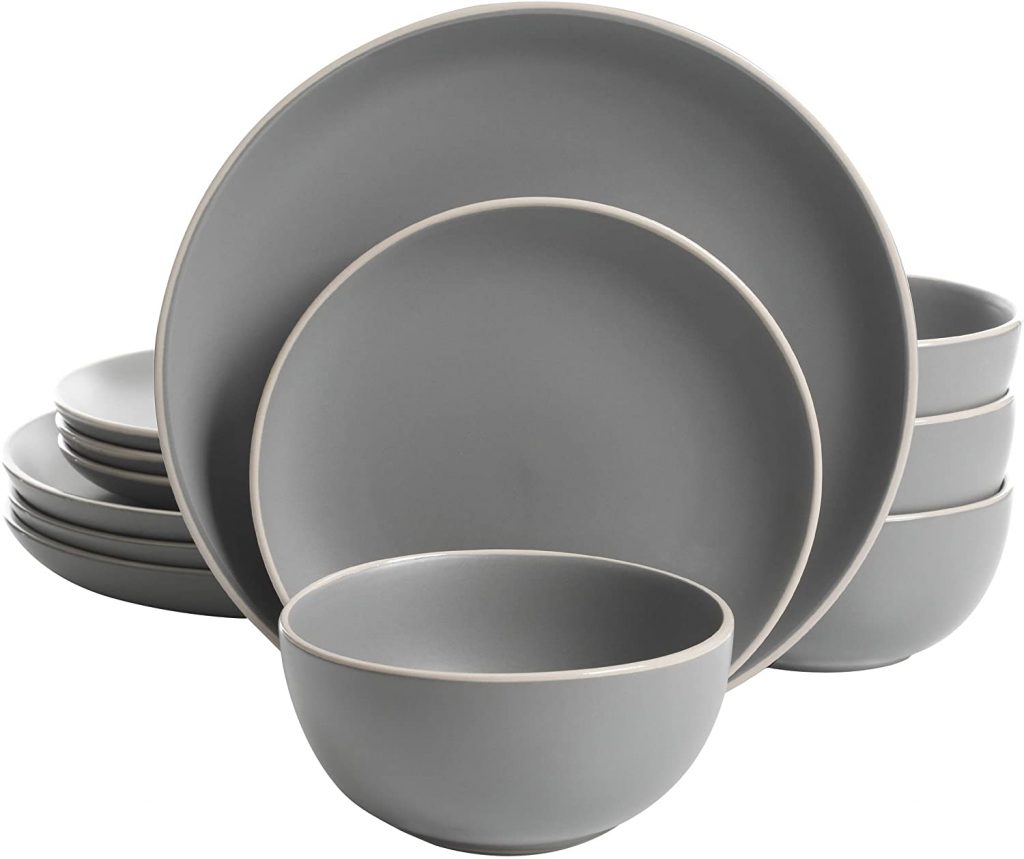 WHY WE LIKE IT – The Gibson dinnerware set is a wonderful representation of a collection that serves both form and functionality. This set is perfect for everyday use but also looks wonderful when it's laid out on the table for special occasions. All its pieces are both dishwasher and microwave safe. The best part about this particular dinnerware option is that it comes in a slew of different color options. There are 13 different colors to choose from: grey, black, blue, red, cream, pink, teal, white, yellow, black with a gold rim, grey with a gold rim, and white with a gold rim. If color is what you're looking for then Gibson certainly has you covered with whatever shade you might be in search of. This set is also friendly on the wallet.
PRICE $39.97 for a 12-piece set on Amazon
WHY WE LIKE IT – This is Gibson's higher-end restaurant style option and it does not disappoint. This collection comes in a variety of two-toned colors to choose from that are each finished with a delicate glaze meant to accentuate the colors of each dish. They too are dishwasher and microwave safe, which is also a nice bonus, and even though this option is slightly pricier than the aforementioned Gibson we recommended, it still won't break the bank. This is certainly a great option if you are looking for a flashier set on a budget.
PRICE $59.19 for a 16-piece set on Amazon
The Conclusion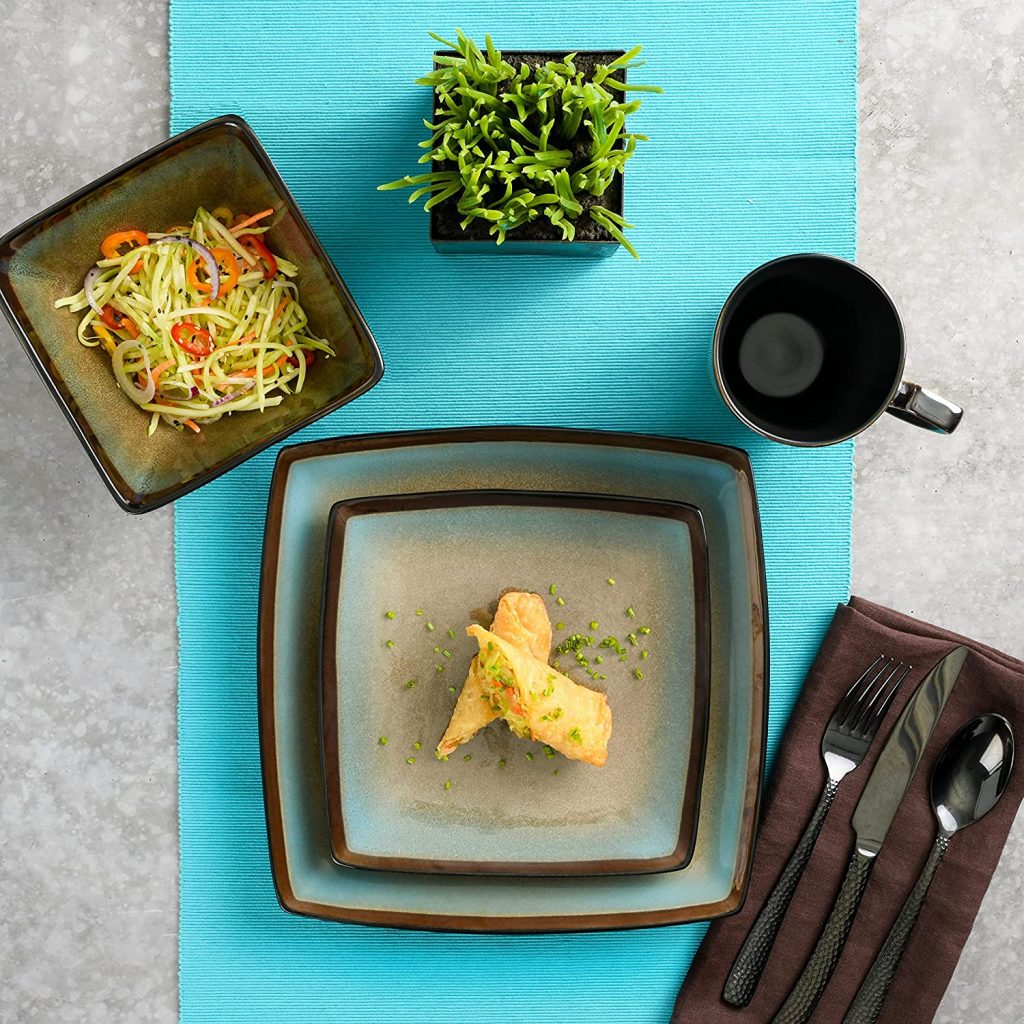 Taking the time to sit down and have a nice dinner with your family is important, in fact, we can argue that it is more important than ever. Why not enjoy a meal with loved ones with food plated on a gorgeous set of dinnerware to compliment all the merriment and good conversation? So go ahead, set yourself up right for an evening filled with laughter, love, and joy with any of the dinnerware options above.