The Jacquemus bag brand has options that range from $700 to about a thousand dollars.
When celebrities and A-listers like Kim Kardashian, Kendall Jenner, Rihanna, Dua Lipa, Solange, Selena Gomez, and Emily Ratajkowski are strutting around with your product in their hands, you know you have gone big time. This is where Simon Porte Jacquemus finds himself and the item these ladies have been sporting is the Jacquemus Bag. So, what makes these particular bags so popular with the A-listers and where can ladies get one, if they (or their significant other) have the financial wherewithal to purchase one?
THE JACQUEMUS BAG COMES IN MANY VARIETIES AND STYLES
Much has been said, by way of physical appearance with many A-list celebrities, about these tiny Jacquemus bags. During the Spring/Summer 2018 runway show at Paris Fashion Week, Simon Porte Jacquemus debuted the mini bag, Le Chiquito, which measures in at a whole 4" x 2.5". If you think that is small, it is nothing compared to its smaller sister, the micro Le Chiquito, which carries itself quite well with its 2-inch length.
Those are just two of the Jacquemus bag offerings. They vary in size, they vary in price, and there is a huge selection. If you know nothing about Jacquemus bags, then make sure you're sitting when you take a gander at their prices.
Le Bambino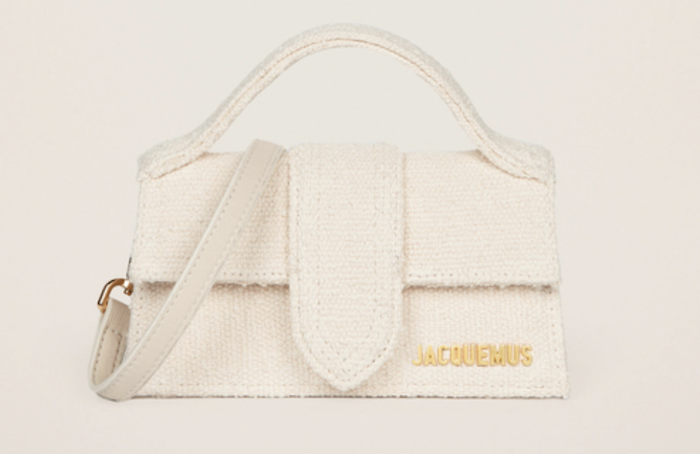 Price – $670.00 on Jacquemus.
This bag measures 6.9" x 3.5". The bag is made of textured cotton (90% cotton and 10% Polyamide/Nylon) and comes with a padded top handle. The flap closure is fastened by a magnet, and it also has a long, removable strap. It has an engraved lobster clip, a patch pocket on the back side of the bag, and a gold metal Jacquemus logo.
Le Grand Bambino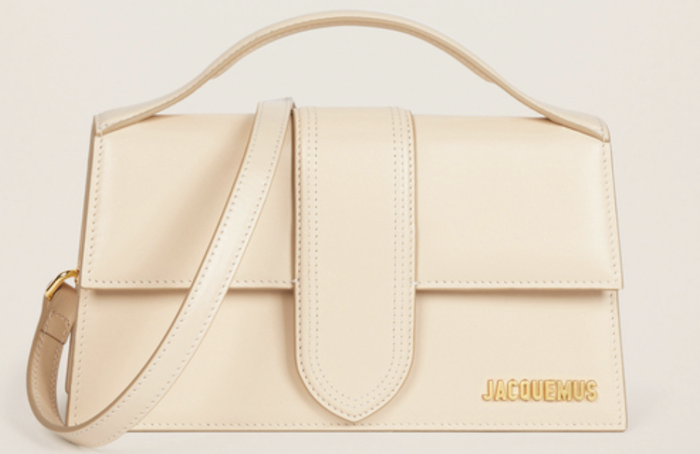 Price – $815.00 on Jacqemus.
Much bigger than the Le Bambino, the Grand gives you plenty of space at 9.25" x 5.1". The Grand has the same exact features as its smaller counterpart – magnetic flap closure, padded top handle, long, removable strap, and a gold metal logo.
Le Chiquito Noeud
Price – $780.00 on Jacquemus.
Made of 100% cowskin, this bag measures 7.1" x 5.3". It features a coiled handle that can be extended or coiled and snapped closed. The inside is fully lined with cotton and it also comes with an interior pocket.
Le Bambinou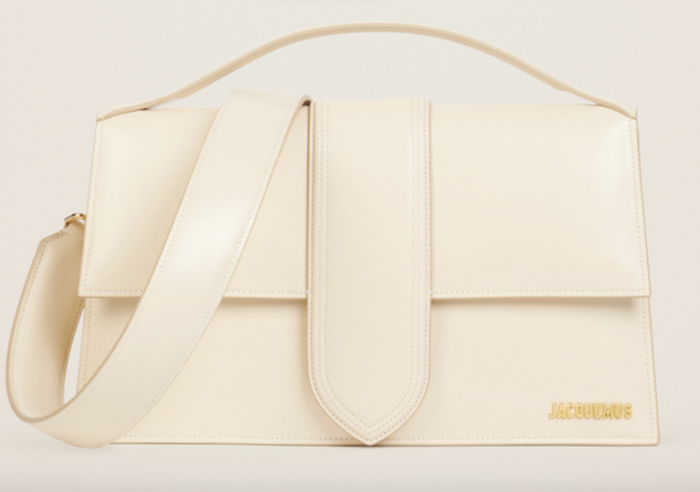 Price – $1,135.00 on Jacquemus.
This is one of the bigger Jacquemus bags on two fronts – size and price. This bag measures 13.4" x 7.9" and is made of 100% cowskin. It has a removable shoulder strap and the bag's edges are angled. The bag has a back patch pocket and its fully lined cotton interior also has an interior pocket.
Le Chiquito moyen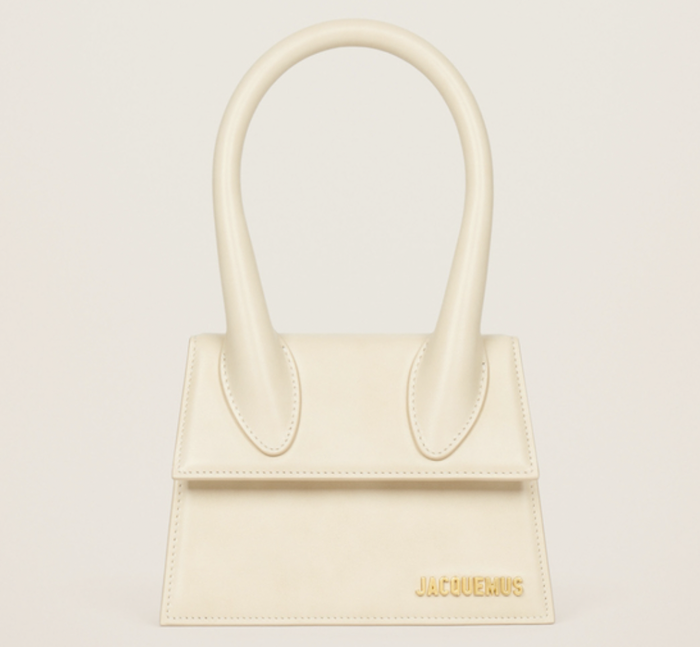 Price – $730.00 on Jacquemus.
This one is the signature bag. The smooth leather structured bag comes with a reinforced handle, a long removable strap, and a magnetic flap handle. Inside you will find a pocket and on the outside, you will see the familiar gold metal logo.
Le grand Chiquito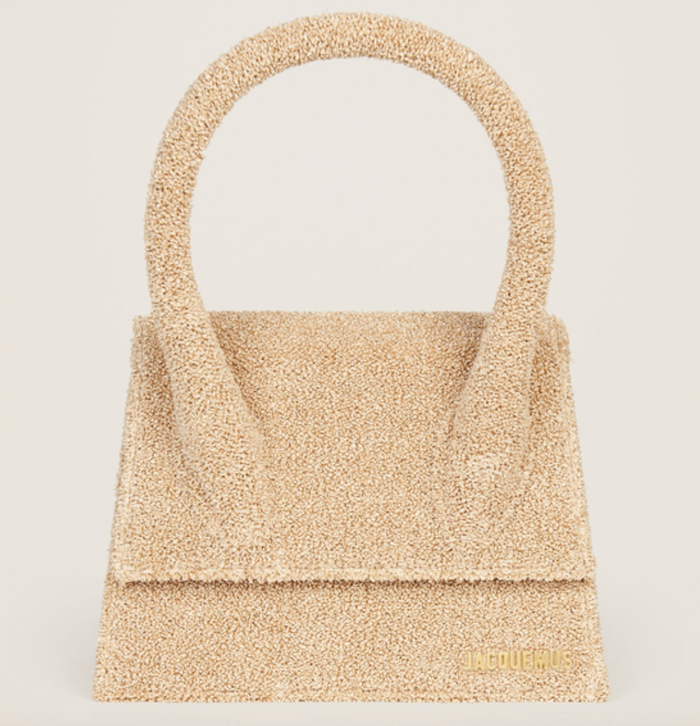 Price – $940.00 on Jacquemus.
This is the larger Jacquemus signature bag, although "large" is a relative term. This one measures 8.6" x 7.1" and is a curled Raphia structured bag made of 62% Polyamide/Nylon, 31% Cotton, and 7% Elastane. It comes equipped with a reinforced handle, an interior pocket, and the ever-present gold metal logo.
Le Bambidou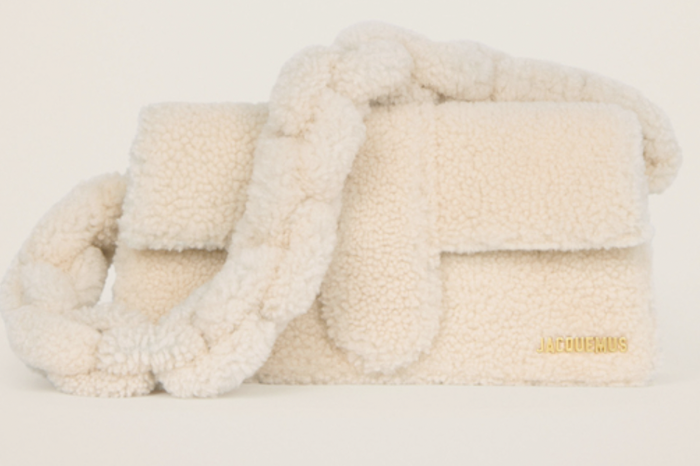 Price – $1,645.00 on Jacquemus.
So, what makes this bag, one of the largest made, the most expensive in the Jacquemus bag lineup? Well, it is made of 100% lamb fur. The Le Bambidou is a structured shearling bag with a magnetic flap closure. The shoulder strap is a shearling-covered chain link strap.
The flap bag has a back patch pocket. Inside, it is fully cotton-lined and has an interior card pocket. The bag also has the gold metal logo.
JACQUEMUS ALSO SELLS COATS, JACKETS, HATS, AND MORE
The Jacquemus bags are a recent addition to the Jacquemus lineup. Before Simon leaned into creating bags, fashion was his niche. He was only 20 years old when he created his brand (he is now 32 years old) and began to push his fashion by having friends wear his clothing creations during Vogue's fashion Night Out in 2010.
Two years later saw Simon grab an invitation to the Paris Fashion Week, where he was able to show off all of his creations. His presentation went well, and he began to build his reputation as a solid designer. Notoriety and awards soon followed.
The first few years of his brand creation saw Simon stick with women's fashion. In 2017, Simon decided to expand his creations by introducing a line of footwear. He followed that up the following year by announcing he'd be adding menswear to his collection, which arrived in 2019.
In between that time, Simon added his Jacquemus bags and hats. All in all, the Jacquemus collection includes coats and jackets, skirts and dresses, tops, pants, jewelry and sunglasses, and swimwear for women. For men, the collection includes coats and jackets, pants and shorts, shirts, bags, jewelry and sunglasses, and swimwear.
Simon has recently teamed up with Nike (in May 2022) to create a few items for both men and women. These include shoes, hoodies, hats, polos, shorts, and sports bras. He also offers sweatshirts for kids.
If you think Simon only dabbles in design, think again. In 2019, he stepped out of his designer comfort zone by opening his restaurant in Paris called Citron. He is a man of many talents.
---
While you won't find a Jacquemus bag on Amazon, you will see some nice alternatives. To find the real thing, you will either need to go to their website or if you wish to get a peek at them live, you can find them at stores like Broken Arms (in Paris), Dover Street Market (in London), Opening Ceremony, Saks Fifth Avenue, Bloomingdale's, or Nordstroms. The prices, unfortunately, will be just as expensive and if you happen to snag one, be careful where you show them off.
Don't let the size fool you, especially if you're a celebrity. It is pretty obvious, the smaller the bag, the better. Although the size of many of these Jacquemus bags makes it pretty impractical to carry anything in, they are definitely something to be carrying in your hand.