The best bamboo mattress options include styles from MLILY, Sleep Science, and Lucid Dreams.
Since people spend one-third of their lives sleeping or trying to sleep, a quality mattress is an investment well worth it. A good mattress can be the difference between tossing and turning or easily drifting off to dreamland. To assist in the research phase of buying a mattress, we've compiled a list of some of the best bamboo mattresses on the market.
Bamboo is a tall, tree-like grass that grows abundantly. It grows all year round and in several varieties. Bamboo is sustainable and renewable and has many uses. It can be used to make furniture, build houses or structures, and even for food.
As a textile, bamboo is one of the best materials for a mattress. Bamboo is antimicrobial, antibacterial, non-allergenic, and temperature-regulating. Bamboo mattresses are ideal for anyone who wants a great night's sleep, but especially for allergy sufferers and those with a tendency to sleep hot.
Starting at $1,599
This is one of the all-around best bamboo mattresses on the market. It was designed with Olympic gymnasts in mind, and who wouldn't want to sleep like a gold medal gymnast?
The mattress sits right in the middle of firm and plush, making it ideal for all sleepers. The Fusion Supreme is comprised of five layers. The Bamboo layer is infused with charcoal memory foam and works to regulate moisture and temperature. Combined with other layers, the mattress has optimal air circulation, providing the best possible sleep for users.
Orders are processed at a rapid rate, and customers can expect to receive their Fusion Supreme within two to five days after ordering. When purchasing, there is an option for White Glove Service. This luxury service includes delivery and setup with your MLILY purchase.
Customers rave that this is the best bamboo mattress they have ever slept on. This mattress does come at a premium price but customers have said that the quality of sleep they get while sleeping on the MLILY Fusion Supreme is well worth it.
Cariloha Classic Bamboo Mattress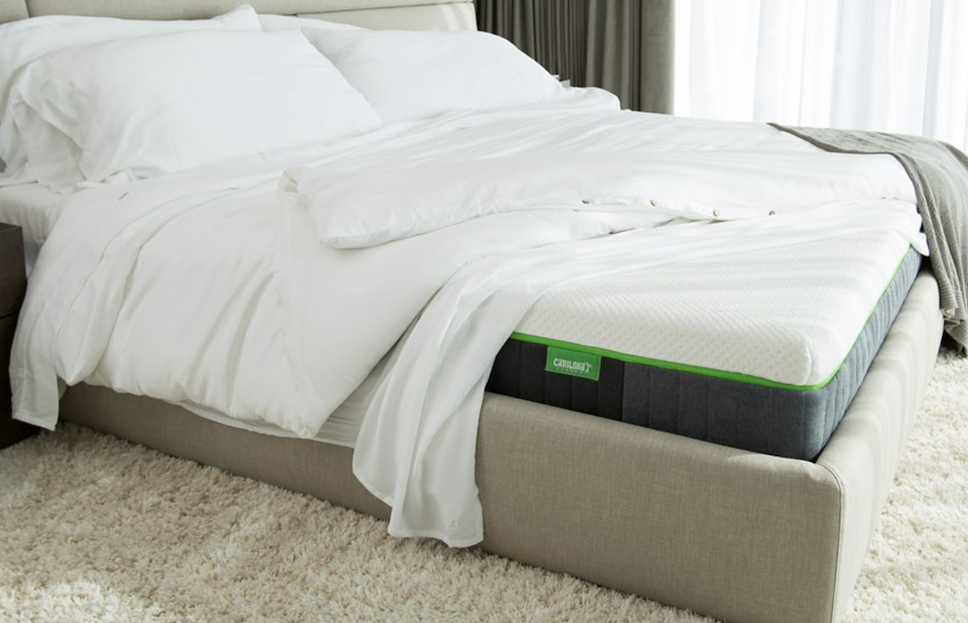 Starting at $849
The Classic Bamboo Mattress is a sleeper's dream and has made it on our list as one of the best bamboo mattresses. The mattress is made of plush viscose from bamboo, making it soft and comfortable. For anyone who is carbon conscious, rest easy knowing that this mattress is a carbon-neutral product. The mattress also comes with a 100-night trial and a full 10-year warranty.
The mattress features four parts. Each layer plays a vital role in providing a great night's sleep. The bottom layer is a flex-flow dual-density base foam, followed by advanced side wedge support. The next layer is luxury memory foam with bamboo comfort memory foam on top. The four layers combined relieve pressure in the body, specifically on the body's main contour points. As you find heavenly sleep, the mattress conforms to your body.
The base foam provides sleepers with improved airflow, giving a cooling effect. This base layer also aids in keeping the mattress's shape. The top charcoal bamboo layer is what leaves this mattress with the reputation of being the world's most comfortable mattress. 
Lucid Dreams 12 Inch Plush Gel Memory Foam Mattress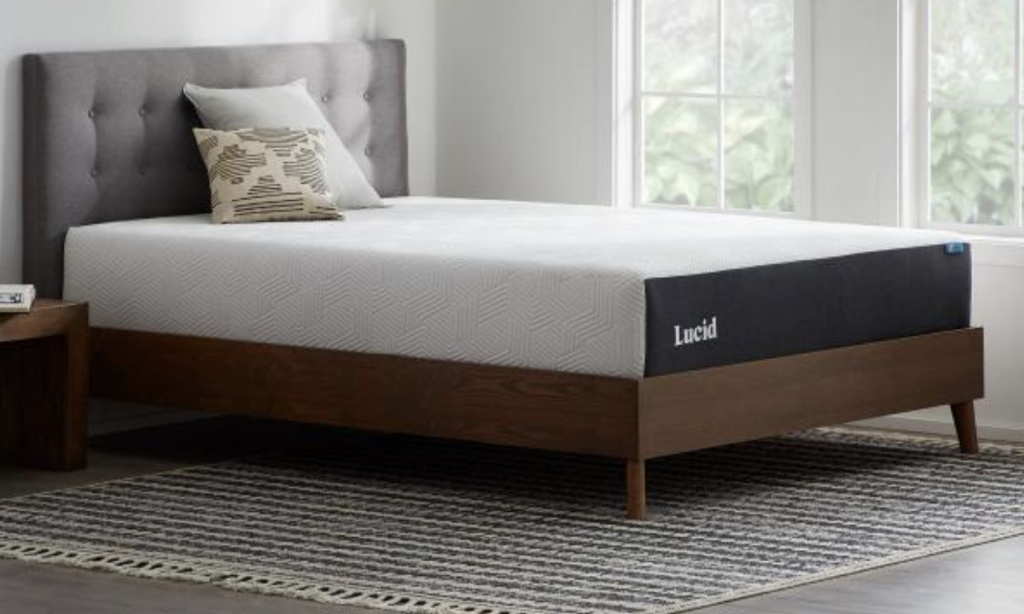 Starting at $299.99
This mattress is terrific for those looking for a great night's sleep while on a budget. A great price point is not the only reason this mattress has made it on our best bamboo mattress list. It is a firm mattress that provides the best possible support. The 12 Inch Plush Gel Memory Foam Mattress is more than ideal for side and back sleepers. This mattress is highly versatile and can sit atop many different bases like traditional box springs, adjustable bases, platform beds, metal grid frames, and more.
This mattress features four layers, with the base being the thickest layer at 6.5 inches of support foam infused with charcoal bamboo. This base layer keeps the mattress fresh because of the hypoallergenic properties of charcoal bamboo.
On top of the base is a two-inch transition foam that contributes to the structure and stability of the mattress. The third layer from the bottom is two inches of gel-infused memory foam that provides the highest level of pressure-relieving comfort.  The top layer may be the most unique, as it does not indent and instantly rebounds. The top layer is one and a half inches of premium memory foam. 
Sleep Science 13" Cool Memory Foam Mattress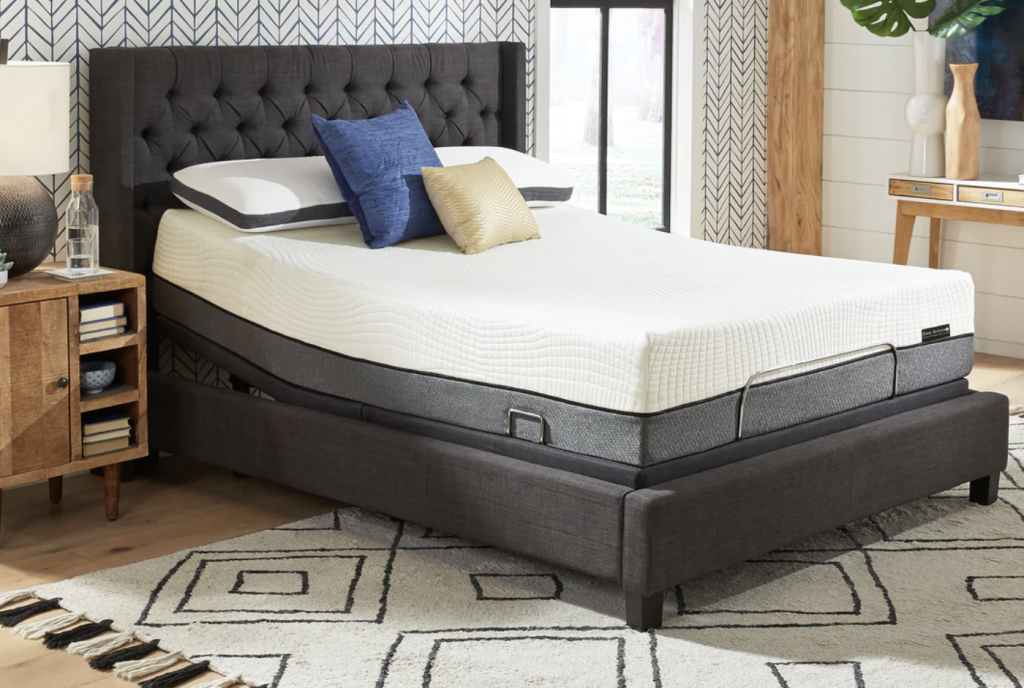 Starting at $639
The Sleep Science Cool Memory Foam Mattress features two unique types of memory foam and is firm, with a conforming sleep surface. This mattress is wonderful for stomach sleepers and back sleepers alike. The top layer is one inch of bamboo-infused memory foam that provides support for a neutral spine and supports circulation. The top layer of the mattress also features a special blend that provides moisture and odor control.
The Sleep Science mattress also features a unique Patented Wedge Edge System. This advanced technology system extends the life of the mattress. The system reinforces the edges of the mattress. Additionally, it provides 20% more sleeping space. This mattress was strategically designed to be one of the most long-lasting and best bamboo mattresses on the market.
This mattress comes with an option to add an adjustable base. There are also lots of different sizes to choose from including, but not limited to, a long twin and a split king. If you do opt for an adjustable base with your Sleep Science mattress, assembly is easy and no tools are required.
Brentwood Home Cypress Affordable Memory Foam Mattress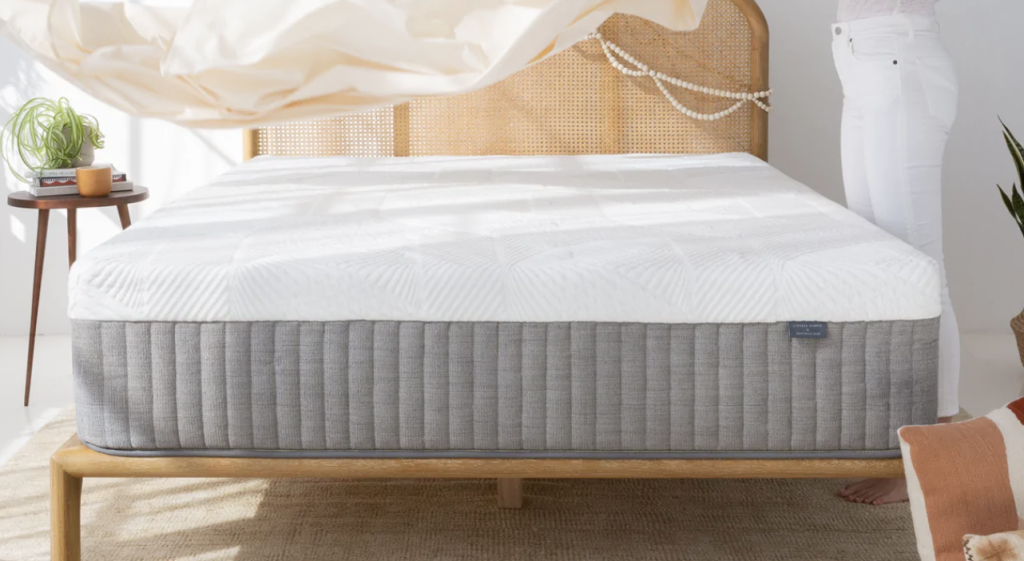 Starting at $579
This mattress comes with a choice for a hybrid or all-foam mattress, each providing a different level of support with different feels. The all-foam options provide a gentle-firm feel while the hybrid options give a medium-soft feel. These different support options allow customers control over their sleeping experience.
No matter what level of softness or firmness you are looking for, the options and upgrades that are available with the Cypress Memory Foam Mattress truly set this one apart from the competition. And they help secure a place as one of the best bamboo mattresses.
This mattress goes above and beyond with a full one-year mattress trial. That is almost unheard of! The company does ask that you allow yourself a full 30 days to sleep on the mattress to give yourself time to adjust. If for some reason, you are not satisfied, Brentwood Home will pick up the mattress and provide a full refund. Additionally, the mattress has a 25-year warranty. 
---