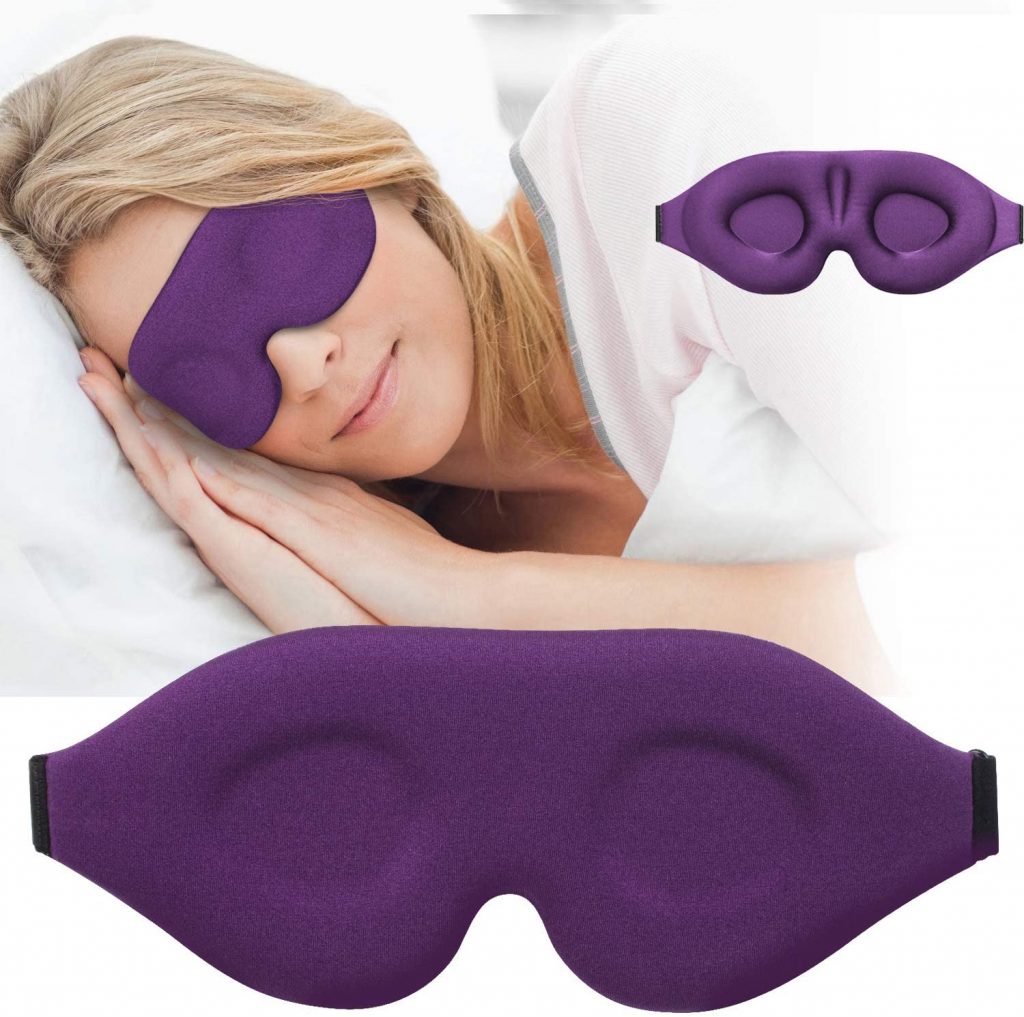 Getting a good night's sleep is a vital component to maintaining optimum health. It's equally as important as fueling your body with the proper nutrition and staying active. According to the American Sleep Association not getting at least 6-7 hours of shuteye a night can negatively affect brain function, heart function, a person's weight, the health of the immune system, and even shorten an individuals' life span. One thing that can aid a person in attaining the proper amount of rest and avoiding the effects above is to use a sleep mask, and we have decided to determine which are the very best ones.
First and foremost, it is critically important to understand the value of getting a good night's sleep is undeniable. However, unfortunately, many individuals all too often are not able to attain adequate levels of sleep. The reasons as to why a person may not be getting the shuteye that they need vary to a large degree. It could stem from a medical condition like sleep apnea or could be connected to disruptions in someone's circadian rhythm due to lifestyle changes. But by far, the most common reason for lack of sleep can be attributed to insomnia. It is estimated that between 50-70 million people in just the United States alone suffer from varying degrees of insomnia.
That being said, it is more likely than not that at some point during your lifetime you will suffer at least a few sleepless nights due to the dreaded "I" word. Luckily, there are various ways you can alleviate the effects of insomnia and achieve an adequate amount of rest. Sleep experts recommend keeping a sleep journal to track when you fall asleep and identify potentially harmful sleep patterns, stick to a schedule to help restore your body's natural sleep rhythms, avoid caffeine at night, put away all of your electronic devices to eliminate the blue light that signals to the body to stay awake, and lastly, try to unwind before you lay your head to the pillow. These are all great ways to promote getting a good night's rest and should be practiced routinely. However, after all of that is when the sleep mask comes in, it can be viewed as the final component to getting a good night's rest. Thankfully, we have narrowed down the best sleep masks that are sure to aid in yielding optimal sleep results.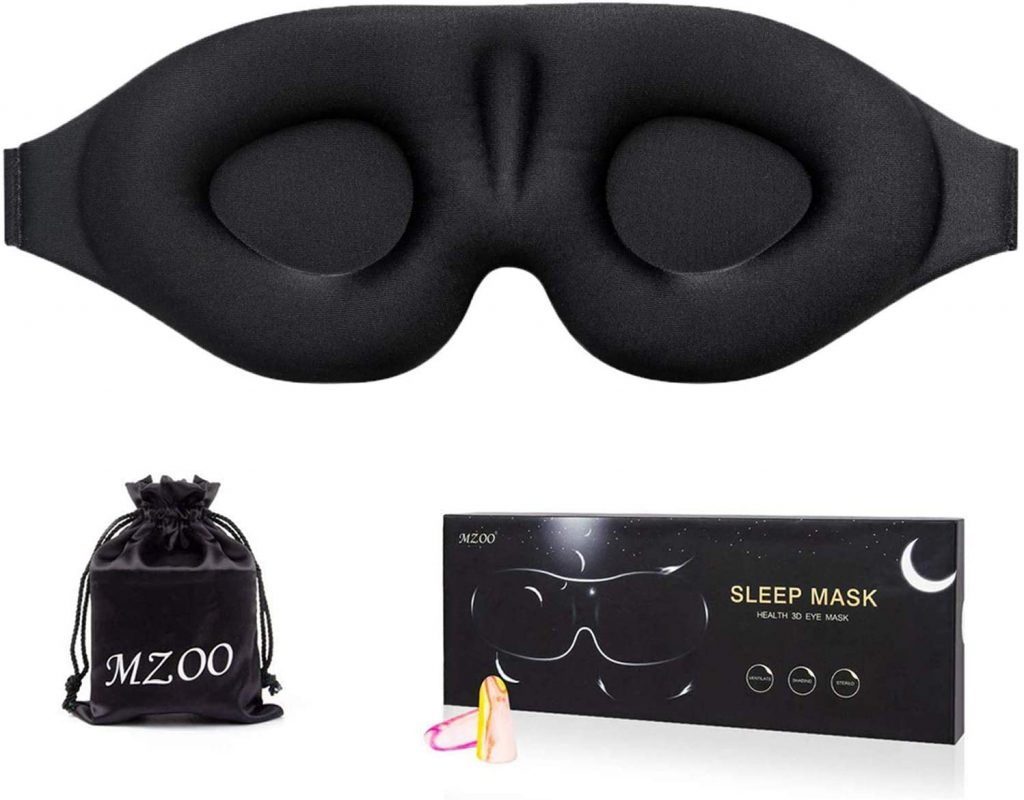 WHY IT'S THE BEST – The MZOO Sleep mask is made of a high-quality dense fiber fabric that is characterized by a low-rebound memory foam. The memory foam allows the sleep mask to perfectly contour to your face. Additionally, the MZOO features two recessed areas to eliminate would be pressure to your eyes themselves allowing your eyes to completely relax as well as blink freely while you are asleep. Additionally, it conveniently features an adjustable buckle to accommodate any and all head sizes. It is also completely effective in blocking out ambient light making it ideal for travel, napping, meditation, and perfect for those suffering from insomnia. There are four vibrant colors to choose from: black, blue, purple, and red.
PRICE – $14.99 on Amazon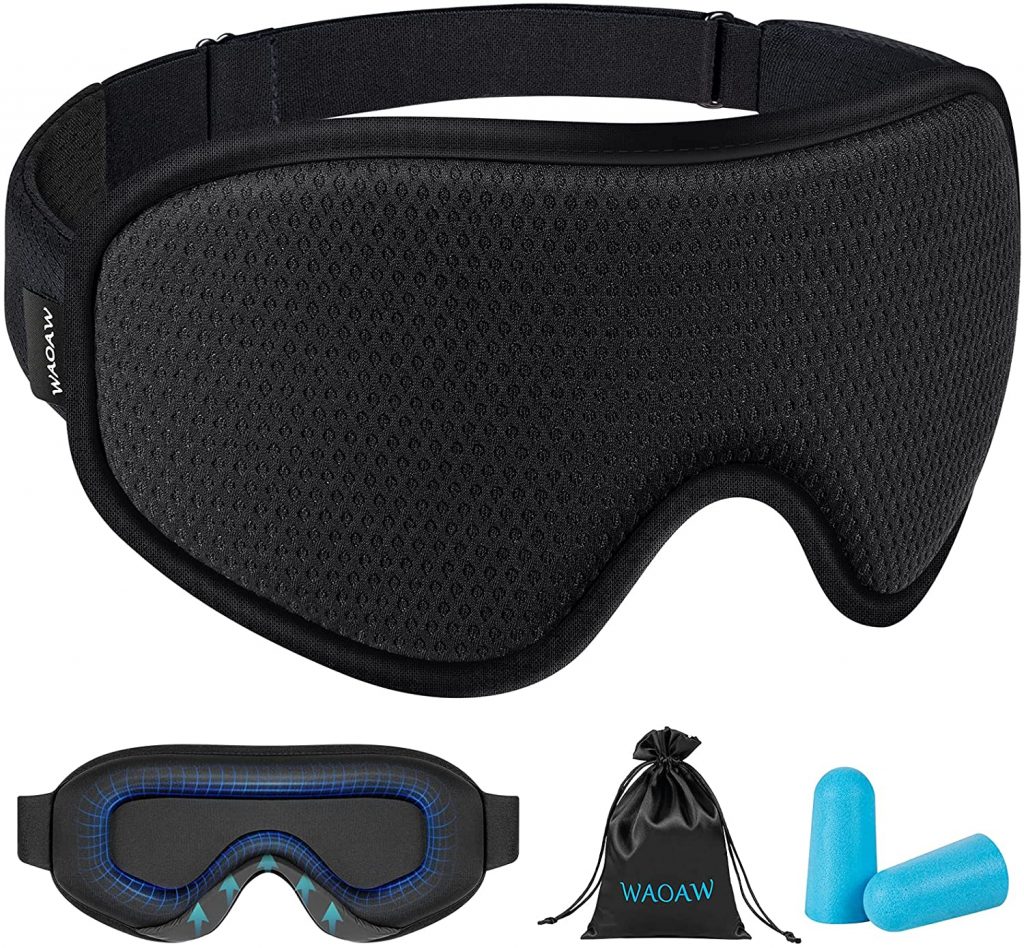 WHY IT'S THE BEST – The WAOAW Sleep mask is a contouring sleep mask made of lightweight mesh material in the front and a soft fiber in the back. It features a wide recessed area to accommodate the eyes and mitigate any potential unwanted pressure. It is also super easy to keep clean, as it comes equipped with a mesh bag that you can put the sleep mask into and throw it into the wash with your other laundry. Another bonus with this particular sleep mask is that earplugs are also included. So, if you are a person who frequently travels, not only can you block out the light, but you can also eliminate any surrounding noises coming from other travelers around you. It, too, is ideal for napping, meditation, and insomnia. It comes in two colors, solid black and black with a neon yellow edge, and is completely adjustable.
PRICE – $12.59 on Amazon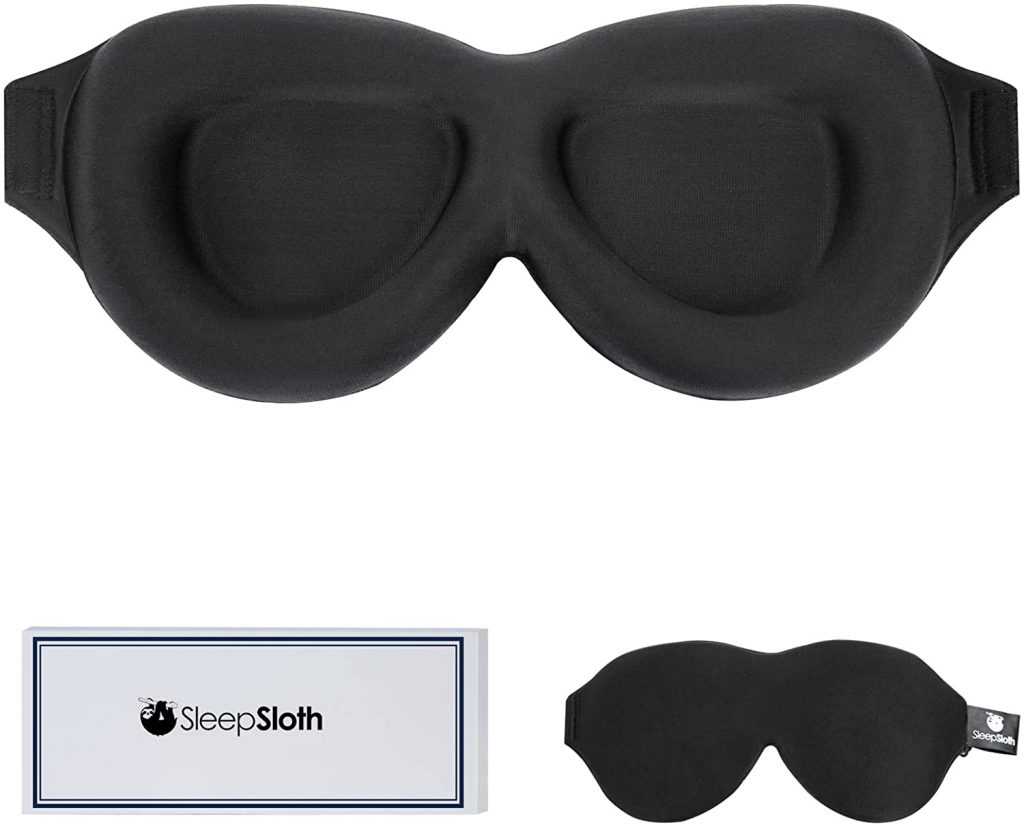 WHY IT'S THE BEST – The SleepSloth ranks amongst the best sleep masks for a variety of reasons. It features 3D contouring made possible by the memory foam it's comprised of. It has two wide areas craved out to provide extra space for your eyes. It is also unique in that it is outlined with silicone edges to ensure that it stays securely in place throughout the night as your toss and turn, making it ideal for the most restless of sleepers. The silicone also helps to guarantee that all light is completely blocked out. This particular sleep mask is adjustable to fit head sizes between 15.8″ to 27.6" and also comes with replaceable eye pads should they wear out over time from use.
PRICE – $9.99 on Amazon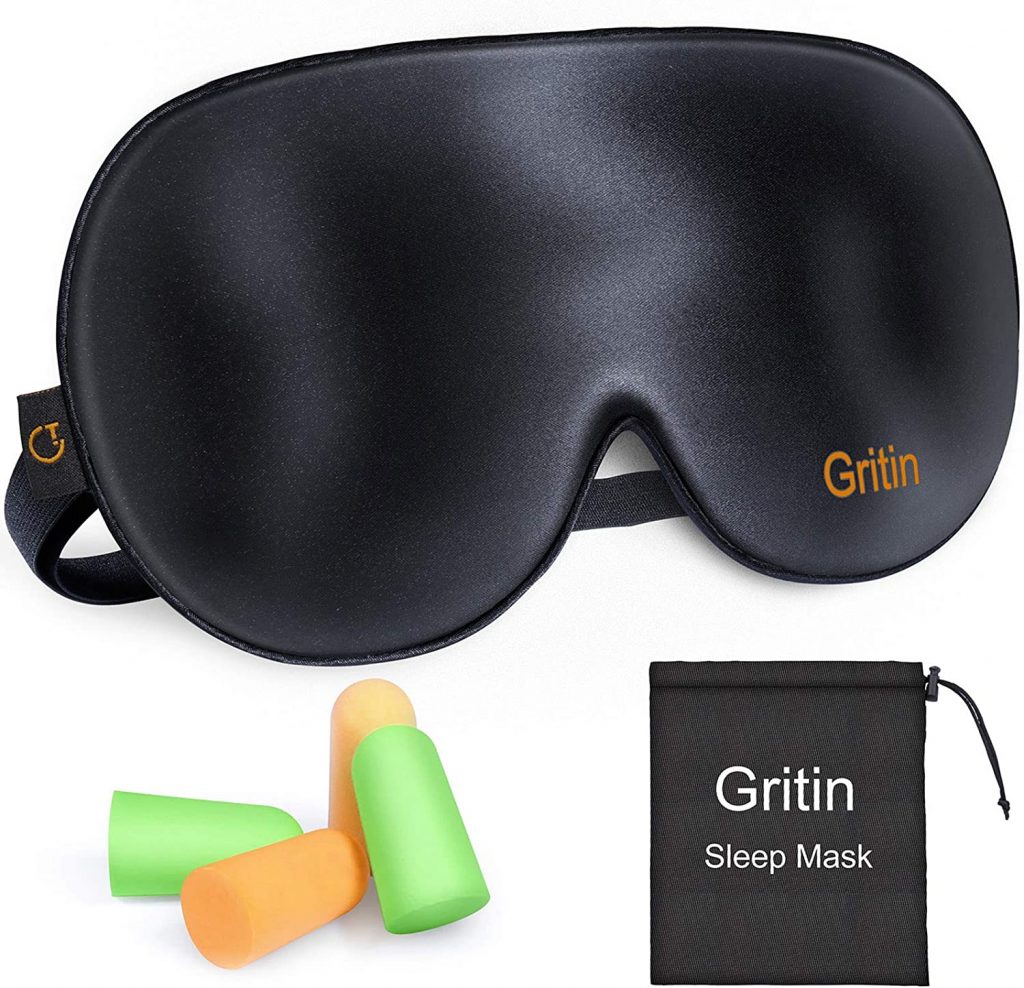 WHY IT'S THE BEST – The name is an eyeful, but so is what the Gritin offers in terms of being one of the best sleep masks on the market. It is made dually of silk and cotton which makes this mask feather-light, and you'd be hard-pressed to find anything softer. It features an adjustable strap to fit virtually any head size, while also making sure to mitigate any undue pressure to your eyes. The Gritin sleep mask also comes packaged with its own carry bag and includes two sets of earplugs to aid in blocking out excess noise. All of this for a price that cannot be beat.
PRICE – $6.98 on Amazon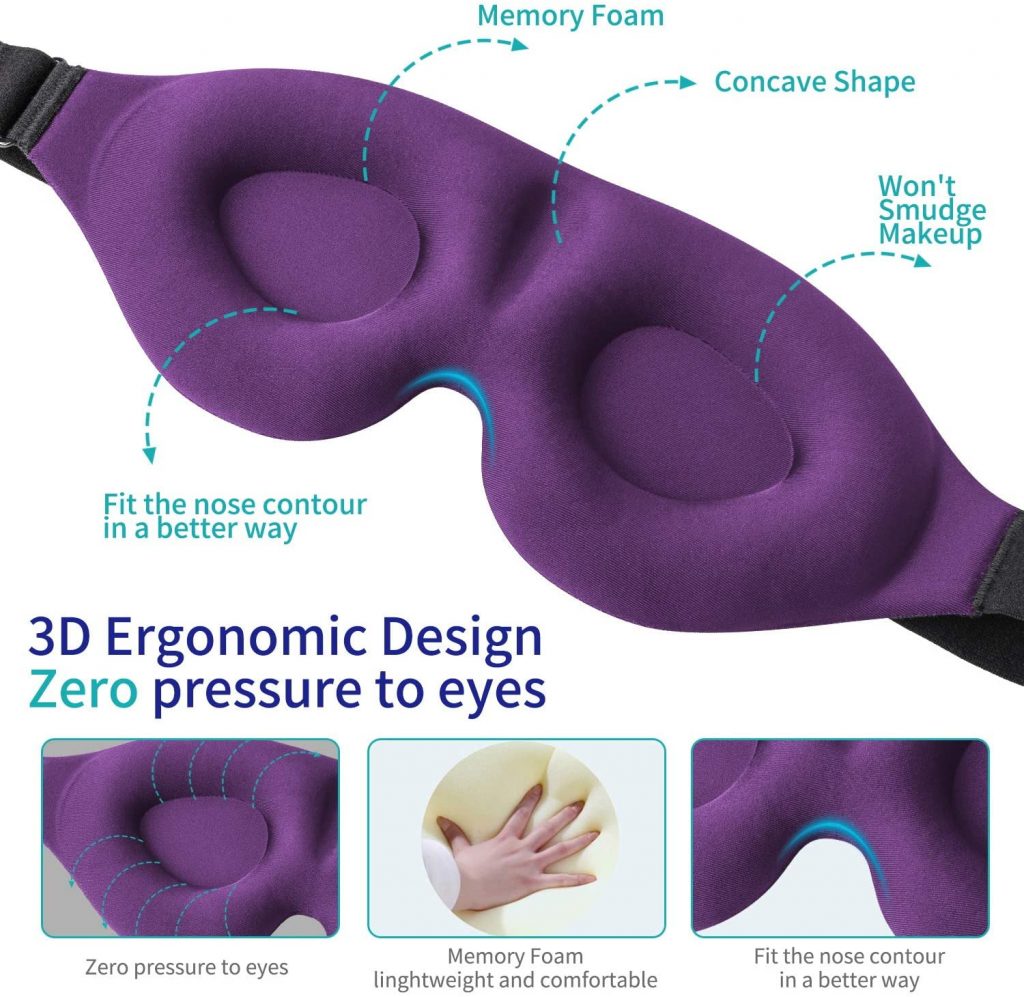 WHY IT'S THE BEST – The 3D sleep mask was aptly titled, as it seamlessly molds flush to the front of your face. It is made of super-soft memory foam and is one of the best ergonomic designs on the market at sleep masks go. It has areas carved out for both the eyes and nose to promote optimum face adherence, and has been tested on those with the most sensitive of skin, thus preventing any potential irritations from the fabric itself upon coming into contact with your face. What's also really nice about the 3D sleep mask is that the company that makes it really stands behind its product. This particular mask comes with a 12-month warranty and wearers are encouraged to call their customer service hotline should they encounter any problems or have any questions. That's definitely a win.
PRICE – $9.99 on Amazon
The Conclusion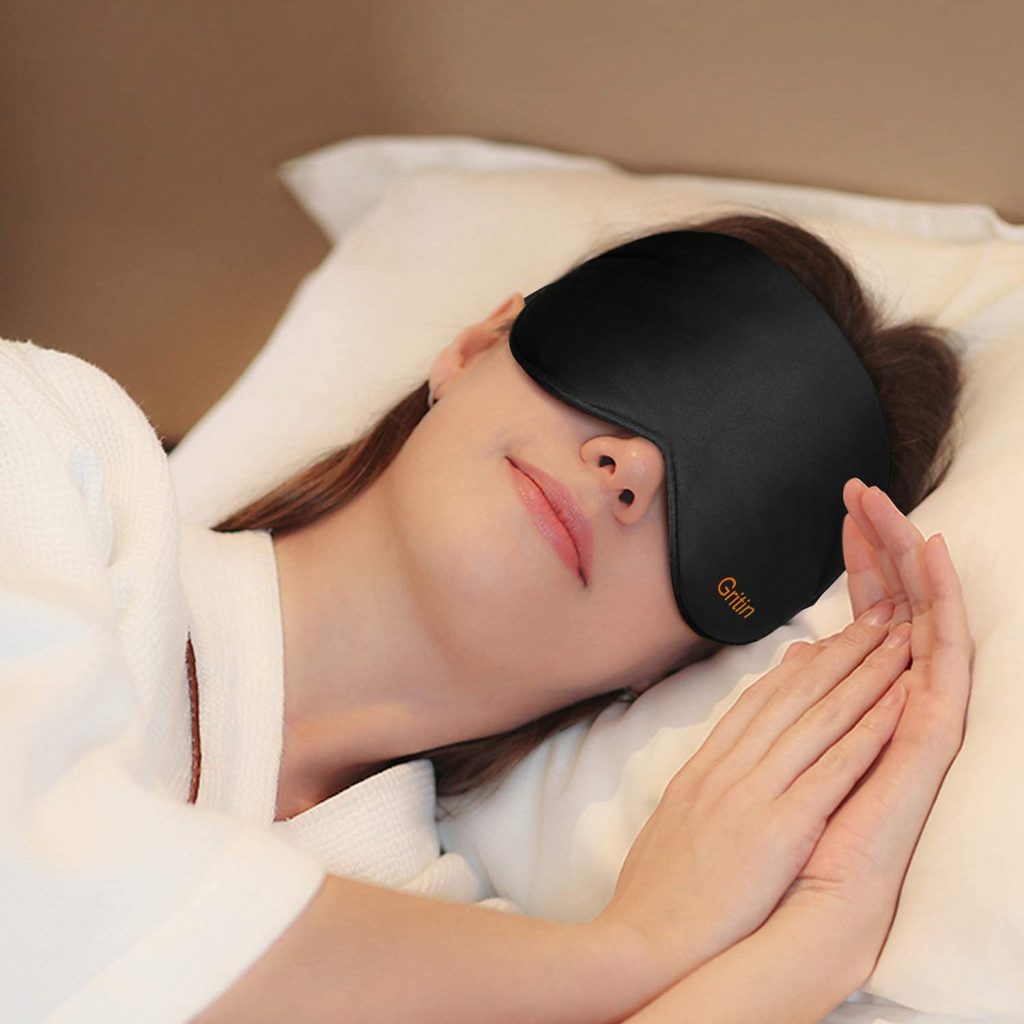 Each and every one of the above sleep masks will not only aid in helping you to attain a restful night's sleep, but they will do so while blocking out any ambient light and providing the ultimate level of comfort.
The MZOO has the most color variety, the SleepSloth's silicone edge is perfect for the sleeper who tend to toss and turn, the 3D Sleep Mask was made for those with the most sensitive of skin in mind, the WAOAW sleep mask is perfect for those whose eyes need a lot of extra space, and they just don't come softer than the Gritin. Any of the above sleep masks will have you catching some Zzzs before your head even hits the pillow.