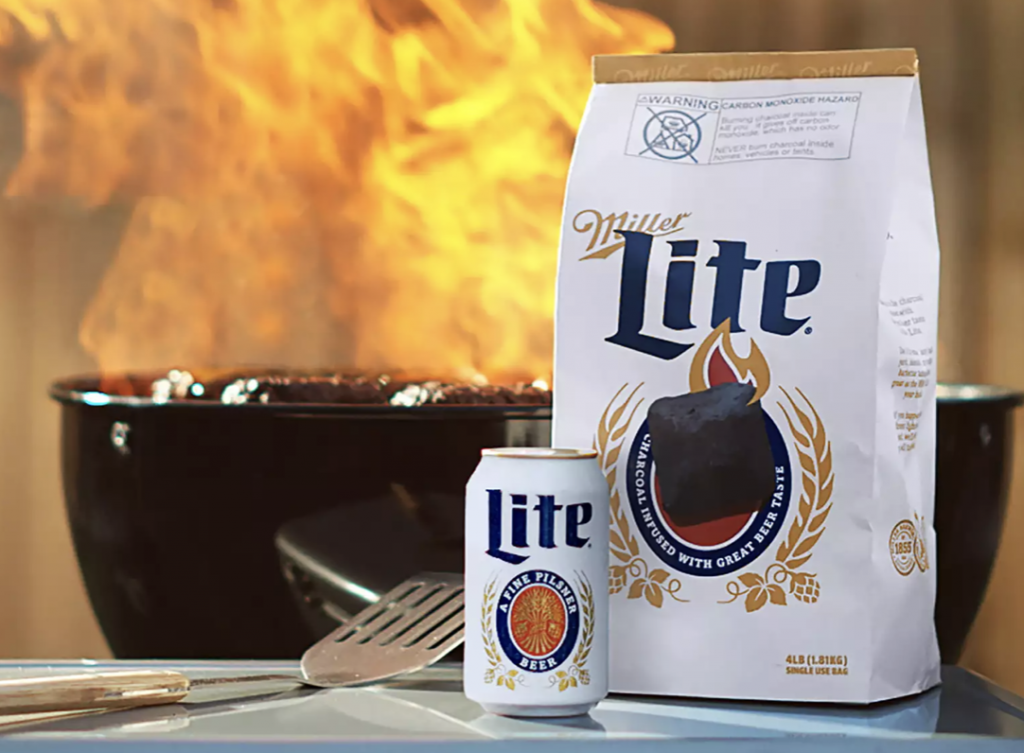 Barbecue season is upon us and that means it's time to dust off your grilling gear. And if you're thinking of new ways to invigorate your food, Miller Lite has got you covered. To kick off summer, the original light beer is bringing its iconic taste to your table with beer-infused charcoal that can turn "Miller Time into Griller Time." With Memorial Day just around the corner, the unconventional product is sure to make an appearance at a few family gatherings across the country.
Dubbed Miller Lite Beercoal, the charcoal follows the brewery's recent taste-focused marketing strategy. The company has been moving away from its emphasis on calories and carbohydrates for quite some time. The latest initiative alcohol giant follows Flavor Drops that went on sale during March Madness. Like the drops, the barbeque product is being released to coincide with a popular holiday. And the company hopes it will retain that link well into the future.
Speaking about Miller Lite's new charcoal, Director of Marketing Anne Pando said, "Summer is all about outdoor cookouts and get-togethers, which means plenty of Miller Time. Summer is also beer season, and as a light beer known for great taste, it only made sense to pair Miller Lite with the distinct and beloved flavor grilling offers," she said in the press release. Pando added that Beercoal is the perfect way to kick off a season-long celebration of beer, grilling, and hanging out with friends and family.
If you're wondering how this barbeque-friendly product is made, the food science behind it is pretty simple. To bring their unique Miller Lite taste to the grill, the iconic beer is reduced down into a concentrated form which then coats Miller Lite Beercoal with the unique taste of the original light beer. When burned, this special charcoal releases the taste of Miller Lite wrapping whatever is on the grill in a smokey beer blanket suitable for summer, Food & Wine reports.
The Miller Lite charcoal officially went on sale on May 24th. The product is available in four-pound packs which can be purchased on the company's website, and ships nationwide for $11.99 plus shipping The only catch is that Beercoal will only be sold while supplies last. However, the brewery says they will be offering periodic online product drops through May 27th. So fans of the original drink should get their hands on the grill companion right away. This is especially true if they want to get their Beercoal in time for Memorial Day.
The Miller Brewing Company was founded in 1855 by Frederick J. Miller when he purchased the Plank Road Brewery in Milwaukee. He chose the city as the best place for a brewery since it has access to great water. Miller Lite, the original great-tasting light pilsner beer, was introduced nationally in 1975 and is among the top-five selling beers in America. With the introduction of its charcoal, the company hopes to make its mark on summer, especially since other drinks like seltzer and cocktails eat into beer's market share. Due to its unconventional nature, the product is sure to get a lot of traction, thereby raising Miller Lite's profile.