The best Costco tequila deals include bottles from Kirkland and Herradura
Costco offers some of the best prices on products from food, household items, electronics, clothing, and more. Shopping at the store requires a membership, with one exception: There are laws in place in particular states that prohibit the sale of alcohol on a membership basis only. With this in mind, consider shopping at Costco to keep your liquor cabinet stocked with all the best brands of alcohol. This includes a signature Costco tequila brand.
Different Costco locations offer different brands of Tequila, and prices among stores vary though they are roughly the same price regardless. Some Costco locations even provide home delivery. A simple online search or call to the nearest store can help customers determine the selection available and if home delivery service is an option.
Costco Tequila first began production in 2019, and the production has grown to keep up with demand. Costco produces three different types of Tequila, Silver, Anejo, and Reposado. Silver tequila is unaged but rests for a period of 30 days in steel tanks before being bottled and labeled. Anejo tequila is aged in oak barrels for a period of time between one to three years. Reposado tequila ages in steel or oak for around two months to one year. Let's take a look at some of the Costco tequila options.
COSTCO TEQUILA – KIRKLAND BRAND
Costco Tequila Kirkland Signature Silver – About $20 for 1.75 ML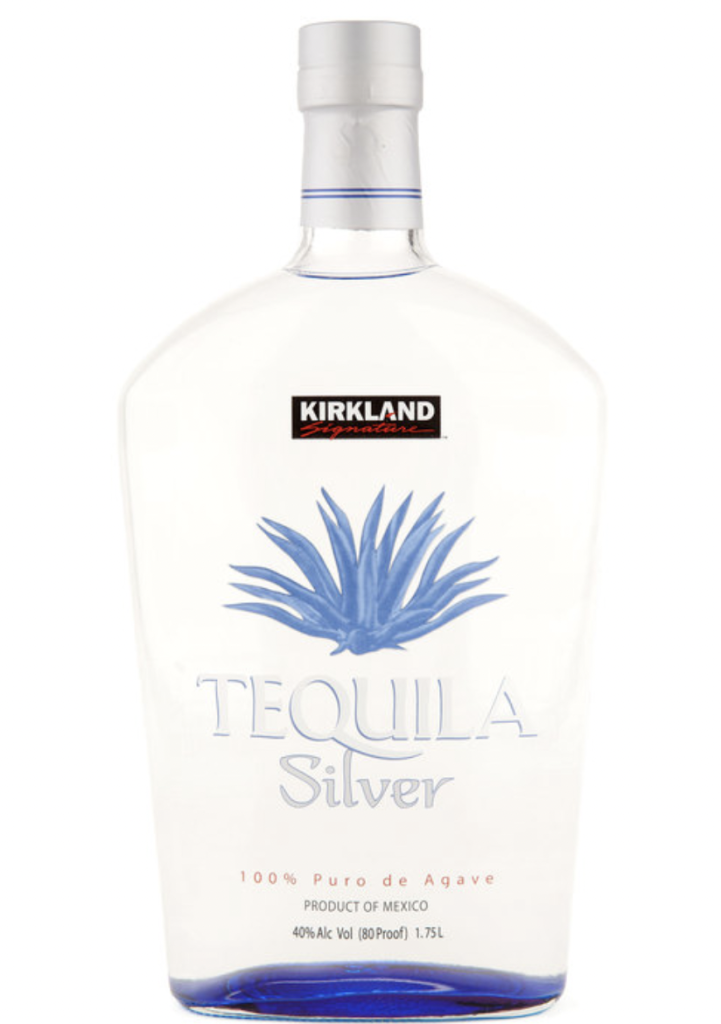 This Costco tequila is made at Corporate Distillery Santa Lucia. This specific distillery has been around since the 1940s and is well-known throughout the world. Since the beginning, Corporate Distillery Santa Lucia has been family owned and operated and is known for producing Tequila of exceptional quality with traditional flavor. Exceptional quality and traditional flavor can be used to describe this Silver Costco Tequila.
Silver Costco Tequila has notes of apple and pear and a floral aroma of cut grass. This Tequila is 100% made from blue agave plants. Additionally, the spirit is double-filtered and double-distilled. The pots that are used in the process are stainless steel with a copper coil to conduct the perfect amount of heat in the distillation process.
This Costco tequila is clean and contains no added color, flavor, or any other additives. Overall, it goes down smoothly and has an authentic Mexican tequila taste. The spirit is 80 proof, and for thought, this Tequila is comparable to Patron and Ed Hardy Tequila. Costco Tequila Kirkland Signature Silver is an affordable tequila and, for the price, a quality choice.
Costco Tequila Kirkland Signature Anejo – About $47 for 1 Liter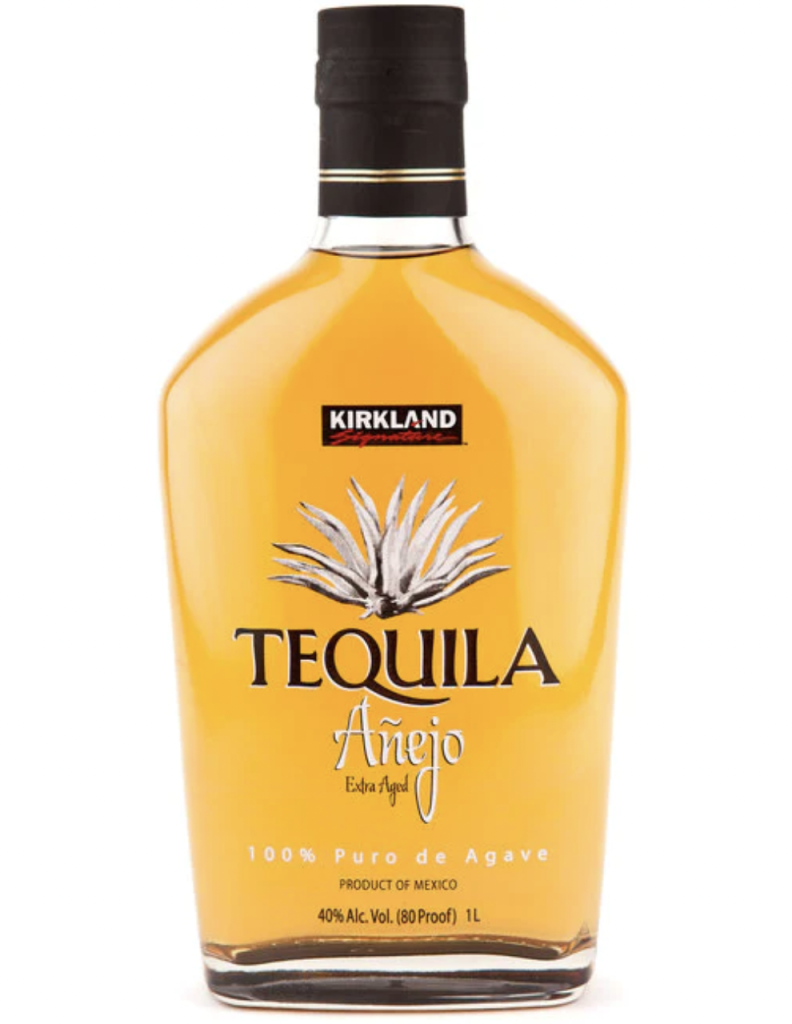 This specific Costco tequila is made in Jalisco, Mexico, and is considered to be made from 100% blue agave. It's a little tricky and, frankly, misleading. Keep in mind that while some tequilas are labeled as 100% blue agave, they can still contain added sweeteners, coloring, and other additives. Generally, Anejo tequilas are aged in oak barrels for a minimum of two years, but this Costco tequila is aged for just one year, which may be why the addition of additives is present.
Kirkland Signature Anejo Tequila is described to have notes of vanilla, caramel, and, as one could imagine, oak. The spirit emits the aroma of the same notes with the inclusion of brown sugar. Some have said this Costco tequila is ideal for sipping.
Customers should know that this Costco tequila contains additives. Additives contribute to a hangover, cause migraine, and even trigger allergies. Consider this when shopping for any tequila, whether it's a Costco brand or another. Additives are often included to act as a cover-up for lack of quality.
Costco Tequila Kirkland Reposado – About $15 for 1 Liter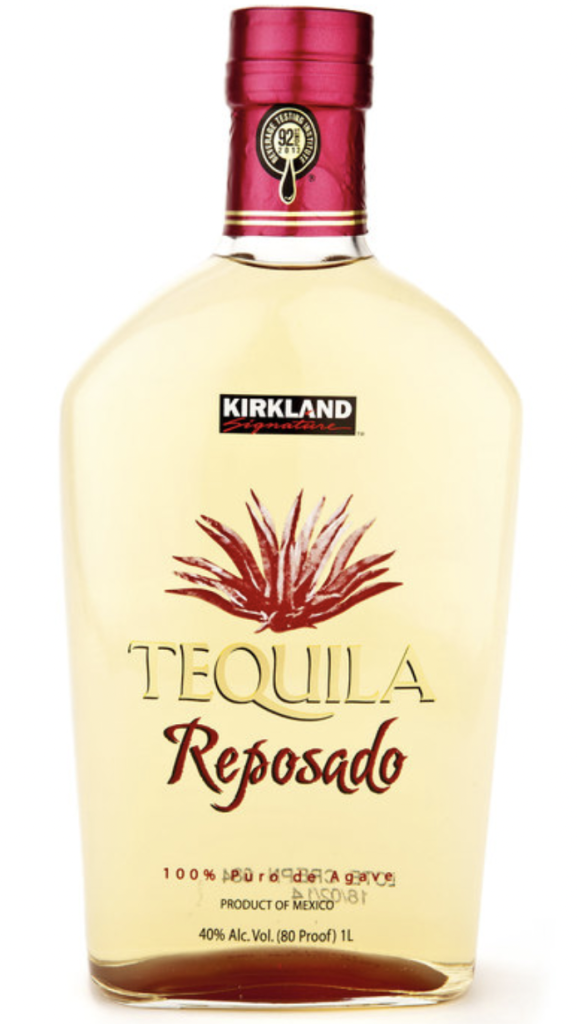 Kirkland Reposado is produced by La Madrilena Distillery, which has been making Tequila for over a century. This specific Tequila is fermented in stainless steel and produced from 100% agave. It is made with natural spring water and double distilled. This Reposado Costco Tequila is considered ideal for making mixed drinks, like margaritas or ranch water. If you prefer to sip Tequila, this may be an okay choice.
The flavor can be described as well-seasoned, with notes of oak and caramel and an aroma of fruit, and straw, along with baked agave. It has an initial grassy taste with a peppery finish. This Costco Reposado contains 40% alcohol. Quality-wise, this Reposado falls in the middle between good and bad.
Overall, at this price point and if used to make a mixed drink, this Costco tequila makes for an affordable and good choice. Squeeze some fresh lime juice, slice up some jalapeños, add some Topo Chico and a generous splash of this Reposado and you've got yourself a delicious and refreshing mixed drink.
THERE ARE OTHER, NON-KIRKLAND OPTIONS
In addition to its own signature brand of Costco tequila, customers, both members and nonmembers can find other well-known brands of Tequila. Based on a blind taste test, one Tequila stood out and made a name for itself as the best-tasting Tequila available at Costco. That tequila is Herradura Reposado Tequila.
Herradura Reposado Tequila – About $40 for 750 ML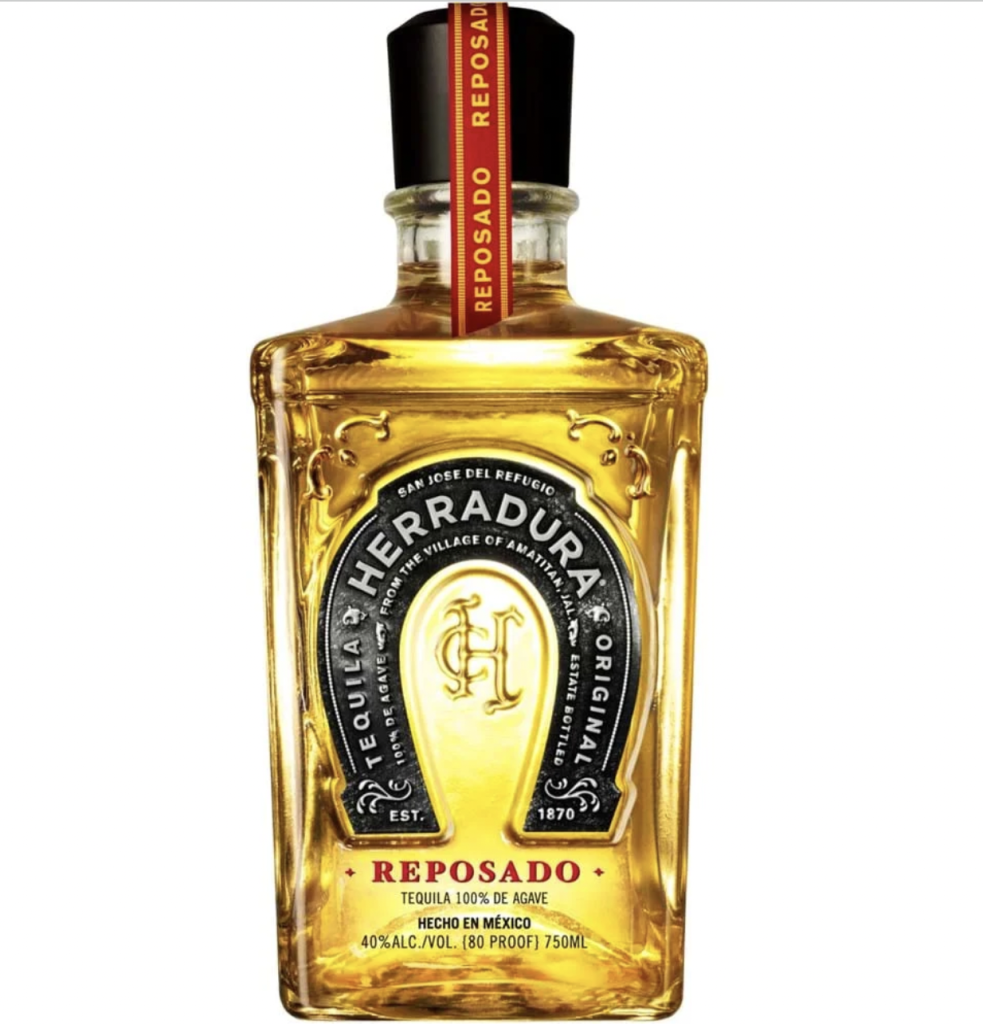 Herradura Reposado is made at its own distillery, Grupo Industrial Herradura. This quality tequila gives off an aroma of citrus and vanilla, which makes for an inviting tequila. Drinkers get an initial taste of dryness that quickly brings in citrus fruit and sweetness flavors, finished with a taste of butterscotch.
Drinkers can enjoy this Reposado Tequila on its own or add it to a mixed drink to elevate the flavor and add a nice punch. This exceptional Tequila is described as pure, bold, fine, and complex.
With affordable prices and a variety of brand options, these selections are a can't-go-wrong deal for anyone looking to make a refreshing, spicy marg or enjoy quality tequila on its own.
---