The Kindle Paperwhite is Amazon's best-selling e-book reader with a glare-free slim design, a long-lasting battery, and an impressive waterproof feature.
If you are one of those types who no longer loves the smell of a nice, new paperback novel, then you are probably a fan of the ebook reader, the Kindle Paperwhite. Ebook readers, especially Kindles, somehow remain popular although you can also read ebooks on tablets such as the iPad or the Samsung Galaxy Tab A. So, as they remain a favorite item, for a very good reason which you'll soon see, let's take a look at the Kindle Paperwhite and see what makes them great ebook readers.
THE KINDLE PAPERWHITE IS GLARE-FREE, WATERPROOF, AND EQUIPPED WITH A LONG-LASTING BATTERY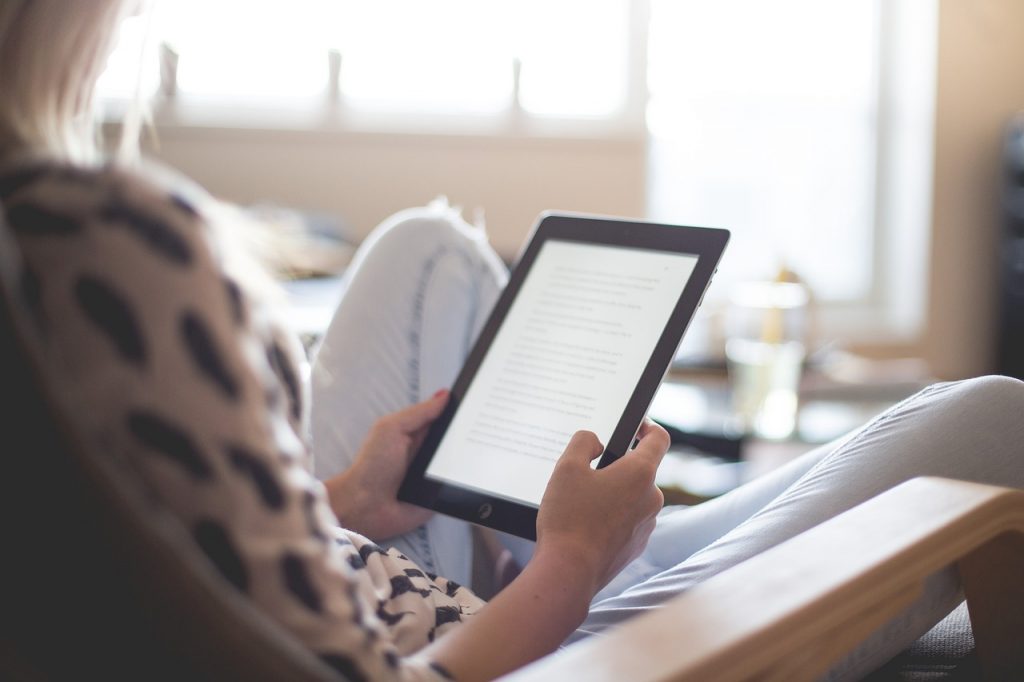 If you know anything about the Kindle family of ebook readers, then you will know that the Kindle Paperwhite sits smack dab in the middle. Think of it as the Kindle's middle child. On one side of it, you have the original (and less expensive) Kindle while on the other side you have the newer (and more expensive) Kindle Oasis.
What gives devices like the Kindle Paperwhite an advantage over other tablets is that this one comes equipped with a sharp E Ink Carta 300-PPI display that is glare-free. The only drawback to the Kindle Paperwhite display is that it measures in at a fairly diminutive 6.8-inches. It does help its smallish cause by incorporating a built-in light to help fight the glare.
It can also boast an IPX8 water-resistance rating, which means wherever there is water, you can read from your Kindle Paperwhite. The beach, your all-inclusive resort pool, or even your bathtub are all fair game as the Paperwhite holds no preference. You, on the other hand, may be jonesing for an all-inclusive stay in Punta Cana and we wouldn't blame you one bit.
Back to the Kindle Paperwhite's waterproofness, its maker, Amazon, states that the Paperwhite can withstand being held 2 meters under in fresh water for up to 60 minutes and not bat an eyelash. Now, if you are one willing to test that theory and sit with your Kindle Paperwhite for an hour underwater, more power to ya. You either have fabulous lung capacity or you are scuba diving in a lake.
You now may be asking yourself, if the Kindle Paperwhite can withstand one straight hour immersed in fresh water, what kind of battery power does it hold? Well, the Paperwhite comes with a 1,700 mAh battery that will last you (are you sitting?) 28 hours in between full charges. This means, according to Amazon, that if you play your cards right and don't go freshwater scuba diving with the device, you can get around six weeks of 30 minutes of reading per day.
Now you must be thinking, with a battery that produces such a decent running time, the Kindle Paperwhite must have some weight to it; well, you would be incorrect. The Paperwhite is both light and thin, clocking in at a quaint 6.4 ounces and a tad over 8 mm thick. Short, sweet, and right to the point.
Another great design by the Kindle Paperwhite team is that the screen is flush with the bezel. This means you will not have to worry about any space that can trap sand or dirt on your many tropical getaways. The backside of the ebook reader is soft with an almost rubbery feel to it that makes it much easier to grip during those tense moments in the new Stephen King book you're reading.
KINDLE PAPERWHITE PRICES RANGE FROM $100 TO $135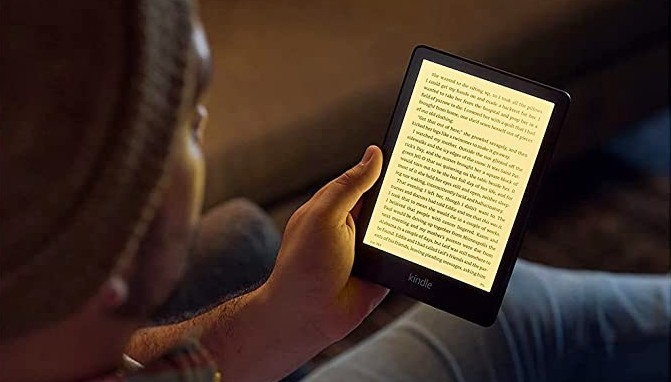 Right now there are two models of the Kindle Paperwhite. The first is the regular version simply called the Kindle Paperwhite. It comes with either eight GB of storage or 16 GB of storage. There are also two ways you can get these models – Lock screen ad-supported or without lock screen ads.
For $99.99 on Amazon, you can purchase the 8 GB, lock screen ad support. The 8 GB, without lock screen ads costs $119.99. The 16 GB, lock screen ad support runs at $104.99 while the 16 GB without lock screen runs at $124.99.
The second version is called the Kindle paperwhite Signature Edition. With this version, you get all the same goodies that the original gives you but on top of that you will be able to wireless charge this device, it has an auto-adjusting front light, and a robust storage capacity of 32 GB. This is a nice step up from the original Kindle Paperwhite and costs $134.99 on Amazon.
AMAZON OFFERS THREE VARIATIONS OF E-READERS: KINDLE, KINDLE PAPERWHITE, AND KINDLE OASIS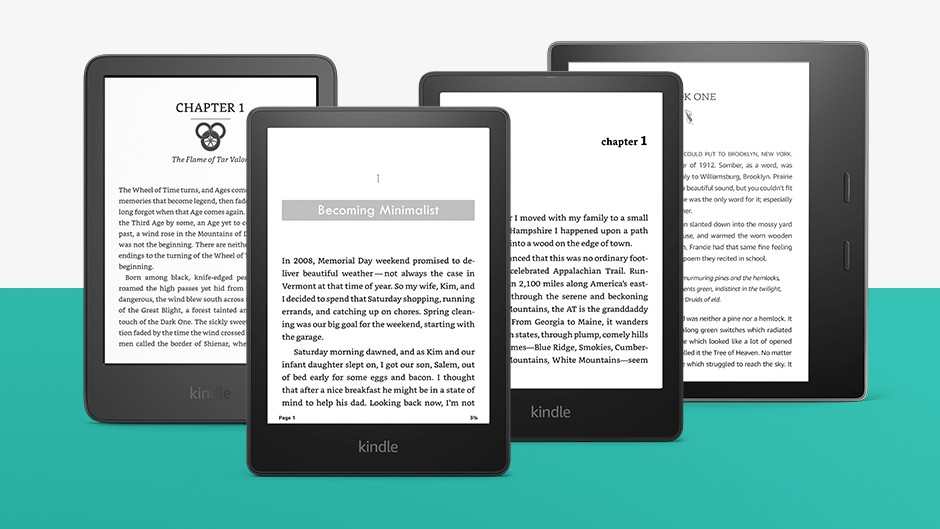 As we mentioned earlier, there are three different types of Amazon Kindle ebook readers. While all three offer a great reading experience, it is the little things that make the difference, so what are those "little things?" Let's make a quick comparison.
When it comes to display size, both the Kindle and the Kindle Paperwhite measure in at six inches, their difference being that the Kindle has a 167 PPI display while Paperwhite has the aforementioned 300 PPI screen. You will also find the same 300 PPI display screen with the Oasis, but the size jumps up to seven inches. That could be a big difference for some.
The Kindle's screen is indented while both the Paperwhite and the Oasis are flush. This could be the reason why the Kindle Paperwhite and Oasis are waterproof, and the Kindle is not. Sorry, no freshwater diving for Kindle owners.
One of the bigger differences comes with the LED lighting. The basic Kindle comes equipped with four LED lights while the Kindle Paperwhite has five. The Oasis, on the other hand, comes fully equipped with 25 LED lights, which attributes to the more even screen glow seen from the premium Kindle.
Storage and battery are also factors that separate the Kindle family. The battery on the basic Kindle will give you around four weeks of reading time while both the Kindle Paperwhite and Oasis have better batteries allowing for an extended amount of reading time. As for storage, you know the Paperwhite capabilities; the basic Kindle only offers eight GBs while the Oasis will reach 32 GB.
Of course, the more a Kindle has to offer, the higher the price will go. You know the Kindle Paperwhite prices. The basic Kindle also starts at $99.99 while the Oasis will start at $179.99.
PERFECT FOR THE ON THE GO READER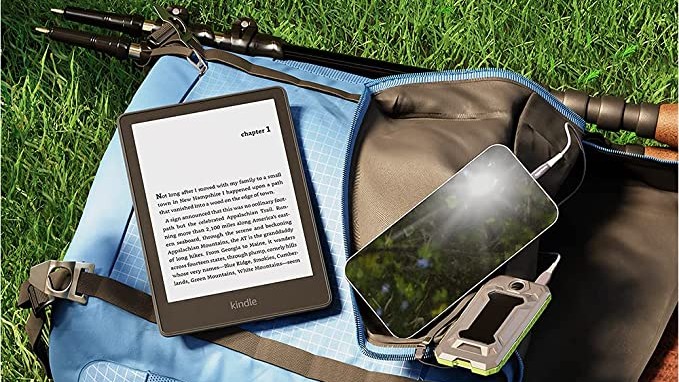 If you are looking for an ebook reader that comes with some bells and whistles, along with a solid entry price, you can't go wrong with the Kindle Paperwhite. It gives you everything you need in an ebook reader, with enough space for you to bring a decent-sized library on any adventure. And if you wish to read a book underwater, the Kindle Paperwhite is your ebook reader of choice.
---