So you are having trouble understanding how to set time on G shock 5146. Yes, it can be a little confusing and with no layman's guide, changing time makes it even more frustrating. Especially when the user manual is also not easy to understand.
Here at Tell Me Best, I have tried to write the time changing process in the simplest manner possible. It is lengthy but written to keep things simple. My love with Casio began after this beautiful masterpiece  G Shock Rangeman. It is going fine for quite some time. I see it as one of the finest pieces designed by them.
The same tutorial applies to it as well. Hopefully, you can easily change the time after going through this tutorial for 5146.
Know your Watch First before learning how to set time on G Shock 5146
It is very necessary to understand the different position of buttons on your tactical military g shock watch. Look at your watch now and consider the names of the buttons as in the image.
The top left one is button A, Top right is B, Bottom left is button C and Bottom right is going to be button D.  Match with the figure get yourself familiar with the buttons.
We know that there are tags on the buttons already called Adjust, Mode, Reverse and Forward. For the sake of understanding please ignore these labels for now and stick to A, B, C and D as in the picture.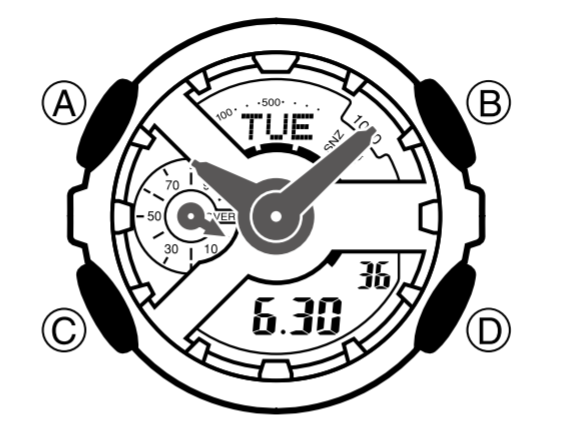 What is Time Keeping Mode?
By default, the g shock 5146 is in timekeeping mode. This mode tells about Time and Date. You do not need to go into any other mode to change the time. Since this guide is solely about how to set time on g shock 5146 we will not go into details about other modes such as Alarm, stopwatch, countdown timer or world time mode.
Features of Timekeeping mode?
So by default, you are in timekeeping mode. If you press the D button as in the picture above you will see the Home City Date. If you press this button again you will see the Home City Time. Do not worry about the term home city as we will cover it soon as well.
So familiarize yourself as to where the day of the week appears, where is the city code appearing, where is the PM indicator, Where is the month, day and hour: minutes appearing on the watch. I have attached a screenshot from the user manual so you can compare and know it easily.


.
Which time do I change Analog or Digital?
You do not need to change the analog time. As soon as you adjust the digital time the analog time automatically adjusts itself to the digital mode. If for some reason the analog time does not adjust itself to the digital time then I have covered that problem at the bottom of this post.
How to change Digital time on G Shock 5146?
So now that you understand what is meant by different items on the screens lets begin with time changing process. Time is changed step by step on G shock 5146. To get into time changing settings hold down the 'A' button for about 3 seconds until you see that a three alphabet code is flashing on the screen.
These three alphabets are a code of a city. The g shock 5146 watch is currently displaying time in this city. G shock has by default almost 49 cities codes stored in it. Now identify which city you are located in. If your city is not on the list then select the city which is closest to your current city. This is the list in order as they will appear on the watch:
| | | |
| --- | --- | --- |
| City Code | City | GMT DIFFERENCE |
| PPG | Pago Pago | -11 |
| HNL | Honolulu | -10 |
| ANC | Achorage | -9 |
| YVR | Vancouver | -8 |
| LAX | Los Angeles | -8 |
| YEA | Edmonton | -7 |
| DEN | Dever | -7 |
| MEX | Mexico City | -6 |
| CHI | Chicago | -6 |
| MIA | Miami | -5 |
| YTO | Toronto | -5 |
| NYC | New York | -5 |
| SCL | Sanitago | -4 |
| YHZ | Halifax | -4 |
| YYT | St. Johns | -3.5 |
| RIO | Rio De Janeiro | -3 |
| RAI | Praia | -1 |
| LIS | Lisbon | 0 |
| LON | London | 0 |
| MAD | Madrid | +1 |
| PAR | Paris | +1 |
| ROM | Rome | +1 |
| BER | Berlin | +1 |
| STO | Stockholm | +1 |
| ATH | Athens | +2 |
| CAI | Cario | +2 |
| JRS | Jerusalem | +2 |
| MOW | Moscow | +3 |
| JED | Jeddah | +3 |
| THR | Tehran | +3.5 |
| DXB | Dubai | +4 |
| KBL | Kabul | +4.5 |
| KHI | Karachi | +5 |
| DEL | Delhi | +5.5 |
| DAC | Dhaka | +6 |
| RGN | Yangon | +6.5 |
| BKK | Bangkok | +7 |
| SIN | Singapore | +8 |
| HKG | Hong Kong | +8 |
| BJS | Beijing | +8 |
| TPE | Taipei | +8 |
| SEL | Seoul | +9 |
| TYO | Tokyo | +9 |
| ADL | Adelaide | +9.5 |
| GUM | Guam | +10 |
| SYD | Sydney | +10 |
| NOU | Noumea | +11 |
| WLG | Wellington | +12 |
How to change the cities?
If you press B the city code will shift towards up. If you press D the city code will move downward in the above list.
Let's take an example that you are in Los Angeles and your watch is currently showing the code of Miami i.e 'MIA'. You want to change it to 'LAX' code that is Los Angeles. Press the button B on the watch, it will move higher on the list towards upper city codes.
Similarly, if you are in Sydney (SYD) or city close to Sydney Australia and your g shock 5146 is showing the time of Miami (MIA), then press the 'D' button it will make the city code move downwards in the list. You will approach Sydney code after going through all the cities that come in between MIA and SYD in the list above. Alternatively, a quicker route is to press B in this situation as it will take you to SYD quicker because the list starts from the bottom as soon as you reach Pago Pago (PPG).
It is very important that you set your city code correctly because rest of the world time gets automatically adjusted in your watch with it.
When you are done with city code selection now press 'C' it will take next option that is Daylight Saving time.
DAYLIGHT SAVING DST
Daylight saving is basically summer time-saving strategy. Some countries shift time by one hour from standard time to save daylight. If your city is currently on DST then pressing 'D' will turn on the DST. If you want to shift back from DST then pressing 'D' turns off the DST. The D button is basically on and off (toggle) switch.
After completing the DST now press 'C' again. It will take you to 12/24- Hour Format.
12/24 Hour Format
In this option flashing on the screen, 'D' is again acting as the toggle switch. Pressing it switches between 12H time format or 24 hours time that is military time setting. You will notice that 'P' alphabet appears when you set the time to 12 hours format. This indicates time from noon past to 11:59 pm. There is no A to indicate AM on the watch. Also, the 24-hour format does not have P with it. After you are done with selecting time format Press 'C' again.
Second, Hours, Minutes
After completing the time format now is the time to set the time. First, you have to set the seconds.
The moment you press C after setting 12/24 hour format you see 2 digits flashing on the screen. These are the seconds. Pressing D will add into seconds and B will subtract. After setting the seconds press 'C' now.
Now you are in Hours section as seen by the numbers flashing on the screen. Again by pressing D will add and B will subtract. After setting hours press C again and you are in Minutes.
Setting minutes is exactly the same process. D will add and B will subtract the minutes.
YEAR, MONTH, DAY
After completing time part last section that is minutes, when you press C this time you get into a new section which is year month and day.
So first you will see the year flashing on the screen. The rules are same for D and B in this case as well. After selecting the year, press C again it will take you to Months part now. After setting Month, pressing C will take you to Day. Rules are same again for day and month as well. D adds while B subtracts.
Illumination Duration
This is the last part of time setting. It means how much time the watch should turn on the light to illuminate the screen. 'D' button acts as the toggle switch. Pressing D will set the option to as LT1 or LT3. LT1 means the screen will illuminate for 1.5 seconds while LT3 means that the screen will light for 3 seconds. Set this according to your preference. I personally like the LT3.
Congratulations you are done with setting time now. Press A and it will take you out of the time settings to normal timekeeping mode.
HOW TO ADJUST ANALOG TIME OF G SHOCK 5146
If analog time did not get automatically adjusted after you set the digital time then this means that due to the strong magnetic field or some hard impact has affected the mechanical side of the watch. In order to fix the digital time, you need to ensure that speed hand is at 9 o clock or pointed to 50 and minute and hour hands are both pointing to 12. Here are the steps to do that:
Press down the D button for 3 seconds and you will see letters 'SUB' flashing on the screen. See the attached screenshot
Adjust the position of speed hand to 50 (9 o'clock). Use 'D' to move it clockwise to reach there. After it is at 50 now press 'C'.
Now make sure that both hour and minute hands are pointing to 12. To do that use the D button to move hands.

Now press 'A' the watch will go back into the timekeeping mode. You have now successfully reset the analog time. As soon as you quit the analog time adjustment mode, the watch analog time and speed dial automatically adjust themselves to the current digital time.
If you are still not successful then repeat the above steps again. If the watch still does not respond then its time to contact the manufacturer and get a professional help.