The best outdoor pool table options come from Thunder, Cumberland, and Santorini.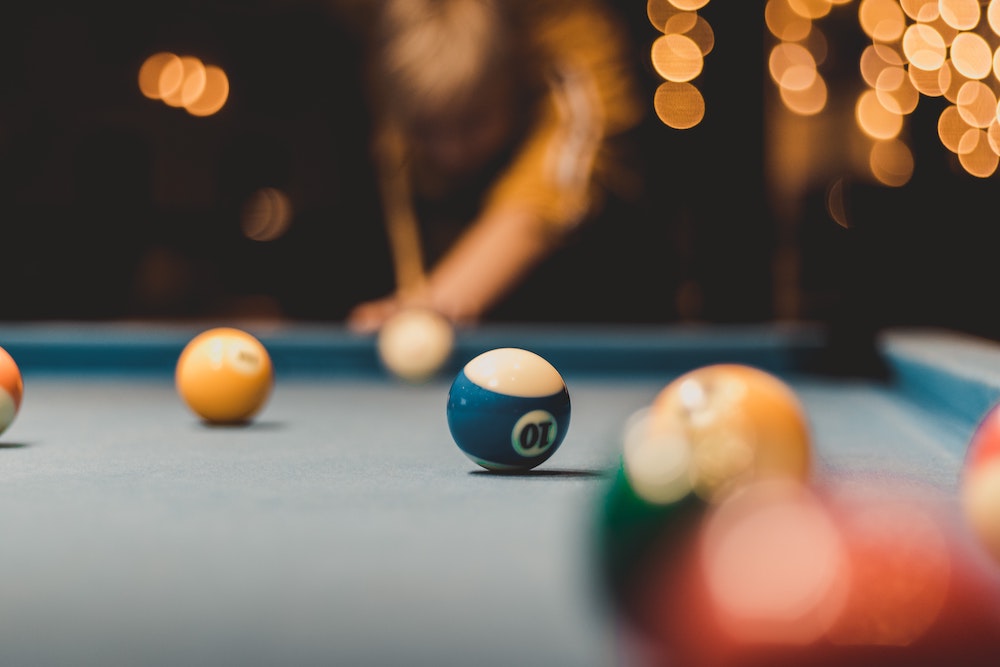 Pool, or Billiards in its formal name, is one of the most enjoyed activities among adults. For a good reason, nearly 50 million people across America enjoy the game. Adding an outdoor pool table to a backyard setup takes a space from average to where everyone wants to be for the weekend.
The game of pool can be played one-on-one or in teams and has multiple playing variations. When put in front of a table, even people who have never played before find themselves with a cue stick in hand and having fun.
While several high-quality outdoor pool tables are available and ready to ship, a fully custom build may be the way to go. A custom build would ensure that the customer gets the exact design and finish they need and want. With such a significant investment, why not meet the exact desired specifications?
The custom-build process starts with selecting the general style. It could be a traditional design, something contemporary, or more rustic. It doesn't matter what aesthetic needs to be captured; it can be done.
Once the style is selected, the customer chooses the body, size, finish, and sights and has custom options for other things such as cloth and drawers for storage. As one can imagine, custom builds vary significantly in price based on what specifications and finishes are chosen.
For anyone feeling extra adventurous and handy, building your own outdoor pool table is always an option.
REGULAR POOL TABLES SHOULD NOT BE MOVED OUTSIDE OR IN A GARAGE
Those looking to enjoy a game of pool outdoors might wonder why you can't just move a regular pool table outside. These are built with specialized materials and specific construction standards to withstand wind, rain, and other natural elements.
The materials used to construct a traditional pool table differ from outdoor tables. While you can temporarily move a conventional pool table outdoors, in the long term, it cannot be stored outside and exposed to the elements without damage.
Keeping a pool table in the garage, whether traditional or outdoors, is an option. When it comes down to it, unless you have a fully decked-out, climate-controlled garage space, it doesn't compare to a beautifully designed outdoor space.
Outdoor pool tables can certainly withstand being stored in the garage, and keeping a traditional pool in the garage might require a little extra care and consideration, especially with the materials used in the table.
Slate pool tables hold up best when stored in the garage as they are resistant to warping and typically last a long time. Slate is the preferred material for a pool table, no matter if it is an indoor or an outdoor pool table. However, other materials, like aluminum, fiberboard, wood, and plywood, can be used to construct pool tables and are often more cost-effective.
THE BEST OUTDOOR POOL TABLES ARE MADE OF ALUMINUM, STAINLESS STEEL, AND SLATE
For outdoor pool tables, the best materials to use are aluminum, stainless steel, and slate. The frame and the legs of most outdoor pool tables are constructed from aluminum or stainless steel that has been treated to resist rust and corrosion. The bed, the most critical element of a pool table, is best made with slate but could be built with pearl board or manufactured wood. The cloth that a pool table is made from is another vital piece and is best made from a fabric engineered to resist UV and water, such as acrylic, Taclon, and polytech.
There are plenty of foldable, smaller pool tables on the market that could be used outdoors and then packed and stored away. We have carefully compiled a list of some of the best outdoor pool tables that make a statement and are a permanent part of a backyard setup.
For anyone with a budget that allows for an investment in a quality outdoor pool table, the memories, laughs, and good times created during family game nights and weekends with friends will be priceless and well worth it.
Consider purchasing one of the following billiards tables for the perfect backyard entertainment centerpiece.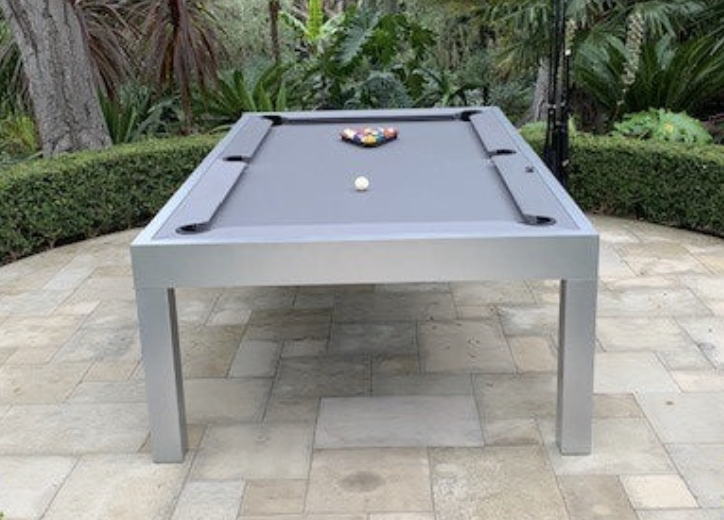 The Thunder outdoor pool table is a semi-custom build made to stand up to the harsh elements of the outdoors. The table is constructed from a material that is resistant to water and UV light. For a little something extra, this pool table is available with a dining top that is also weather resistant.
This option is constructed with a painted aluminum frame, natural rubber, a specifically treated slate, and finished with a Sunbrella playing cloth. Customers can choose the color of their powder-coated finish and their playing fabric. Additionally, customers can choose between some sweet add-ons like an optional tennis conversion top and a soft fitted table cover.
The Thunder billiards table makes the perfect addition to any outdoor space. Players can expect to enjoy a game of billiards on a table that is eight feet overall and has built-in internal drop pockets. This table is sleek and bold at the same time.
With several colors to choose from for the playing cloth, this table can be finished to complement any space.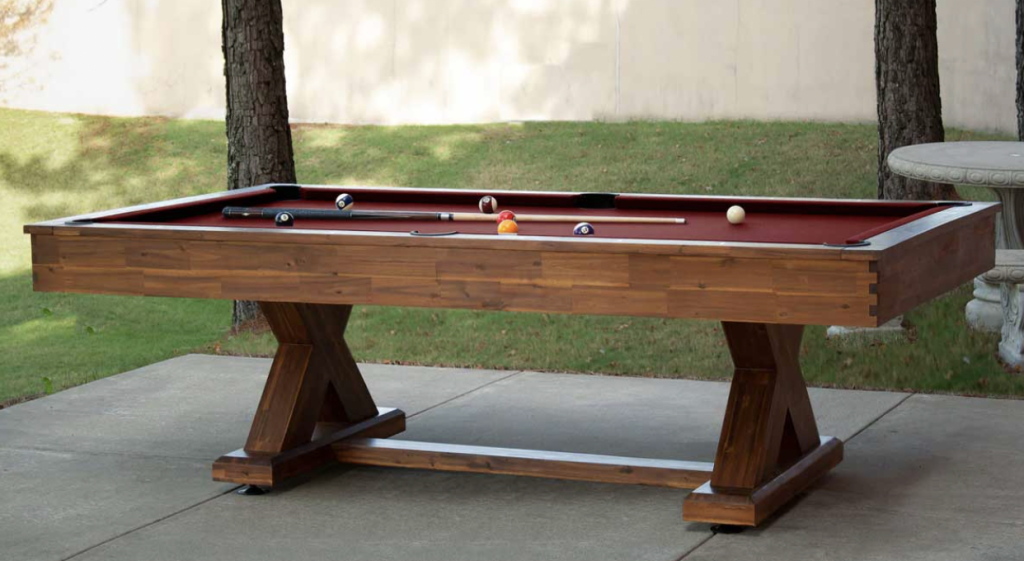 The Cumberland Outdoor Pool Table is available in lengths of seven or eight feet. The table is also available in two distinct finishes, Ash Grey and Acacia. For further customization to fit any home design, the pool table can be finished with a selection of 14 different playing clothes.
The outdoor pool table, which can also be used indoors, is constructed from wood that is resistant to the harsh elements of the outdoors. To further stand up to the elements of mother nature, the table was built with a weather-resistant construction design.
The angled legs, materials used, and high-quality craftsmanship will ensure that this table has a great life outdoors and remain in excellent condition.
Expect to see furniture quality finishes throughout the design of this option. The table is finished with premium leather pockets, gum rubber cushions, and backed with 1" slate pieces. Each table is made to order.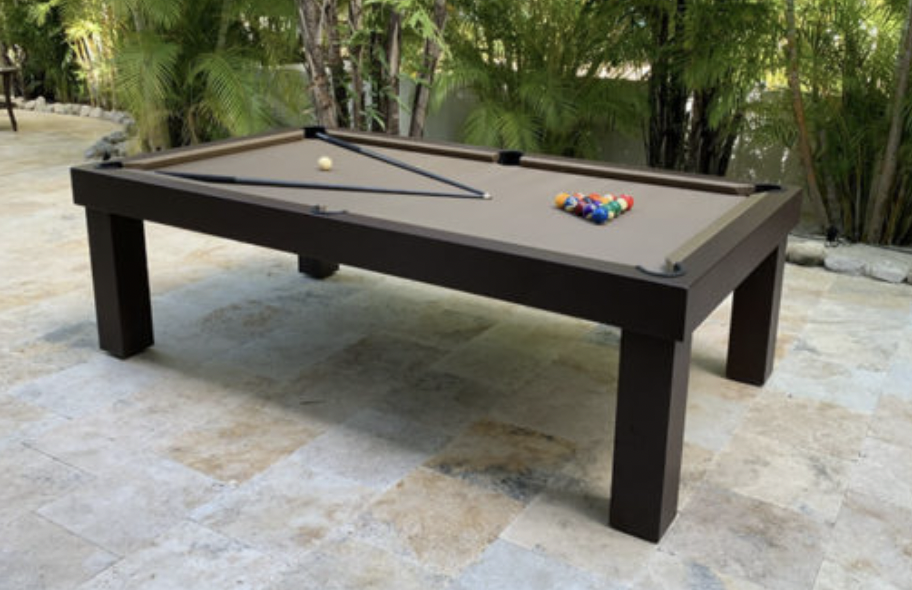 The Cosmopolitan outdoor pool table is sleek and simple in design. It has a contemporary design and was built to last, even under commercial use. Additionally, the Cosmopolitan was designed for multifunction use as a table that can comfortably seat up to 12 people. 
The body of the Cosmopolitan is constructed from a six-inch unibody of aluminum. The table is reinforced with stainless steel hardware to withstand the harshest outdoor elements. Plus, it is lightweight at 735 pounds. Customers can also enjoy this table with no worries seeing as how it comes with a five-year warranty.
In its simple and elegant design, this option is just what anyone needs to complete a backyard setup, perfect for entertaining and fun. The drawer allows for convenient storage of pool cues and playing balls. Easily transition from dinner to fun with the pool table that doubles as a 12-person dining table.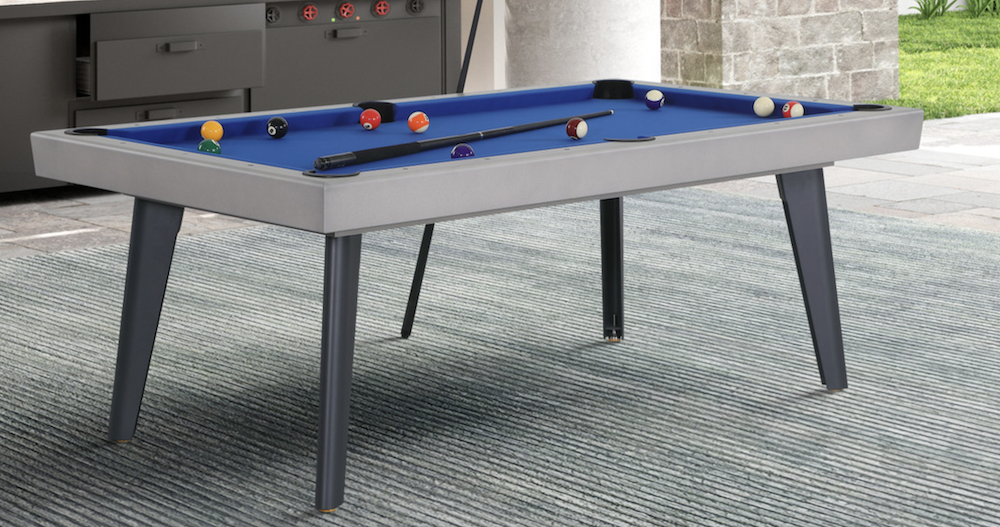 The Santorini is the ultimate outdoor pool table combination. Not only is this product a pool table, but it is also a dining table and ping pong table, all in one. The table comes with a dining top and two matching benches for the ultimate dining experience.
When in use as a dining table or ping pong table, pool accessories can be stored under the tabletop. This purchase includes all the equipment needed to play pool or ping pong. Customers get pool clues, a cloth brush, a cue rack, ping pong net, paddles, and more.
The combo table is made from heavy gauge aluminum and a cleaned-lined unibody. The table and benches are finished in gray on graphite for a modern look. The feet are adjustable, allowing for the perfect fit.
Additionally, the Santorini is finished with weather-resistant billiard cloth and comes complete with a PVC cover for extra weather protection when the table is not in use.
---