The best bamboo cutting board options come from Royal Craft Wood, Napoleon, Novoyeah, Totally Bamboo, and more.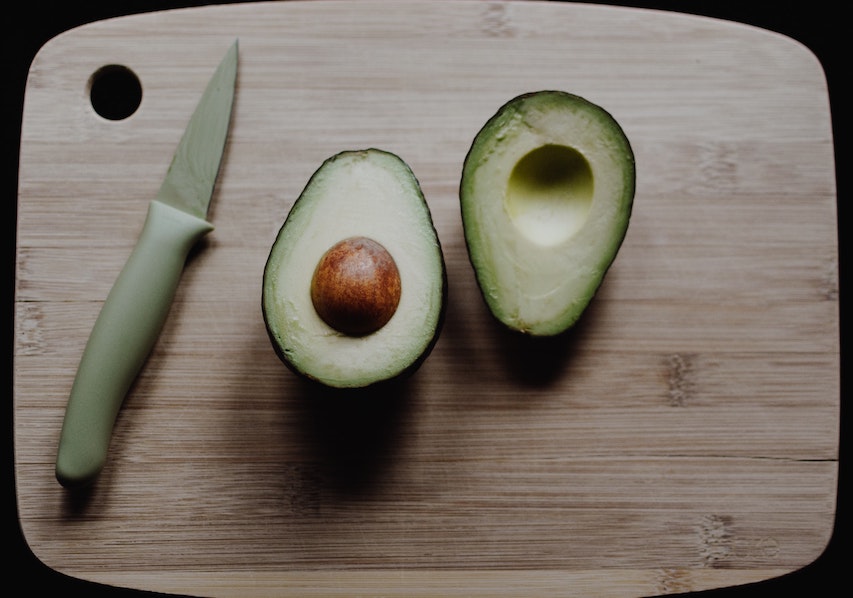 Bamboo makes an ideal material for a cutting board. Not only are bamboo cutting boards beautiful, but they are also functional as well. The best ones are gentle on knives, water resistant, easy to care for, and durable.
In addition to all the functionality of bamboo cutting boards, bamboo is an eco-friendly and versatile material. Due to its rapid regrowth and regeneration after being harvested, bamboo is considered to be highly sustainable. Anyone can fill their home with products made from bamboo, including cutting boards, mattresses, flooring, toothbrushes, clothes, and more.
The best bamboo cutting boards are included in our carefully crafted list. For anyone looking for a quality board, look no further than the list below. Ditch the old, disgusting plastic cutting board and opt for something that is superior in sanitation and better for everyone's health.
THE BEST BAMBOO CUTTING BOARD OPTIONS COME FROM ROYAL, NAPOLEON, NOVOYEAH, AND TOTALLY BAMBOO
Royal Craft Wood Extra Large Organic Bamboo Cutting Board – $24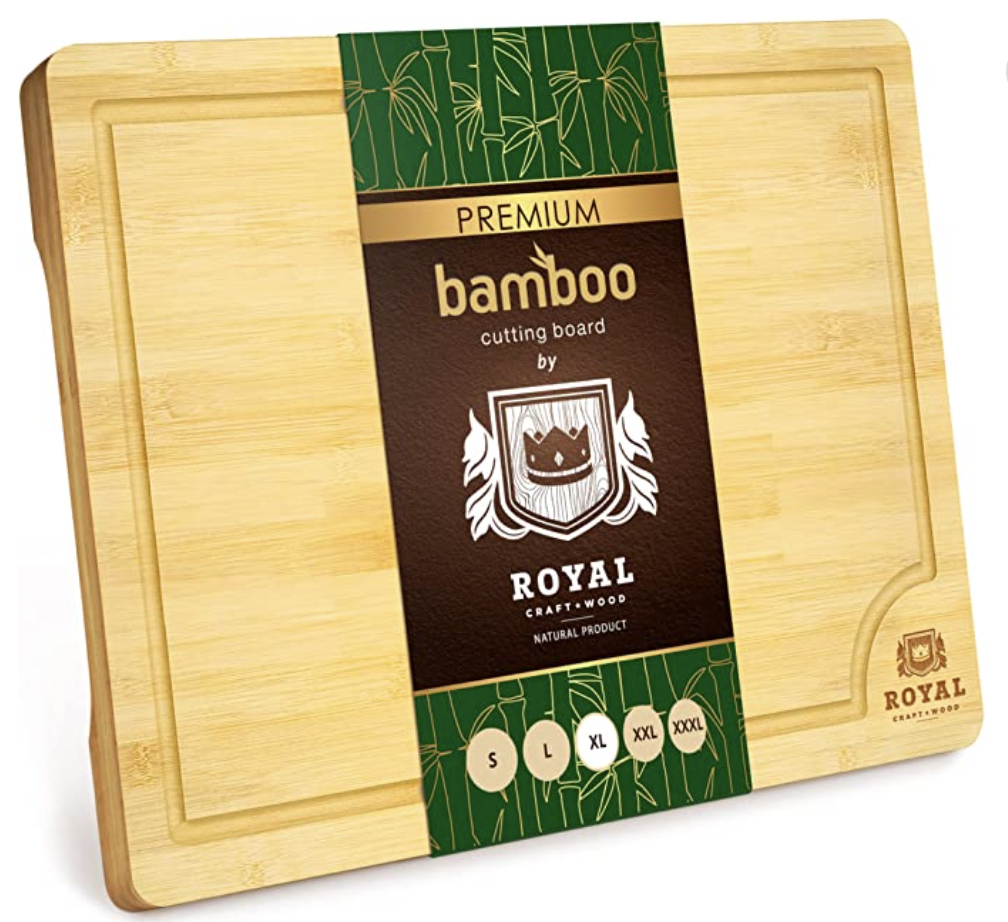 First on the list of best bamboo cutting boards is a premium one by Royal Cutting Wood. This particular board is in size XL with dimensions of 18 by 12 inches. In addition to this XL size, there are different sizes available to meet every kitchen need.
The XL Organic Bamboo Cutting Board is double-sided for extra functionality. The board has grooves along the outer edge to prevent any juice from spilling on the cabinet while chopping tomatoes, watermelon, or any other juicy fruit or veggie. Additionally, this cutting board features handles that are beautifully carved into the sides for easy carry.
Display cheese and carefully place salami roses on this Extra Large Organic Bamboo Cutting Board with the knowledge that this board is made from the highest quality bamboo, and the surface is liquid and splinter resistant.
This is not only one of the best boards, but it functions as a serving stray or a charcuterie option as well. With multiple design functions and careful craftsmanship, this board is a necessity for any home.
Napoleon Pro Bamboo Cutting Board – $56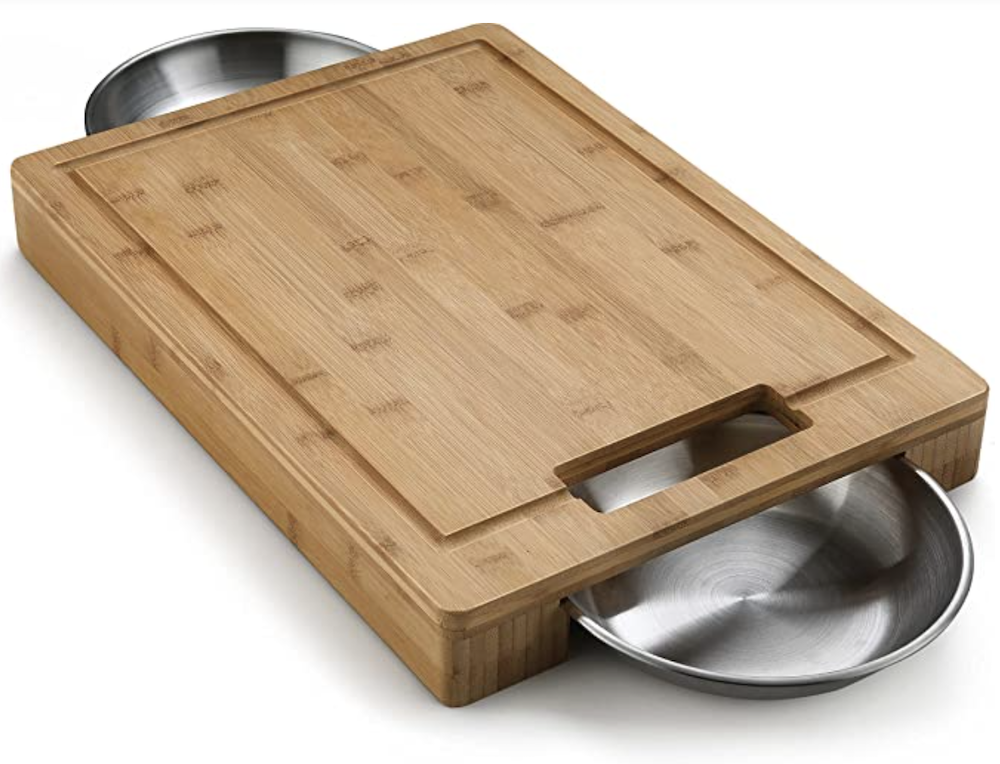 In addition to one of the best options on the market, buyers also receive two stainless steel bowls with this purchase. The bowls are designed to slide underneath the board to catch prepped vegetables. There is a cut out on the board that functions as a handle and a hole for juices or cut vegetables to drop into the bowl below.
For both left and right-handed cutters, the Napoleon Pro Bamboo Cutting Board can easily be turned one way or the other to efficiently utilize the cut-out.
For extra juice catching, the Napoleon Pro has grooves that begin at the handle and wrap all the way around the board, ending at the opposite side of the handle. This specific design directs juices to flow to the bowl below, keeping any mess contained. Additionally, when slicing cooked meat, the liquid that leaks out can be used to make an au jus or delicious gravy. 
While the stainless steel bowls are dishwasher safe, the board should be washed by hand. Bamboo is naturally a material that keeps clean, so maintaining the board will be easy. This unique and high-quality cutting board easily makes the best bamboo cutting boards list.
NOVAYEAH Bamboo Cutting Board with Four Containers – $39.89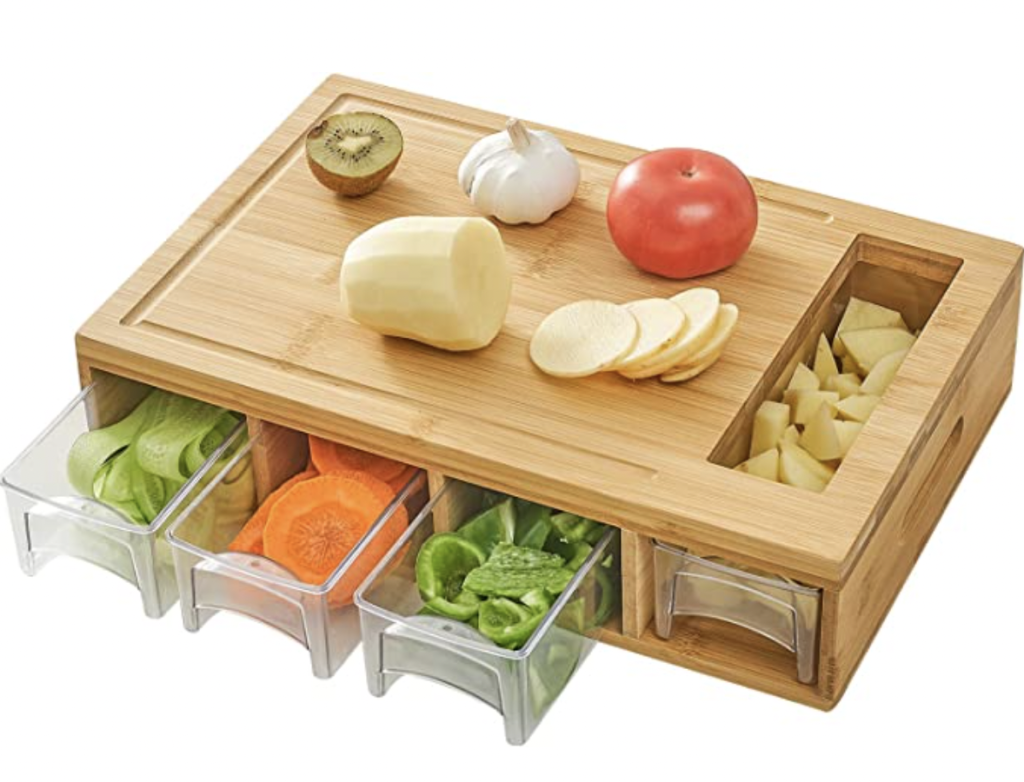 The NOVAYEAH Bamboo Cutting Board is one of the best ones on the market for many reasons. This cutting board is a dream for anyone who preps fruits and vegetables on a regular basis. The board has four containers that easily slide underneath the board in four drawer spaces. Filling the containers with freshly chopped vegetables is no problem at all with the wide drop zone opening.
Prep fruits and vegetables with peace of mind knowing they will not absorb any harsh and unnecessary chemicals. The NOVAYEAH is water-resistant and extremely easy to clean. This cutting board is crafted from natural, untreated bamboo covered with edible oil to create a chemical-free barrier.
This board has a one-year warranty to ensure customer satisfaction. Any product backed with a 100 percent money-back guarantee will likely be a winning product. While this is one of the best bamboo cutting boards on the market, and we don't anticipate any negative experiences, customers can simply return this board if it doesn't live up to expectations.
Totally Bamboo Three Piece Cutting Board Set – $17.99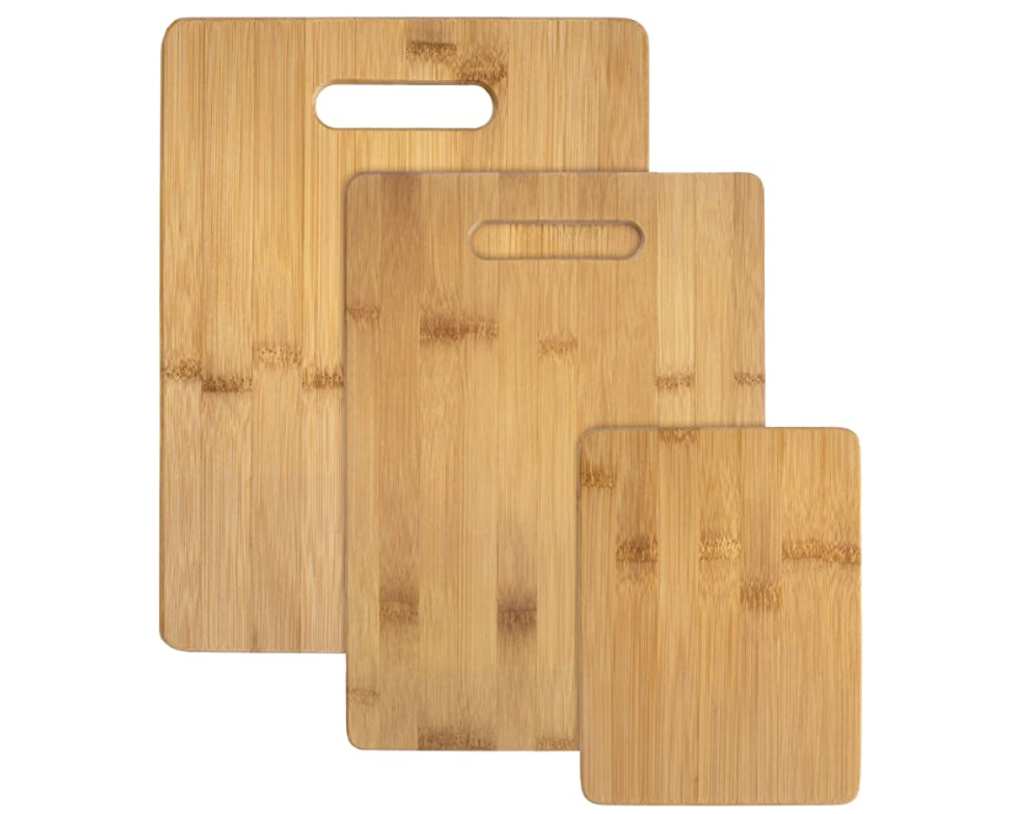 The next on the list of best bamboo cutting boards is a versatile three-piece set, perfect for meeting a variety of cutting needs. This variety pack is ideal for designating one specific board for prepping and cutting meat and having others specifically for fruits and vegetables. This prevents any cross-contamination that may occur.
The three-piece set is made from flat-grain Moso Bamboo. This makes for a lightweight yet durable cutting board. Additionally, this cutting board is easy on knives, keeping them sharper for longer.
In addition to cutting and prepping meat, fruit, and vegetables, the boards, specifically the smallest cutting board, is ideal for serving snacks or appetizers. The boards come in sizes 8 inches, 11 inches, and 13 inches, with the two biggest featuring handles for easy storage and handling. Hand wash or wipe this cutting board to keep it in prime condition.
Farberware Bamboo Wood Cutting Board with Nonslip Corners – $19.97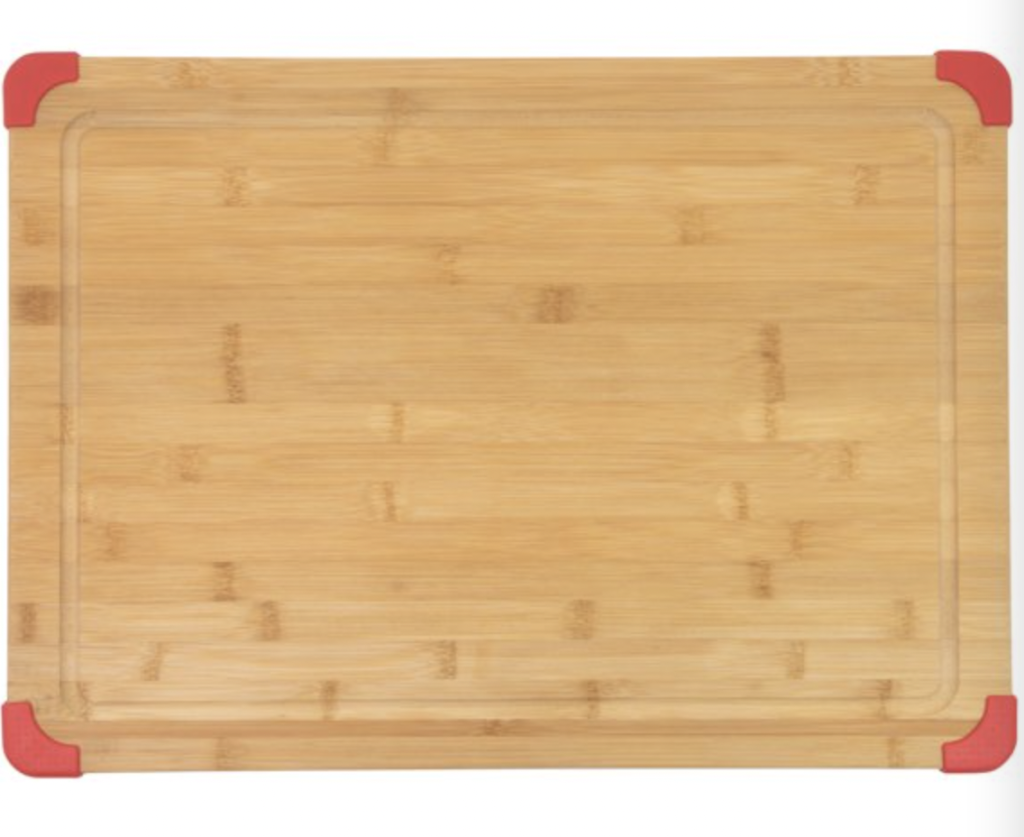 Rounding out the list of the best bamboo cutting boards is the Farberware Bamboo Wood Cutting Board. Farberware is a well-known brand that makes quality products. When customers hear Farberware, they often think of quality, classic design, and affordability. With the purchase of this board, customers get a lifetime limited warranty.
This board is more prominent in size compared to most boards, at 15 by 21 inches. While this board is large, it is still lightweight and easy to handle. The non-slip corner grips ensure that the board stays in place while chopping and slicing, adding an extra safety feature. The board is reversible, with both sides usable for any food-cutting project.
---