Glass food storage containers have many advantages over plastic, including how well they can handle multiple temperatures and their resistance to staining; a set of Urban Green glass containers from Amazon have been touted as particularly versatile.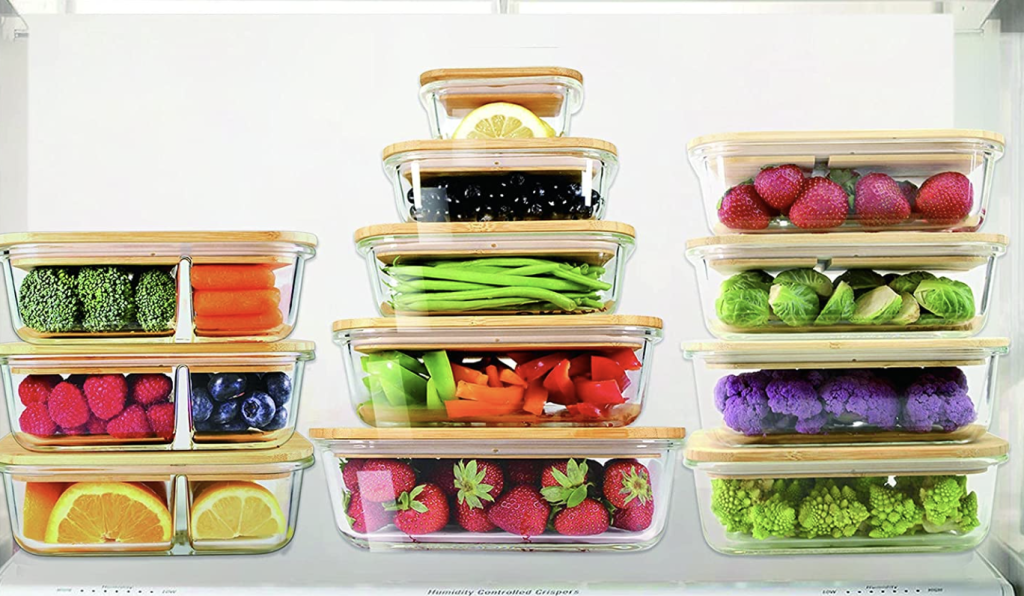 Glass food storage containers outperform plastic storage containers in just about every way possible. Many people are making the switch from plastic to glass food storage because it is a natural, non-porous, sustainable, and recyclable material that performs safely at a wide range of temperatures. Annie Burdick from TheKitchn recently tested some glass food storage containers and found an ideal starter set on Amazon.
A set of Urban Green glass containers with bamboo lids will make you rethink the way you've been storing food so far. This great basic set of glass food storage containers includes four rectangular dishes with tight-fitting bamboo lids. Each one holds up to 35 ounces of food and the set stacks neatly inside your fridge or pantry, allowing you to clearly see what's inside.
Being able to see your leftovers is a huge factor in making sure they get used. Eating most of what you buy makes sense financially and environmentally. Food waste is a huge problem in the United States, where over one-third of all available food gets thrown away instead of being eaten.
Keeping food fresher longer is another way to alleviate food waste, and these glass food storage containers do a great job of preserving freshness. Their natural bamboo lids have an airtight seal thanks to a 100% plastic-free silicone ring. Yet they are still easy to open and close—much easier than trying to align plastic storage container lids and bowls.
According to Amazon's description, these glass food storage containers are made from high-quality borosilicate glass. This type of glass is oven safe up to 600 degrees and microwave-safe. These 35-ounce containers are the perfect size for taking leftovers to warm up at work the next day, measuring 7.7 x 5.7 x 2.4 inches, but Urban Green makes the same quality containers in a variety of sizes to fit your storage needs.
The glass food storage containers are dishwasher safe and can also be used for freezer storage. Because bamboo has natural antimicrobial properties, you'll find that the lids are odor resistant. They also can double as small serving trays.
"I've had no problem with putting the lids through the dishwasher, but I wouldn't put them in the oven or microwave," Burdick said, adding that she had not noticed any cracks in the thick, sturdy lids. "I've now started using the bamboo lid as a mini cutting board for whatever's inside, thus saving myself from bringing out — and washing — an extra dish, bowl, or plate."
In addition to being fully practical, Urban Green's glass food storage containers are aesthetically pleasing. Burdick says they make the fridge look more neat and stylish. Their stacking ability also helps her keep the refrigerator's contents organized.
One of the best things about glass food storage containers is that, unlike plastic, they will not stain and cannot trap food odors. Anyone who has reheated fried rice or another oil-heavy food in a plastic container knows how that can leave its inner surface permanently pockmarked. But glass storage containers will retain their new appearance for years to come.
Glass food storage containers are also the healthiest choice for you and your family. Plastics are made with phthalates like BPA and PVC and other chemicals that can leech into your food as the plastic degrades over time. Glass is also easily sanitized in the hot cycle of your dishwasher—with no fear of melting.
---