The best meat subscriptions come from Buckcreek, Born & Raised, and Grassroots.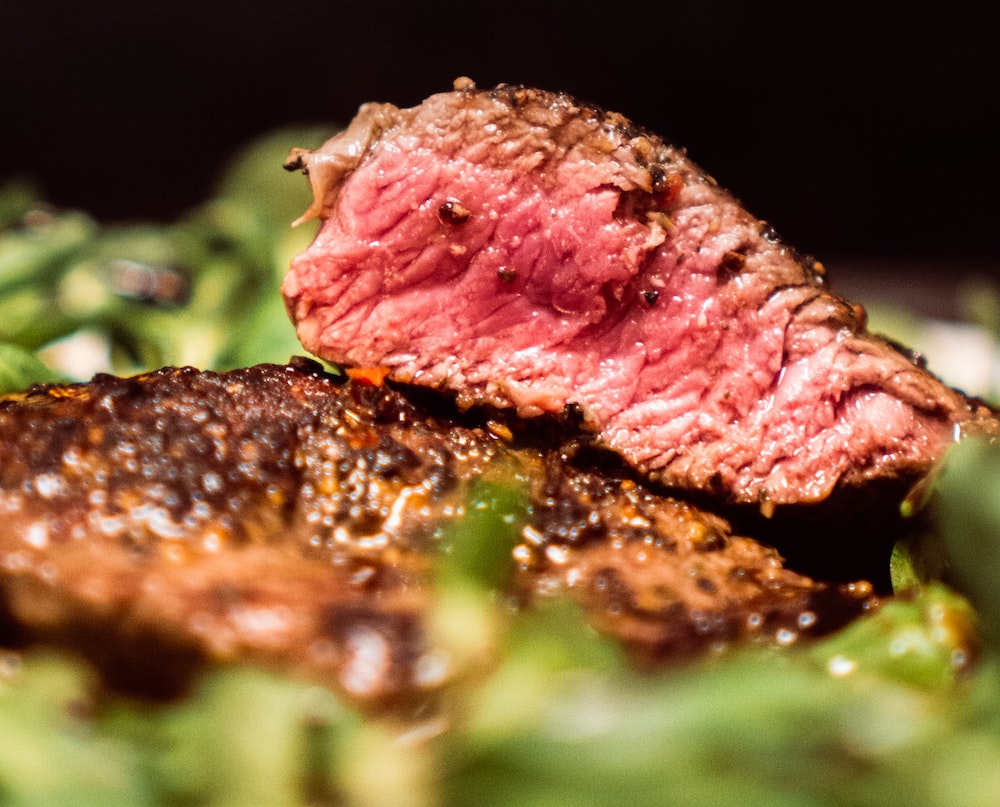 Keeping the freezer stocked with a variety of steaks, chops, burger patties, and any other favorite meats has gotten a whole lot easier with meat subscription boxes. No matter what specific type of meat one might be after, there is a box that has been carefully curated to meet your needs. Some of the best meat subscription boxes are just a click away.
Meat subscription boxes can help people stay on budget, offer direct delivery convenience, give a chance to try specific cuts of meat that one might not otherwise try or have access to, and more. Different sizes and delivery frequency options make meat subscription services an excellent choice for anyone from a single individual to a large family. A subscription box even makes a perfect gift for anyone who has a love o passion for cooking.
There are many different options available for anyone looking to have a box of high-quality meats delivered right to their doorstep. To aid the search, we've carefully prepared a list of some of the best meat subscription boxes available that might be a bit off the radar.
These best meat subscription boxes offer high-quality selection and ethical practices.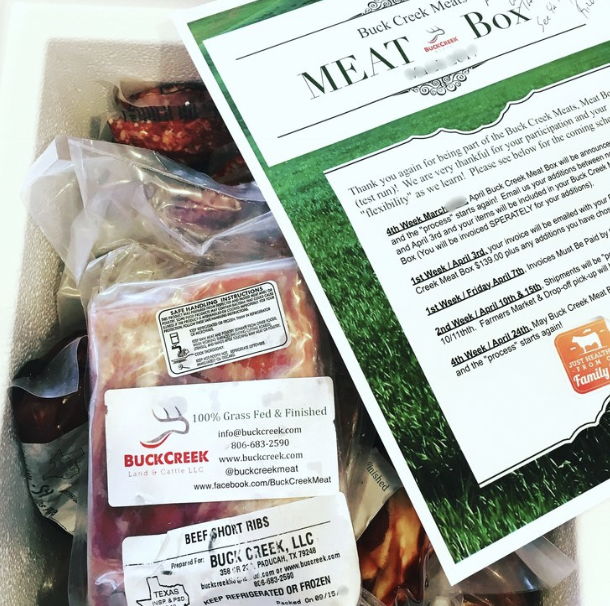 Prices From $149
The first on our list for the best meat subscription box is Buckcreek Custom Meat Box. This custom subscription box offers a selection of premium Texas meat; all delivered right to your front door. Rest assured that with this subscription, only the highest quality meat will be included.
One of their goals is to provide meat the way it was intended to be. Buckcreek raises beef, lamb, chicken, and pork that is 100% grass-fed and pasture-raised with zero insecticides, herbicides, hormones, or antibiotics. With this subscription box, subscribers choose the cuts and the animal.
With this completely customizable meat subscription box, subscribers even get to choose when the delivery service will begin and just how often they would like the box of meat to be delivered. No contract or commitment is required, and the subscription delivery date can be changed after initially setting it. The subscription boxes come in three different sizes, all ranging in price.
Born & Raised Ultimate Grill Box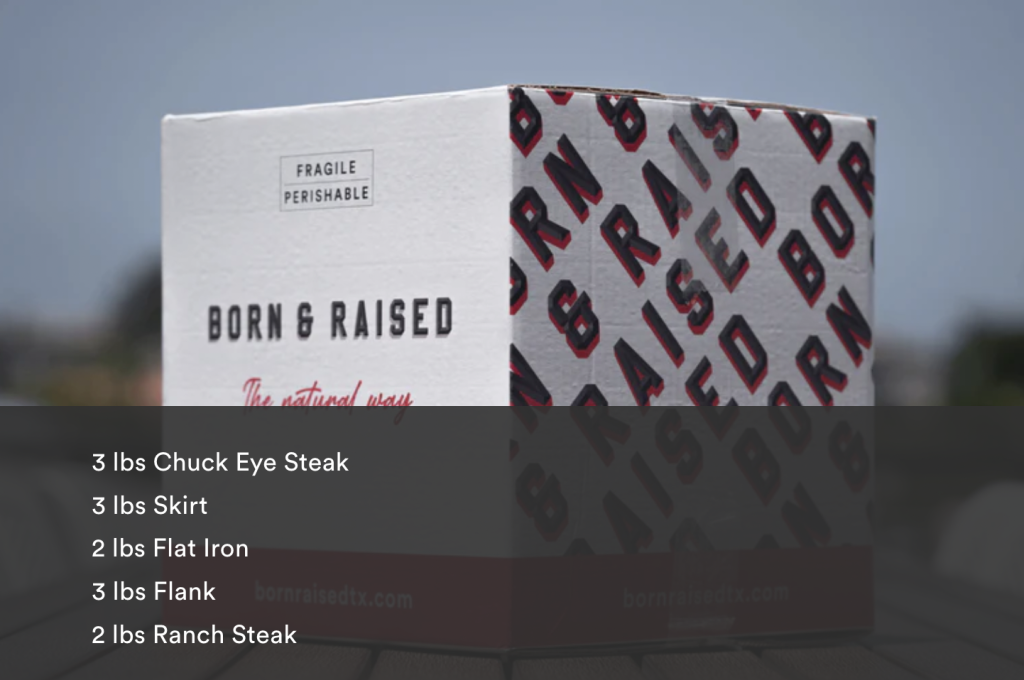 Price – $187
Another Texas farm, Born & Raised, has made our list of the best meat subscription boxes with their Ultimate Grill Box. This box, as you may have guessed by the name, offers up some of the best cuts of beef to throw on the grill. Every cut of meat in The Ultimate Grill Box comes from a bovine that has been grass-fed and grass-finished to produce the highest quality of meat possible.
The Ultimate Grill Box is available for delivery every 30 days, offering endless grilling pleasure delivered right to your door every single month. Subscribers will find 13 pounds of meat in total in this subscription box. Expect to see cuts like Chuck Eye Steak, Skirt and Flat Iron Steak, Flank, and Ranch Steak, all perfect for putting grilling skills to good use. 
Free delivery is available to those within a specific delivery zone. Outside the delivery zone, customers can expect one to three-day delivery, with a standard fee. Orders are carefully packed to ensure freshness and quality remain intact. For more reasons than one, The Ultimate Grill Box has made it a top contender for the best meat subscription box.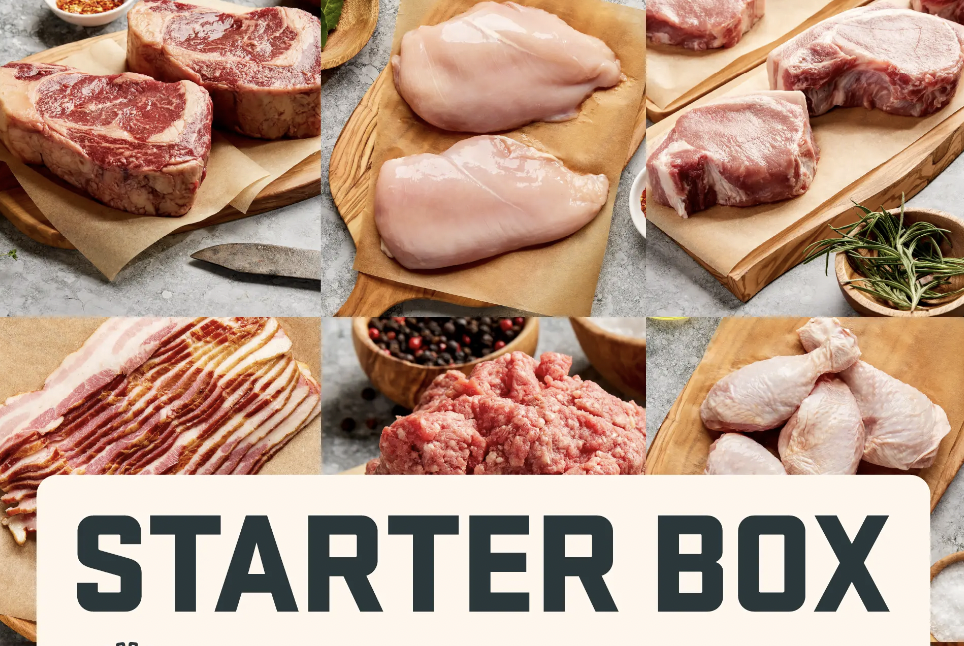 Price – $299.95
The Starter Box from Grassroots Ranch in Oklahoma is next on our list of the best meat subscription boxes. This meat subscription box includes a wide variety to keep you satisfied at breakfast, lunch, and dinner. The animals in this box lived the highest quality of life possible before being processed into the highest quality meat possible to ensure that consumers are able to live the best possible life.
The meats included in this box total 25 pounds. Subscribers can expect premium chicken, pork, and beef cuts. Everything is ethically raised, with regenerative and sustainable practices to ensure the most nutritious meat is produced.
With such a massive selection of high-quality meat, perfect for a small family, The Starter Box is an ideal candidate for the best meat subscription box. It is recommended to receive this box monthly or every month and a half for a family of four. The company also offers 10% off first-time orders with a code that can easily be found on the subscription page of their website. 
Cheek Ranch ¼ Beef Monthly Subscription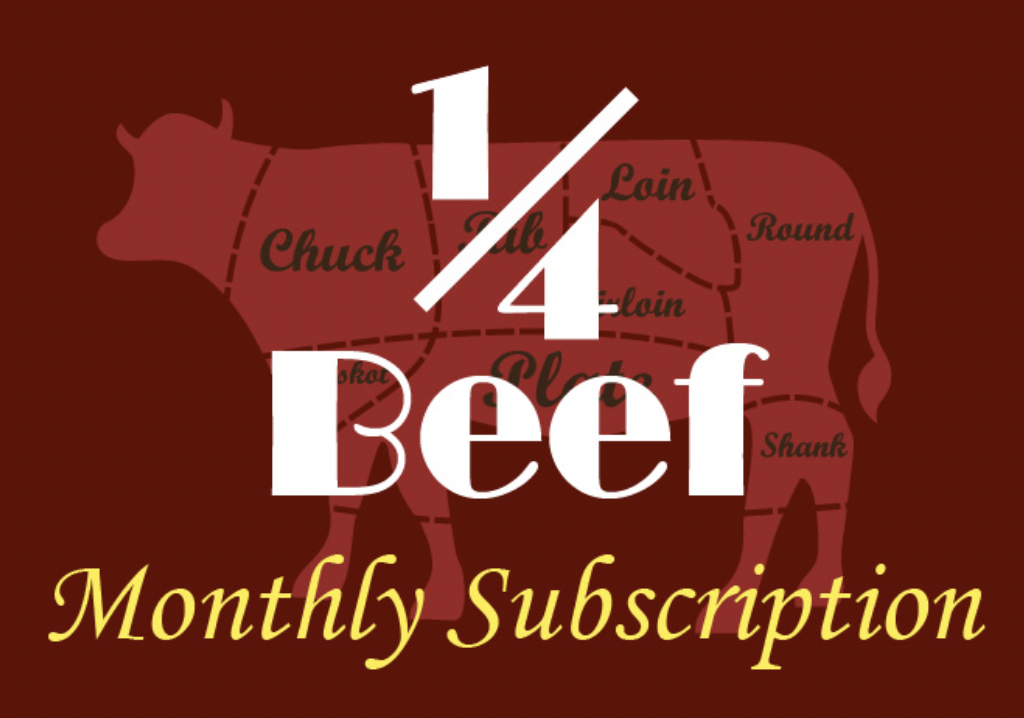 Price -$137
Beef lovers rejoice because getting your favorite cuts of beef delivered directly to your door just got as easy as signing up for the next on our list of the best meat subscription boxes. This subscription box comes with a share of a cow that amounts to about 24 meals for about 2-4 people. There are options for larger families or even those who may only want juicy, delicious steaks. 
The meat you receive with the ¼ Beef Monthly Subscription is Black Label Beef. This is a six-month subscription service plan featuring different cuts of beef each month. Regardless of what month, expect top-quality cuts of beef that can used to efficiently plan and prepare delicious meals.
Delivery is on a set schedule for those who choose this meat subscription service. Those local to Oklahoma can even pick up the box for free and take a tour of the home base. Locals can be sure to see just how far this small operation goes to ensure that they are keeping the most ethical and sustainable practices; talk about transparency.
Farmhouse Delivery Best of Land & Sea Bundle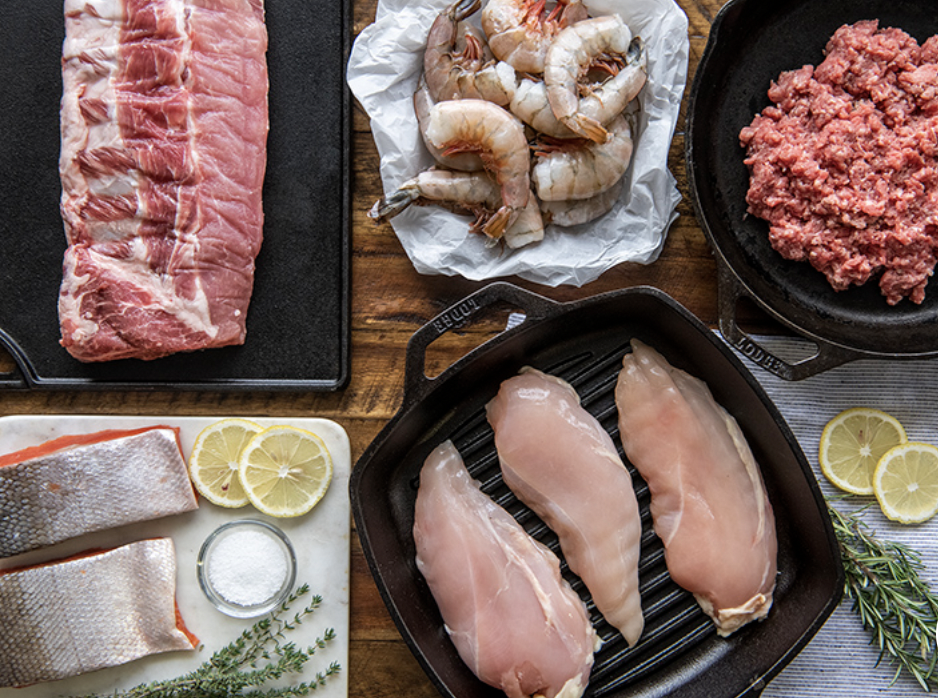 Price – $97.99
Last but certainly not least on the list of the best meat subscription boxes is the Best of Land & Sea Bundle from Farmhouse Delivery. All meats included in this box are raised and caught with sustainable and regenerative practices that are eco-friendly at the forefront. The only drawback to this subscription box is that the delivery zone is limited, but that may very well change.
Those in the delivery zone for this box on our list of the best meat subscription boxes can expect to receive Wild-Caught Sockeye Salmon, Wild-Caught Shrimp, Organic Chicken, baby back ribs, and other premium cuts of meat. This mix is perfect for weekly or bi-weekly delivery. Boxes weigh roughly six to seven pounds.
---