The McDonald's Steak Bagel is now back for a limited time at the franchise.
How major franchises operate with their menus can sometimes cause considerable consternation with the company's core base of fans. At times, popular items can disappear forever, never to come back. Sometimes it's not a massive shift. But sometimes like this one, it's been a big deal – the removal of the McDonald's Steak Bagel from its breakfast menu.
We know that the action McDonald's took to remove this fan favorite Steak Bagel from their morning routine is nothing less than a gut punch for many of you. You felt it when McDonald's began phasing it out, then in again, teeter-tottering with your emotions back in 2014. But when they decided to remove it for good in 2020, it was the body blow you were not prepared to take.
But wait a tick. Just because McDonald's took the delectable Steak Bagel off the menu doesn't mean you have to sit around and accept it as gospel, does it? You all have a voice (and McDonald's Steak Bagel hunger pangs) you can use to fight this travesty, don't you? Well, you do, you did, and it appears McDonald's has listened.
THE MCDONALD'S STEAK BAGEL GOT AN OVERWHELMING RESPONSE ON TWITTER
The people have spoken and from the looks of it, this was actually something McDonald's was promoting. Not necessarily the return on the McDonald's Steak Bagel, but more of an all-call to customers to see what they would like to see returned to the menu. For weeks over the summer, McDonald's had pinned to their Twitter feed "bring back…" What they were asking their Twitter followers was, "what would you like to see back on our menus?"
As you can imagine, the responses were many. Those with a sense of humor responded with the McPizza. They responded with the McDLT – you remember this one where McDonald's sold this particular burger in a specially designed two-sided Styrofoam container, one side held the bottom half of the bun and meat while the other half had the lettuce, tomato, American cheese, pickles, sauces, and top half of the bun. Fish McBites, anyone?
More responses came through McDonald's Twitter feed. There were the McDonald's Snack Wraps. There were also the McSalad Shakers, but that could be because, at the moment, McDonald's has removed all salads from their menu. But what McDonald's was seeing more and more from the response was that tasty breakfast treat, the McDonald's Steak Bagel.
THE MCDONALD'S STEAK BAGEL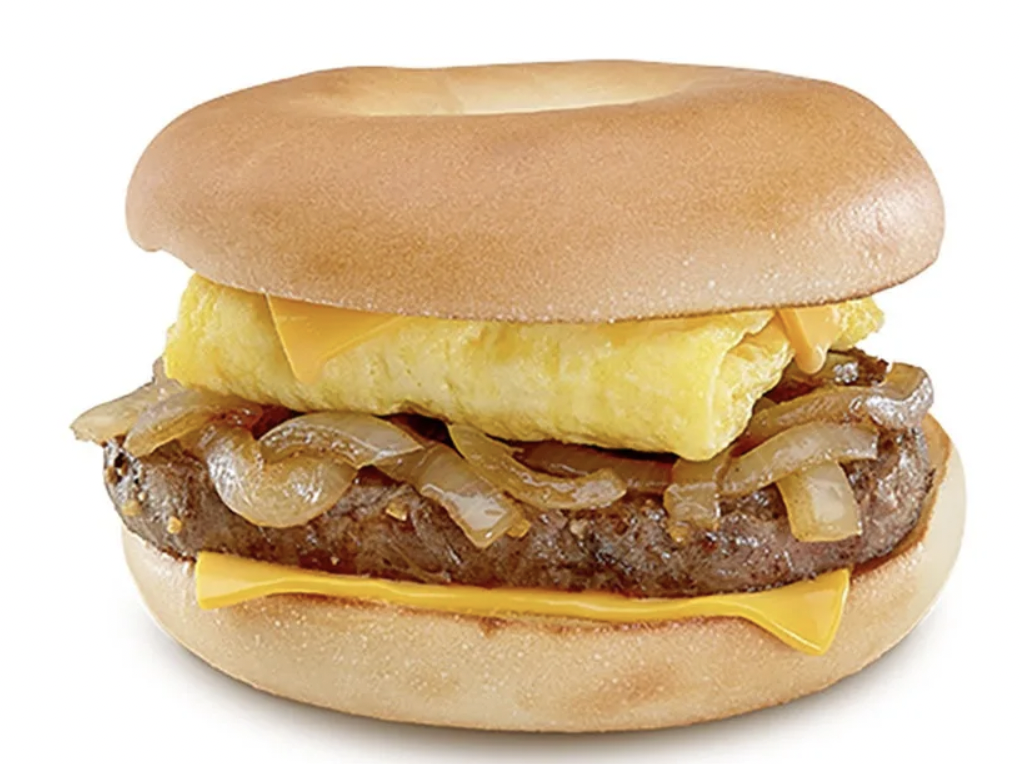 Could it be that you may not know exactly what the McDonald's Steak Bagel is all about? You won't be blamed for not knowing because it has been a hit-and-miss item for years now. Let us fill you in.
The McDonald's Steak Bagel is a pretty simple concoction. Delicious strips of tender steak set on a toasty bagel, complete with eggs and cheese. Mouthwatering, huh?
Just as some added information, the Steak Bagel isn't (or wasn't) the only bagel breakfast McDonald's was offering. They also had on their menu the Bacon, Egg & Cheese, the Sausage, Egg & Cheese, and the Egg & Cheese Bagels for customers.
THE MCDONALD'S STATEMENT HAD THE ITEM BEING REMOVED
The McDonald's Steak Bagel has been the cause of a roller coaster of breakfast emotions and McDonald's is surely to blame. The menu item has come off and on and off again too many times and while it has made repeat appearances on the menu, in January the fast-food giant issued a statement that pretty much put the Steak Bagel six feet under.
In part, here is what McDonald's had to say about their beloved Steak Bagel: "It is with love and deep respect for one another that we announce that we are parting ways with Breakfast Bagels and Breakfast Wraps. Despite speculation and following a trial separation period, Breakfast Bagels & Breakfast Wraps will not be returning to the menu."
The statement continued, with McDonald's trying to lay the blame for the discontinued Steak Bagel at the feet of their other popular breakfast item, the McMuffin. "We adore each other deeply but our love for the iconic McMuffin was simply too hard to ignore. We want our fans to know this is a mutual decision, to the extent that a bagel can make its own decision."
It appeared all was lost for the McDonald's Steak Bagel. The writing was more than on the wall, it was in a cleverly penned McDonald's statement, complete with a scapegoat. Nothing could bring back the Steak Bagel…could it?
A STEAK BAGEL PETITION HELPED GET IT BACK ON THE MENU
It wasn't only the McDonald's Twitter feed that was getting McDonald's Steak Bagel action and requests. Fans decided it was time to step up their game and went right to Change.org to express their view as it pertains to the McDonald's Steak Bagel. One fan, Z Stamper, started a petition to bring back the delicious breakfast foodie and many others joined in.
Per Z Stamper's petition: "McDonald's had arguably the best breakfast sandwich on the market when they sold the savory steak, egg, and cheese bagel. In these trying times of social divide, I believe America should have a hearty breakfast sandwich to power us through the day."
The petition got a slow start, but it eventually caught like a California wildfire. They hit 10,000 signatures, and then 15,000. When they rolled into 20,000 signature territory, the Golden Arches decided to make their move. Those words – Despite speculation and following a trial separation period, Breakfast Bagels & Breakfast Wraps will not be returning to the menu – were about to bite them in the McBagel.
It was seen first in Ohio and reported on by Fox 8. "The fast-food chain has announced the return of its popular breakfast bagel sandwiches, including the Steak, Egg & Cheese sandwich that more than 20,000 people petitioned to have back on the menu." To be exact, the petition is now sitting at 23,115 signatures.
There is a catch, of course. Right now McDonald's says the return of the Steak Bagel, along with the other bagel favorites – Bacon, Egg & Cheese; Sausage, Egg & Cheese, and Egg & Cheese Bagel – are back for a limited time. There is also another catch in that this return is only in select states. It is thought McDonald's will gauge the response and if it continues to go well, more states will join in on the return of the McDonald's Steak Bagel.
There were plenty of fans who took to Twitter to express their major pleasure for the return of the McDonald's Steak Bagel. They even used the #Bagelsareback to show just how excited they were. Here are a couple:
We even have seen some tweets requesting McDonald's to bring them back to specific states.
So, the McDonald's Steak Bagel is back. Yes, limited time, limited locations, we all get that blah, blah, blah. But they are back and if customers have their proper say so, they won't be limited for long.
---