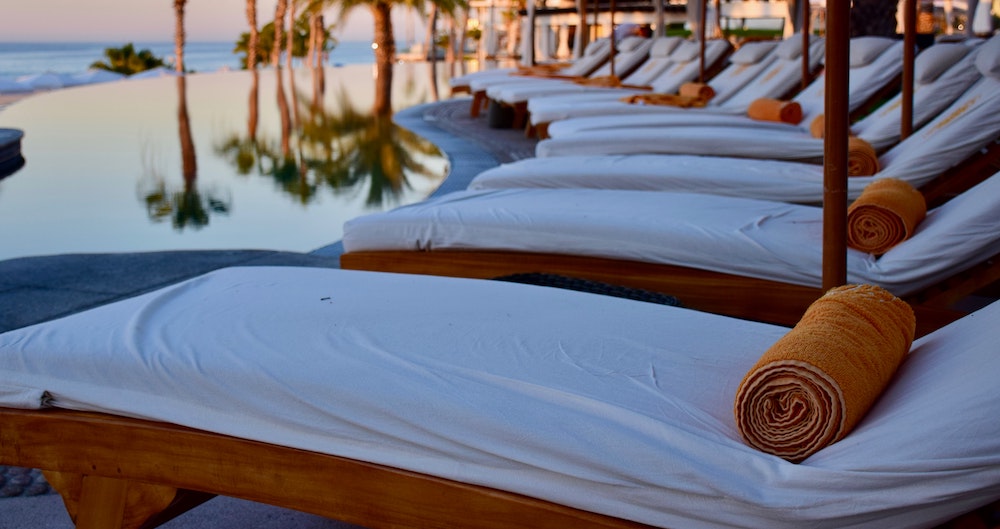 For those interested in taking a daycation, look no further than ResortPass. ResortPass allows interested customers access to resorts, pools, gyms, and other amenities at luxury hotels, all over the world, without having to pay for a hotel room. Prices start around $25 and vary by hotel and day. 
To book your next daycation, simply download the ResortPass app or visit the website to begin booking your accommodations. Once you've made your way to the app or website, select a date from the calendar, this will show you pricing as it often varies per day. Once a date is selected, you will then select the number of guests and go on to complete your purchase. 
Booking a ResortPass is simple and easy. Once the booking is confirmed, you will receive an email from the company with confirmation details, including a booking number that you will use to check in at the hotel. Your ResortPass will include details of what amenities and areas of the hotel you have to access.
ResortPass is a great way to gain access to luxury hotels without having to pay a luxury price. ResortPass is available at over 900 hotels in over 200 cities from a number of countries, including the United States, Canada, Mexico, and the beautiful Caribbean, all without having to stay overnight. Hotels to choose from include Four Seasons, Ritz Carlton, Fairmont, Westin, and other luxury hotels.
The company was founded in May of 2016 by Amanda Szabo and teams up with participating hotels to allow anyone access to the many amenities offered by the hotels. Generally, prices for a ResortPass fall between $25 and $100 per adult. Often times children are free or have to pay a small fee.
To date, ResortPass has made accommodations for 1.6 million guests. From 2021 to date, the company has doubled its numbers and only expects to continue growing as more and more people are eager to enjoy life after the lockdown. 
ResortPass has some big names and celebrity investors and recently received a large round of funding. The company has raised $37 million in its latest round, and that number is set to continue growing right along with the company. Some of the celebrity investors that have participated in investing include Gwyneth Paltrow and Jessica Alba. 
In the near future, ResortPass will expand its reach even further to offer day passes in other countries and regions. The company plans to establish more hotel partnerships in already established territories. In addition, ResortPass is looking to expand into Europe and the Asia-Pacific region.
Most of the ResortPass users are turning out to be locals who want access to local hot spots for fun and relaxation. Additionally, Airbnb travelers and cruise ship passengers are also utilizing ResortPass to gain quick access to accommodations. ResortPass is turning out to be a great option for those who have little time to burn and don't want to sit in an airport or may only be in a city for a short period of time. 
With all the momentum from an increase in funding and record numbers, ResortPass has plans to increase its teams in all departments. ResortPass will bring on team members across departments such as marketing, sales, product and operation, and more. With only 50 current employees, the company may, in fact, double and is working toward profit margins.
---