To truly experience New York City during the holidays make plans to visit iconic spots like Rockefeller Center and Radio City Music hall, as well as lesser-known gems like the Christmas lights found in Brooklyn's Dyker Heights or the Holiday Train Show in the Bronx.
The holiday season in New York City is as iconic and symbolic as the very city itself. From the epic Christmas tree on display in Rockefeller Center and the lights that adorn 5th avenue to Radio City Music Hall's legendary Christmas Spectacular, experiencing the big apple during the holidays is something that should be found on every person's bucket list. And having lived in or right near New York City my entire life, I can give you an insider's look at all the best spots to check out to ensure that your holiday trip is as epic as possible.
If you happen to be in New York City for the Holidays, then there is no question that you need to head over to Rockefeller Center to check out that fabulously illuminated towering tree. After snapping a picture of yourself in front of it, take a peek at the ice skaters down below.
Right across from the tree you'll find a perfectly positioned FAO Schwarz where you can conveniently pick up a couple of gifts for the kiddos. You'll also find a LEGO Store and Nintendo New York ideally situated near the tree, too. 
Speaking of shopping, Bryant Park should be your next stop. There you will find a huge selection of artisan shops filled with decor and holiday doo-dads galore! Bryant Park also features its own impressive Christmas tree and ice skating rink. And if you are looking to partake in some ice skating without having to wait in an unfathomably long line, this is the place to do it. (Just make sure to bring your own ice skates and lock!)
After Bryant Park, if you're not all shopped out yet then you should head on over to New York City's famous 5th avenue and up to 59th Street. There you will find a cluster of fantastic stores including Apple's 5th Avenue flagship location and Tiffany's. You'll also be conveniently placed right across from the classically adorned Plaza Hotel and right at the foot of Central Park South.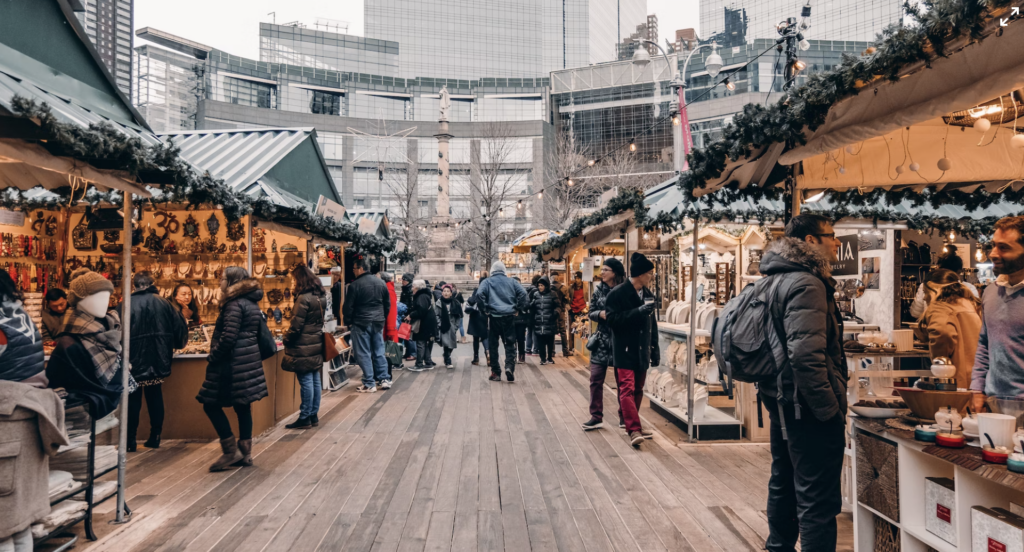 A hop, skip, and jump over to the west side will reveal Columbus Circle and all of the holiday lights and shops there. Keep heading up the west side and you'll find Lincoln Center where you can book tickets to see a performance of the Nutcracker. And of course, you can always opt to enjoy a showing of the Christmas Spectacular back down at Radio City Music Hall. 
Lastly, don't be afraid to venture out into the boroughs! I've been primarily focusing on Manhattan, but that's not all New York City is! Queens, Brooklyn, and the Bronx are only a short subway ride away (Staten Island is a bit more of a hike) and there are some absolutely amazing festivities to enjoy there.
For instance, you can head up to the New York City Botanical Garden in the Bronx to experience the stunning holiday train show. If you are like me and just absolutely love looking at Christmas lights, you can head over to Brooklyn's Dyker Heights neighborhood where residents go the extra mile to deck the halls at all of their houses. There is truly nothing like New York City at Christmastime.