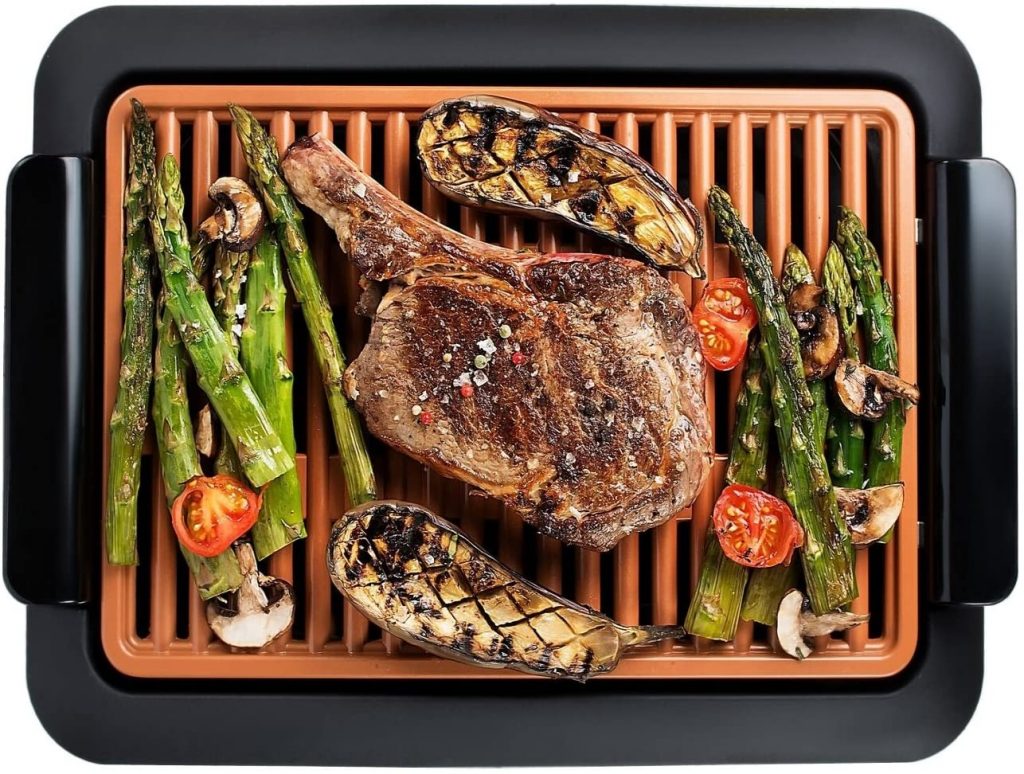 Grilling is undoubtedly one of America's great culinary loves. There is nothing like biting into a succulent burger hot off the coals or a perfectly prepared sirloin steak. Fourth of July would not be complete without the tantalizing smells of food cooking on the grill that waft through the air as kids run wildly about with their sparklers. And it should be illegal for hotdogs to be cooked any other way.
Yes, grilling is great. However, for many, traditional outdoor grilling is just not an option. Whether it's because you live in an apartment with absolutely no outdoor space, not even a balcony to speak of, or because it's that time of the year when the fluffy white stuff has blanketed the landscape in your corner of the nation and there is just no viable way for you to grill. Alas, there is hope! Portable grills are a thing and they can be used indoors and even brought with you on outdoor excursions where grills typically would not be available. In recent years, portable grills have been really stepping up their game and through some extensive research we've narrowed down the very best options online to suit all of your portable grilling needs.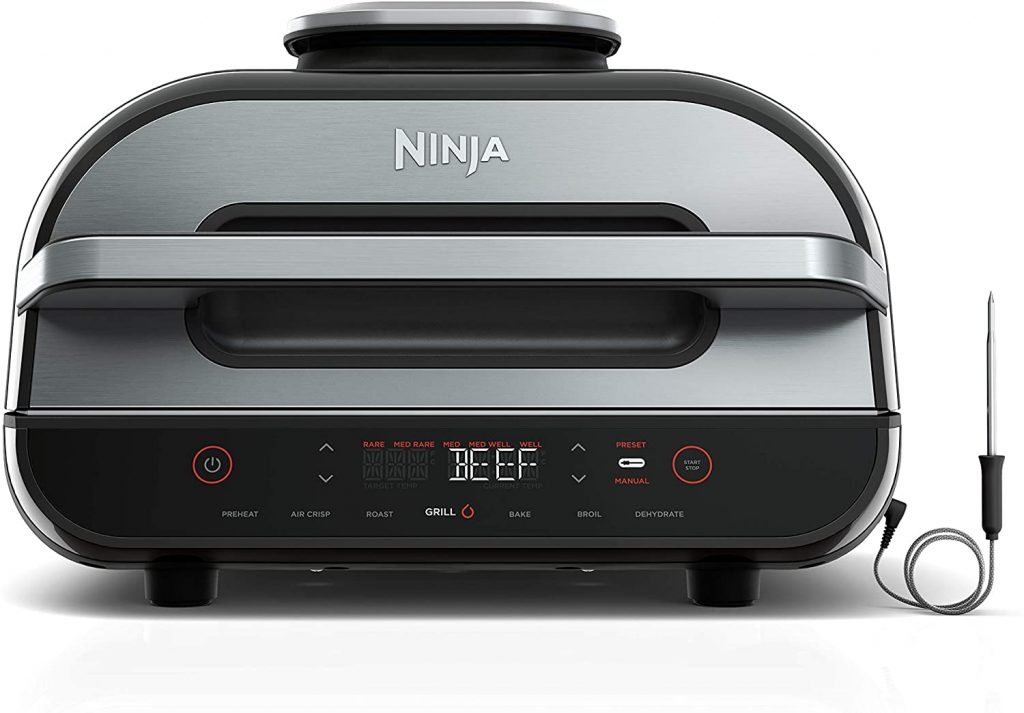 WHY WE LIKE IT – The Ninja is the premier portable grill option for those looking to bring the joys of grilling indoors without having to worry about setting off their smoke alarms. What's more, is that this smart grill has been labeled smart for a reason, not only can it grill but also air crisp, roast, bake, broil and dehydrate, all of which are made possible by this portable grill's Cyclonic Grilling Technology. Ninja's proprietary technology enables the grill to cook food with 500-degree air that rotates in cyclonic motion. This high-tech option also comes equipped with an internal thermometer so that food can be cooked to your preferred doneness every time you use it.
PRICE – $235.00 on Amazon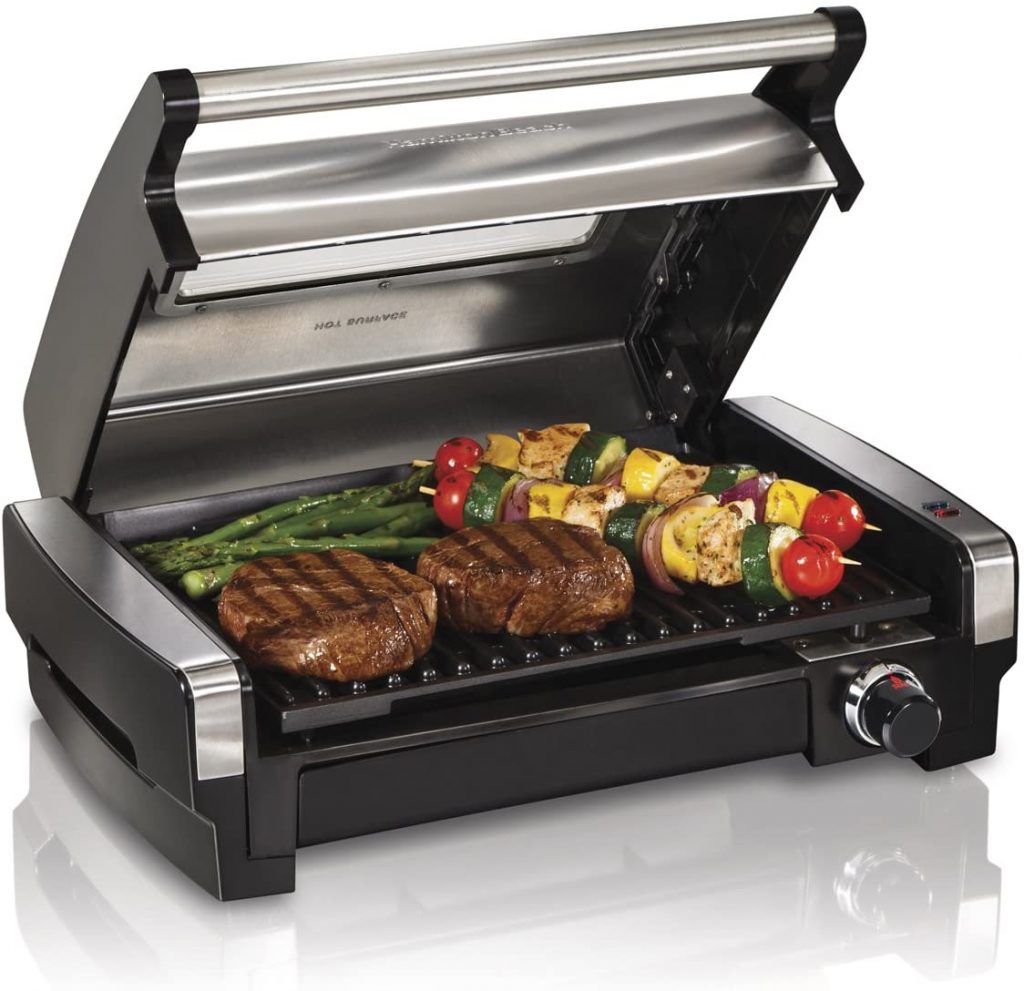 WHY WE LIKE IT – This Hamilton Beach model is another nice indoor-only, more affordable portable grill option. It is made to sear food at up to 450 degrees and is designed with a lid that locks in moisture to ensure flavor and tenderness always reach optimal levels. Its removable parts make it easy to clean and it also features preheat lights to indicate to you when to start cooking. The best part about his model is its clear viewing window so that you can easily keep an eye on your food as it cooks, it eliminates the temptation of lifting the lid to take a peak so that you don't lose any heat during the cooking process.
PRICE – $79.99 on Amazon

WHY WE LIKE IT – The Weber is the ideal option for someone who wants a more traditional grill but has very limited outdoor space to work with. For instance, it is well suited to a condo or apartment dweller with a decent-sized balcony. Because this model is powered by propane, it is not suitable for indoor use. That being said, the Weber is solidly built with Porcelain-enameled cast-iron cooking grates and cast aluminum for both the lid and body. Despite it being powered by propane it has an easy-start electronic ignition so you'll never have trouble lighting it up, it also comes equipped with precision temperature controls. There are six color options (black, blue, red, green, orange, and titanium) to suit a variety of preferences, as well.
PRICE – $219.00 on Amazon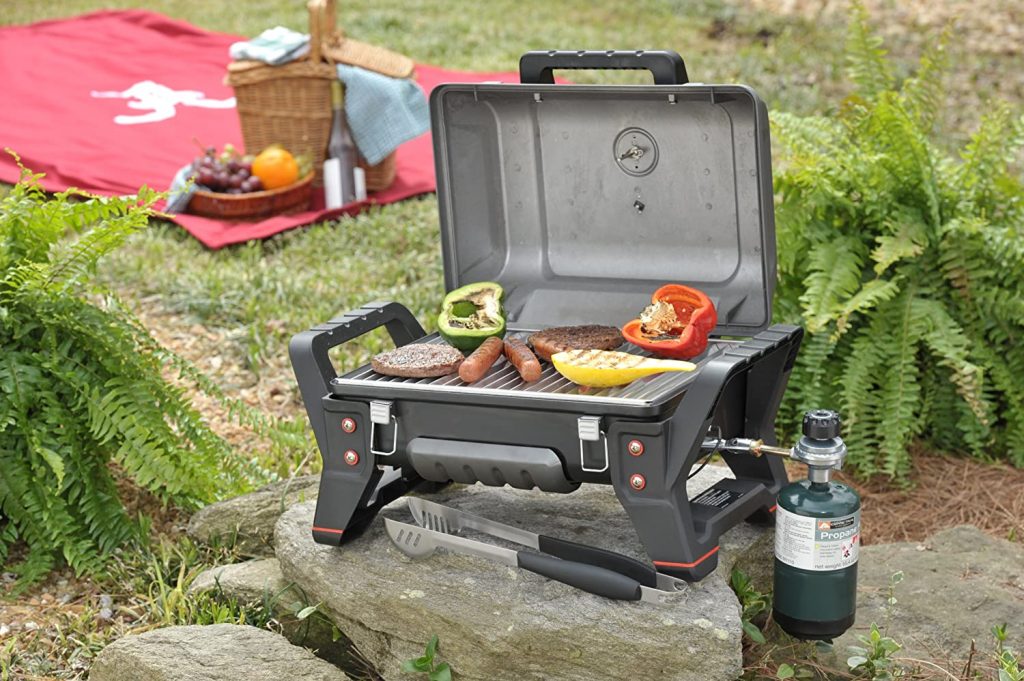 WHY WE LIKE IT – The Char-Broil is the ideal portable grill for the adventure-faring types. It is built to withstand the perils that go along with the rugged outdoors. It is comprised of fireproof cast aluminum and a stainless steel grilling gate. It also has an impact absorbent frame. It is propane powered and cooks food using a no flare-up TRU-Infrared cooking system and comes equipped with controls to ensure food is grilled at the precise temperature. This would be a go-to model for any avid campers who frequent the more remote camping grounds that do not come equipped with any modern amenities.
PRICE -$152.79 on Amazon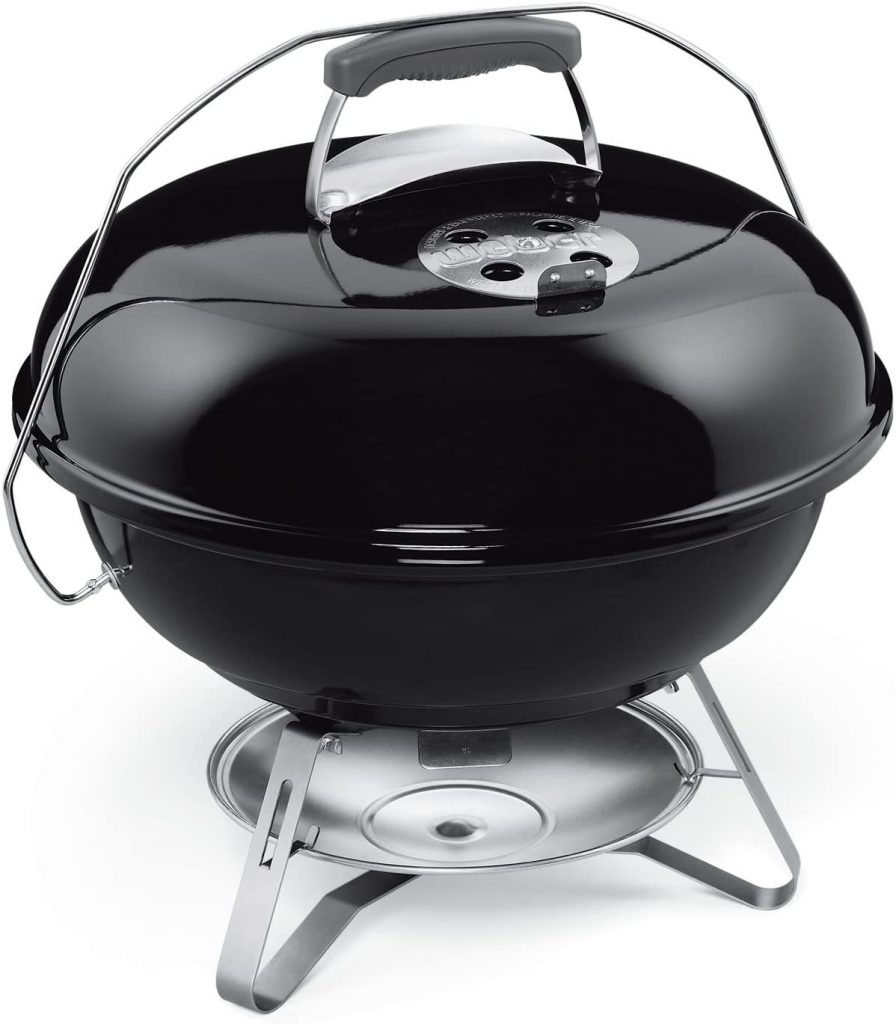 WHY WE LIKE IT – This portable grill is perfect for those charcoal aficionados who believe that grilling is just not grilling without it. This option is also best for those looking to take their grilling on road, the obvious reason being is that charcoal grilling should never be done indoors but this is also not a good option for those looking to grill on a balcony either given this type of grill's propensity to give off a lot of smoke. The more space and wide open air you have to use this portable grill in, the better. However, if you are looking for a charcoal option to take on the go with you, then this grill checks all the boxes. It works like a traditional charcoal grill, but also comes with some nifty features like a Tuck-N-Carry lid and dampers that promote easier temperature control. It is also made of porcelain so its heat-retention rate is off the charts and for what you get, the price can't be beaten either.
PRICE – $81.99 on Amazon
THE CONCLUSION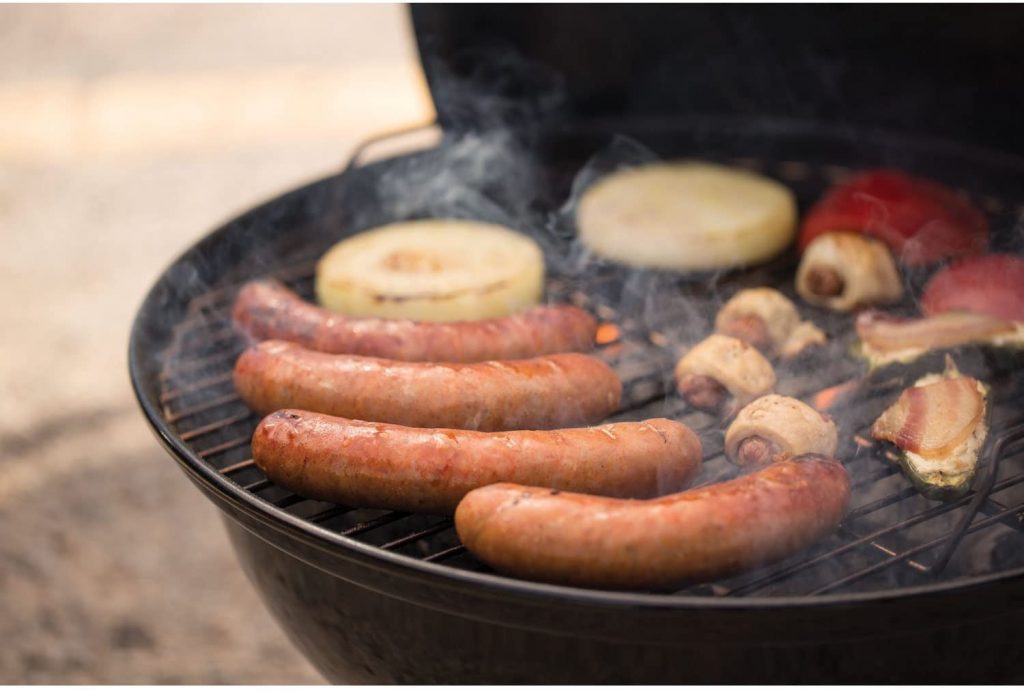 The above options certainly attest to the fact that portable grills really have come a long way. If you live in an apartment with no outdoor space, then the fancier electric options would be perfect choices. If you're lucky enough to call a patio or balcony your own, then either propane portable grill would be ideal. Or if you are a person who's in the outdoor enthusiast adventure-seeking camp who swears by coal, then you can't go wrong with Weber's charcoal model. Some honorable mentions to come out of our search also include the super budget-friendly Gotham Steel Smokeless Grill and ChefWave Sosaku Smokeless Indoor Grill & Rotisserie for those looking to kill two birds with one stone. Ultimately, whatever your portable grill choice may be, our picks above are solid options sure to suit a wide range of individual needs.