Let's take a look at the best burger spatula to grab now for all of your cooking and grilling needs this summer.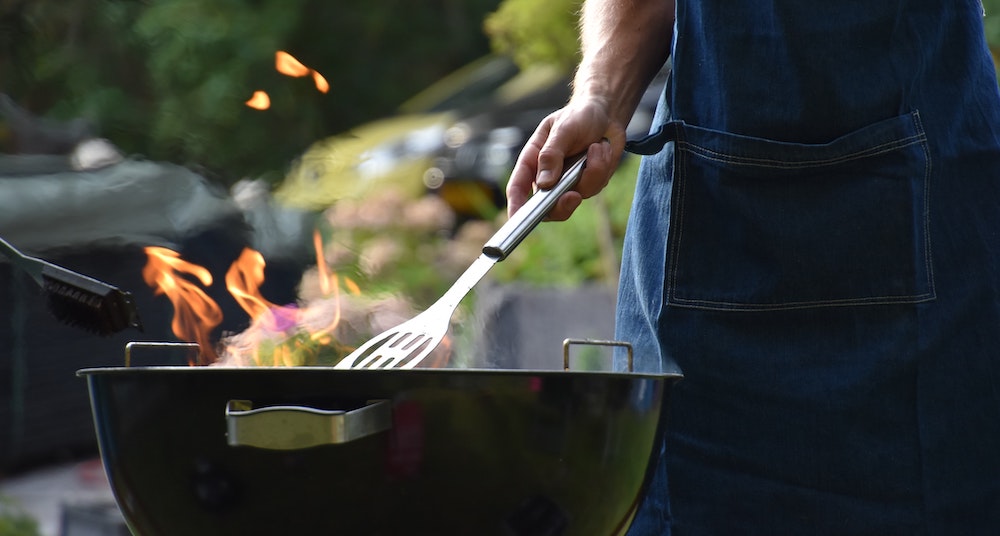 So, you think you are the master of your grilling domain? Whatever goes on, comes off dripping with flavor. While any meat is your playground, burgers are your forte, and man, you can turn a mean one. Smash burgers, regular burgers, or big, fat juicy burgers, they are all your works of art and your burger spatula is the tool dreams are made of. But not all burger spatulas are built the same. As you will see, the best burger spatulas come in many different shapes and sizes. How do we decide which is the best, though?
WHAT IS A BURGER SPATULA?
Everyone knows what a spatula is, right? But did you know there were three different categories of spatulas? When you are baking a cake or brownies, it is the rubber cooking utensil that has a broad flat blade that can be used to mix, fold or scrape cake or brownie mix. These types of spatulas are called "scrapers." As mentioned, they are made of rubber, though there are some models made of silicone. You typically do not want to use these types of spatulas on the stovetop because the rubber can melt easily. They definitely would not be used as a burger spatula.
The second type of spatula is called a "spreader." These spatulas are normally made of steel and are long and slender. These are best used to spread icing on a cake or for cheese spreads. You also see these types of spatulas in deli's being used to spread condiments on sandwich bread.
The third type of spatula is one we are going to concentrate on. These are called "flippers" and are also known as "turners." These spatulas are built to flip burgers. They have a very long handle since you will be getting close to some intense heat and a blade that is sturdy and is about the size of a human hand.
Because you will be using these as a burger spatula, you are going to want yours to be made of steel or aluminum. The last thing you are going to want is a hamburger being served with spots of melted spatula. Now, the burger spatula comes in a few different shapes and sizes. For those BBQ Grill Warriors, you may opt for a spatula with a long handle. This allows you to get close to the fire and not do too much damage to yourself. There are even burger spatulas with an extra-long handle that can make BBQing an even better experience. We know that some of you like to have an adult beverage or two while BBQing, and some burger spatula manufacturers have you in mind with some of their spatula designs. Some will include a bottle top opener on the handle.
The head, or the flat part of the spatula, can also come in different sizes. Most are big enough to flip a decent-sized burger. Some of these spatulas also come with serrated edges for those who wish to grill more than just burgers.
THE BEST BURGER SPATULAS
We have given you some ideas as to what makes the best burger spatula, so now let's take a look at a few of the best options on the market. Although we won't be stressing a price point for these, you will notice that a few of these burger spatulas can really vary in terms of dollars. Let's check them out.
MANNKITCHEN STAINLESS STEEL SPATULA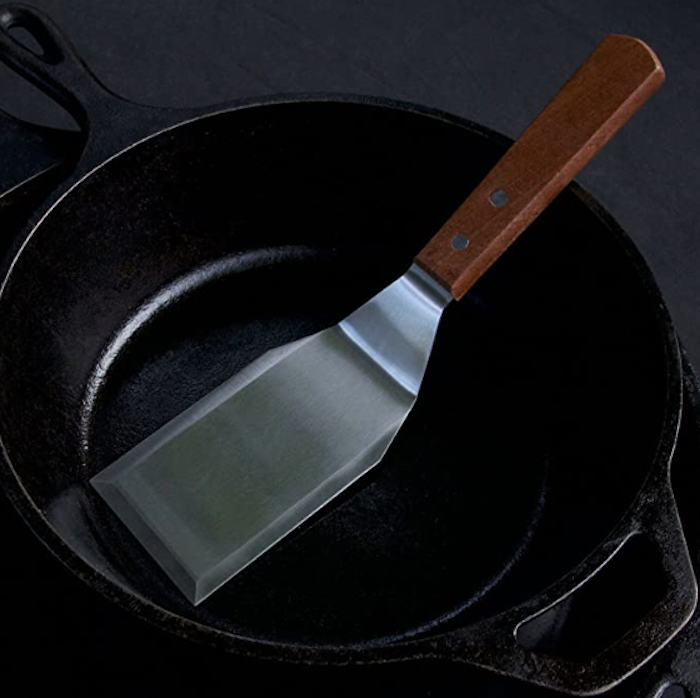 PRICE – $24.99 on Amazon.
WHY WE LIKE IT – Easily one of the top-rated burger spatulas for good reason. The Mannkitchen is of professional grade stainless steel and looks and feels the part. It is perfectly built for flat top grills as well as cast iron skillets, this burger spatula will not disappoint around the BBQ either.
The flat-turner blade is long and steady. It is made with heavy gauge 420 stainless steel that eliminates flex in the blade and also resists corrosion and rust. The handle is made of wood and the whole design is built rugged and tough. This will get you through countless days and nights of burger flipping to your heart's content. You will not want to put this amazing BBQ tool in the dishwasher. Instead, hand wash it.
VICTORINOX BURGER SPATULA WITH WOOD HANDLE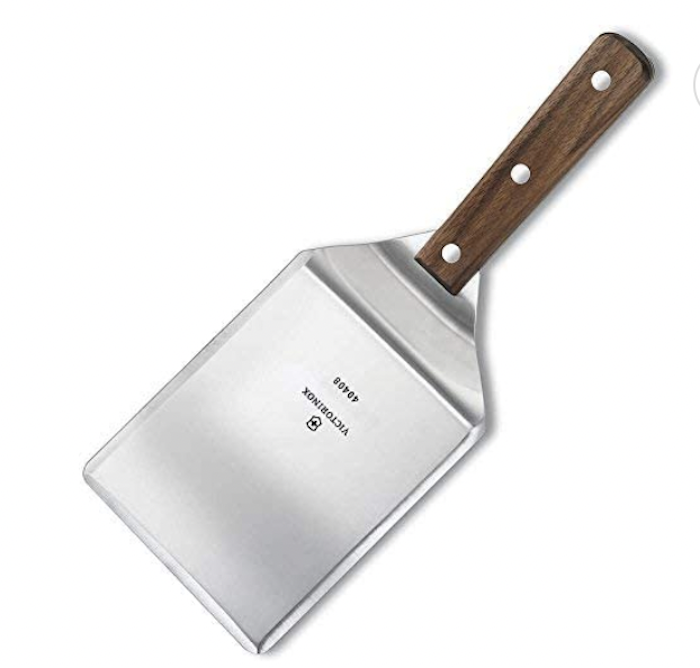 PRICE – $67.52 on Amazon.
WHY WE LIKE IT – Burger grilling is becoming an art form and this form is now starting to take shape as a smash burger. With the popularity of smash burgers on the rise, you are going to need a strong and well-built spatula to get you that fine, smash burger finish. The Victorinox is the perfect tool.
First, if you aren't sure what a smash burger is, it is simply a hamburger that is flattened while it's cooking. It ends up being a thin burger with crispy, even burnt, edges. The Victorinox is built perfectly to create a smash burger. The blade is a nice big square built of high carbon stainless steel. With its wood handle, burger chefs will find it easy to lay their meat out, slap the Victorinox on top, give it a good hard push, and enjoy the smash burger results.
MERCER CULINARY HELL'S HANDLE HEAVY-DUTY TURNER/SPATULA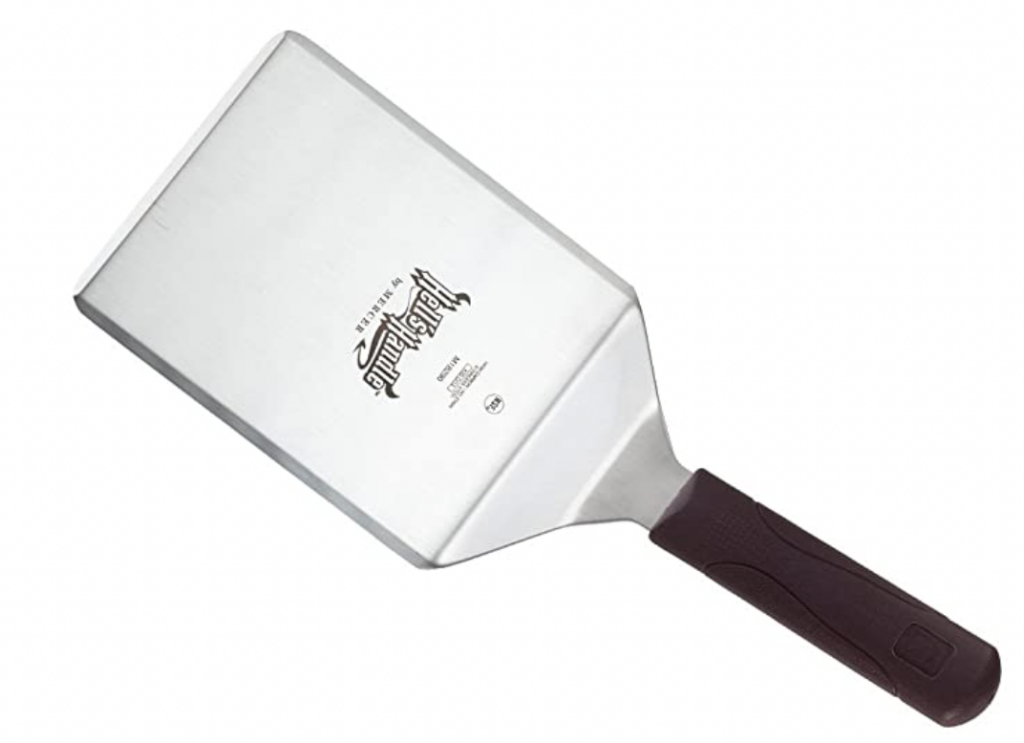 PRICE – $35.36 on Amazon.
WHY WE LIKE IT – First off, it's hard to go wrong with a name like Hell's Handle. That right there should tell you you're in good burger spatula company. The blade is another large one that is perfect for smash burgers, but the highlight of this specific spatula is the handle itself.
Hell's Handle actually works in reverse, instead of heating up as its name suggests, it is a highly innovative handle that is heat-resistant and absorbs 50% less heat. BBQ vets are sure to love this feature.
NORPRO, SILVER KRONA STAINLESS STEEL SPATULA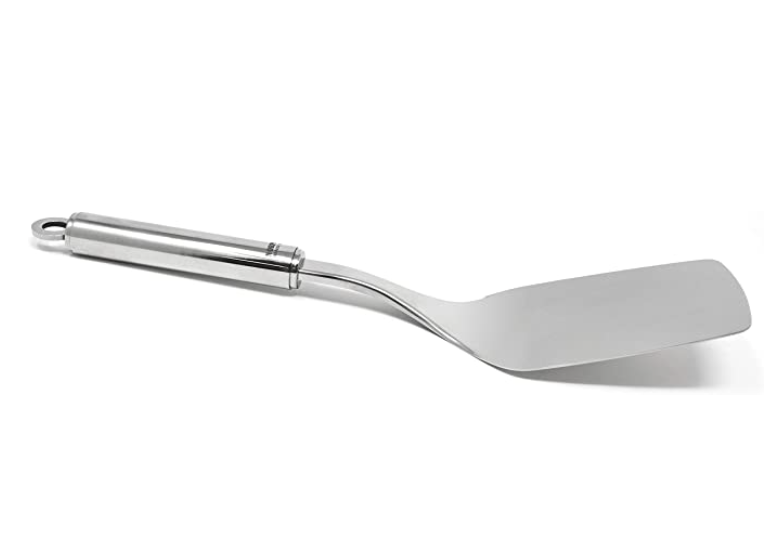 PRICE – $13.11 on Amazon.
WHY WE LIKE IT – The Norpro Silver Krona is different from the other burger spatula on our list for the fact that it is built entirely of stainless steel. Yes, both the handle and the blade are made of very sturdy stainless steel, a fact that makes this a popular burger spatula. Along with the entire tool being made of stainless steel, it also comes built with a loop at the base of the handle for easy hanging. This is another spatula that is hand wash recommended.
DEXTER RUSSELL HIGH HEAT TURNER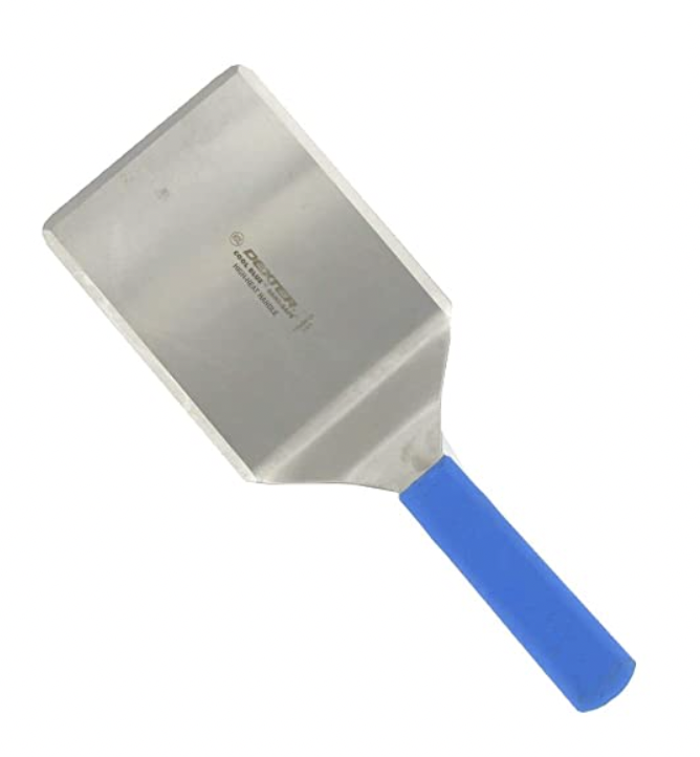 PRICE – $27.25 on Amazon.
WHY WE LIKE IT – Another smash burger favorite. The blade is long and wide and very sturdy. The handle is not made of wood or steel, but this one is made with Sani‐Safe textured polypropylene. Dexter Russell is checking off the safe sanitary qualification box with this design.
FINALLY
You probably didn't know it, but you have many options when it comes to your burger spatula. Do you like wooden handles, or do you prefer stainless steel? Then again, you could always go for the sanitary polypropylene handle. What about blades? Are you simply content with the normal blade or do you want something strong and sturdy, something that can give you a great smash burger? No matter how you like your burgers, there is definitely a burger spatula that can cook them.
---