The PowerXL Air Fryer Grill offers more features than a standard unit including baking, roasting, and reheating.
Chances are you have heard of the great kitchen appliance, the air fryer. We have certainly talked about them in the recent past. These wonderful pieces of kitchen magic help you "fry" the foods you love best and at the same time do it in the healthiest way possible. The PowerXL Air Fryer Grill is among the latest to start making waves in the kitchen.
The air fryer is one kitchen appliance that is a must-have. Then again, there are plenty of kitchen appliances that are must-haves. You have your air fryer, your toaster, and your contact grill all vying for space on your countertop. Wouldn't it be nice if you could combine all of those things into one appliance? The PowerXL Air Fryer Grill does just that.
THE POWERXL AIR FRYER GRILL CAN BAKE, ROAST, REHEAT, AND MORE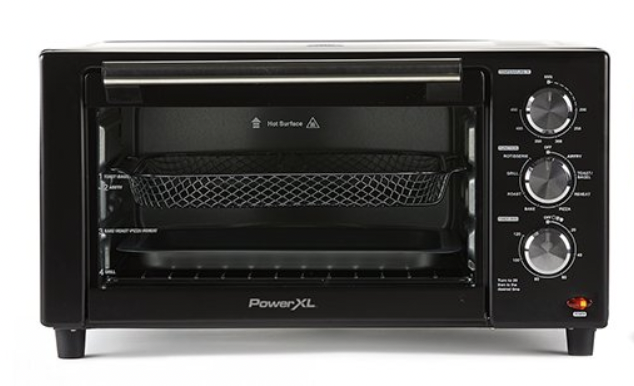 So, you may be asking yourself just what an air fryer grill is all about. You know what an air fryer is and it is one kitchen appliance that moves the needle in the right direction. Well, you can have all the health benefits of an air fryer and more with the PowerXL Air Fryer Grill.
The first thing to know, besides the fact that bring in the PowerXL Air Fryer Grill to your kitchen that you are going to be eating healthier, is that you will also be decluttering your kitchen. No longer will you need a bunch of separate appliances to get the foodie result you are looking for. Now you can have it all with one appliance.
The PowerXL Air Fryer Grill can do it all. And by "do it all", we mean much more than just a simple air fryer. Along with that, the air fryer grill can bake, roast, cook pizza, grill (obviously), be a rotisserie, toast, and reheat. The appliance is a true 8-in-1.
If you know how a convection oven works, then you will have an idea of just how this air fryer grill works. The PowerXL Air Fryer Grill generates a whirlwind of hot air to surround your food, giving it that convection effect. The hot air cooks your food, browning its exterior while also slowly cooking the inside.
POWERXL AIR FRYER GRILL – FEATURES
Heating Power – One of the nice features of this appliance. The air fryer grill is rated at 1500 watts, so it has plenty of pop to crank out some nice temperatures. These range from 200 to 450 degrees, which means you can cook virtually anything.
Even Heating – Along with the heating power of the appliance, it will also provide you with even heating. The unit circulates at high speeds in super-heated cyclonic air. This means the air will be distributed evenly.
Cooking Time Reduction – Because of the heating power and the ability to heat evenly, the PowerXL Air Fryer Grill can also cook foods at a rate of 40% faster than conventional ovens. If you own an air fryer, you already know that they cook faster than traditional ovens, and what's more, you can toss in frozen foods to cook without even having them thawed.
Capacity – The PowerXL Air Fryer Grill can hold quite a bit. It has a 930 cubic inch diameter that can fit up to a 10-pound chicken.
Great Accessories – Yes, you get more than just the PowerXL Air Fryer Grill. Also included in the box is a crisper tray, nonstick grill plate, rotisserie spit set, drip tray, baking pan, oven/pizza rack, and a recipe book. If you were to purchase the deluxe unit, they would also add in an egg/muffin tray along with a nonstick griddle plate.
Easy To Use, Easy To Clean – How simple is it to cook with the PowerXL Air Fryer Grill? Well, just select one of the many presets, put your food inside, and hit start. Doesn't get any easier than that.
It is just as easy to clean the unit too. The appliance has many dishwasher-safe parts and a drip pan, so cleaning is a snap. Just remove the dishwasher-safe parts, toss them in the dishwasher, and clean the rest by hand. Nice and simple.
Right now you can find the PowerXL Air Fryer Grill on Amazon for $249.99.
POWERXL AIR FRYER GRILL PROS INCLUDE ITS VERSATILITY AND ACCESSORIES
The above features alone are all of the pros you need with the PowerXl Air Fryer Grill. Amazingly enough, there are more. The appliance, as mentioned, is a true 8-in-1 appliance that offers all the cooking methods we listed earlier. Those methods are also presets, a nice feature to have.
Another pro would be that it is that the air fryer grill offers a completely healthy cooking method. You no longer have to worry about cooking with oil and if you do need to use it, you would need very little. Your arteries will thank you.
One more pro would be the accessories that are included with the PowerXL Air Fryer Grill. Along with the air fryer grill, you will also get a stainless-steel roasting rack, crisper tray, non-stick grill pan, baking pan, a drip tray, a rotisserie spit, and a helpful recipe book.
CONS INCLUDE POSSIBLE NOISE AND HEAT
Of course, not everything with the PowerXL Air Fryer Grill comes up roses. There are a few hiccups that need to be mentioned. The first one is if you aren't careful with what you are cooking, the appliance can get a little smokey. Yes, the drip tray catches the grease, but sometimes it still does get smokey.
Another issue found was that it can be a bit noisy. Some air fryers, in general, are noisy machines because of the air swirling around them. Same here, but it may even be noisier than a regular air fryer. One more thing of note as it pertains to noise – the rotisserie can also create a banging noise when in use.
The appliance can get very hot. This could be concerning if the appliance is near other appliances or up against the wall. The fryer gets hot on the outside, so be aware of this and keep it at a distance from other things.
---
Cons aside, this is one solid kitchen appliance. As it has "grill" in its name, you will get a very pronounced grill sear mark by using the nonstick grill plate, which is one of the more unique features of this air fryer grill. So, start your declutter of your kitchen with the PowerXL Air Fryer Grill, you'll be happy you did.