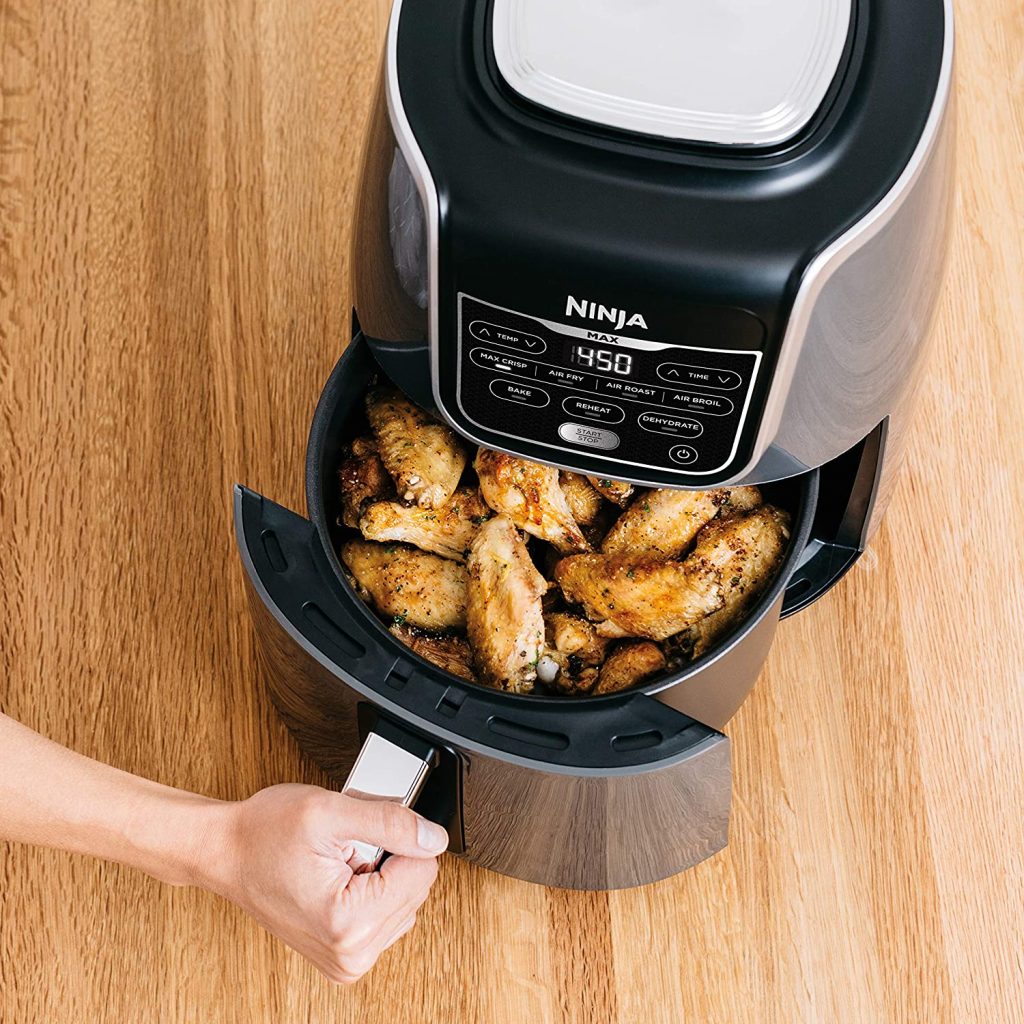 Air fryers are the healthier choice to make when it comes to cooking foods. Now, they won't make all foods automatically healthier, but when you compare them to deep-frying in oil or pan-frying with grease, air fryers easily win the battle.
When looking to purchase an air fryer, you are going to see there are a few different styles. There is the very popular basket-style good for larger batches of foods like veggies and fries, ones that may need some shaking when done.
There is an oven-style air fryer that works best with foods that need to be cooked on a few shelves. These also sometimes feature rotisserie accessories.
Then there is the toaster oven air fryer. These can bake, broil, and yes, even toast along with their ability to air fry. These air fryers are amazing pieces of technology, and you can get them as simple or as complicated as you wish. They can be straight-up air fryers or, as many do, you can get an air fryer that offers numerous cooking options.
Because we are in the gift-giving mood with the holiday season fast approaching, we decided to help you be in the gift-giving mood as well with these wonderful gift ideas. The air fryers below, as you will see, are all basket-style air fryers. In the end, we'll also give a special shout-out to a few of the other styles that we also recommend.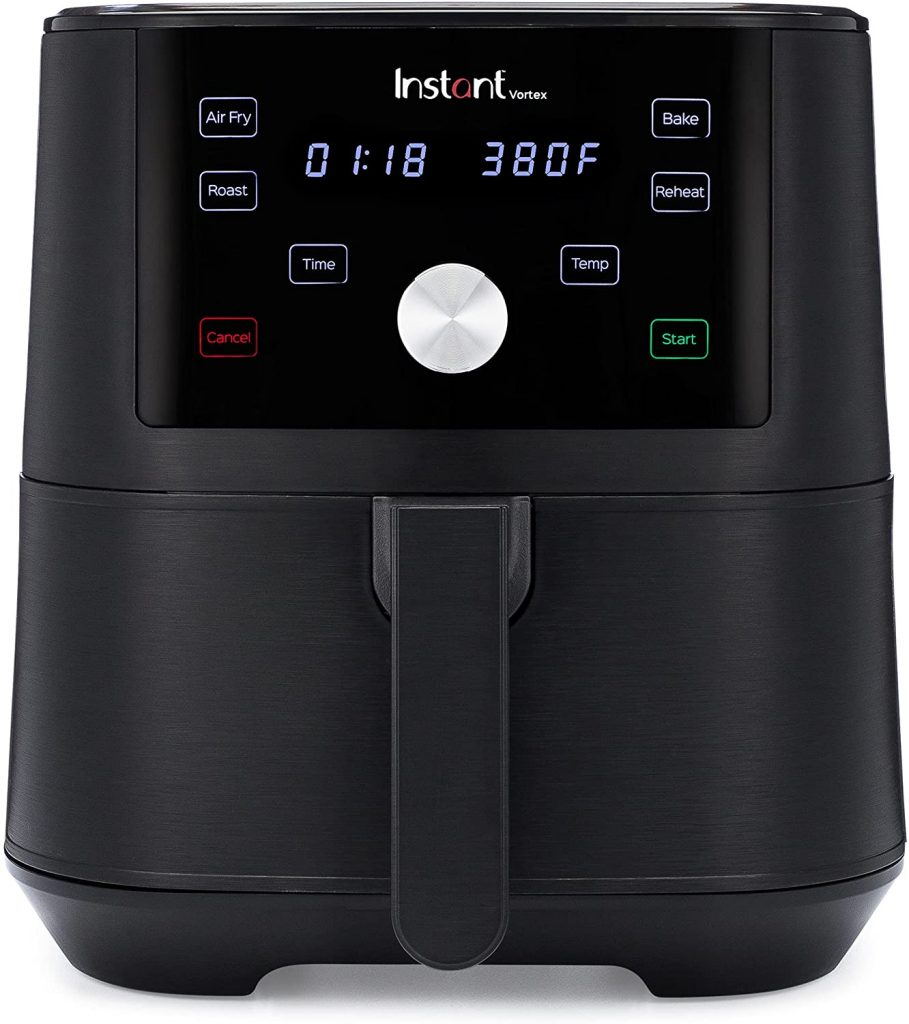 WHAT WE LIKE – The Instant Vortex Plus gives you options. Besides being a great air fryer, this device will also bake, roast, or reheat anything you can fit into its 6-quart container.
It comes equipped with its patented One-Touch Smart Programming which are customizable cooking programs that you can set to cook chicken wings, roasted veggies, and more with the simple touch of a button. You can adjust the temperature of the air fryer from 95 to 400° with a simple turn of a knob.
With its EvenCrisp Technology, the Instant Vortex delivers the perfect crunch of deep frying with 95% less oil. The air fryer is easy to clean as its basket is non-stick and dishwasher safe.
PRICE – $99.00 on Amazon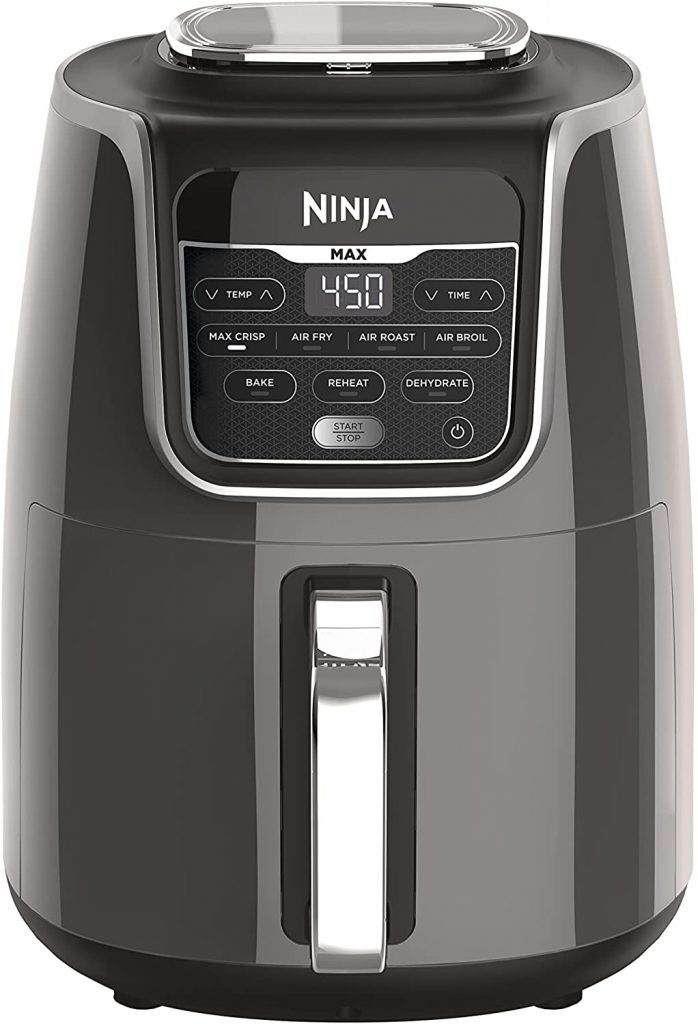 WHAT WE LIKE – We have probably said it before, but definitely needs to be said again. Anything device that leads with the name "Ninja" is tops in our book. Ninja's Max XL air fryer is no exception. The Ninja offers a max crisp technology that will give you up to 450° of superheated air to crisp, fry, heat, or warm to your heart's desire. And since the device uses little to no oil, your heart will appreciate the Ninja.
The Ninja's digital display allows you to set a specific temperature while also offering preset functions such as air fry, air roast, air broil, reheat, bake, broil, reheat, and max crisp. The ceramic-coated nonstick basket can fit up to 3 pounds of French Fries or chicken wings.
Article continues below headlines
---
The Ninja is easy to clean. Just remove the basket and toss it in the dishwasher.
PRICE – $139.99 on Amazon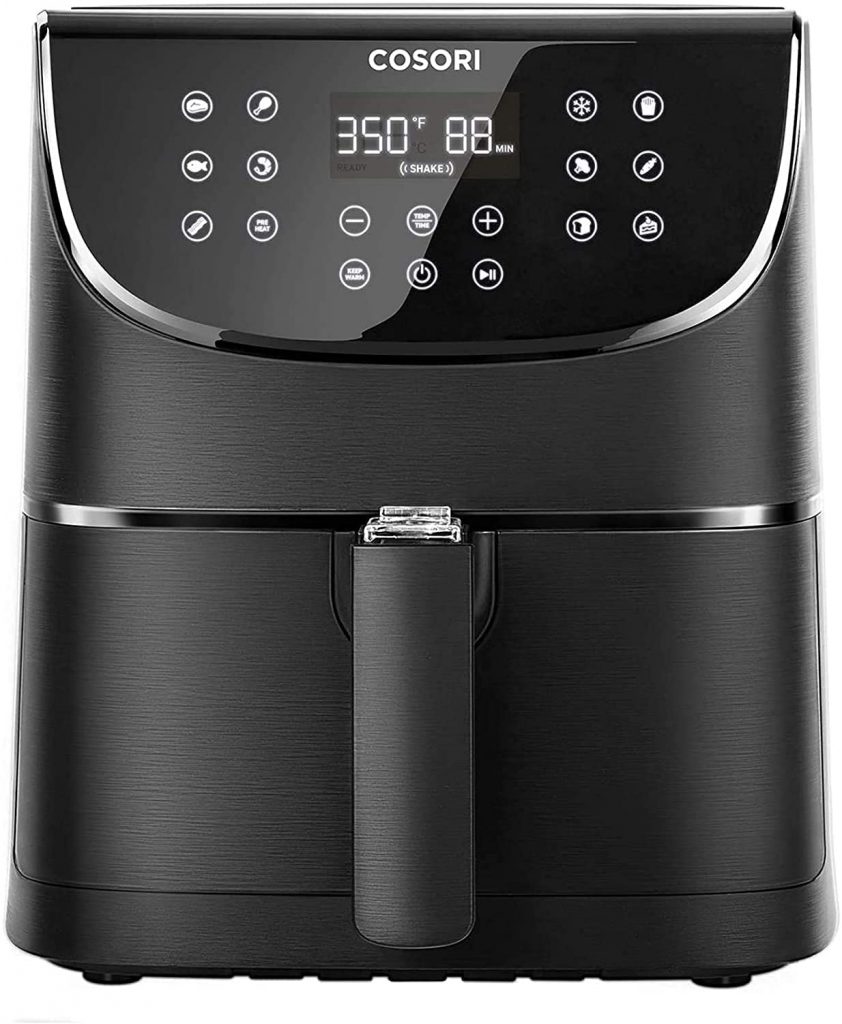 WHAT WE LIKE – Another basket-style air fryer, the Cosori can cook it up fast and crispy. The Cosori also offers options with 11 presets based on what type of food you want to air fry. The presets include steak, chicken, seafood, shrimp, bacon, frozen foods, French fries, vegetables, root vegetables, bread, and desserts. Simply tap one of the preset buttons and the air fryer will automatically set the temperature for your choosing.
The Cosori's digital display easily reads out what temperature you're cooking at along with how much time is left on your cook. Things cook quickly with Cosori and another neat feature with this air fryer is the "shake" reminder. It will announce to you to shake that food to get a more even cook.
As an added bonus, the Cosori air fryer also comes with a book of 100 recipes.
PRICE – $109.99 on Amazon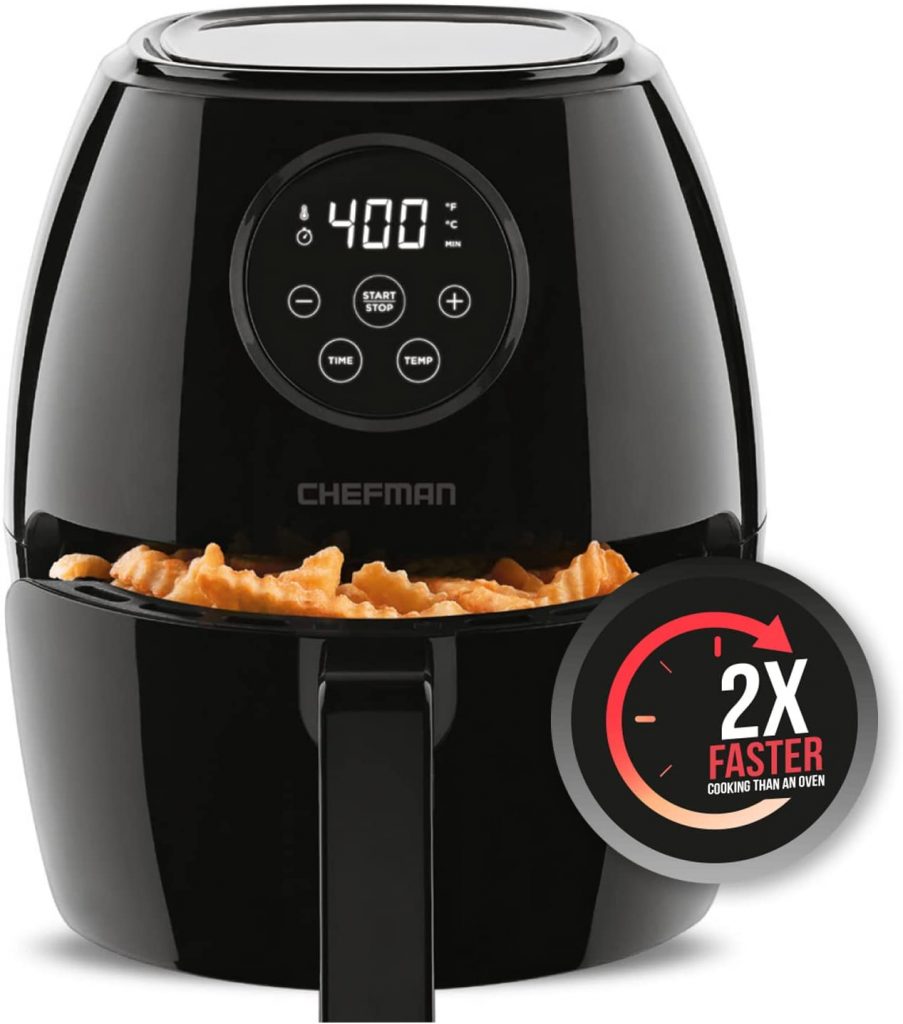 WHAT WE LIKE – Chefman's air fryer is a basket-style fryer that is compact in design but large enough for an impressive meal. It features a temperature range of 200-400° so air frying pizza, French fries, chicken, vegetables, or frozen foods is easy as one, two, three.
The Chefman's cooking basket has a flat design so it will hold 40% more food than the traditional style. You control the Chefman with a digital display and you can set its 60-minute integrated timer to the desired cooking time for perfectly crispy results.
The 3.7-quart basket is easy to clean being both nonstick and dishwasher safe.
PRICE – $69.99 on Amazon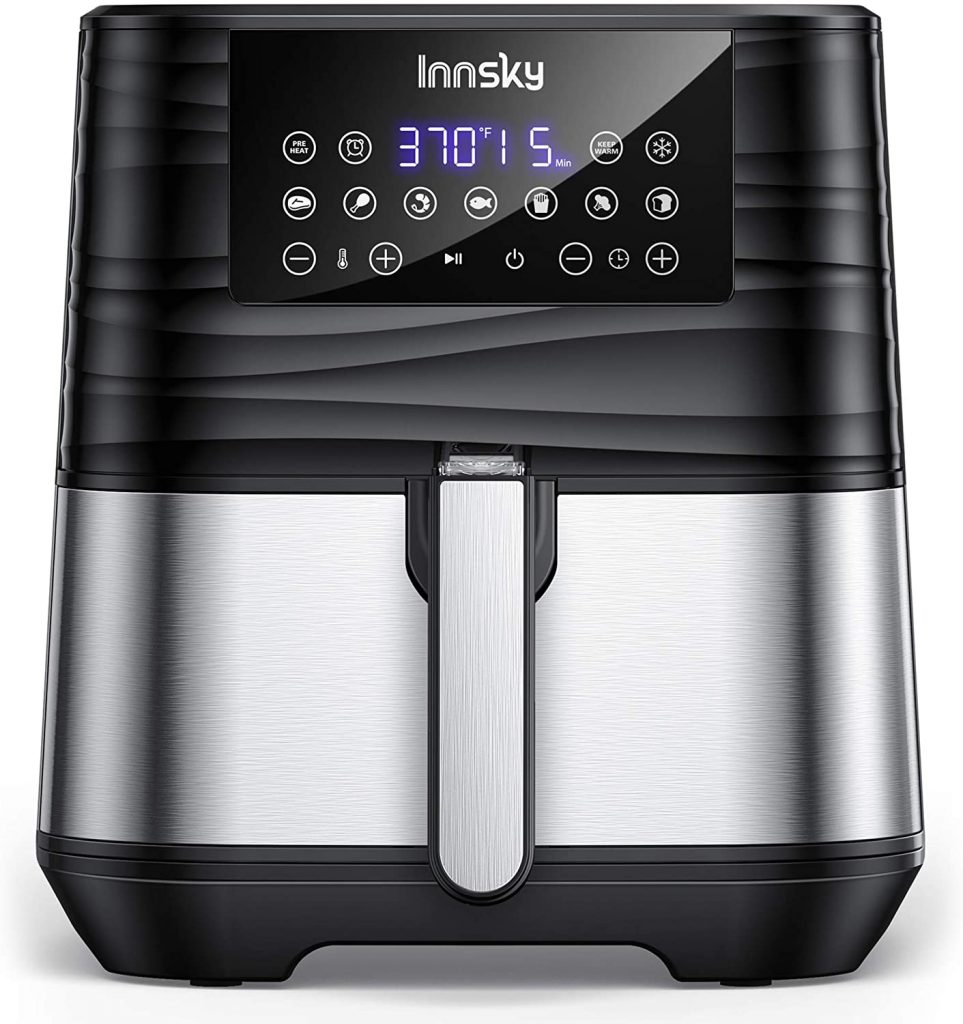 WHAT WE LIKE – Probably not a household brand name, but after using the Innsky, it just may be. You can cook with temperatures ranging from 180-400° with an adjustable time of 1-60 minutes.
The Innsky comes with 7 presets that include steak, chicken, shrimp, seafood, French fries, vegetables, and bread as each has its own specific temperature setting. It also has 4 cook assist functions – timer, preheat, thaw, and keep warm.
The basket's square design allows for a max of a 5-6 lbs whole chicken. It is also removable, easy to clean, and dishwasher safe. You'll definitely be happy with the Innsky.
PRICE – $84.99 on Amazon
SHOUT OUTS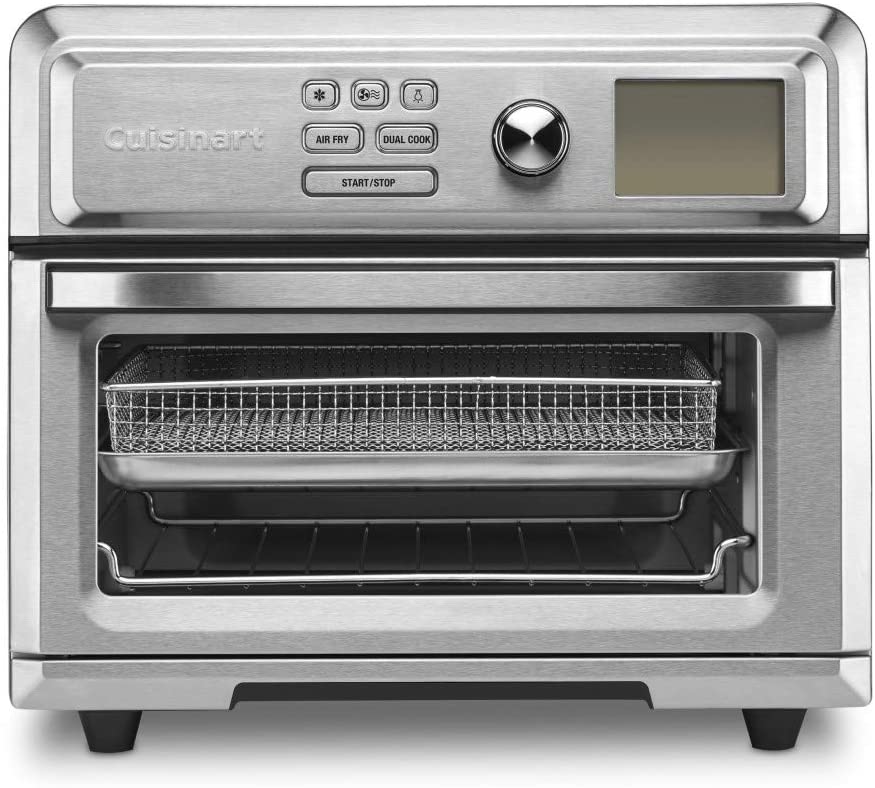 While the above focus was on basket-style air fryers, there are a couple of others worth mentioning. Cuisinart's Convection Toaster Oven air fryer is one. It looks like a toaster over but does its cooking with air. It's a pricey beast at $279.95 on Amazon, but it just may be worth every penny.
Instant Vortex offers another option, this one is a 10-quart convection oven and rotisserie. It does everything an air fryer should do and can be found on Amazon for $114.99.
FINALLY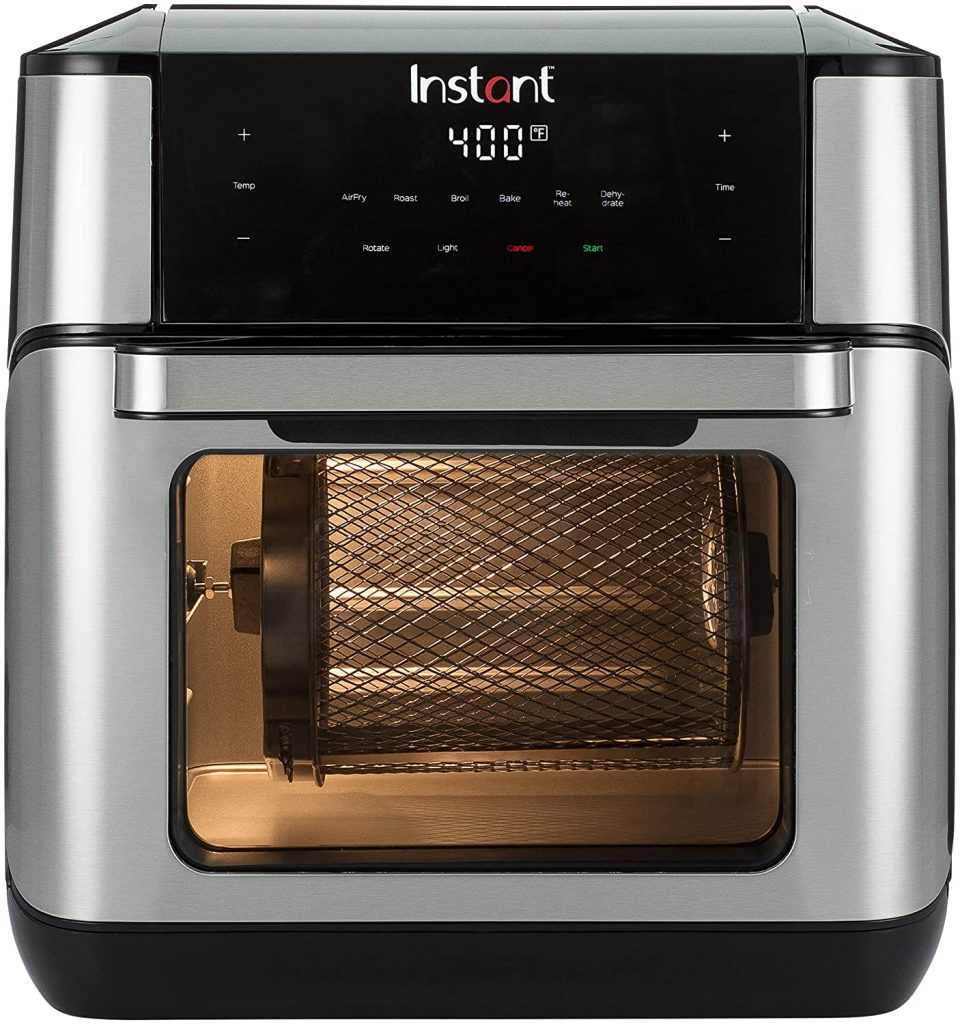 Air fryers are the bomb. Not only are they, for the most part, a healthier way to cook food, but they can also get the job done much faster.
The above are great choices. Grab one for yourself or grab one as the perfect holiday gift. Either way, grab one.