Pot fillers are moveable faucets that sit over your oven to make filling pasta water pots much easier
Pot fillers are becoming all the rage and it's easy to see why. Have you ever walked into your kitchen and thought, "what am I missing?" You glance around and set your eyes first on your year-old refrigerator. Nope, that's not it. Your stove is next. Although it is electric and you'd much rather have a gas stove, you don't have any complaints. Microwave? Nope, that is in good standing.
Finally, you take a gander at your kitchen sink. The faucet is also fairly new, so maybe there isn't much you need to do with your kitchen. You look at your sink once again, then your stove, and finally think, "if only my sink faucet was a little bit closer to the stove, I wouldn't have to lug heavy pots of water back and forth." Sounds like you might be in the market for a pot filler.
A POT FILLER IS A FAUCET THAT SITS OVER A STOVE
When you think of a pot filler, think of it like this. A faucet for the stove. It is that simple. A pot filler is a one-arm (that can be maneuvered), single-water temperature faucet that is located over the stove.
The benefit of such a device is that you no longer have to go to the sink first, fill up that pot of water, then bring it back to the stove. If you are one of the lucky ones to have a sizeable kitchen, then you will know just how beneficial a pot filler could be.
So, not only do you have the convenience of a water source right by your stove, but you will also save the wear and tear on your back by not having to lug a huge pot of water back and forth from sink to stove. That is a win-win in our book.
THE BEST POT FILLERS TO PURCHASE
You may have seen one of these in action before, but chances are you have not. They've been a fad for a while but have only really gotten popular as new kitchens have gotten larger. "We've been incorporating them into our kitchen designs for many years," says Sandra L. Steiner-Houck, President and Senior Designer at Steiner-Houck & Associates. For Steiner-Houck, "many years" dates back 15 to 18 years when her company first installed one.
So, maybe you like the idea of having a pot filler above your stove but aren't sure where to start looking or even how to price one. Well, that is where we step in. Here are a few ideas to help you get started.
MOEN MODERN POT FILLER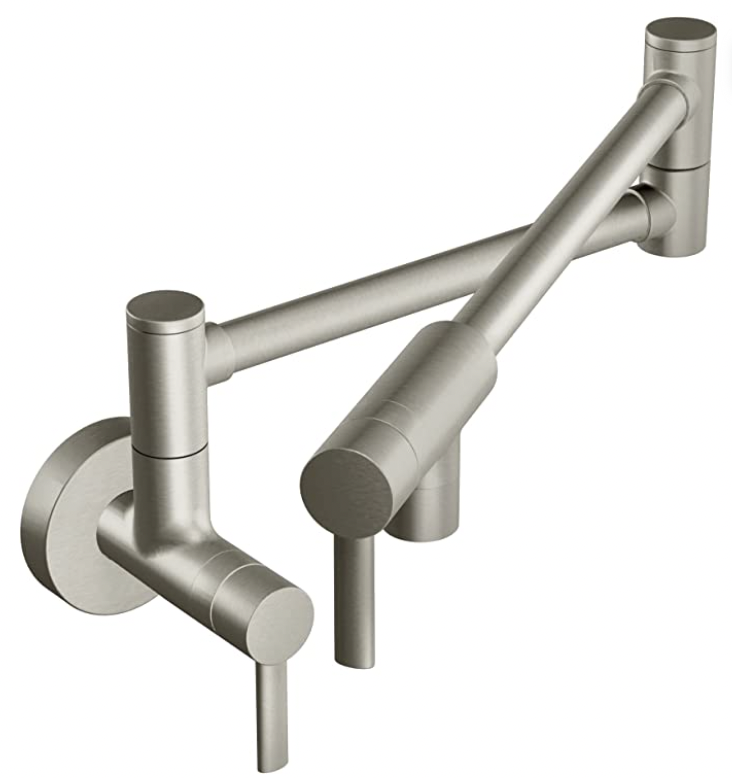 PRICE – $886.17 on Amazon.
WHY WE LIKE IT – This is the Cadillac of pot fillers and for that price, it better be. With this dual joint build and a 24-3/8-inch reach, you will be able to get water into pots anywhere you need it on your stove. The stainless-steel finish is spot resistant.
DELTA FAUCET POT FILLER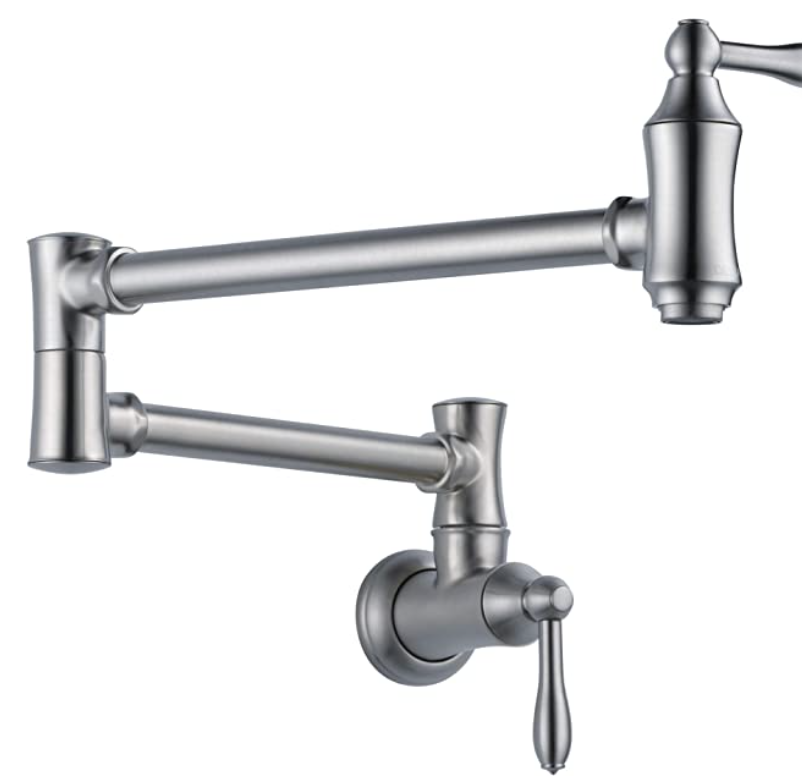 PRICE – $554.05 on Amazon.
WHY WE LIKE IT – This well-designed pot filler is just what you are looking for. Not only does it have a generous 24-inch reach, but when you are finished filling your pots, the device can retract flush with the wall.
VIVAN RETRACTABLE POT FILLER FAUCET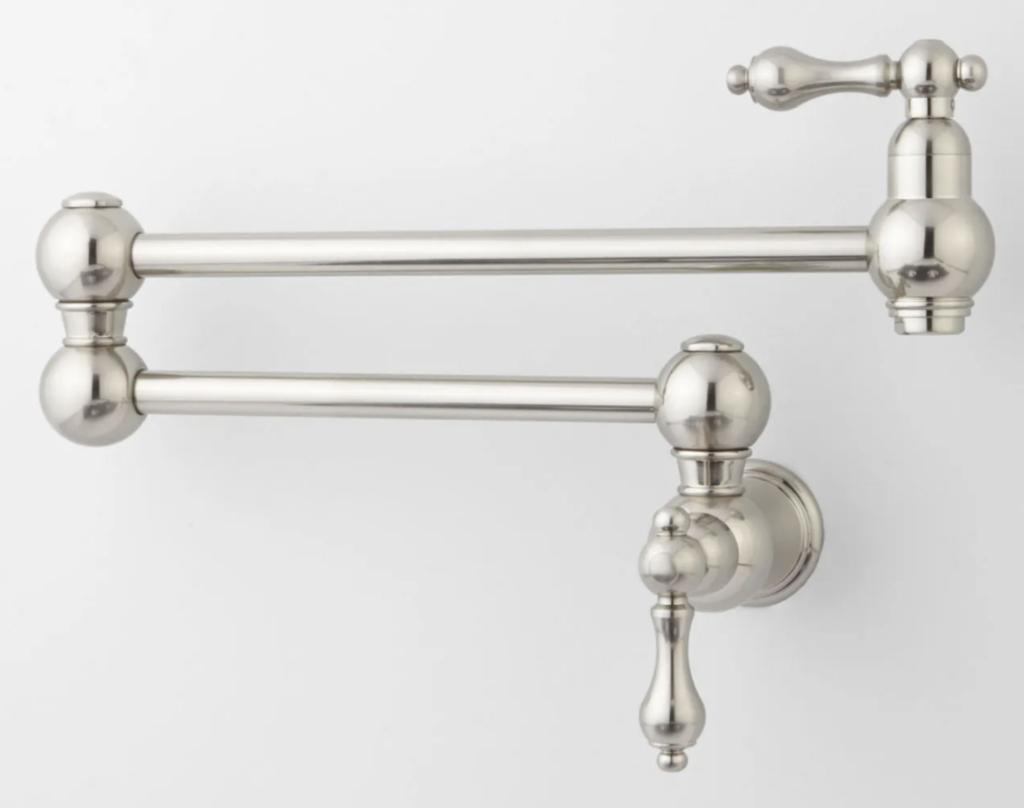 PRICE – $279.00 on Signature Hardware.
WHY WE LIKE IT – If you are into an antique look, the Vivan is the pot filler you're going to want to have. It has a double-jointed swing sprout and if need be, you can extend it to its full 23-3/4-inch reach.
SIGNATURE HARDWARE CONTEMPORARY DOUBLE HANDLE WALL MOUNTED POT FILLER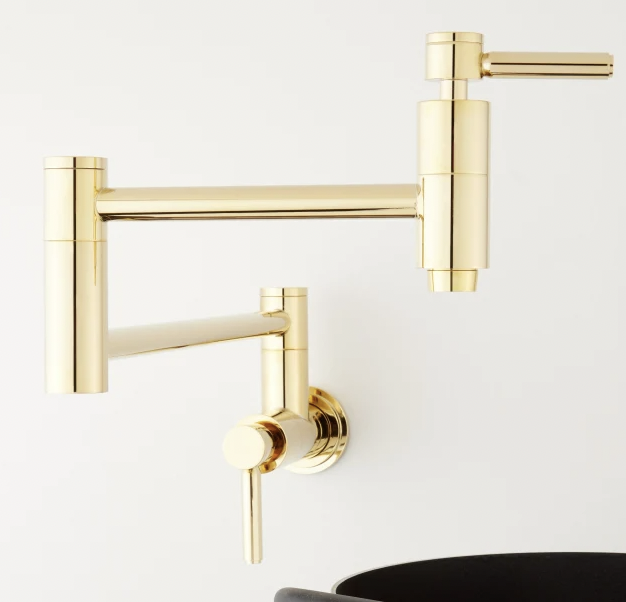 PRICE – $399.00 on Build.com.
WHY WE LIKE IT – The look is in the name – contemporary. Stylish, double-jointed, with a reach that will extend to 21 4/3 inches. It also comes equipped with a dual shut-off so you can turn off the water at the spout or at the wall.
SUMERAIN POT FILLER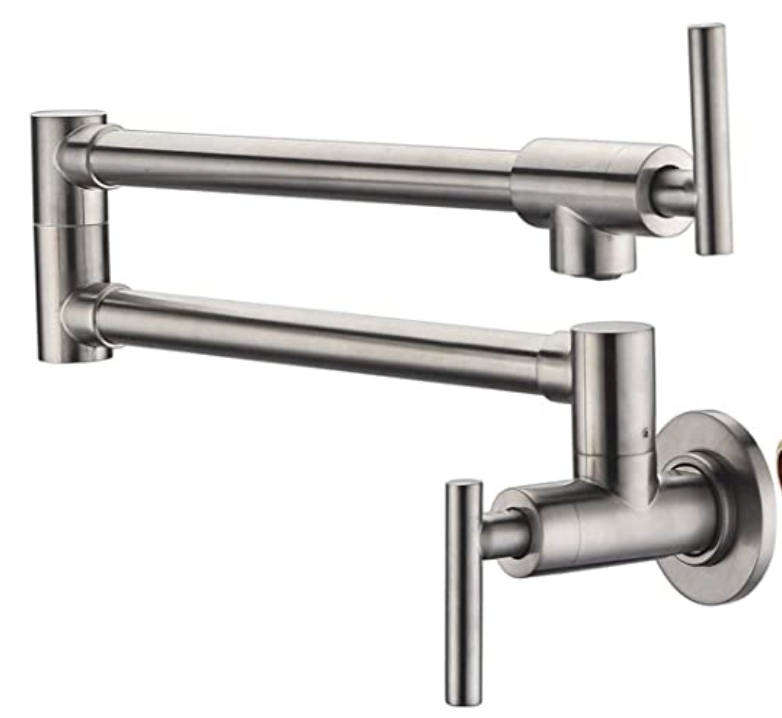 PRICE – $89.99 on Amazon.
WHY WE LIKE IT – By far the least expensive of the bunch. This brushed nickel pot filler also has a dual handle design to shut off the water at the spout or the wall. When extended, the pot filler will reach almost 24 inches.
POT FILLERS ARE PRACTICAL AND CAN RAISE RESALE VALUE
Should the pros to having a pot filler be obvious? Well, if they aren't let us toss a few your way. We may even add a tip in there for good measure.
They are practical – Just one more convenient source of water for your kitchen. You won't have to go far to fill your tea kettle or your morning oatmeal. Want to cook those spaghetti noodles for dinner? Fill your pot right there at the stove.
Up that resale value – Yes, now if you ever decide it is time to sell and downsize, having one of these bad boys in your kitchen will inch up that home sales price.
Kitchen Elevation – Even if you don't want to sell your home, having a pot filler in your kitchen simply elevates its status. It will give your kitchen some decorative flair and something to show off to your friends and family when they come over for dinner.
Here is a friendly tip from Christine Ramos, Senior Product Manager of Kitchen Faucets at Kohler. "It's important to ensure your pot filler has a spout with 360-degree rotation for maximum convenience," says Ramos.
Not only is Ramos recommending a 360-degree spout rotation, but she is also recommending that your pot filler should extend at least 22-inches so it can reach each burner on your stovetop.
POT FILLERS CAN BE MESSY AND AREN'T USED OFTEN
Of course, with a device such as this, and where it will reside in your kitchen, there is bound to be a con or two.
A leaky mess – So, what happens if your pot filler faucet starts to leak? One drip, then two, then more. It could potentially be a big issue only getting bigger.
Another thing to clean – Well, it is located right over your stove. Yes, if you shop wisely and find yourself a pot filler that retracts all the way against the wall, it is more out of harm's way, but not completely. The grease collection may make for more cleaning than you wish.
That added expense and little use – Do you really want to spend that much money on something you potentially won't be using that often? You aren't talking just about the pot filler itself, but the installation cost. It could be a pretty expensive kitchen addition.
---
Ultimately, whether a pot filler is worth it will lean on how much you are willing to shell out, how much the installation will cost you, and really how much use you plan on getting out of it. If you are a casual cooker, the pot filler may not be the best way for you to spend your cash.
Any addition to your kitchen should be with use in mind. Now, if you are one who is oftentimes in front of your stove, this just may be the best addition of them all for you.
---