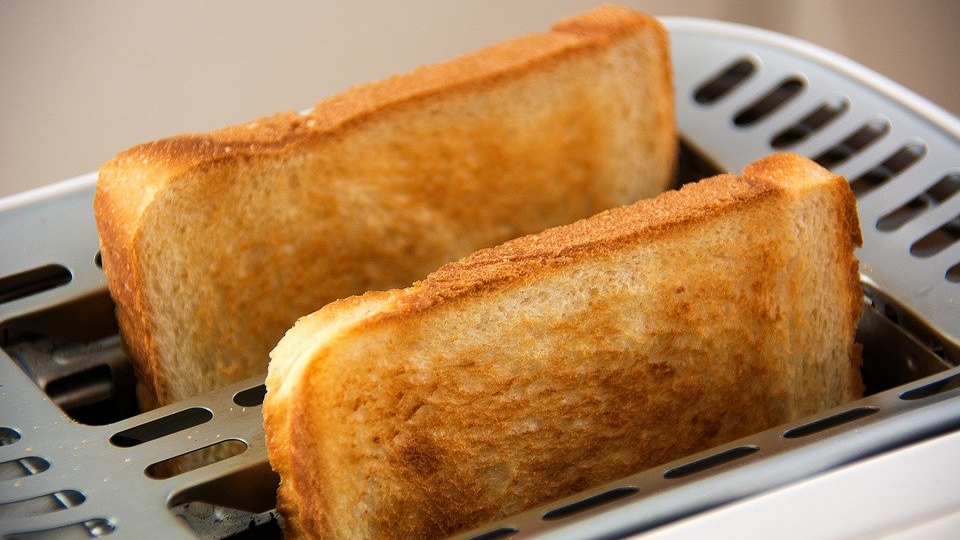 If you are like many of the millions across the country, a good piece of toast or two is a great way to fill that void in the morning as you get started for school or for work. A good piece of toast can also work during lunch or even for dinner. While a few of you are content to use any old toaster to make this happen, some prefer to have one of the best toasters on the market.
Regular toasters usually are two-slotted, which means you have the ability to toast two pieces of bread at one time. Some slots are big enough for bagels, but most can fit toast, English Muffins, frozen waffles, or even a Pop-Tart. There are other two-slotted toasters with larger slots in which a bagel person can get their morning fix.
There are also toasters that come with 4 slots. Maybe you and your significant other are both in a hurry in the morning, these 4-slotters are great to take care of that. They can also be built with larger slots for your larger toasting needs.
The best toasters will have some attractive toasting features. The simple ones will allow for a couple of different toasting temps. The best toasters will offer a number of different temperature settings as well as settings that can work to defrost or reheat or anything else expected from a toaster.
Some of the best toasters have LED readouts that will show temperature settings. Some will also have a cancel button, so if you have your toaster set to a specific temperature, you can easily cancel it and reset it.
For the most part, the 2- or 4-slot toasters perform one task – toasting bread or bread products. So, when looking for the best toaster you're looking for one that can perform that task at a high level. Any additional features or functions should enhance the toasting ability.
One more thing you may want to consider when looking to purchase is the size of the unit. If the toaster is bigger than the space you have allotted for it, you could be wasting your hard-earned cash. So, make sure you have the proper space available before making that purchase.
Didn't think there was much to consider when making a toaster purchase, did you? The following five toasters are ones we are recommending based on price, features, and thumbs up by customers.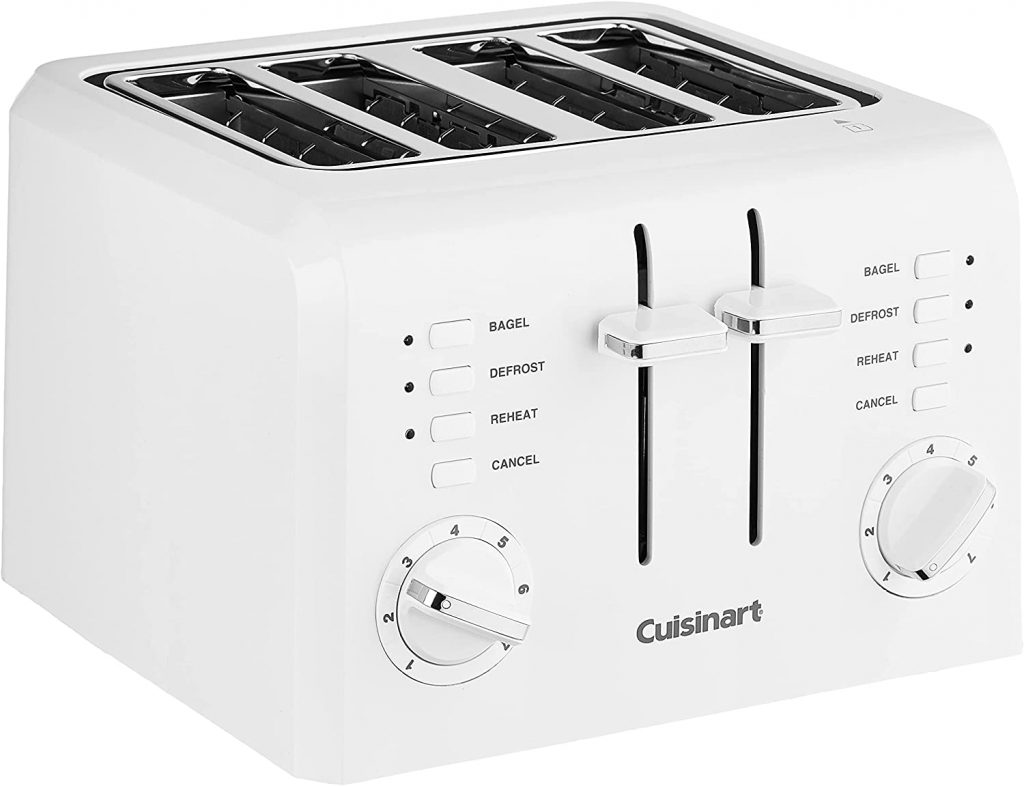 WHAT'S TO LIKE – When it comes to kitchen products, Cuisinart is a very dependable brand. Although this is a 4-slot toaster, it is the most traditional toaster of the five we are recommending. The slots have a wider opening, so they are plenty big for bagels.
There are two knobs to control both sets of slots and each knob has seven settings, from light toast shading to dark shading. There are also four toasting functions to go along with the normal toast function. They are bagel, defrost, reheat, and cancel.
Another nice feature of this toaster is the high lift lever. You can use this if the size of your toast is not high enough to pop out above the top of the toaster. Use the leaver to lift the bread up.
PRICE – $49.95 on Amazon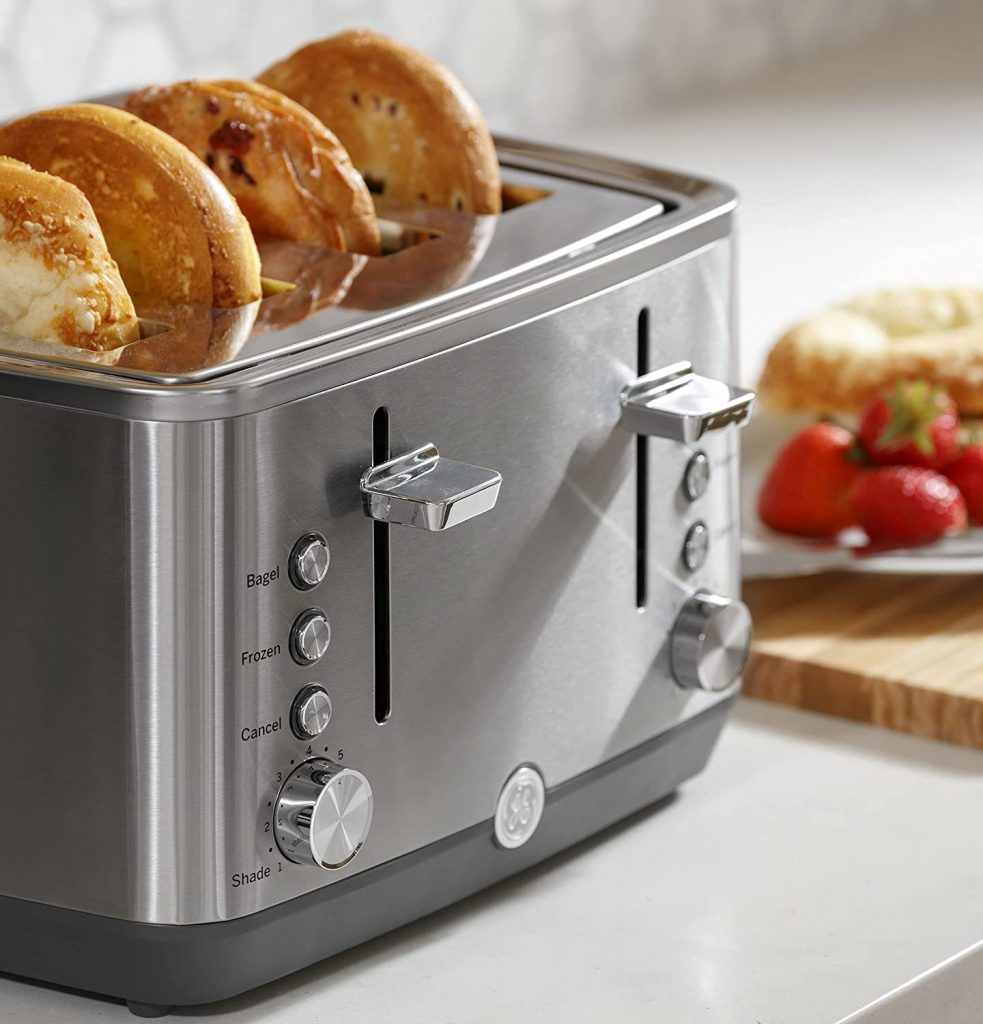 WHAT'S TO LIKE – GE is another dependable name when it comes to kitchen appliances. As for best toasters, this 4-slice GE steel toaster also has large enough slots for bagel lovers.
Two slots are controlled by one controller each, making it almost as if you had two toasters. Both sides have a shade setting that delivers seven different shades. Each side also has two preset buttons, one for bagels and the other for frozen foods (waffles, frozen bread).
This toaster also comes with an easily removable pull-out tray to keep crumb-free.
PRICE – $69.00 on Amazon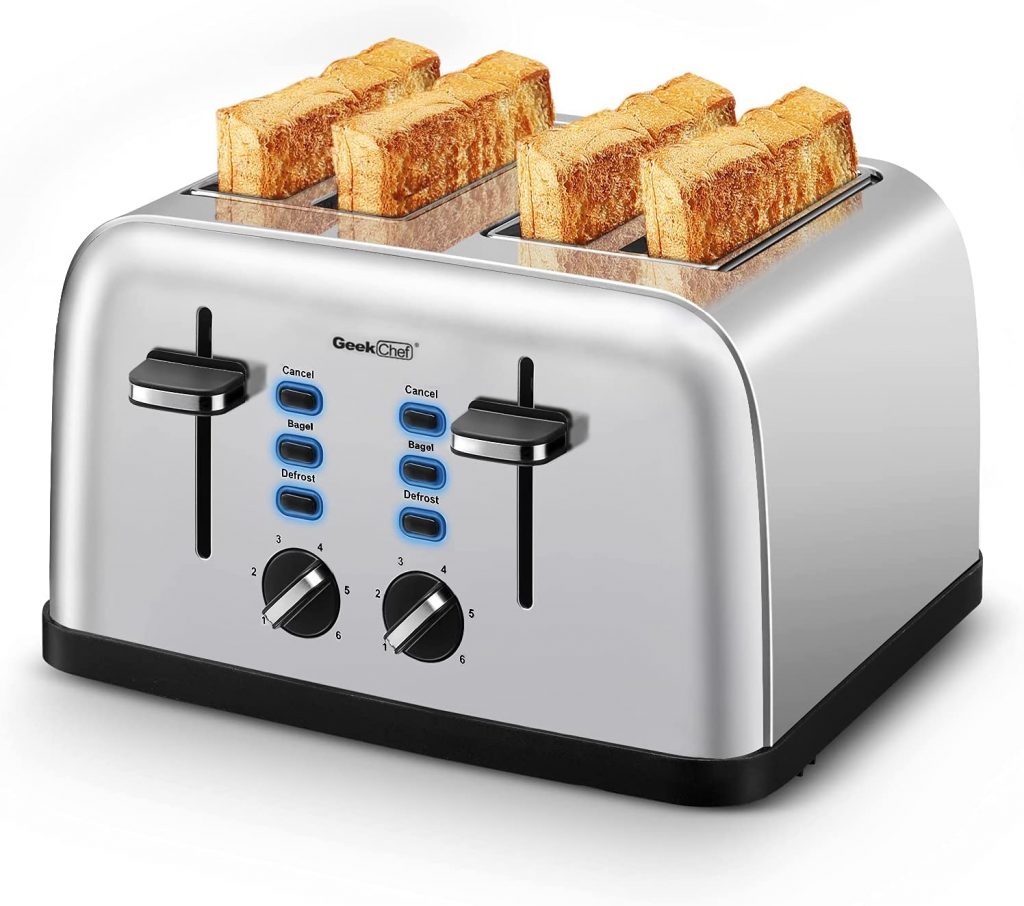 WHAT'S TO LIKE – Geek Chef may not be the most recognized name when it comes to kitchen products, but it holds its own when it comes to best toasters. The toasters 4 slots are extra wide so extra-wide bread and bagels slide in as easily as regular bread or English Muffins.
Geek Chef's toaster has six shade settings that are controlled by dual independent control panels. The panels also have two preset options, one for bagels and the other for frozen foods. There is also a cancel button in case you need to reset your selections.
This toaster also has a high lift lever for those pesky smaller pieces of bread.
PRICE – $54.99 on Amazon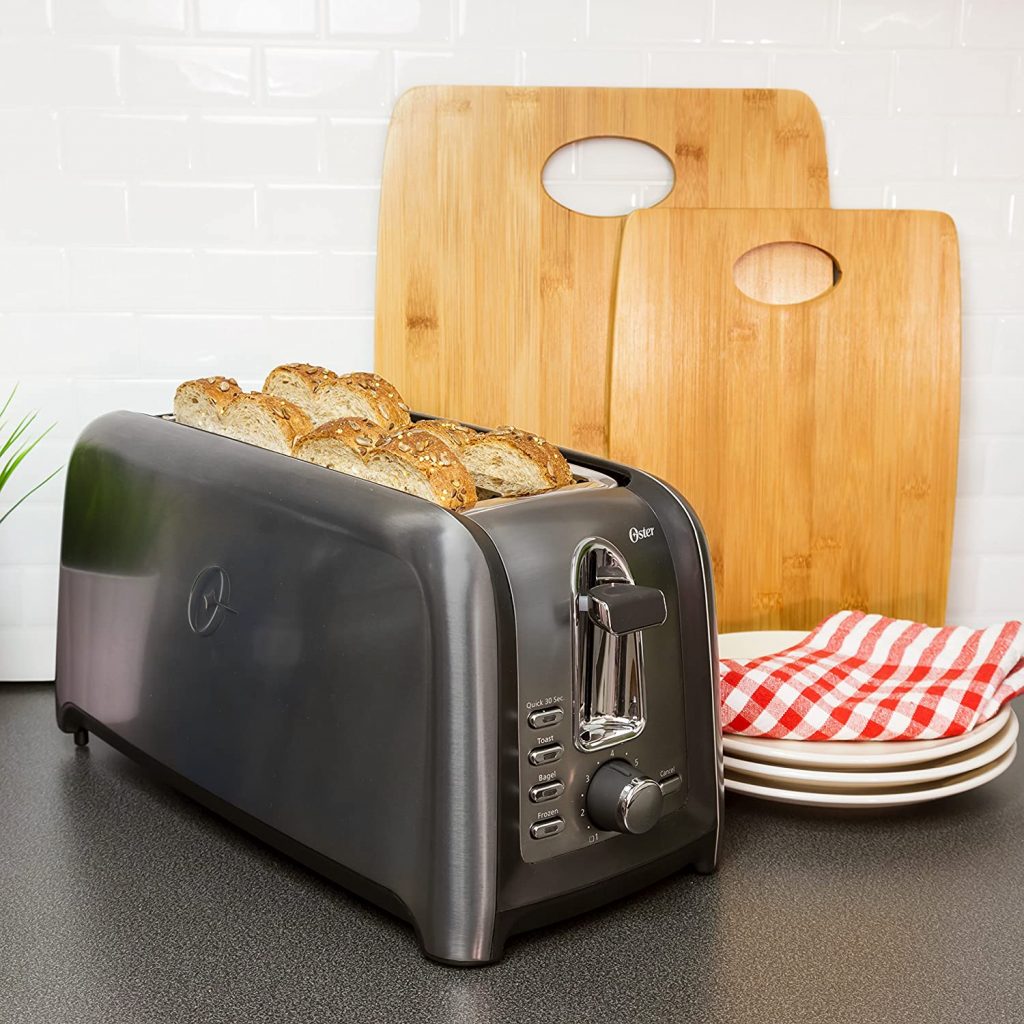 WHAT'S TO LIKE – Oster's Black Stainless Toaster is more traditional in the sense that it is a 2-slot toaster. Other than that, from features to appearance, this is not your typical toaster.
You'll save some space on this 2-slot model and will love the sleek look the Oster offers. Oster's 2 slots are extra-wide, and the lift lever allows smaller pieces of toast to be easily retrieved.
Article continues below headlines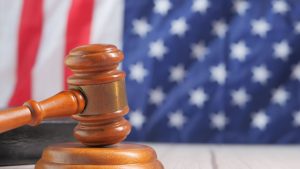 ---
The control panel has four preset buttons: a quick 30-second button, toast, bagel, and frozen. The control dial allows for 7 different shades of toast. To make life easy, the Oster toaster also has an easy-to-remove crumb tray for quick cleaning.
PRICE – $39.99 on Amazon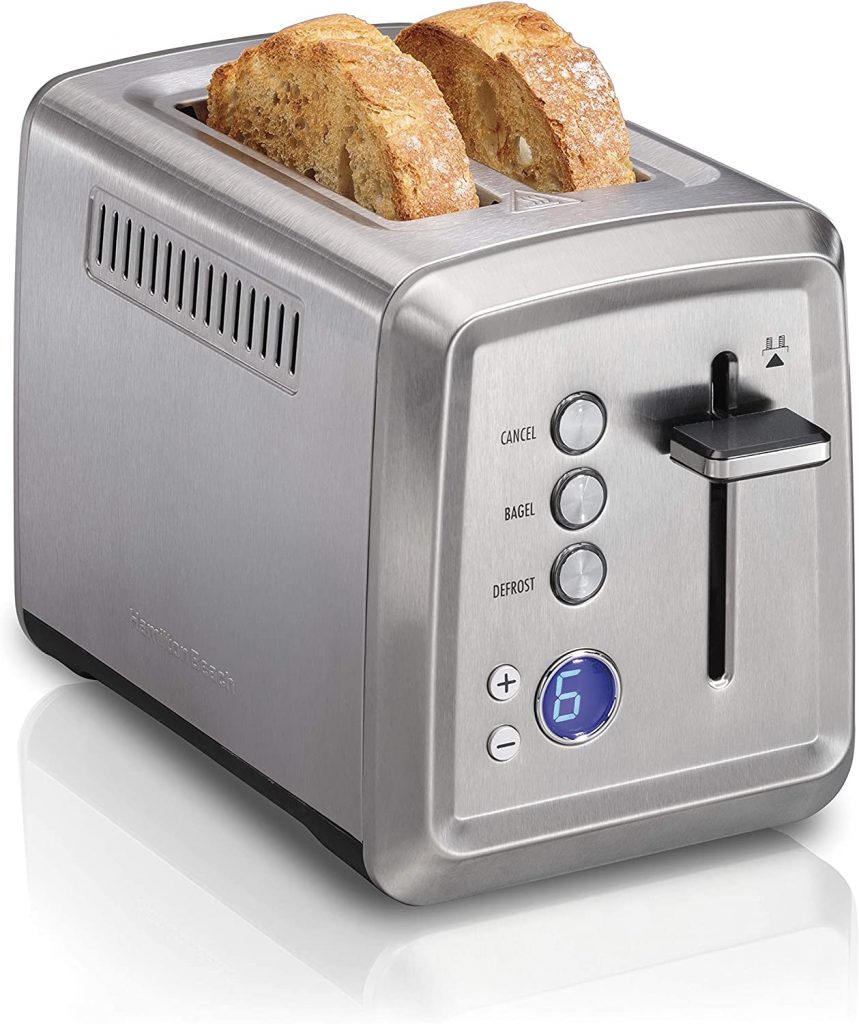 WHAT'S TO LIKE – One more popular name for kitchen appliances. Hamilton Beach's toaster is another 2-slot toaster with extra-wide slots.
The control panel has a toast boast lift lever that helps toast lovers get to those smaller pieces of toast much easier. The Hamilton Beach toaster also has two presets – bagel and defrost – as well as a cancel button for easy reset.
The toaster also has six shade settings that are controlled by plus and minus buttons that can be read easily on an LED display. For easy cleaning, the toaster has a slide-out crumb tray.
PRICE – $39.99 on Amazon
START TOASTING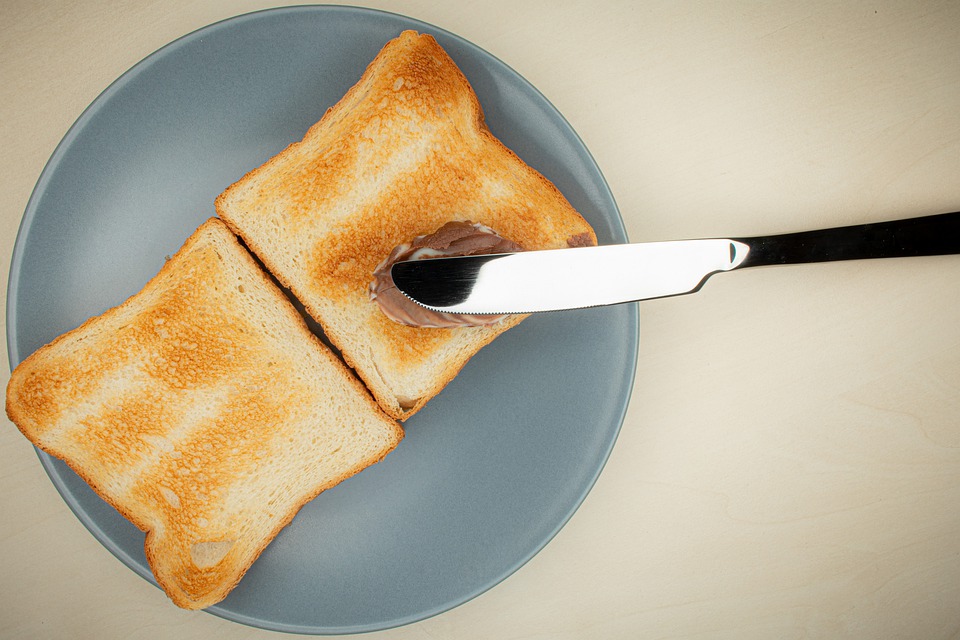 Four slots or two; size matters. Six shades of toast or seven; always nice to have choices. Futuristic design or something that is more traditional. These are some of the choices you need to make when looking for the best toaster to complement your kitchen.
You can't go wrong with any of the above models. All offer a nice assortment of features and are dependable brand names.