There is now a mechanical keyboard that you can customize with Lego bricks!
Everything is awesome! And as soon as you learn more about the Lego bricks keyboard, you'll be singing this song too. Made famous in The Lego Movie, the main character, Emmet, faces each day with his own brand of cheerfulness, singing about how "Everything is Awesome." And now he's absolutely correct!
Introducing the completely customizable Lego bricks keyboard. Choose and create your preferred features, including how clicky you want your keys, color, and the overall design. What's more, when you get tired of your designs, you can change them repeatedly. Awesome indeed!
According to The Verge, you can redesign the entire case thanks to Lego studs built along the sides and around the bottom of the keyboard. The Lego bricks keyboard is not licensed by the brand Lego, but you can build out any design or use an existing Lego set right on the case!
More Than A Keyboard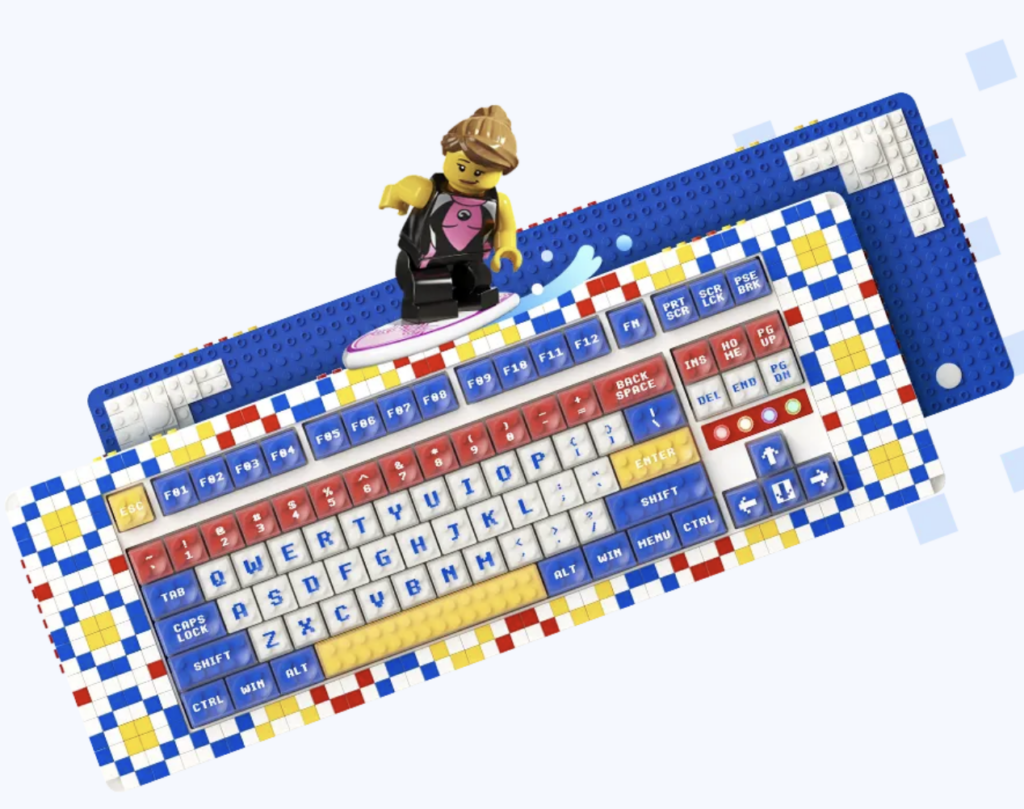 The Lego bricks keyboard is, in fact, the world's first Lego-compatible keyboard, and we have to wonder what took so long. Is it the freedom of remote work? Is it that we, as a people, are changing? Are we finally free to be ourselves? Even though one could say, "it's just something fun," there may be a case that people are changing their attitude toward work and how they approach it.
As people adjusted from a long period of working from home thanks to a worldwide COVID-19 pandemic, getting back into the office proved rather tricky. According to many studies, most people said they were more productive and led better-balanced lives. In addition, they report increased happiness. Employees simply are demanding a healthier—both physically and mentally—workplace. And the Lego bricks keyboard is merely a reflection of that. Mixing fun with work is accepted more than ever. And it's about time.
In fact, as Tell Me Best recently reported, more companies are just going fully remote and ditching the hybrid model. Happier workers equal better work. But, just in case your company isn't entirely on board with remote or even hybrid work, you can take your Lego bricks keyboard with you to the office.
The Lego bricks keyboard shows that mixing fun with work is necessary. Sometimes, you just need to build a little café on your keyboard and put a happy little Lego person at a table sipping his Lego latte. Does he need a little Lego dog? He does. Let some tension melt away as you build it, then go back to that report you were working on. It's all now possible.
Getting the Lego Bricks Keyboard
The keyboard is called the Pixel. It's mechanical, meaning you can swap out keycaps, switches, and lighting. MelGeek, creators of the Lego bricks keyboard, has even included studs beneath each keycap so you can outfit the board with Lego keycaps. (Yes, it's a thing).
MelGeek is a group of young innovators that create cost-effective mechanical keyboards and peripherals. And clearly, they are not opposed to having fun while at work. Lots of it!
You can sign up for a Pixel launch alert and get the Lego bricks keyboard for $199, as long as you pay a $1 reservation fee. The MelGeek website reports that prices will go up and are limited in availability. So, tap into your fun side. And create a (work) world that's all yours.