AMF pool tables are a great deal if you are on a budget they can get you a slightly lower experience than a Brunswick Golden Crown. Back in the days AMF pool tables with quite popular they were used in the 1995 World Nine Ball by RJR in Winston-Salem  but their market has plummeted after 2004. A simple way to look at the point I am trying to explain can be illustrated by this below figure: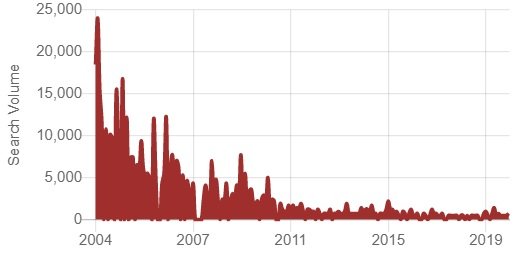 Look at the picture above the popularity has gone way down below since the start of the last decade. The good days are gone and now mostly old AMF pool tables are available at craigslist or eBay. They say that instead of buying a new Brunswick GC you can buy a second-hand way cheaper and save good money. But these days it is somewhat difficult to find a GC on sale and therefore, the closest option available is an AMF table.
AMF POOL TABLES HISTORY
Although it has be rechecked if Brunswick really did sell their pool table leg to AMF back when they bought Bayliner Boats. The history of AMF pool table production leg is quite a rollercoaster. Originally started as PlayMaster by Charles Bailey in 1973. After a while, Charles bought a high-end pool table manufacturing company called Renaissance, Highland and the PlayMaster renamed itself as Play Master-Renaissance.
The company earned the reputation of top pool table making company in 1993 soon after AMF Bowling gave an offer to Play Master-Renaissance which Charles accepted. AMF acquired the Play Master Renaissance and started producing its table under their label. As of today Charles Bailey restarted another pool table manufacturing company by the name The C.L. Bailey Co. The manufacturing facility of the new company is located in Marionville, Missouri just like AMF. So if you are looking for pre-AMF acquired pool tables then you may want to check out The C.L. Bailey Co.
AMF pool tables comes in three series. The high-end series is called Renaissance, medium-end as Highland and low end as Playmaster. The rubber used is exclusively K66.
AMF and BRUNSWICK TABLE
AMF pool tables are pretty similar to the Brunswick Gold Crown because at one point AMF owned the pool table manufacturing unit of Brunswick. This helped them produce a similar experience giving a cheaper version of the Brunswick GC. You can save a good chunk of money with an AMF table and if assembled correctly by a good mechanic you can get very close experience to the Brunswick GC experience.
If you are able to find an AMF table, and you can move and reinstall it correctly expect to get an experience very similar to that of a Brunswick GC. Especially the Grand Prix table seems like an exact knock off of the Brunswick Gold Crown of inferior quality.
If you are someone who has seen the Gold Crown dissembled and observes the process of Grand Prix you will find that the dimensions of both tables are exactly the same. The weight of AMF rails is lesser than that of Gold Crown 3 Rails. The wood is dryer, soft and seems cheap. If you are buying a version that has been in use for quite some time then the casting bolt inserts will be loose. You will need to epoxy them. The lines in between the slates may need regluing as time can make them fall off. Veneering on the rails is also thin and can get scratched on the break shot.
If you compare Savannah and Brunswick Bristol 2 then you will find it better than the Bristol. The frame built is better, the rails are wider, metal trim and high-end lamination makes Savannah makes a good choice over Bristol 2.
If you can find a high-end series such as Highland or Renaissance on a good price then it can be a good choice but do keep these drawbacks in mind. You will have to assemble the table at your place which itself is a pain. If you have the experience of assembling of joining a pool table then you will be quickly able to pick out the shortcomings even on the AMF high-end tables.
The bolts on the table are just half an inch wide, the washers are also weak. During the assembly the thin nature makes them bend under the pressure of tight-fitting. Overall the assembly process of the table is a headache for the mechanics. Although you may buy it cheap but do bear in mind that it will take some money to compile AMF pool tables.