Totally Science is a website that allows students to secretly play video games at school without getting caught.
Hey there school-age kids! We know how your mind works in today's landscape with smartphones and tablets and computers that you have access to during school hours. We know that when the teacher isn't looking, you are quick to jump to websites like Totally Science to get some fun in.
Wait, you don't know what Totally Science is, how can that be? All students should be plugged into places where they can find fun and games and with a quick click of the mouse, hide these games from the teacher. But parents and teachers might not be so excited about this site.
TOTALLY SCIENCE IS A WEBSITE THAT ALLOWS KIDS TO PLAY GAMES IN SCHOOL UNDETECTED

For as long as school has been in session (thousands of years), kids have always been trying to get one over on their teachers. It is in a child's DNA to try to make things fun during the most boring of lectures. Back in the day, some kids would pass "check yes or no" notes.
Others would play a version of "war" by drawing tanks on a piece of paper and "shooting" their enemy by holding their pencil upright with the lead on the paper and pushing back on the pencil, so a line is "shot" toward the enemy. If you hit the enemy, their tank is destroyed. If you miss the enemy, they can either move out of firing range or they can return fire.
But that was back in the day. Today's kids have access to technology not seen in the 70s, 80s, 90s, and even the early 2000s. Now that they do, Totally Science was built with kids and fun (while in school) in mind.
Totally Science is a website created by "students" because they know what other "students want from an unblocked games site." And that is exactly what Totally Science is, a website that allows students to play games during school hours, undetected. Just one more thing teachers need to worry about.
TOTALLY SCIENCE HAS 100 UNBLOCKED GAMES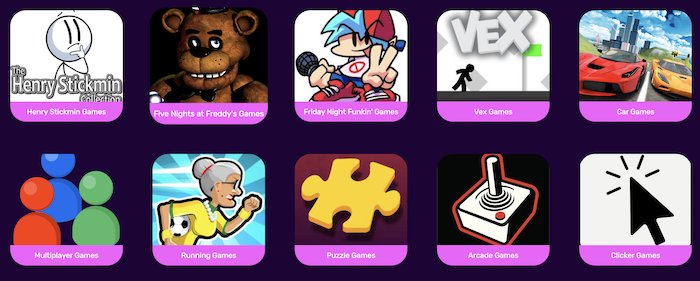 Totally Science was created by Zach Yadegari in January 2022. The website offers over 100 unblocked games along with numerous unblocked proxy apps such as YouTube, Discord, TikTok, Google, Twitch, Spotify, Netflix, and Github, to name a few.
The site is set up so students can play games with friends or individually, and the beauty of it is that any additional software or plugins do not need to be installed, everything works right from the website.
The makers of Totally Science have also made it very easy for students to find them. They have created over 15 separate domain names that will take students right to their site. Some domain names include definitelyscience.com, literallyhistory.org, spanishstudy.co, studymathteacher.com. The entire list of domain names can be seen here.
TOTALLY SCIENCE OFFERS SPORTS, SHOOTERS, AND RACING GAMES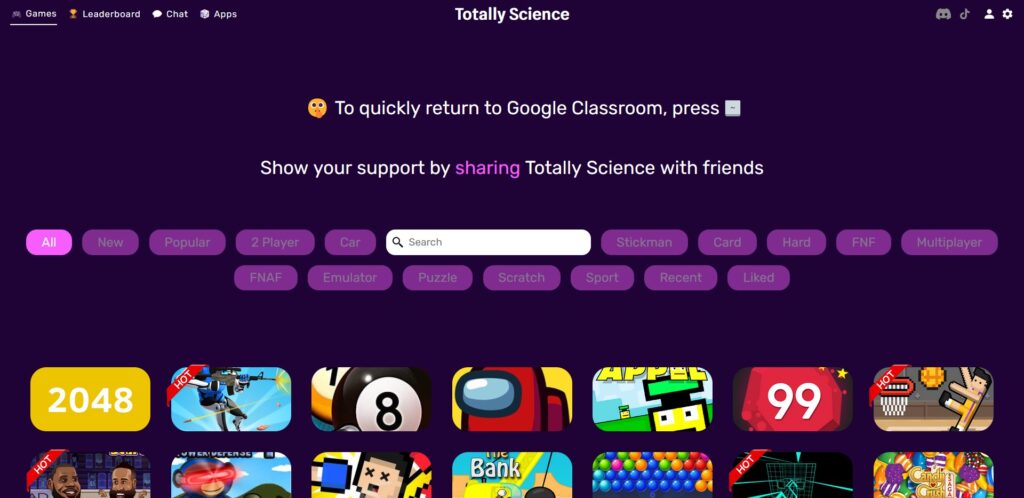 So, you are probably wondering what types of games the creators of Totally Science are offering students. Well, we're not going to lie, they are not of the highest quality as the website and games run for free. So, don't think you'll be getting Xbox S or PS5 quality entertainment as those games require resources most smartphones or school computers will not have.
Totally Science offers games in many different genres that include sports, shooters, racing, and intelligence. They are also developed on HTML5, Unity, and various other platforms. It's a long list of games, many popular, many unheard of, so we'll go over some of the more popular games Totally Science offers and how to find them.
When students pull up the Totally Science website, they will see a number of gaming options that are presented via buttons. They can view ALL games or have their selections broken down by NEW, POPULAR, and 2 PLAYER games. Students are also given a choice of genre to play, such as CAR, STICKMAN, CARD, SPORT, and PUZZLE. All the options are presented in the picture below.
As for the games themselves, there are some very popular ones to choose from. Here are a few:
MINECRAFT – Totally Science offers one of the most popular games on the planet with Minecraft. With this game, players get to build, craft, fight, and discover raw materials all in the name of building their own world. The game has no set goals other than building and surviving but it has become a remarkably popular game.
BASKETBALL STARS – Here players can choose their favorite player from their favorite team to go one on one against the computer or a live opponent. Players will use keyboard buttons to control their player to shoot, dribble, jump, block shots, and dunk.
SMASH KARTS – Think Mario Kart, but without Mario and with graphics that are very pedestrian. Of course, when you're trying to occupy yourself in class, this type of racing game can be very addictive. It's a simple racer where you choose your car and driver and then blast around racecourses.
RETRO BOWL – An 8-bit football game that has the look and feel of Tecmo Bowl. With this game, players get to be the team's general manager as well as control the offense. As EA owns the rights to the NFL names, the teams in Retro Bowl only resemble those from the NFL.
IT ALLOWS STUDENTS TO GO BETWEEN GAMES AND CLASSROOM PAGES
First off, Totally Science's interface is a simple setup. When you get to their website, across the top you will see tabs in the upper left like games, leaderboard, chat, and apps. On the upper right, you will see links to Discord and TikTok along with a profile button and a setting button.
The Totally Science landing page then shows you some popular games, but the important information comes beneath that. This is where Totally Science tells you how to go from your game back to your classroom page. They make it easy by telling you to simply press the tilde key (the key in the upper left corner of your keyboard, next to the number 1 and beneath the ESC key) and you will return to your classroom page.
---
Whether Totally Science is a good thing or not for students is up for debate. What isn't up for debate, though, is how much fun students can have on their phones, laptops, or computers, whether it be in the classroom or trying to kill time during recess or lunch. They offer plenty of games for all types of players, just don't get caught.
---