McDonald's introduced a new variety to its quarter pounder lineup for the first time in two years - the Smoky BLT Quarter Pounder - alongside a new Oreo Fudge Mcflurry.
As the holiday season approaches, a variety of tasty treats make their way onto store shelves and restaurant tables. This year is no different with McDonald's announcing two new additions to its menu. The items are fun upgraded takes on the ever-popular Quarter Pounder and Oreo McFlurry. With a smoky meets sweet, bacon meets chocolate taste sensation, the new Smoky BLT Quarter Pounder with Cheese and Oreo Fudge McFlurry are the "it combo" of the season.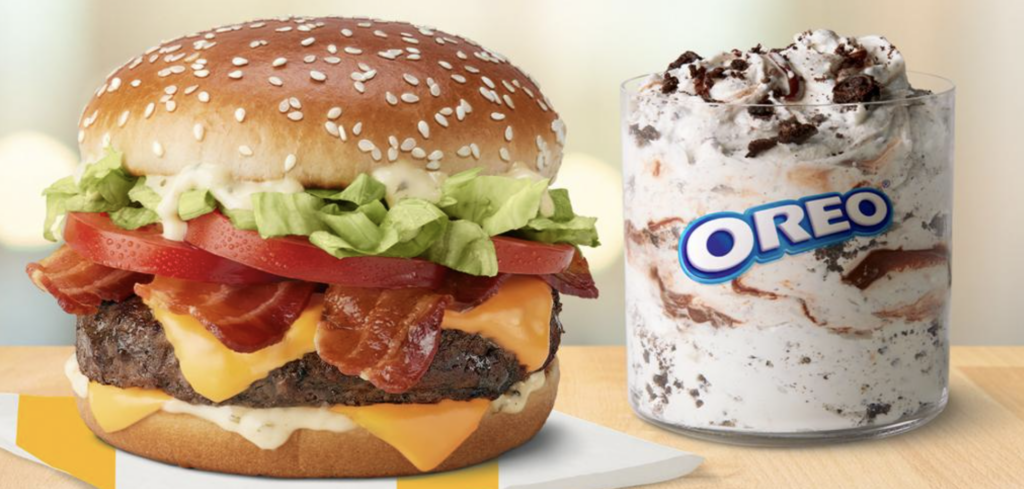 Although McDonald's has released several versions of the Quarter Pounders over the years, the Smoky BLT version stays true to what foodies love about the original. It features a 100% fresh beef quarter-pound patty, topped with two slices of melty American cheese, thick-cut Applewood Smoked bacon, fresh Roma tomatoes, shredded lettuce and smoky sauce served on a toasted sesame seed bun for a savory finish.
And if the special smoky sauce, which replaces the traditional Quarter Pounder's ketchup and mustard isn't enough of a treat, customers can order a Double Smoky BLT Quarter Pounder with Cheese, which includes two hamburger patties. But that's not all. The Oreo Fudge McFlurry adds a delicious hot fudge twist to the iconic original McDonald's dessert, All Recipes reports.
It blends the fast food giant's classic, creamy vanilla soft serve with hot fudge topping and Oreo cookie pieces for a perfect sweet treat combination. The delicious new menu items will be available at participating McDonald's restaurants nationwide from November 21st for a limited time, while stocks last. Whether you enjoy the new items as a pair or individually, these tasty treats will leave a lasting impression on anyone who tries them.
Interestingly, the Smoky BLT Quarter Pounder with Cheese and Oreo Fudge McFlurry have received mixed reviews so far. According to a debate about McDonald's food items on Reddit, dressing up a Quarter Pounder and a McFlurry with some new bells and whistles hardly qualifies as innovation. "What happened to McDonald's? They used to have new menu items pretty regularly. Now it's just a sauce and they're calling it a new item," one person said.
The launch of McDonald's new menu items comes weeks after the eatery released the McCrispy. Previously known as the Crispy McFillet, the crunchy burger debuted on October 19, becoming the eatery's first permanent chicken offering since 2007, Delish reports. The meal features a four-inch artisan sourdough bun, to give it a sweet toasted flavor. It's then glazed and sprinkled with sesame seeds.
The inside contains a crunchy chicken breast fillet marinated in black and cayenne pepper. The coating adds more black pepper and lemon for a light citrus flavor. The condiments include the classic McDonald's mayonnaise with cracked black pepper and savory chicken seasoning. It isn't every day that McDonald's adds new items to its menu. But this year has brought back several major innovations, from the McPlant experiment to the Chicken Big Mac.
The Chicken Big Mac, which is currently only available at some McDonald's locations in Miami, Florida, features all the classic Big Mac toppings. This includes the signature special sauce, American cheese, pickles, shredded lettuce, and a sesame bun – but the beef patties are replaced by tempura chicken patties.
---