McDonald's nearly didn't go through with making Happy Meals, an option that's turned into one of its most popular offerings.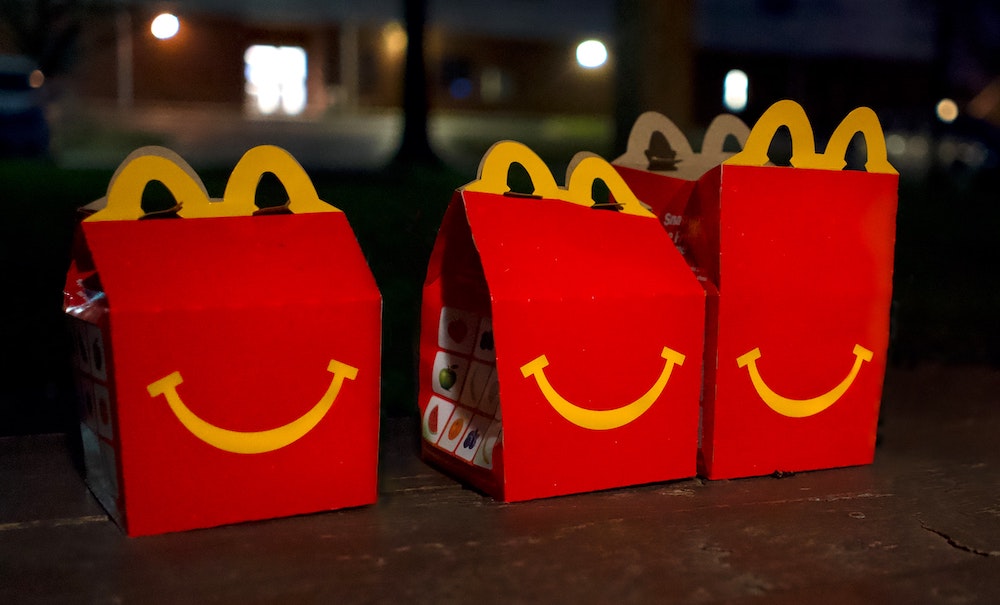 There are a few truly iconic items in the fast food world. And one of those is the McDonald's Happy Meal. So it may be surprising news that the beloved menu item almost did not see the light of day. During a major marketing push, the idea behind the kids-centered offering nearly hit the cutting room floor.
The fast food giant opened its doors to its first location in 1948. Two brothers, Dick and Mac McDonald were the brains behind the original concept. However, they did not expand beyond San Bernardino, California, until the early 1950s.
After expressing a desire to turn their dream into a franchising opportunity, a traveling salesman named Ray Kroc signed on. He opened the first official McDonald's franchise location in 1955. And it was not long before the innovative restaurant design spread nationwide.
Over the years, the company changed its store design a few times. But one shift, in particular, resulted in one market segment loss – kids. The littlest McDonald's customers were less than thrilled when the corporation moved away from its traditional red and white tiles in the 1970s.
This dissatisfaction resulted in families getting more easily enticed by the competitors. And as the company started losing its foothold amongst families, it sought a change. So, McDonald's leadership asked one of its marketing agencies for help.
The project ended up on the desk of ad executive Bob Bernstein, who specialized in kid's marketing tactics. Bernstein had already run several successful promotional campaigns for the restaurant, so he was a natural fit. He found inspiration one morning while watching his son eat breakfast.
In an interview with CNN, he said it dawned on him that "kids want something to do when they eat." So, he and his team got to work. They developed a kid's meal box featuring ample activities to occupy them while eating.
It was styled with McDonald's iconic golden arches and named after a catchy ad jingle at the time. But, according to Bernstein, when the corporate office saw the Happy Meal, "they were reluctant a little bit. They didn't immediately embrace it."
"It took some convincing on our part," he continued. And the result of that convincing was a limited launch. In 1977, the McDonald's corporate office agreed to launch the Happy Meal at franchise locations in Denver, Phoenix, and Kansas City.
The original box contained a full-sized burger, Keebler cookies, a soda, fries, and a Crack Jack surprise toy. It took a solid year of market testing before McDonald's leadership agreed to a national rollout. Finally, in 1979 the Happy Meal was available nationwide.
However, it remained a promotional item for many years. Part of the reason for this was the resistance of many franchise owners. According to the creative director at ad agency Frankel, Colleen Fahey, "It wasn't a very popular concept."
Fahey worked with McDonald's in the 1980s to shift the Happy Meal from a promotional item to a permanent menu offering. And that change was welcome news for kids and families alike. Of course, her job became a little easier when the company rolled out Chicken McNuggets in 1984.
And even though the Happy Meal has undergone significant changes over the last few decades, it has not lost its appeal. Kids of all ages love the food and the revolving toys, many of which have become collector's items. Plus, news of the new adult Happy Meal, Cactus Plant Flea Market Boxes, was such a hit that the company sold half its inventory in only four days.
---