A bedside water carafe is an ideal investment for the individual who frequently reaches for a glass of water at night.
Have you ever woken up in the middle of the night completely parched and in need of a glass of water? So to fulfill that need you fumble your way out of bed, saunter into your kitchen, grab a glass from your cabinet, and then, still half bleary-eyed you pour yourself a refreshing cup to quench your sleep-induced thirst. That's a lot to accomplish when you're half-asleep, never mind the fact that in doing so you completely derailed your slumber.
I've found myself doing the above many a night. And every time I asked myself, there has got to be a better solution. Alas, there is! It's called a bedside water carafe, and I'm here to tell you why you may need one in your life.
---
About The Reviewer
Kristi is an active young professional who juggles a full-time career as a writer and editor, a part-time gig as a dog groomer, spending quality time with her significant other, and taking care of her three fur babies. As an avid runner, hard worker, loving partner, and fur mom she understands the value of taking care of oneself by eating right and staying hydrated. And she is also a big fan of adopting small changes that can help make tackling every day – or night – just a little bit easier.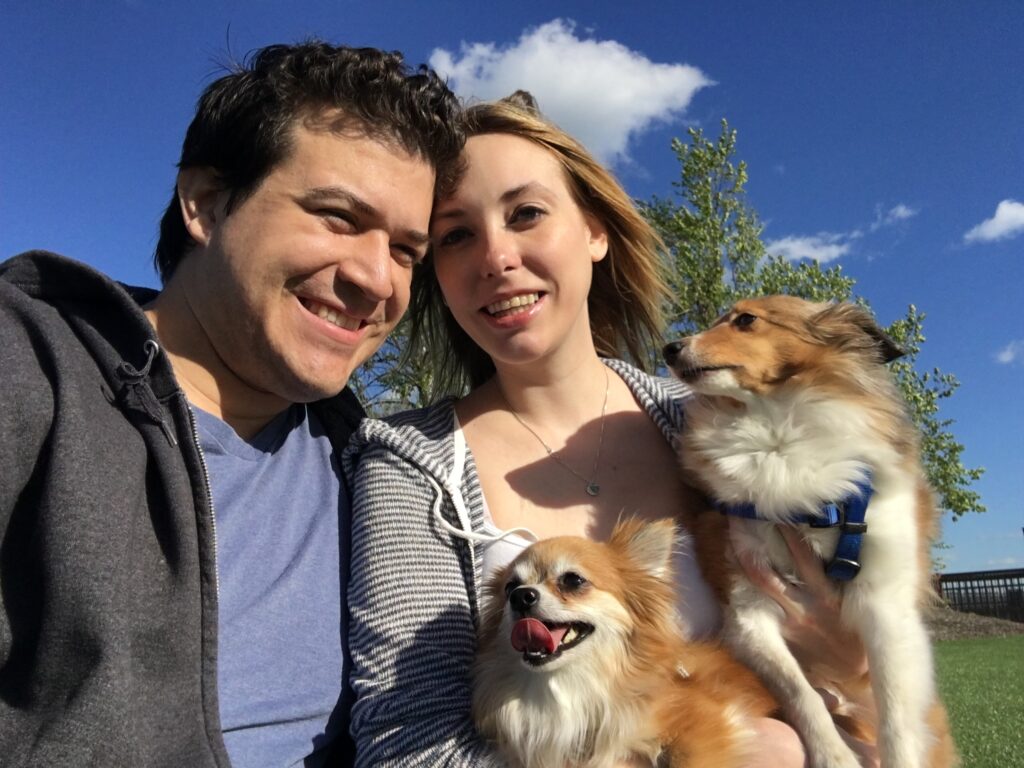 What Is A Bedside Water Carafe?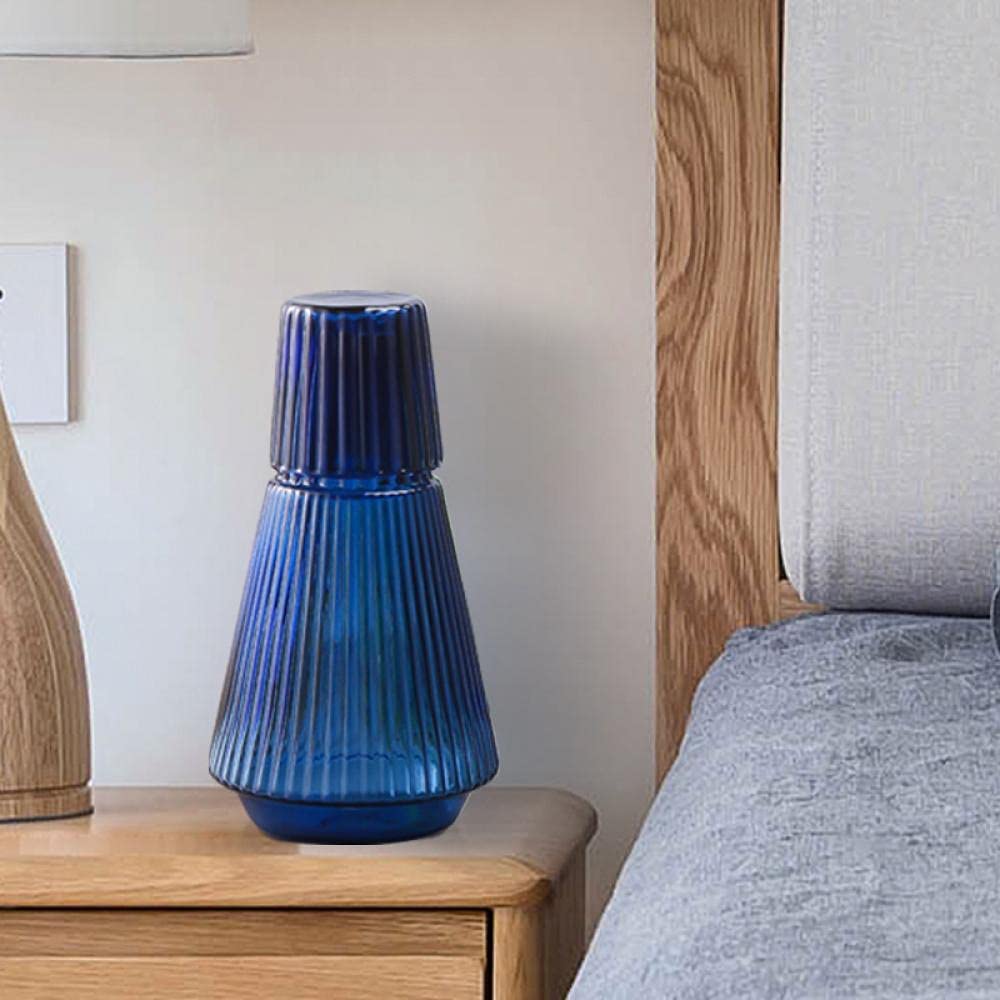 If you're anything like me this could be the first time you've heard of a bedside water carafe. Luckily, a bedside water carafe is exactly what the name suggests. It is a cup paired with a carafe that you fill with water and place at your bedside in case you wake up in the middle of the night needing to quench your thirst.
[supsystic-price-table id=52]
---
Bedside Water Carafe Options That I Love Best
I've looked closely at dozens of bedside water carafe options, taking into account price, quality, durability, aesthetics, and how well they were reviewed. The options below reflect the bedside water carafes that I believe check off each of those boxes.
Sizikato 30 Oz Classic Striped Glass Bedside Night Water Carafe with Tumbler Glass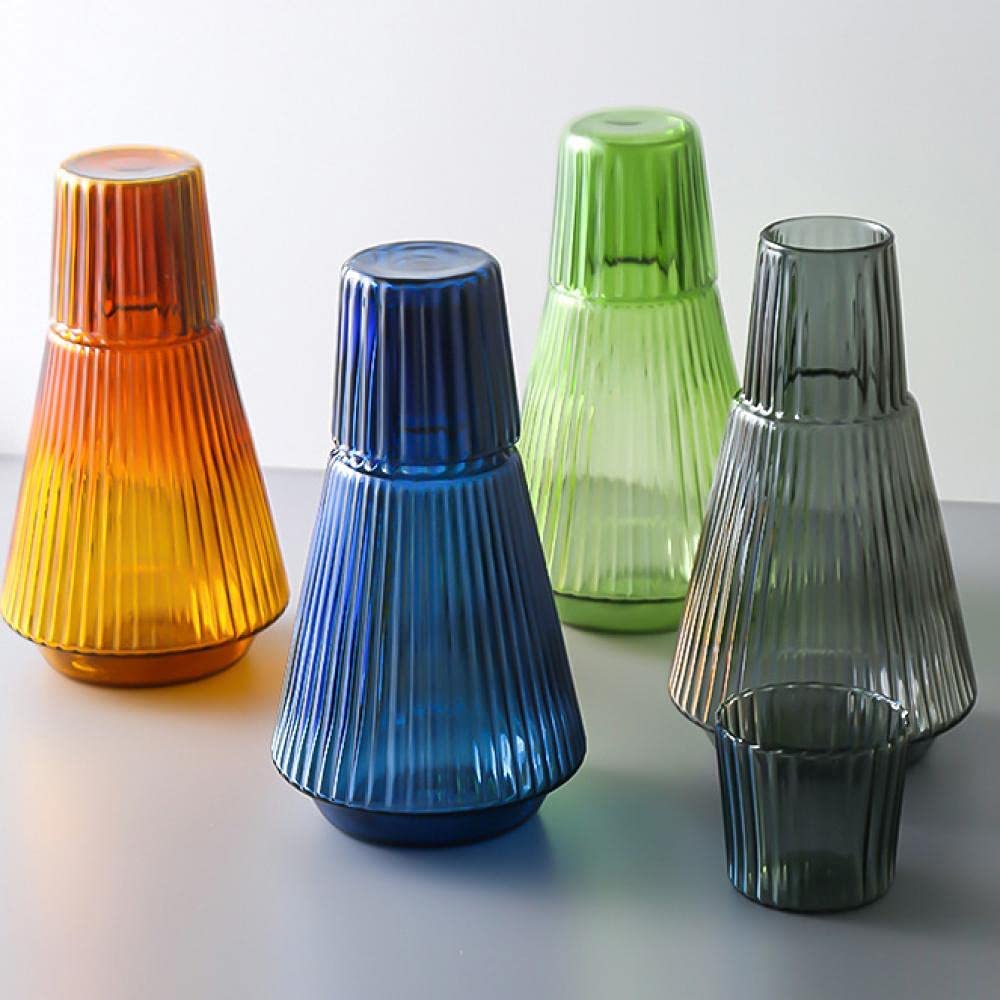 The Sizikato is the perfect bedside water carafe for the individual on a budget. Available for less than $30 on Amazon, the carafe holds 30 ounces of water and comes in four vibrant colors – amber, blue, grey, and green. The range of colors makes it ideal to pair with a variety of different bedroom decors.
The set is made of lightweight durable glass, weighing only 1.9 pounds. Additionally, the cup doubles as a cap for the carafe. This is a welcome feature for someone who owns a mischievous cat(s) that likes to see what they can knock over in the middle of the night.
There have been plenty of nights that I caught my kitty in the act of knocking over a glass, knickknack, or whatever she could get her paws on! Thus, with the secure top cat owners everywhere can rejoice in knowing they won't wake up to a wet floor! Note: The carafe is made of glass so it likely won't fair well if dropped on a hard surface.
Don't just take my word for it, reviewers on Amazon are equally as impressed with this bedside water carafe. One individual remarked, "I liked this guy enough to buy a second!" Another exclaimed, "Exactly as pictured, it's beautiful!"
Purchase for $26.99 on Amazon
Maison Balzac J'ai Soif Carafe Set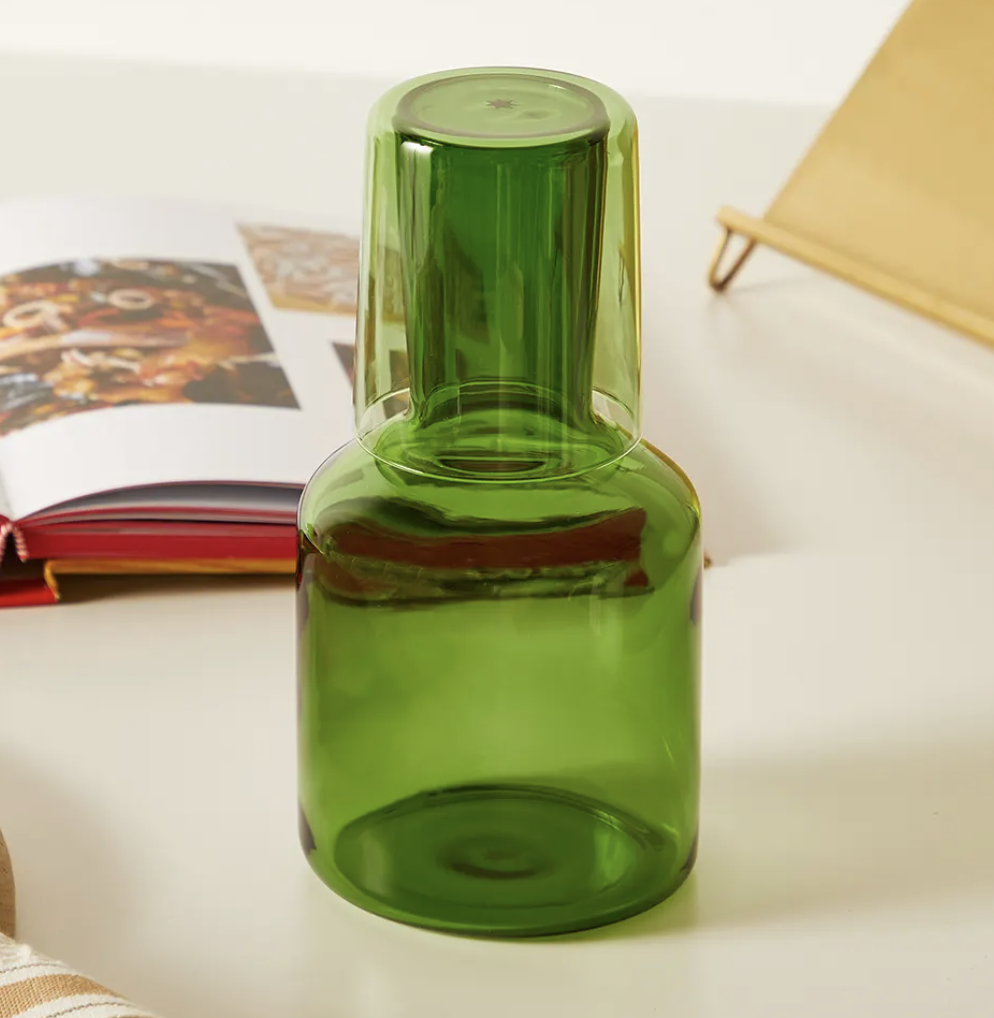 If you have a little extra money to play around with and are a person who is really keen on aesthetics then I think that the Maison Balzac is the perfect carafe to add to your bedside decor. The name itself translates to "House of Balzac's I am thirsty," which perfectly encapsulates the purpose of this sleek set.
The borosilicate mouth-blown class exudes a delicate elegance with a playful whimsy that when perched at the bedside can easily evoke the essence of slumber. Its green hue is definitive yet soft enough to pair well with a range of color schemes. The carafe holds 28 ounces of water, the matching glass holds 9 ounces.
While this French-inspired glassware may have you in awe just thinking about how it may look when placed at your bedside or on your desk while you work it's important to know that it is made of glass and glass does break. If you have rowdy pets or kids, or you know that you yourself are clumsy, this delicate set might not be the best choice.
Purchase for $79 at End.
Hand Blown Japanese Bedside Carafe & Glass Set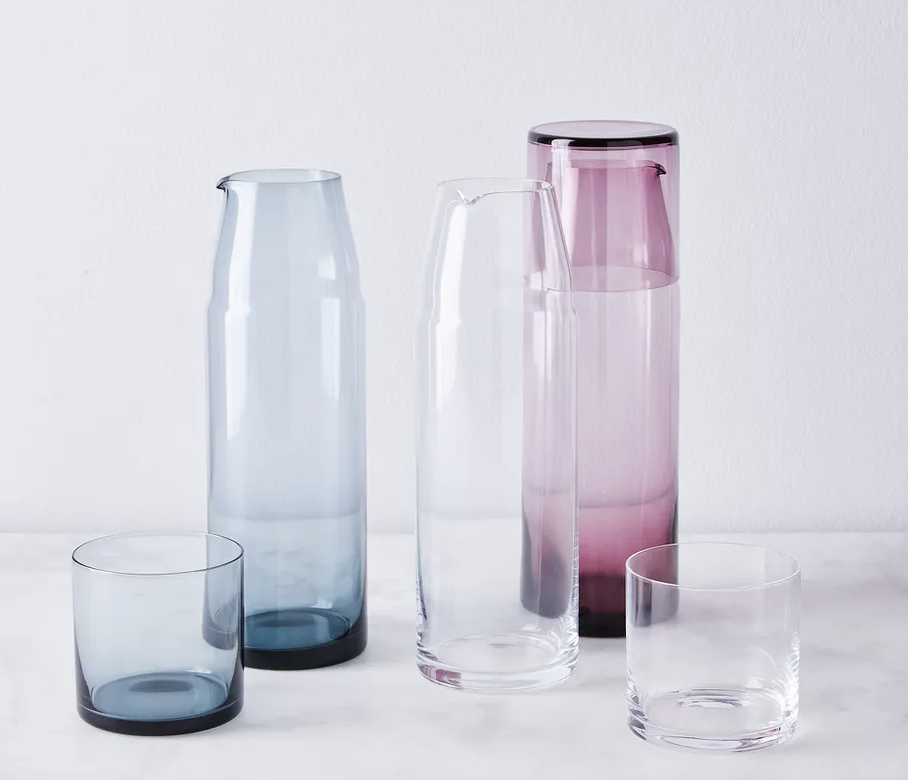 This is the set for the person who is both super passionate about the vessel that they drink their water from and has a deep-seated commitment to showcasing the epitome of design in their humble abode. This bedside carafe set is a looker and it comes with a price tag to match its enviable aesthetic. Handblown and crafted with unmistakable expertise by glass artisans in Chiba, Japan, the set comes in three soft colors – pink, blue, and clear – that will easily blend with decor in any room.
The tumbler is 3 inches wide by 9 inches tall and holds approximately 24 ounces of water. The accompanying glass is 3 inches wide by 3 inches tall and holds about 8 ounces of water. The tumbler features an astutely crafted lip to ensure an accurate pour each and every time.
I think that this set is absolutely gorgeous and is certainly an ideal pick for someone with an excess of disposable income that lives in an adult-only household. Even then, despite its beauty, this one is a hard sell, especially if you are clumsy like me. The glass is delicate and can break easily, and a replacement does not come cheap – if you can even find one considering they are selling out quickly with only a few left. However, if you are one who really loves to relish in the finer things in life then bedside water carafes don't get any nicer than this.
Purchase for $143 at Food 52
Bottom Line: You Should Buy A Water Carafe If…
A bedside water carafe is a perfect solution if you are someone who frequently wakes up during the night in need of a drink of water. Young professional, parent, retiree, athlete, whatever you may be or wherever you are in your life, everyone needs to stay hydrated. A bedside water carafe is a perfect aid to support that necessity.
Additionally, a bedside water carafe lends itself well to being able to use really anywhere in your home. This is perfect for someone who works at home ( and in this day and age many of us do!) As an at-home worker myself, I find it so convenient to simply transfer the water carafe from my bedside to my desk so I can easily enjoy a cup of water while I do my work.
All that said, while a bedside water carafe could serve as the perfect solution for a wide range of individuals there are a few situations where choosing to use one could be less than ideal. First, if you own mischievous pets that like to get into trouble or curious kids who like to sneak into mom and dad's bedroom and hop on the bed, a bedside water carafe might not be the best investment. Most carafes are made from glass, and if knocked over will break fairly easily if not instantaneously.
Also, if you happen to be always on the go and need a water vessel with more versatility, a bedside water carafe is not really a good option. While it's great to move around the house and always have water at your convenience, it's not practical to take it on the go with you. A traditional water bottle is more suited to the busy person's lifestyle who isn't frequently home.
Ultimately, you should buy a bedside water carafe if you live in a quiet household, have an appreciation for design, and are looking for a nighttime solution to always have some water nearby.
---