Life can get really overwhelming sometimes, and if enduring a two-year-long and counting pandemic has taught us anything, it has taught us just that. When you're feeling overwhelmed, anxious, or stressed out it's really important to discover outlets and coping mechanisms that can help you manage when things get tough and life throws you more than just a few curveballs. There are various strategies that one can utilize to reign in their worry. They can take the form of exercise, hobbies, or even learning a new skill. However, a great way to supplement and add to your repertoire of coping mechanisms is by using a meditation app.
A good meditation app serves not only to strengthen the mind-body connection and enhance your overall personal awareness, but it can really help you to relax, unwind, and decompress. A mediation app is a tool that at its best can facilitate the development of a higher level of wellbeing. Hence, downloading one and taking advantage of everything that a solid meditation app can offer can be exceedingly beneficial. We chose the best ones to help get you started on your journey to attain a more relaxed and mindful you.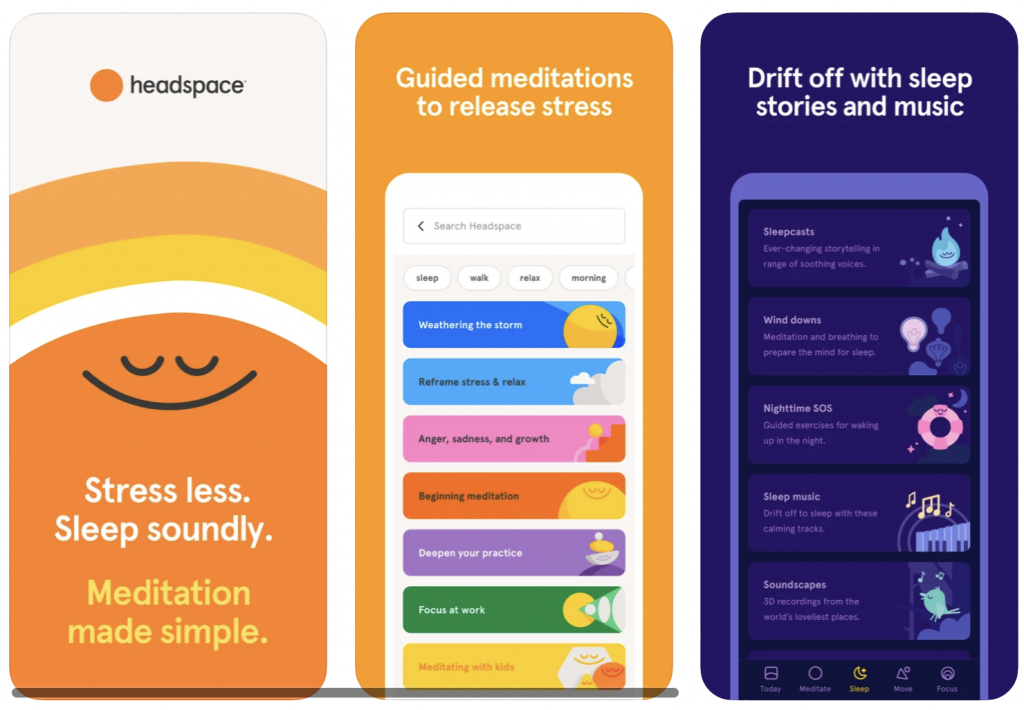 WHY IT'S THE BEST- Headspace is an all-around great meditation app for beginners and seasoned mindfulness pros alike. Headspace has a library full of hundreds upon hundreds of guided meditations to choose from that are clearly and conveniently separated into categories so that you can easily find the one best suited to you at any given movement. For instance, there are meditations solely dedicated to helping you fall asleep and others meant to help you get a strong handle on any feelings of anxiety. Those who are brand new to meditation will also appreciate the 10-day intro that will slowly guide you into becoming more mindful.
PRICE – $12.99/month or $70/year. Available for download on iOS or Android.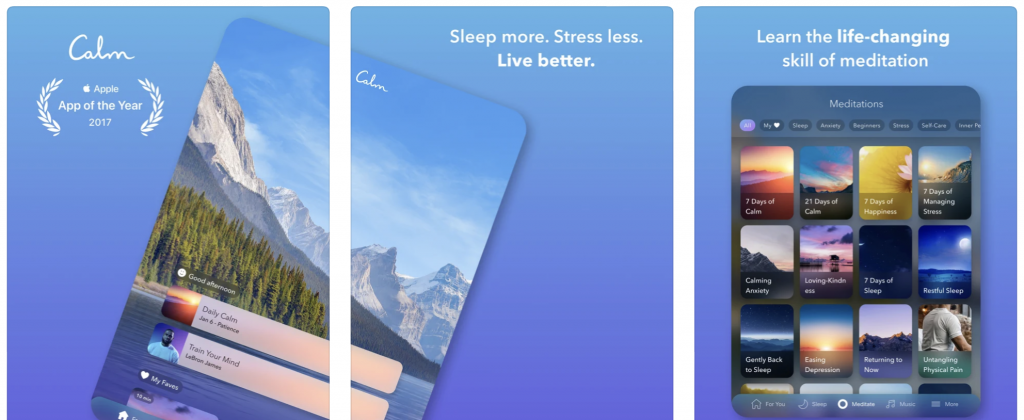 WHY IT'S THE BEST – Calm is the most widely used mediation app with a solid reputation to back its popularity. In fact, a study published in the medical journal JMIR MHealth UHealth in 2019 revealed that the app was able to effectively aid the 88 college-aged participants in reducing their stress. This meditation app, like Headspace, is also ideal for beginners as well as more experienced meditators.
Also, in addition to a wide range of guided meditations, there are also many free-style choices that serve as perfect compliments for those who already have their own established mindfulness routines. For instance, if you practice Feldenkrais, the freeform exercise can serve as music that grounds and centers you. What's more is that even though you can subscribe to unlock everything that Calm has to offer, there are still thousands of different free exercises that you can access for free. There is even a handy mood tracking feature.
PRICE – Free to download, optional $14.99/month, $69.99/year, or $399.99/lifetime memberships. Available on iOS and Android.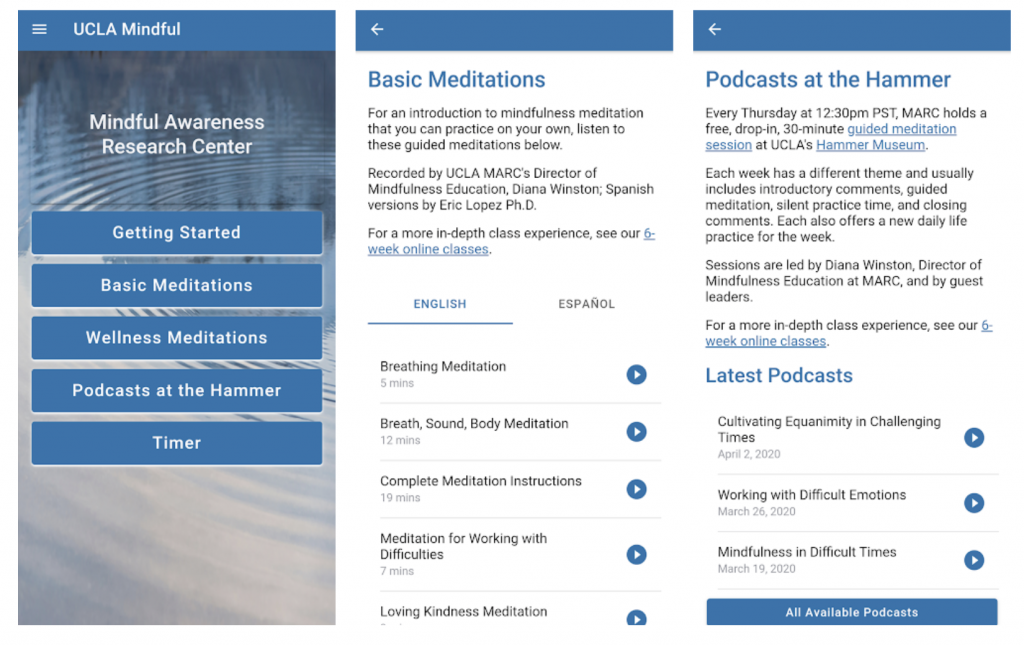 WHY IT'S THE BEST – The brilliant thinkers at UCLA's Mindful Awareness Research Center developed a meditation app that is ideal for those looking to begin reaping the benefits of frequent meditation. The exercises and podcasts are backed by the scientific research that the center executes which came together in an app that is not only easy to use, but is effective. What's more, is that this mediation app actually teaches you the foundations of how to maintain proper posture and breathe correctly while meditating. Conveniently, the app can be utilized and heard in either English or Spanish. The only downside to this app is that its library of content is not as robust as some of the others. However, what it lacks in quantity, it more than makes up for in terms of quality.
PRICE – 100% Free and downloadable for both iOS and Android.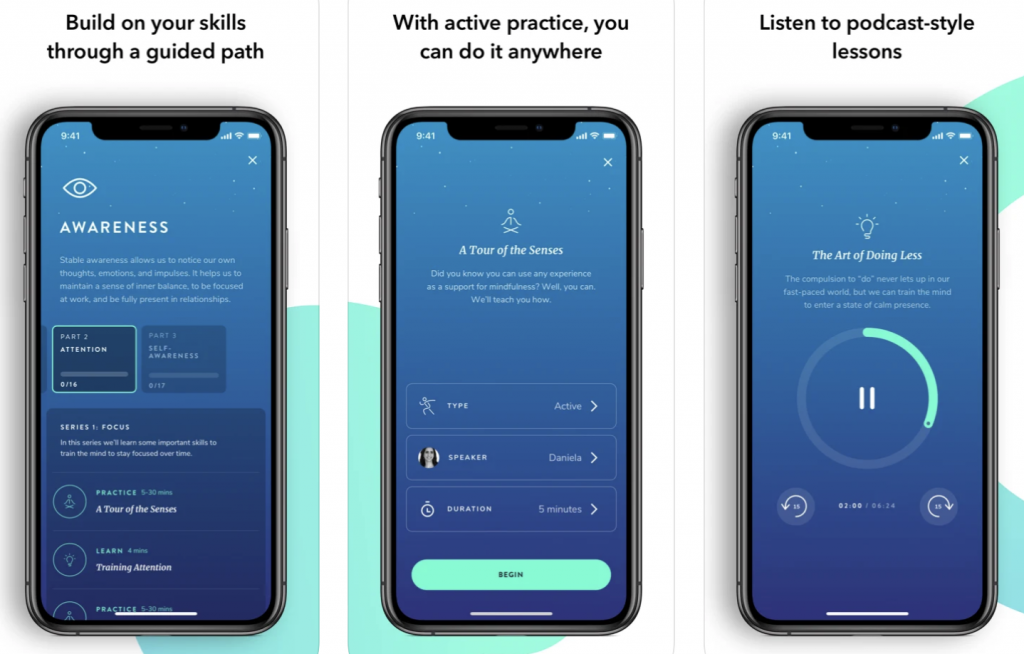 WHY IT'S THE BEST – Healthy Minds is a straightforward meditation app that was developed with the sole purpose of helping you achieve a greater state of mindfulness, and it does just that. If are one who needs structure and clear goals in order to get things done, then Healthy Minds is the ideal meditation app for you. It creates a uniquely tailored course that addresses expanding your personal sense of awareness, connection, insight, and purpose via a baseline that it develops based on an initial quiz you take when you first use the app. It's a no-nonsense app that knows its purpose and will ultimately serve to help you to get more in touch with yourself.
PRICE – Completely Free. Available for both iOS and Android.
Article continues below headlines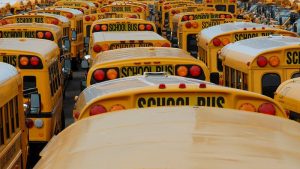 ---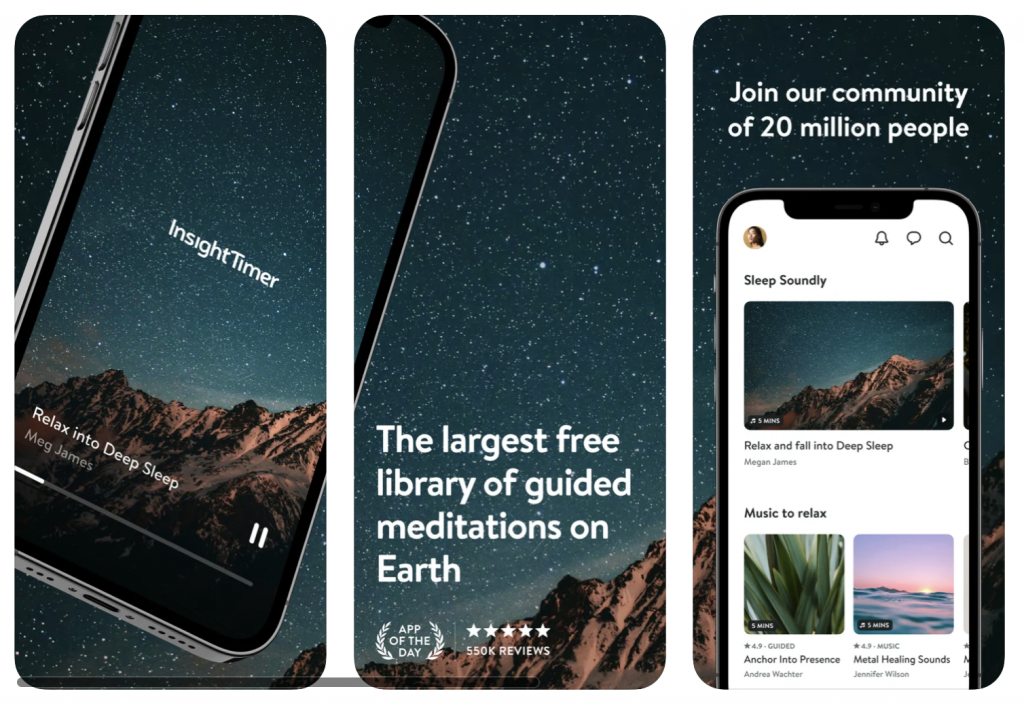 WHY IT'S THE BEST – Insight Timer is another great mediation app with a huge library (45,000+) of exercises and activities. Its interface is exceedingly easy to navigate through and, similar to Headspace, you can filter all the exercises by category. For example, if you are feeling super stressed or overwhelmed there are meditations perfectly suited to address that state of mind. Or perhaps, you've had a day where your self-esteem took a big blow, there is even a category that is filled with guided activities to help you boost it back up. Additionally, with meditations ranging from less than 5 to over 30 minutes, the app is designed to be able to fit into any schedule.
PRICE – Free access to a large library, $10/month, or $60/year. Available to download on both iOS and Android.
THE CONCLUSION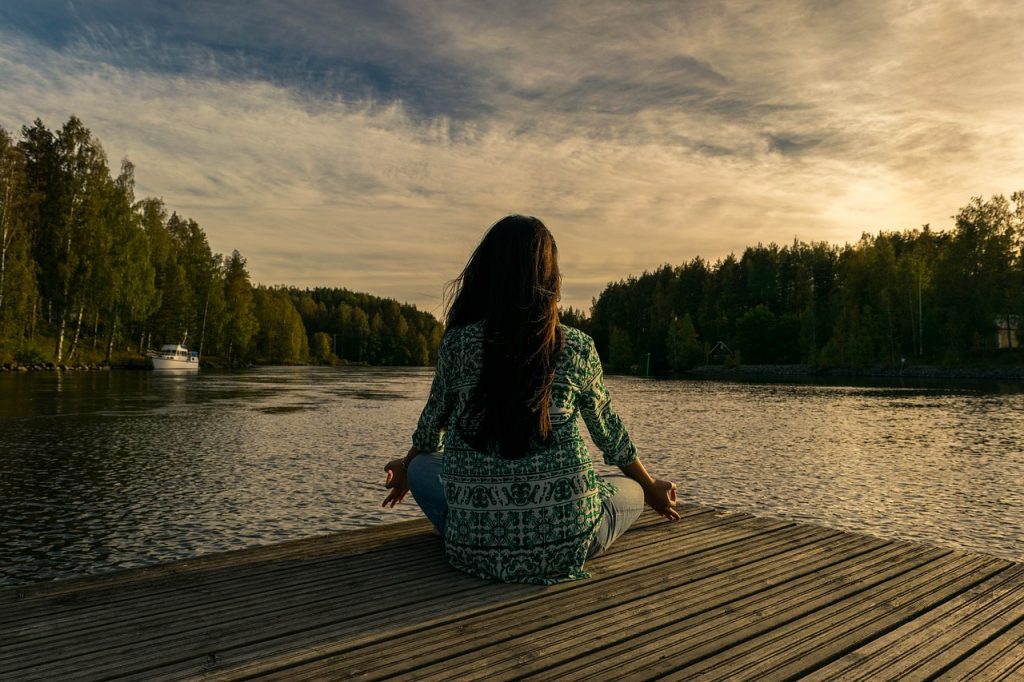 Taking steps to address your stress and worries is always a good idea and will only help you become a better version of yourself. Start quelling your anxieties and evolve to become more mindful with any of our top mediation app picks. Then, perhaps, enhance your routines by trying yoga or investing in an adult coloring book. Ultimately, the most important lesson to take away here is the realization of how important prioritizing your mental health and wellbeing is, when you start feeling the benefits of mindfulness both your body and your mind will thank you for it.