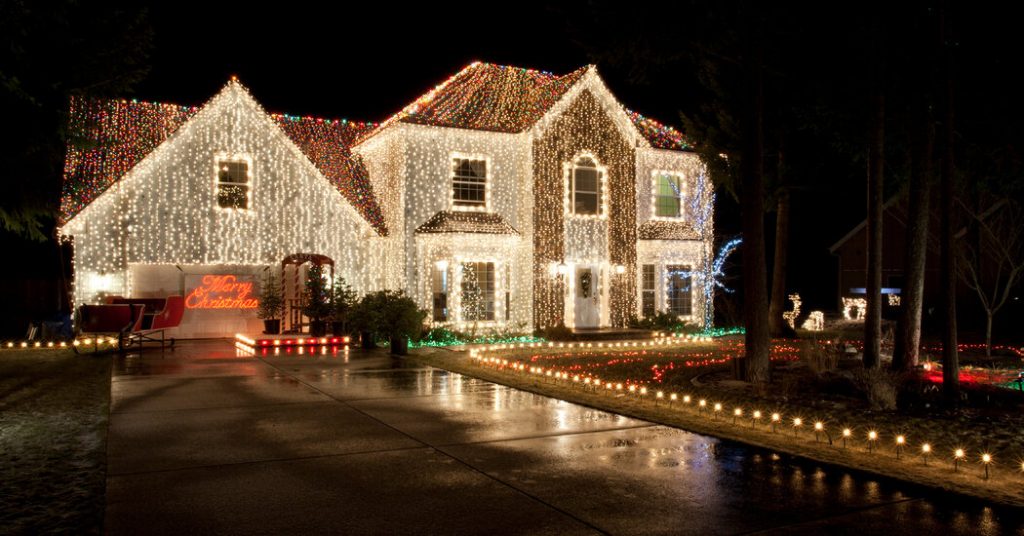 There is something so inherently special about the holiday season. Perhaps, this year, even more so as families come together once again to rediscover the joys of togetherness after suffering through the height of a global pandemic. It is the one time of year where a unique vitality can be felt everywhere you go.
Songs promoting cheer and happiness fill the airwaves and classic holiday movies occupy many a television screen as loved ones huddle close and sip on their eggnog and hot cocoa. It's the season of ugly sweaters and copious amounts of homemade cookies. It's a time of indulging in laughter and giving, as many a family member and friend attempt to fulfill the wishlists of their closest loved ones. Good food and great conversations are never in short supply, the holidays are the best parts of yesteryear wrapped in packages of love, comfort, the meaning of family, and of course that every so intoxicating smell of pine that perforates the air.
The magic of the holiday season is undeniable and what truly illuminates this uniquely magical time are the lights that leave many a twinkle in a child's eye and remind adults that the simplest of things can often be the most awe-inspiring. Whether you deck the halls outside, indoors, or go all out and do both we've put together a list of the very best Christmas lights available right now online to ensure that every individuals' home sparkles with the essence of the season.
The Best Multicolored Lights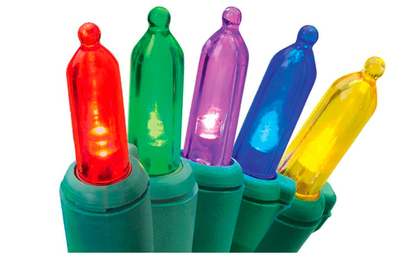 WHY YOU'LL LOVE THEM – If you are a fan of colored lights, but prefer the classic warmer look as opposed to more intense colors typically associated with LED then you will love these because with GE's Energy Smart Colorite Christmas lights you get the best of both worlds. The colors match perfectly with the traditional incandescent style of holiday lights, but because they are also LED they will last up to ten years before a bulb is in need of replacement. Another thing that's great about these particular Christmas lights is that they are made with what GE calls a "tidy wire" inside which is meant to prevent tangling, so when its time to string the lights you won't have to worry about performing the cumbersome task of making sure they are tangle-free. The one downside to these lights is that they are recommended for indoor use as they are not equipped to endure harsh, wet, and wintry weather conditions.
PRICE – $22.49 for a 150-Count at Lowes ( $7.49 less than the MSRP)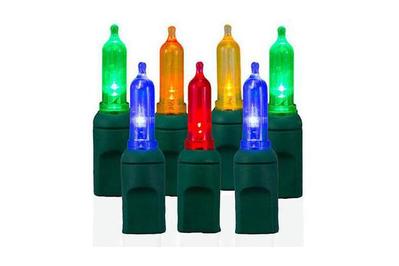 WHY YOU'LL LOVE THEM – Christmas Designers T5 lights, similar to GE, also offer the benefit of offering the best of both worlds in terms of traditional Christmas light hues and LED technology. However, the T5's offer slightly less warmth compared to GE's more incandescent-like bulb. Thus, these might be best suited for those looking for cooler slightly more vibrant tones. Additionally, these lights perfectly match many of the lights that come attached to pre-lit artificial trees. An added benefit to the T5 Christmas lights is that they are graded for both indoor and outdoor use.
PRICE – $19.99 for a 50-Count on Amazon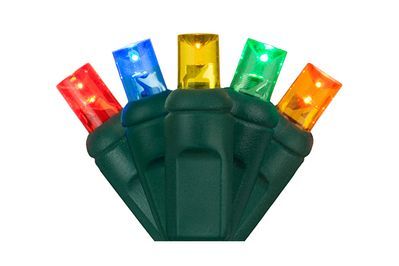 WHY YOU'LL LOVE THEM – The Kringle Traditions LED mini lights are perfect for those wishing to deck out their house with the pure vibrancy that comes from an LED light. These multicolored Christmas lights are bold and bright and made to tough out the worse of wintry conditions. According to Wirecutter these lights are "impervious to moisture for weeks" and can be left submerged in freezing cold water, snow, or ice without worry. What's more is that because they are so bright, they will shine through like a beacon even on the snowiest of nights, they might even give Rudolph a run for his money. The only downside to these sparkling gems is that they are not well-suited for indoor use because of how blindingly bright they are.
PRICE – $11.99 for a 50-Count on Christmas Lights Etc.
The Best White Lights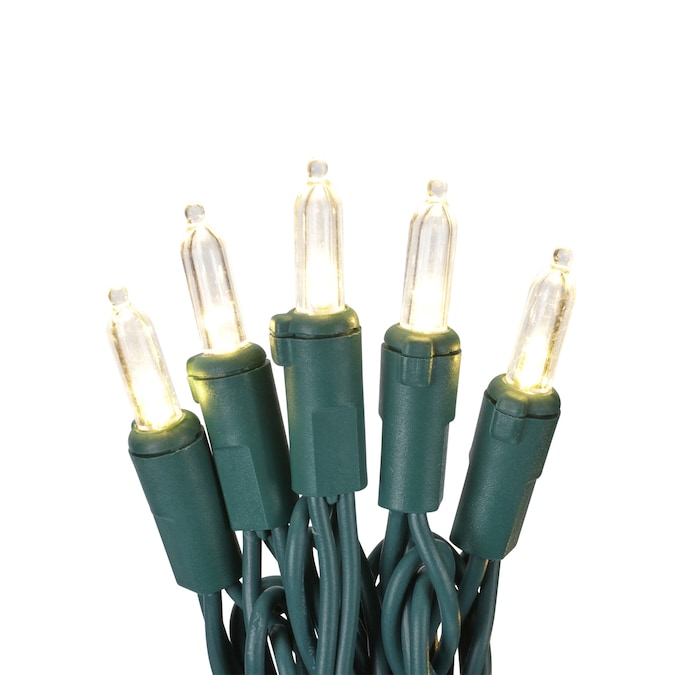 WHY YOU'LL LOVE THEM – Similar to their multicolored counterparts these lights from GE are top-notch and offer all the benefits of LED while illuminating your space with the gentle, warm hues of yore. They too will last ten years before needing to be replaced and come equipped with GE's proprietary "tidy wire" to eliminate any tangle worries. These Christmas lights are also best suited for indoor use, but given their soft illumination that is also where they can be best appreciated. Many an apartment dweller is sure to revel in the glow of nostalgia that these white lights radiate.
PRICE – $22.49 for a 150-Count at Lowes ( $7.49 less than the MSRP)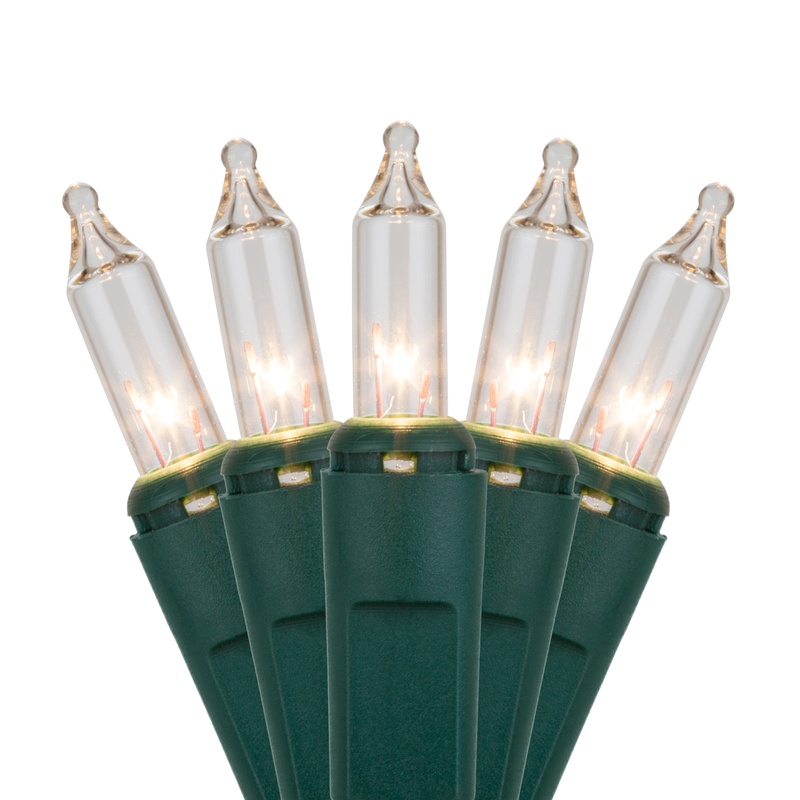 WHY YOU'LL LOVE THEM – If your one who is intent on keeping the tradition of outfitting your house with the classic incandescent bulbs, then these are the lights for you. The Clear Christmas Tree Mini Lights are the epitome of tradition and their warm radiance is sure to strike many a nostalgic chord. An added benefit to going old school is that these guys will run you a fair amount less than their LED equivalents. However, they also won't last as long and the bulbs will need to be replaced much sooner if you wish to keep using them. Given their fragility, they are also best recommended solely for indoor use, and as their name suggests, they look great when strung around a Christmas tree.
PRICE – $15.99 for a 100-Count on Christmas Lights Etc.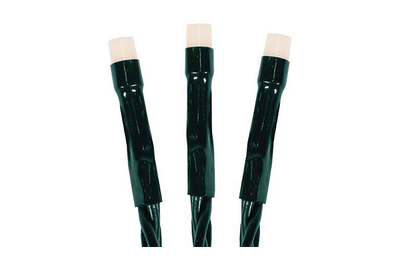 WHY YOU'LL LOVE THEM – These lights, are hands down the top of the line as Christmas lights go. Twinkly lights are high-tech smart lights that utilize Wifi to let owners fully customize hues and even the patterns that the lights are illuminated in. For instance, lovers of traditional white lights can configure the lights to give off that perfect warm glow. The lights can even be programmed to blink in tune with your favorite Christmas songs. The Twinkly lights truly represent the next generation of Christmas decorations. In addition to the different whites. Twinkly's also come with a variety of colored options. The one big downside to these technical marvels is how much they cost. In this case, high-tech comes at an even higher price. Still, the Twinklys are a great option for those with a lot of extra room in their decorating budgets.
PRICE – $109.35 (discounted from $197.25) at Christmas Designers
The Conclusion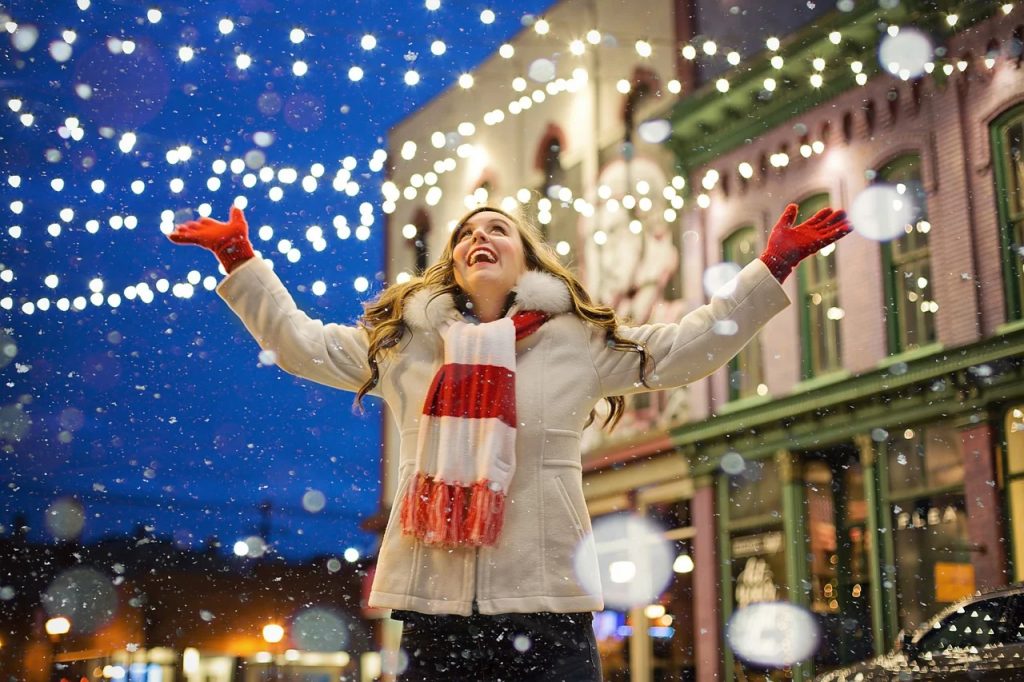 Tis' the season to be merry and joyful and if you are looking to spread the holiday cheer by illuminating your humble abode, you can look to the above options to find the lights that are best suited to fulfill your own personal decorating preferences. As a bonus, you also might want to look to Amazon to accent your home even further with some classic Icicle lights. However you choose to indulge in this holiday's festivities, may you and yours have a magical holiday that is lit with the splendor of this special season.