The best standing shower handle options come from Moen, Safe-er-Grip, and AquaChase
As we get older, certain things become more of a chore for us to handle. What we took as second nature now becomes a detriment to the point of concern. Take, for instance, getting in and out of the shower, where the risk of falling is increased and why so many are turning to shower standing handles.
A shower standing handle, also known as a grab bar, is an assistive device mounted inside the shower or tub that can be used to help older folks get in and out of showers safely. They are mounted on shower walls and because they come in various sizes and strengths, they offer plenty of options to meet the various needs of those who could benefit from having one inside their shower.
With that in mind, there are a number of different shower standing handles to choose from. If you have someone in your family that needs assistance in the shower or has a high risk of falling down, one of these shower standing handles could do the trick. But make sure you know the pros and cons of each type of handle.
SHOWER STANDING HANDLES COME IN FIXED AND REMOVABLE STYLES
There are two types of shower standing handles – fixed and removable. The obvious advantage of having a fixed one is, well, it is fixed; there is no chance of it moving around. But the disadvantage of having a fixed handle is that they need to be installed and if they aren't properly installed the first time, they will need to be moved, causing more repair to the holes in the wall.
Removeable handles make it easier to adjust the shower standing handle without having to make repairs, but they are not advisable to have if the person who needs them plans on putting their entire body weight on them. They are set on the wall with a suction grip which means if suction fails, one could fall in the shower. Let's take a look at some of the best shower standing handles.
THE BEST SHOWER STANDING HANDLE
Moen R8924P Shower Standing Handle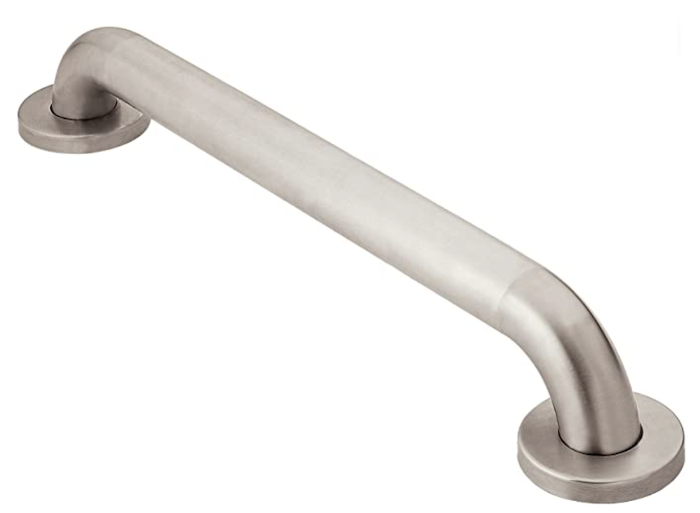 Price – $33.36 on Amazon for the 24-inch handle.
The Moen handle offers a textured slip-resistant finish in a number of different sizes. On top of the 24-inch handle, this Moen also comes in 18-inch, 30-inch, 32-inch, 36-inch, 42-inch, and the long 48-inch handle. The bar will support up to 500 pounds when installed with a stud or when using SecureMounts.
Safe-er-Grip Shower Standing Handle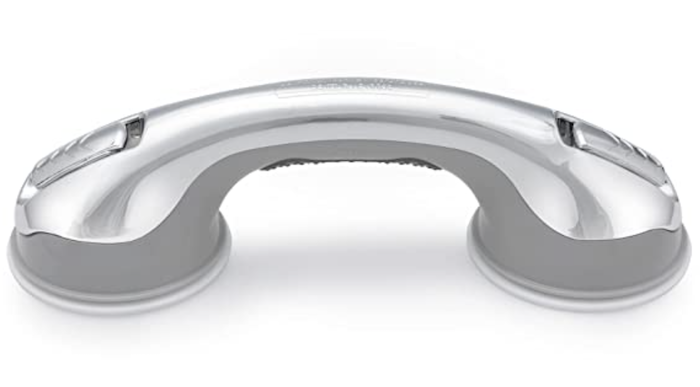 Price – $21.58 on Amazon.
This solid handle comes with a few warnings as it is a suction cup handle. It is a very dependable handle, but when installing it, it won't work on textured walls, granite, painted walls, or small, uneven tile. You also won't want to install this handle over grout lines inside a shower.
The bar's length is 12 inches and the suction cups are 3.75" in diameter. The handle has a latch that is pressed down once the handle is in its proper position. Do not put full body weight on this handle.
AquaChase 2-Pack Shower Standing Handle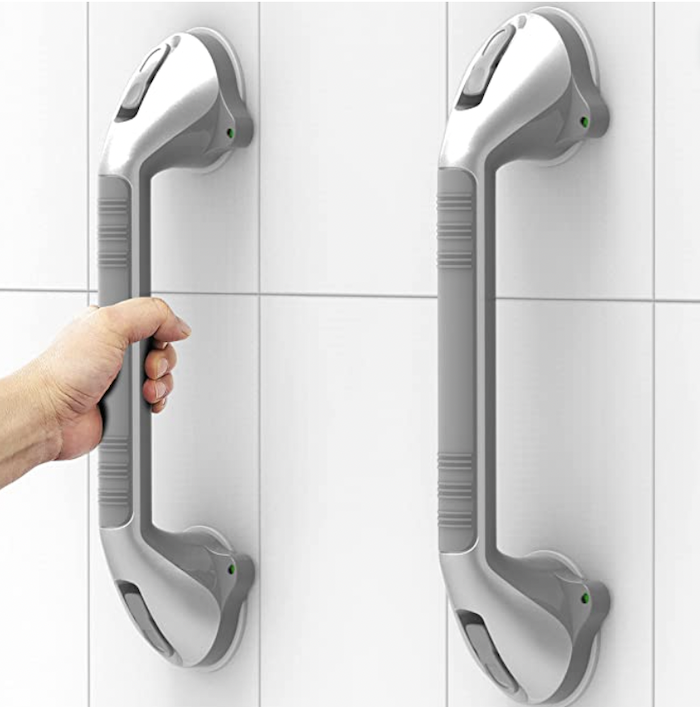 Price – $35.98 on Amazon.
The AquaChase is another suction cup handle, so it also comes with the same warnings. What makes this handle safer than many suction cup handles is that it has indicators that change from red to green when the suction cups are firmly in place. When they turn green, they are good to go but make sure to test the hold.
It has a non-slip grip and the handle measures almost 17 inches in length.
Moen 8724 Shower Standing Handle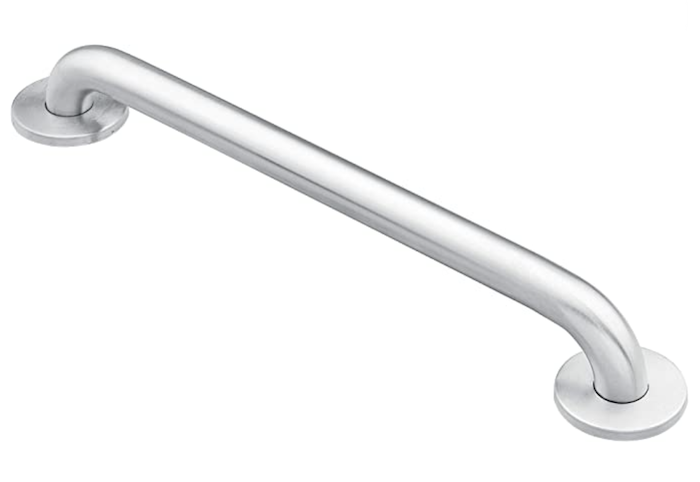 Price – $16.61 on Amazon.
Another Moen that, like the previous handle, comes in various sizes. These include 18-inches, 24-inches, 30-inches, 32-inches, 36-inches, and 38-inches. The bar is almost 29 inches in length and can support up to 500 pounds.
Diwangus Shower Standing Handle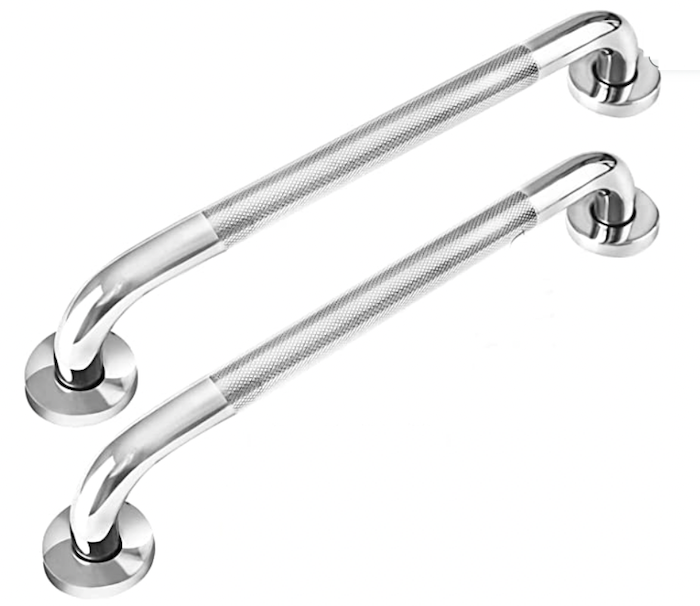 Price – $24.29 on Amazon.
Diwangus offers two for one with its 16-inch shower handle. It features a non-slip grip and can support up to 500 pounds. The handle comes with mounting screws to make installation a breeze.
AquaChase Shower Standing Handle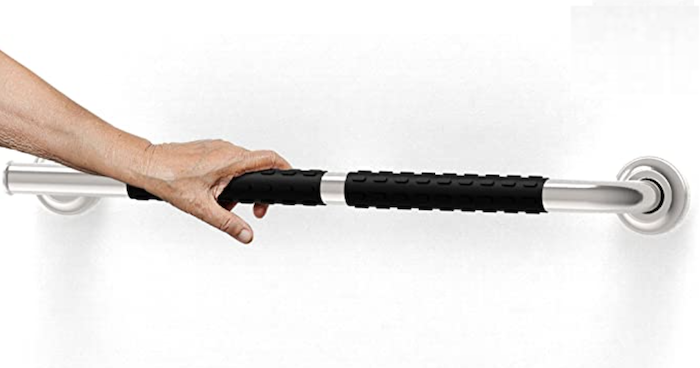 Price – $29.99 on Amazon.
This is one of the fancier shower handles with a design that includes a ridged black non-slip grip surrounding commercial-grade stainless steel. The grip is made of silastic, which increases grip traction when wet. Once mounted, the handle will support up to 500 pounds.
CONSIDER SHOWER SIZE AND WEIGHT WHEN CHOOSING A STYLE AND BRAND
Obviously, there are different needs for different people, so when choosing one, it is best to know for who and where it will be used. Here are a few factors to consider:
Shower Size – This will impact what size shower standing handle is purchased. Some showers are tiny and don't need a long handle while some showers are spacious and could use all the handle they can get.
Weight – How big is the person that will be needing the shower standing handle? In this instance, size does matter because it will tell you if you should purchase a suction grip handle or one that needs to be permanently installed.
Person's Needs – Every user is different. Some need assistance throughout the entire shower while others may only need the bar to get in and out of the shower.
A SHOWER STANDING HANDLE BE 33 TO 36 INCHES OFF THE TUB FLOOR
There really is no set height for the installation of a shower handle. As a guide, though, the Americans with Disabilities Act Standards for Accessible Design recommends that these handles be set from 33 inches to 36 inches from the bottom of the shower or tub. One good way to determine the height needed is to get the person who will be using the handle inside the shower. Have them pretend they were dizzy or tired and see where their normal reach would be.
THEY CAN BE INSTALLED VERTICALLY OR HORIZONTALLY
How one installs a shower standing handle will depend on what the handle is being used for. For someone using it to step in and out of the shower, the bar should be vertical. A horizontal install is used for balance when inside the shower. Again, this all comes down to who is using the handle.
---
Installing a shower standing handle is one of the best moves one can make for an elderly parent. It helps cut down on accidents in the bathroom drastically while also allowing for peace of mind for the safety of one's parents. While you're installing one, be sure to also include a non-slip bath mat for additional safety.
---