There are so many shower caps out there it can be tough to know which one to choose. Let's highlight some of the best out there.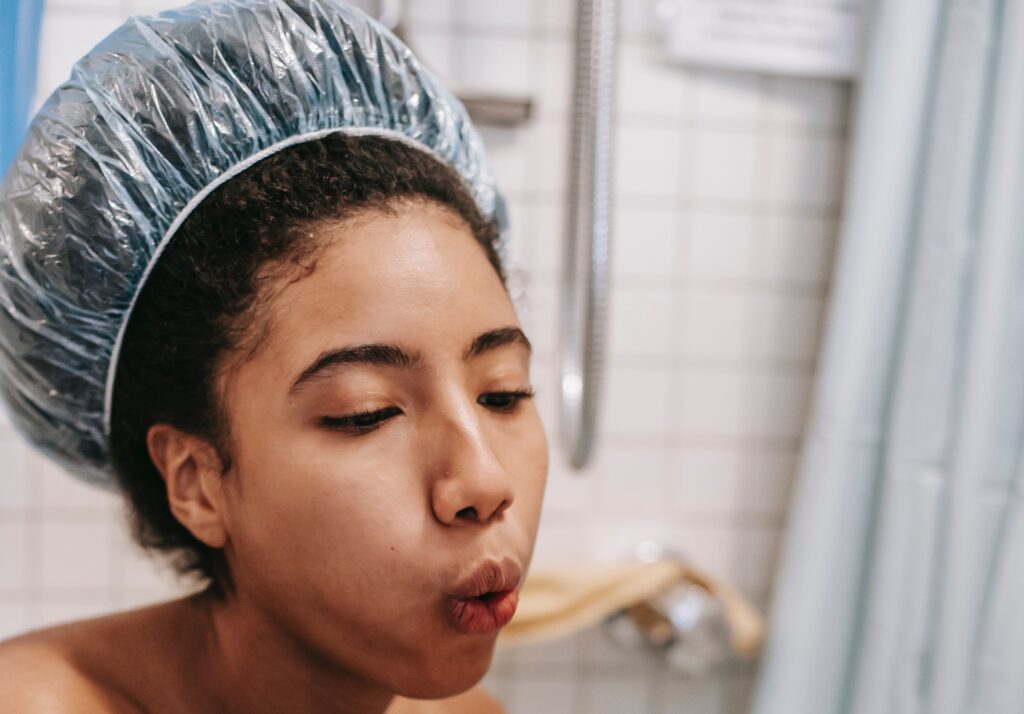 Maybe you are trying to protect your latest hairdo. Or maybe you are simply trying to extend the life of your fantastic curls. Perhaps you don't wish to ruin the coloring of your hair. Whichever the case might be, shower caps can be an essential tool in maintaining those newly coiffed locks. Unfortunately, there are so many different hair types, styles, and lengths that a one-size-fits-all shower cap will no longer do the deed. So, how do you pick the right one? How much should you pay? How long can you use one? So many questions, let's get to some answers.
BENEFITS OF SHOWER CAPS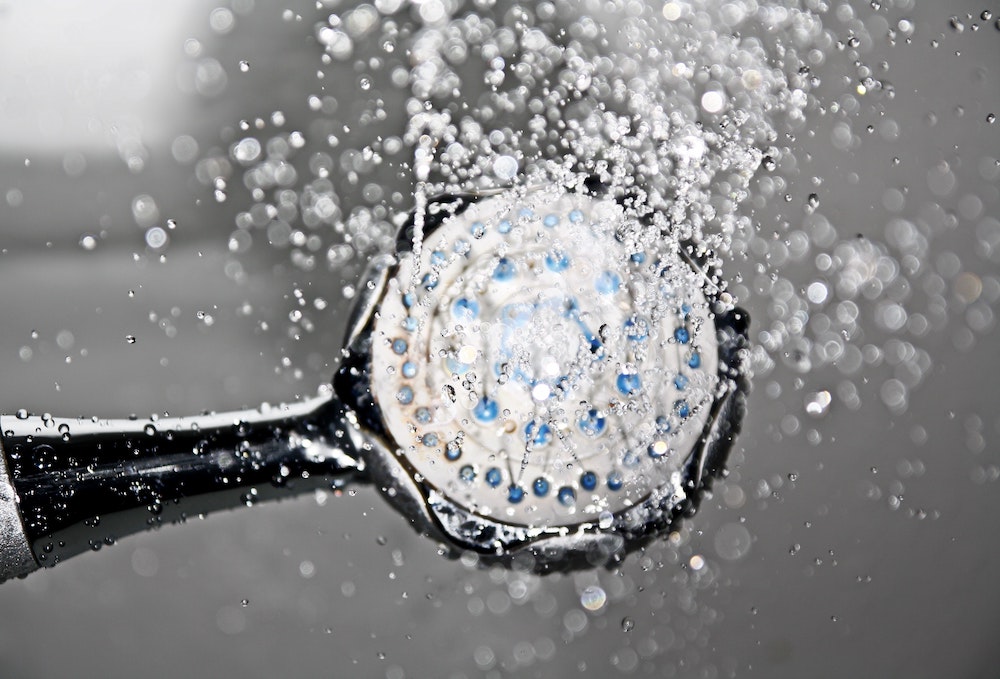 We know the main benefits shower caps deliver. They are meant to keep your hair dry while bathing or showering and for the most part, they do their job. But there is a misconception about them in that it is assumed they are only meant to keep your hair dry. True, they are, but they also have other benefits as well.
Hair Style Protection – You have an important special event that you are attending but it is later in the afternoon. Unfortunately, you got that kicking new hairdo for the event early in the morning. Now, you don't want to take a chance that it gets messed up before you can show off your new 'do, do you? A shower cap can help you keep things right where they need to be. Plus, if you get one that is cotton-lined, it will help against humidity and moisture.
Take it to Bed with You – Yes, you can do that as well. Maybe you have a bedhead phobia and do not wish to wake up in the morning with it. Shower caps can keep your hair in place, no matter how much restlessness you experience at night.
The Deep Conditioner – Want to get the best results out of your conditioner? Well then slap a shower cap on after your shampoo and let it do its thing. It's a simple procedure. Shampoo your hair and rinse it, then toss in that conditioner. Instead of washing it out immediately, put one on and let it marinate. You can even go the extra mile by completely rinsing off, getting out of the shower, and going about the rest of your morning duties without worrying about dripping conditioner all over the place.
Hair Dying – Not as in actually killing your hair, but the coloring of your hair. We know some of you ladies (and gentlemen) out there prefer to experiment with the color of your hair. Some like to go from brunette to blonde. Some like to knock out the advancing gray. Shower caps will help by not allowing your color to drip away.
The Breakage Reducer – This goes back to bedhead. Some of you restless sleepers wake up with a tangled mess. You then hit the hairbrush like it's going out of style, tearing at your head and breaking hair in the process. Shower caps can help prevent this hairy violence.
And here you thought shower caps were good for only one thing. Believe it or not, they are also good for one more thing. Maybe you don't want to introduce your hair to the chemicals in a swimming pool. Simply put that shower cap on (these ones are called swimming caps) and it will save your hair from the harmful nasties in the water.
WHICH TYPE OF SHOWER CAPS ARE BEST?
When you are trying to decide what shower caps work best, you first have to look at the head of hair you possess. There are plenty of different hair types and styles that can determine what type of shower cap will suit you best.
There are adjustable shower caps and there are fun shower caps. There are shower caps built for those with long hair and there are shower caps built for those who are needing protection for their dreadlocks. There are some people who simply need shower caps to protect their scalps. So, there isn't one specific type that works best, it all comes down to what type of hair, hairstyle, or protection you are looking for.
WHAT CAN I USE INSTEAD?
Admit it. You've gotten into the shower without the proper protection. You start looking around for it, but alas, you are completely out of protection as nary a shower cap is in sight. Now what? You can try to keep your head out of the blasting area that is your shower head, but that can be a risky proposition. If you are bathing, it may be easier to keep your head up high, but as many people who have slipped into that warm bath water know, all it takes is closing your eyes and suddenly you are slipping beneath the water line.
Here's a quick fix. You will need two simple items, both of which you should have lying around the house. The first is a plastic bag and the second is a hair tie. Simply put the plastic bag around your head and fasten it snugly with the hair tie. Perfecto. You may not always want to be relying on a plastic bag and hair tie instead of shower caps, but in a pinch, it'll do the job.
BEST SHOWER CAPS
As there are many hair types and styles, so are there many different types of shower caps. We know, who'd a thunk it. Be that as it may, we gathered together a few different types along with an idea of what you may need to fork out to keep your amazing new and expensive hairdo safe from the brutalities of the shower head. We present them in no particular order or hair style.
HAIRSOME SHOWER CAP FOR MEN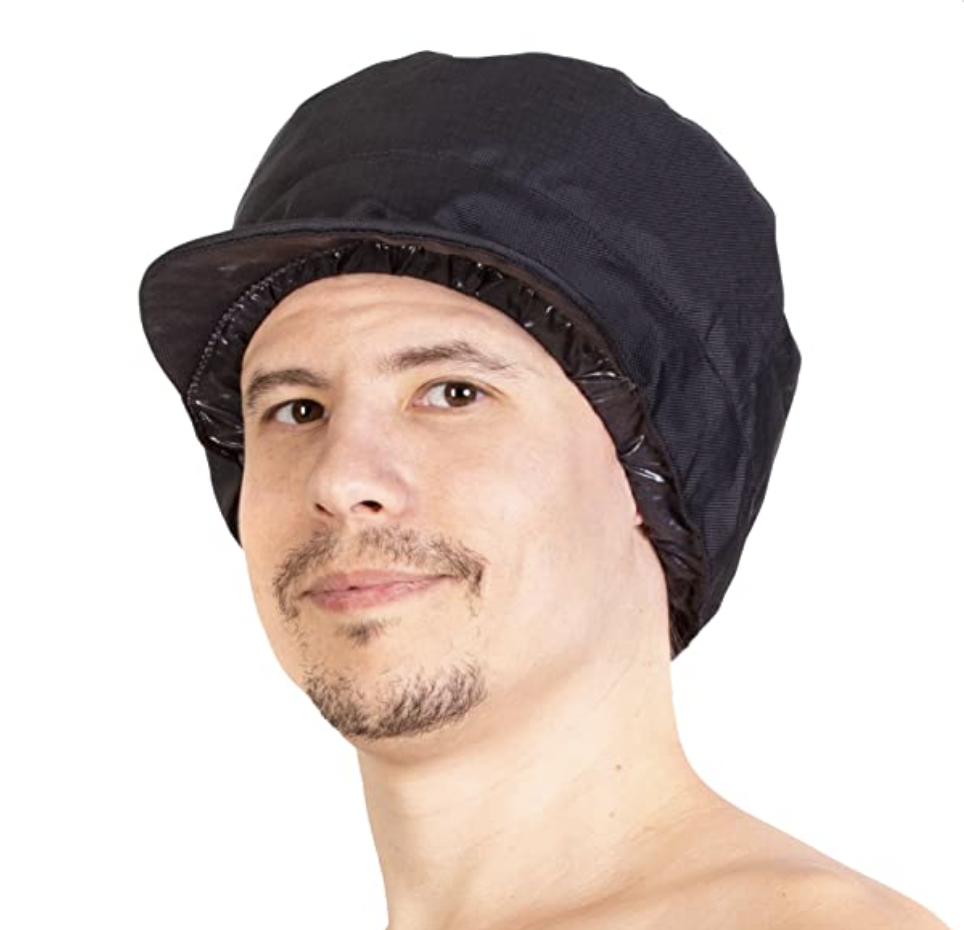 PRICE – $28.90 on Amazon.
WHY WE LIKE IT – This first shower cap offering is for men. If you want to look manly as you are wearing your one then Hairsome is for you. It is shaped like an oversized hat that allows for almost any style of hair to fit inside. It offers a tight, snug fit that is adjustable, and it can be used for 500 showers.
SNATCHED FLAMES SHOWER CAP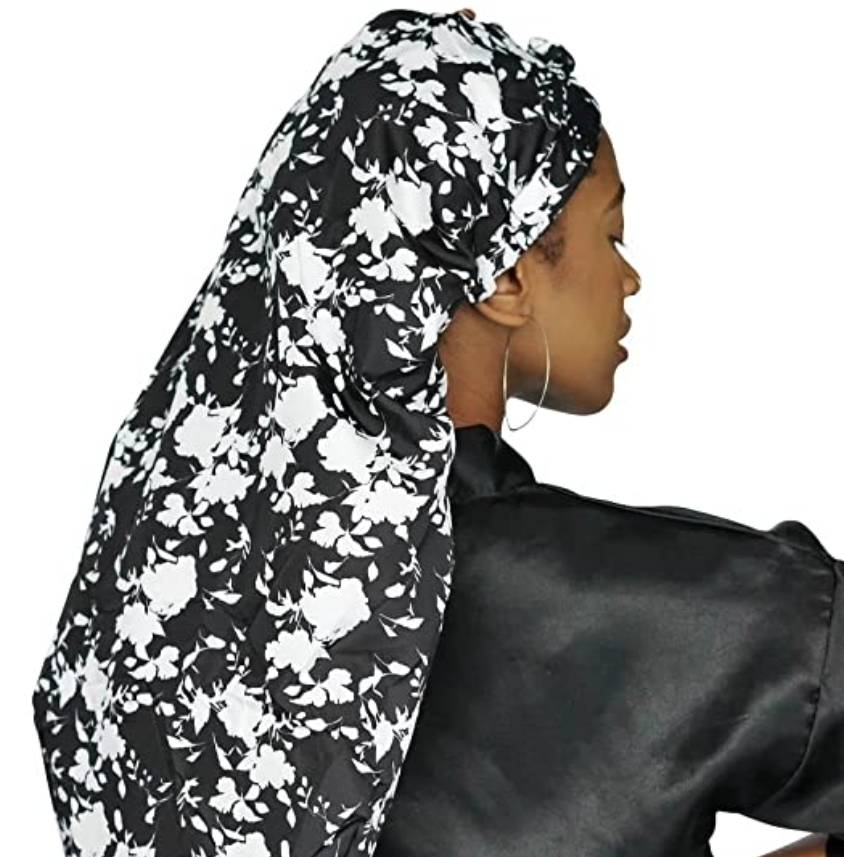 PRICE – $19.99 on Amazon.
WHY WE LIKE IT – This one is built for those with long hair to include dreads, sew-ins, and naturally long hair. This shower cap is made of the highest quality nylon and is 26-inches in length. Not only can you keep your hair long and relaxed in the shower but if you wish, you also have the ability to pin it up and tie it off with the built-in bow.
AUBAN DISPOSABLES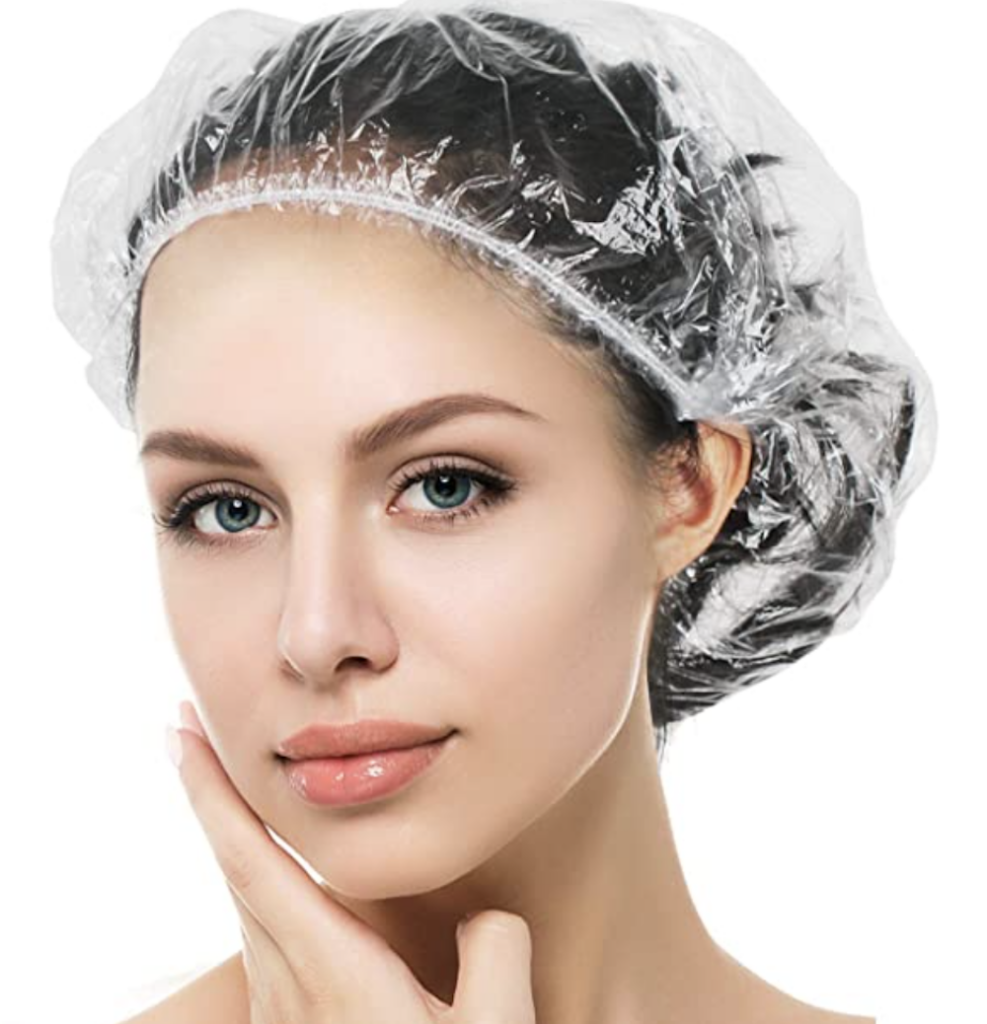 PRICE – $8.99 for 100 shower caps on Amazon.
WHY WE LIKE IT – Who doesn't like a quickie, especially if you aren't picky? With Auban, these ones are fast and disposable. They get the job done if you aren't too picky about what goes on your head as long as your head stays dry. Plus, for the price, it's hard to say no.
THE MORNING AFTER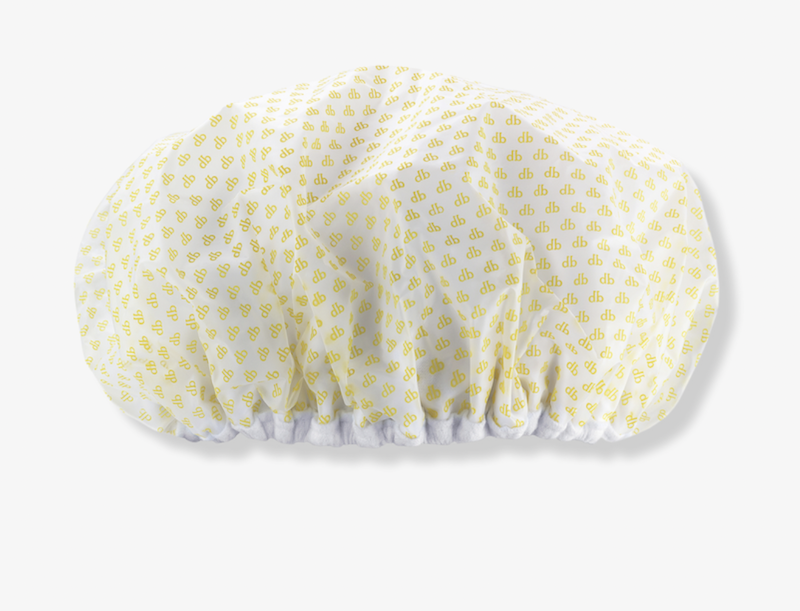 PRICE – $16.00 on Ulta Beauty.
WHY WE LIKE IT – Got yourself a blowout that needs protecting, then the Morning After Shower Cap is what you need. This one is extra large for that extra large noggin. The cap is terrycloth lined so it will absorb the shower's steam and prevent your hair from going from blowout to a finger-in-a-light-socket look.
BETTY DAIN FASHIONISTA COLLECTION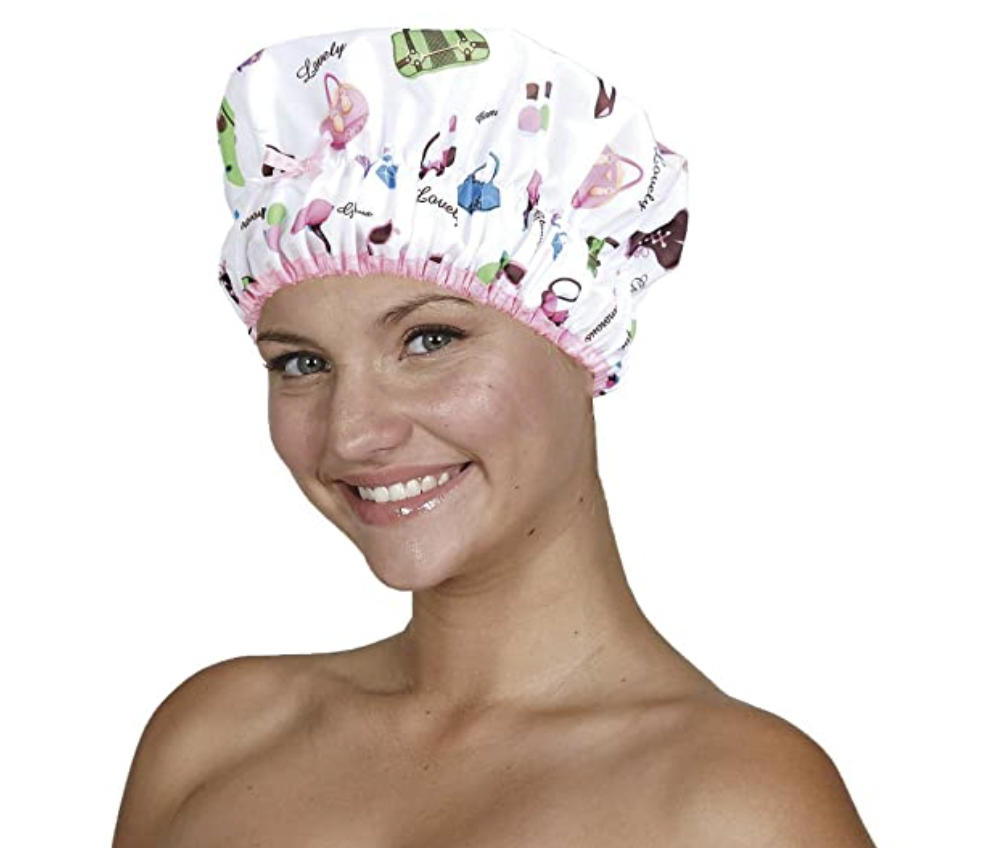 PRICE – $6.95 on Amazon.
WHY WE LIKE IT – This one is for the guys and gals who have a little curl to their locks. Oversized and waterproof, you can stuff a lot of curlies inside this shower cap. Although you are probably not wearing one of these to make a fashion statement, they come in various different "personalities" that are sure to match your very own.
LOUVELLE STYLISH AMELIE LUXURY SHOWER CAP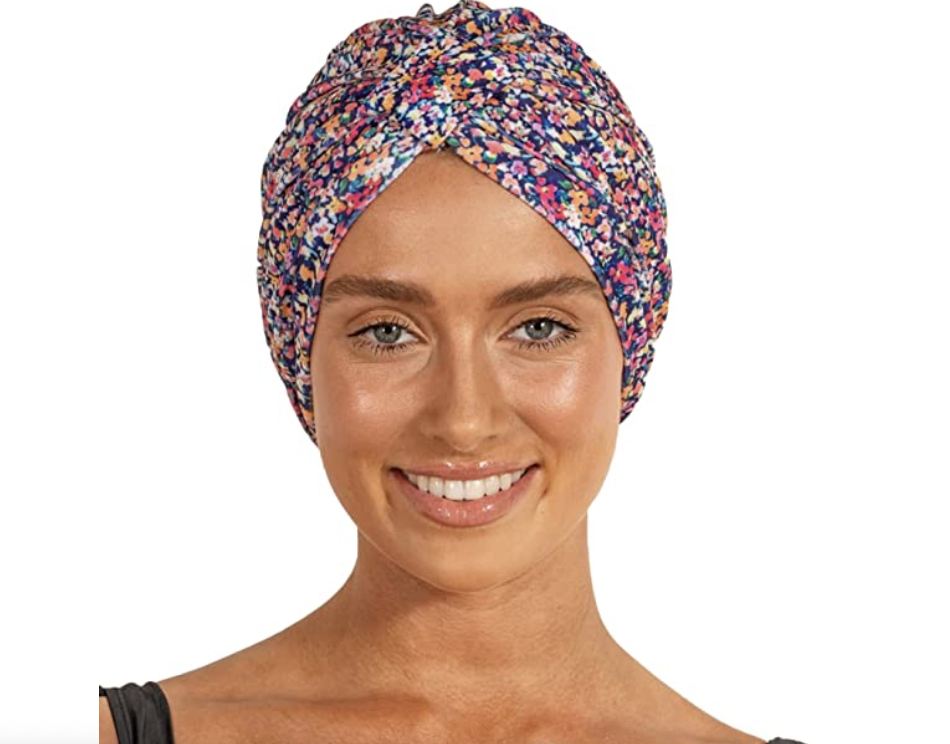 PRICE – $40.00 on Amazon.
WHY WE LIKE IT – Looking for style in a turban setting? The Louvelle luxury shower cap will be the choice. This turban-like shower cap has a waterproof lining surrounded by quick-drying fabric. It comes in three different styles – the Bright Ditsy, the Denim Leopard, and the Monochrome Stripe. You definitely will get what you pay for with the Louvelle.
SHHHOWERCAP SHOWER CAP
PRICE – $43.00 on Shhhowercap.
WHY WE LIKE IT – They advertise this one as the original luxury reusable shower cap. The cap is made from nanotech, hydrophobic fabric, making it both waterproof and water repellant. The material is also breathable and frizz-defying, as it allows the humidity to escape from your head and hair. The shower cap has an innovative design that has a non-slip silicone grip that protects the front of your head/hair and premium elastic that is built into the cap allowing for the ultimate protection from water.
FINALLY
There is no reason why you shouldn't be protecting your investment in that new hairdo. Don't take that chance that you can keep your head dry by deftly avoiding the shower stream. It takes but one slip and that $130 blowup you just got is now looking like a drowned rat. Hedge those bets and grab yourself a shower cap. True, it may make you look silly but since you are only playing for an audience of one (for the most part) you only have yourself to impress.
---