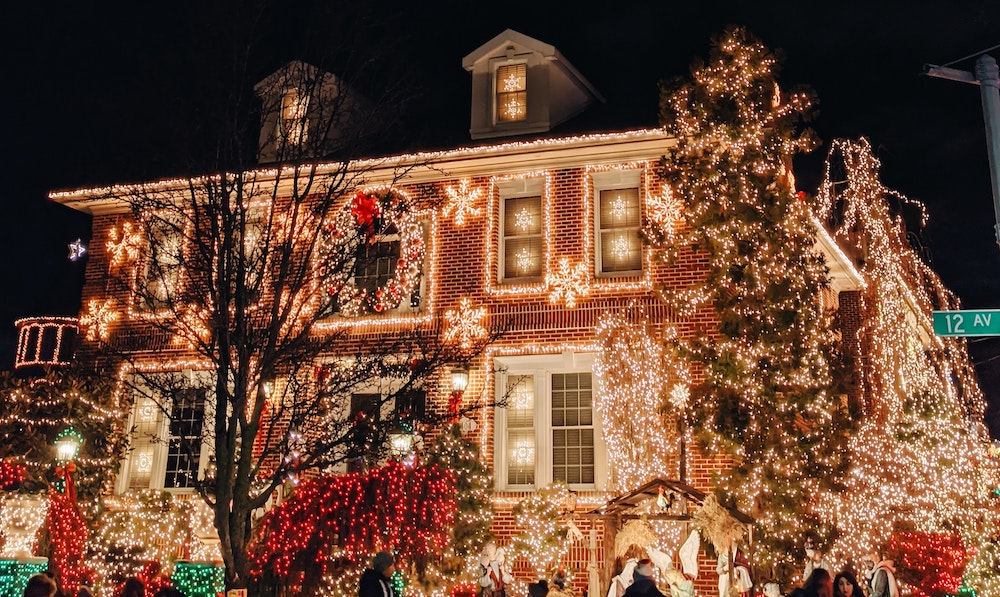 The most wonderful time of the year often stirs up a debate over Christmas lights. Do you hang them right after Thanksgiving or wait till the beginning of December? To answer the age-old question, the home improvement website House Method created a survey to find out the most popular and acceptable time to start decorating for the holidays.
After speaking to 4,000 American homeowners, the outlet found that December 1st was the most common response. But others said they planned to put up their Christmas lights much earlier, starting in early to mid-November. The survey also revealed that procrastination is real, with 3% of respondents saying they'd only decorate on Christmas Day.
The states that chose the first day of November as the most appropriate day to start decking the halls with Christmas lights are Florida, Nevada, Pennsylvania, Michigan, and Arizona. Black Friday was the marker decorating in Massachusetts, New Hampshire, Rhode Island, Ohio, and Illinois. But Missouri, Nebraska, Hawaii, and Tennessee said you have to wait until after the big retail holiday.
The largest volume of states that chose December 1st as the perfect day to hang their Christmas lights was California, Connecticut, New York, Washington, Texas, and several others. While just Alaska said that said the first week of December is the best time. While approximately 20% of people surveyed said that they plan to decorate during the week of Thanksgiving.
Speaking to NPR about the different holiday decorating trends, House Method's David Cusick said it's all a little wild. "Maybe they just want to get in the holiday spirit a little early," he told the publication. But he added that his wife probably won't let him get away with trying to hang up Christmas lights on December 25th either. Interestingly, the survey also found some differences by state, with 34 states believing that hanging up Christmas lights before Thanksgiving is too early.
People in Georgia said that October is the earliest they'd start decorating with Christmas lights. Meanwhile, NPR conducted a less scientific survey, asking Black Friday shoppers in Beacon, New York when they started preparing their homes for the holiday. "The day after Thanksgiving," Hakiem Simmons told the outlet. But he doesn't mind anyone starting sooner.
"I used to be a person who did not particularly like Christmas," he added. But as I get older and more festive, I have to capitalize on those days that I have. So I highly recommend whatever day feels comfortable for you and your family," he explained. Another shopper named Robin Cullen agreed that after Thanksgiving is preferable for Christmas lights.
However, another person interviewed by NPR, Daria Pugh, might be one of those last-minute decorators. "I feel like it's the day before Christmas is the best for lights," she told the publication. "It's not the best day, but that's when it happens." But those who start putting up lights later might enjoy them for longer than most. The House Method survey discovered that 4% of those quizzed, leave their holiday decorations up all year.
---