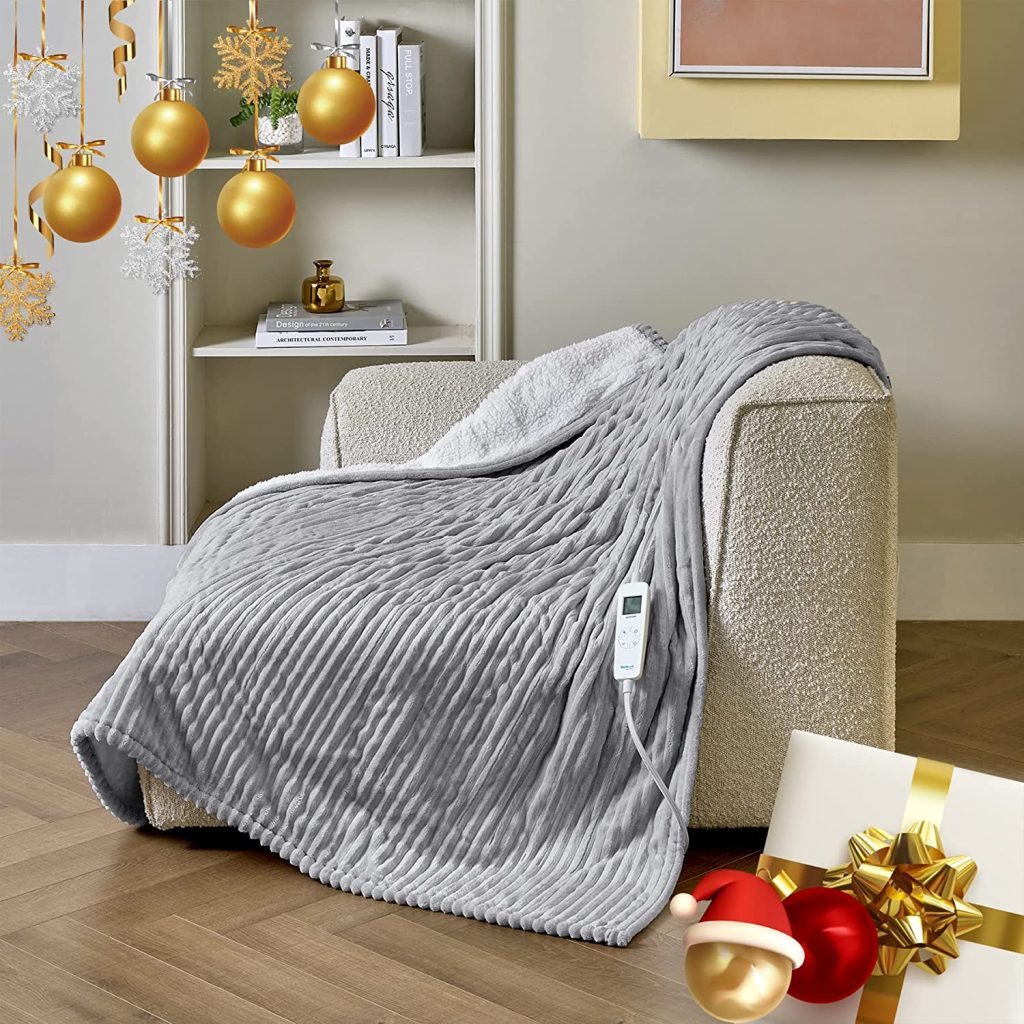 Two birds, one stone. With winter staring many of us in the face and Christmas right around the corner, the proverbial two birds can easily be taken care of with one quality electric blanket. An electric heated blanket is perfect for those wintery nights when all you want to do is cuddle up on the couch and watch Hallmark movies. They are also great for covering your bed to keep you mosty toasty at night.
It doesn't make a difference what size bed you own; electric blankets are made for any size. They are also made ultra-soft, so if you wish to simply wrap yourself up in one, the material will not be annoying. We are sure, if you are a newbie to electric blankets, you may have a few questions about wrapping yourself up in electricity and we don't blame you.
So, you're wondering just how these marvels of wintery delight work? Simple, they are electric, so they will need to be plugged into the wall. The blankets feature insulated wires that are tucked safely between the layers of fabric. The wires run through the entire blanket, heating it rapidly.
Now, with wires running throughout the blanket, just how safe are they? Well, for the most part, they are very safe. The recommendation, though, is to unplug the blanket when you are not using it. Most electric blankets found on the market these days have an auto-off feature. You will typically be able to set the timer on the blankets where they will automatically shut down after anywhere between two and 10 hours.
Another question you may be pondering is just how expensive it is to run electric blankets. Comparatively speaking, electric blankets are much cheaper than cranking up the volume on your house heater. As an example, let's say your blanket uses 200 watts if you leave it on for 10 hours. This equates to two kilowatt-hours. Depending on where you live in the U.S., that would cost you right around 20 cents. So, if wrapping yourself in an electric blanket at night also means you can turn the heat down, your winter savings may be quite noticeable.
One final question may include – just how do I care for my electric blanket? The number one thing you must first do before plugging in your warm friend is to read the blankets instruction manual and follow all use and care instructions. You should always keep your blanket spread out evenly and don't bunch it up into a ball. This creates hot spots and can even damage the wiring. As we mentioned, unplug the blanket when not in use, and if it isn't spread evenly across your bed, make sure it is folded neatly. If you happen to notice any brown spots on your blanket, refrain from using it immediately. The brown spots mean your blanket has probably overheated, causing those brown, burnt areas.
With all that in mind, let's get to the whacking of two birds. The good news with the electric blankets we are suggesting is that they are made for any size bed. We are showcasing the lowest price point, and this is typically for a twin-size bed. The bigger the blanket, the higher the price. Also, each blanket here is machine washable.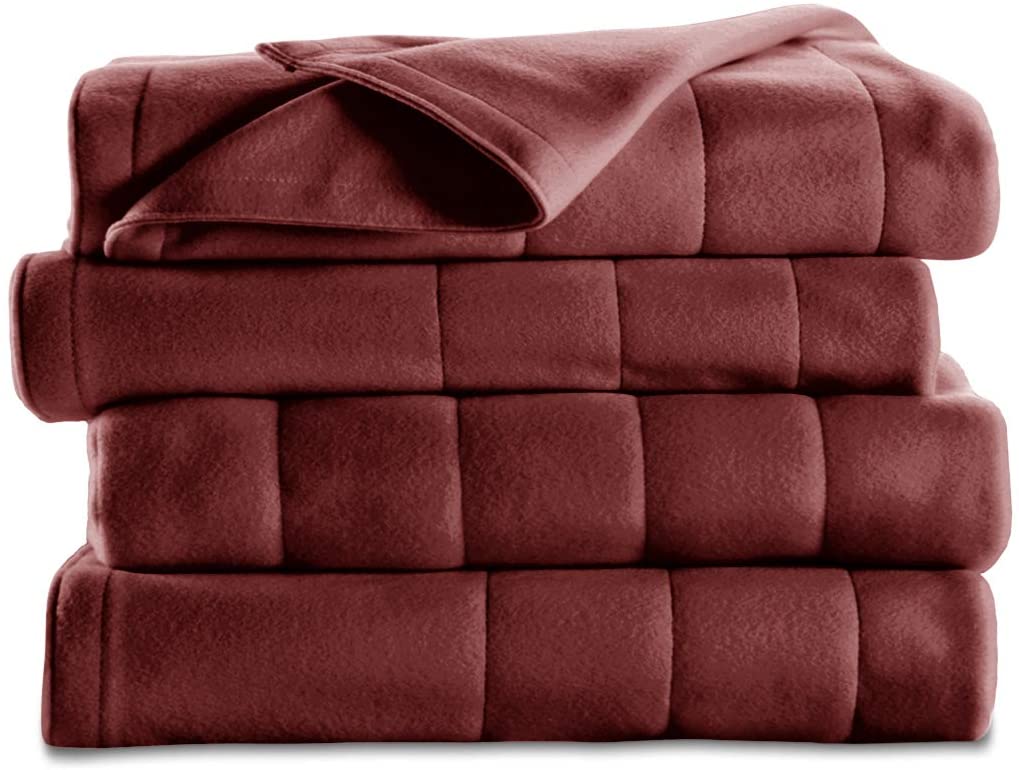 WHY WE LIKE IT – The Sunbeam electric blanket is made with soft, cozy fleece material, so you will be warm and comfortable throughout the night or as you relax on the couch. The blanket features Sunbeam's exclusive thermofine wiring that senses and adjusts the heat to give you consistent warmth.
Easy to care for as it is washing machine safe. You can even dry it on tumble dry low or simply hang it to dry. Comes in all four sizes – twin, full, queen, and king.
For those who love to adjust their temperature level, the blanket comes with five different heat settings.
PRICE – $54.97 on Amazon for a twin.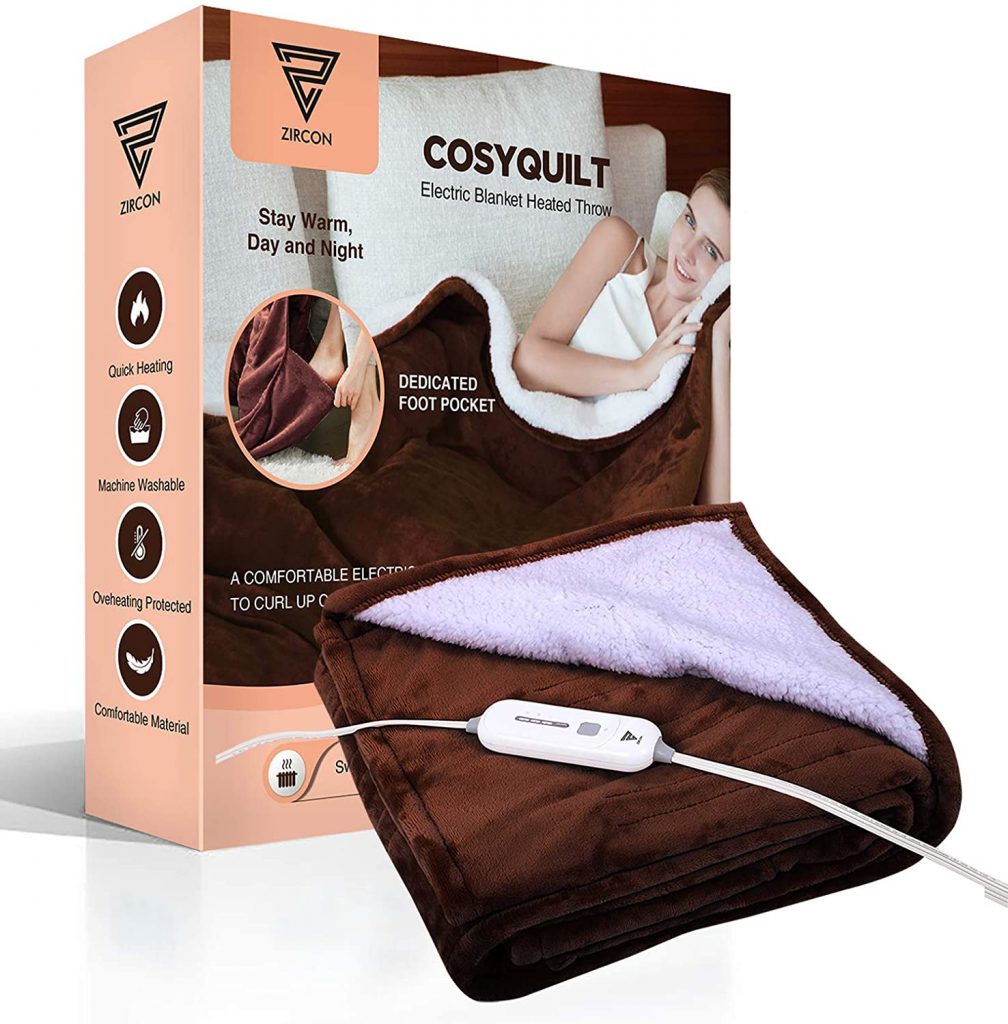 WHY WE LIKE IT – The first thing we noticed that was a major plus with this electric blanket is that it has a dedicated foot pocket to keep your toes warm and comfortable wherever you take the blanket.
The blanket also features a 2-hour automatic shut-off. Its perfectly placed power cord is six feet in length with a controller cord that is three feet long and can be placed conveniently out of the way. The blanket has 3 different heat settings.
The ONLY drawback to this blanket is that it comes in just one size.
PRICE – $44.99 on Amazon for a 50"x60".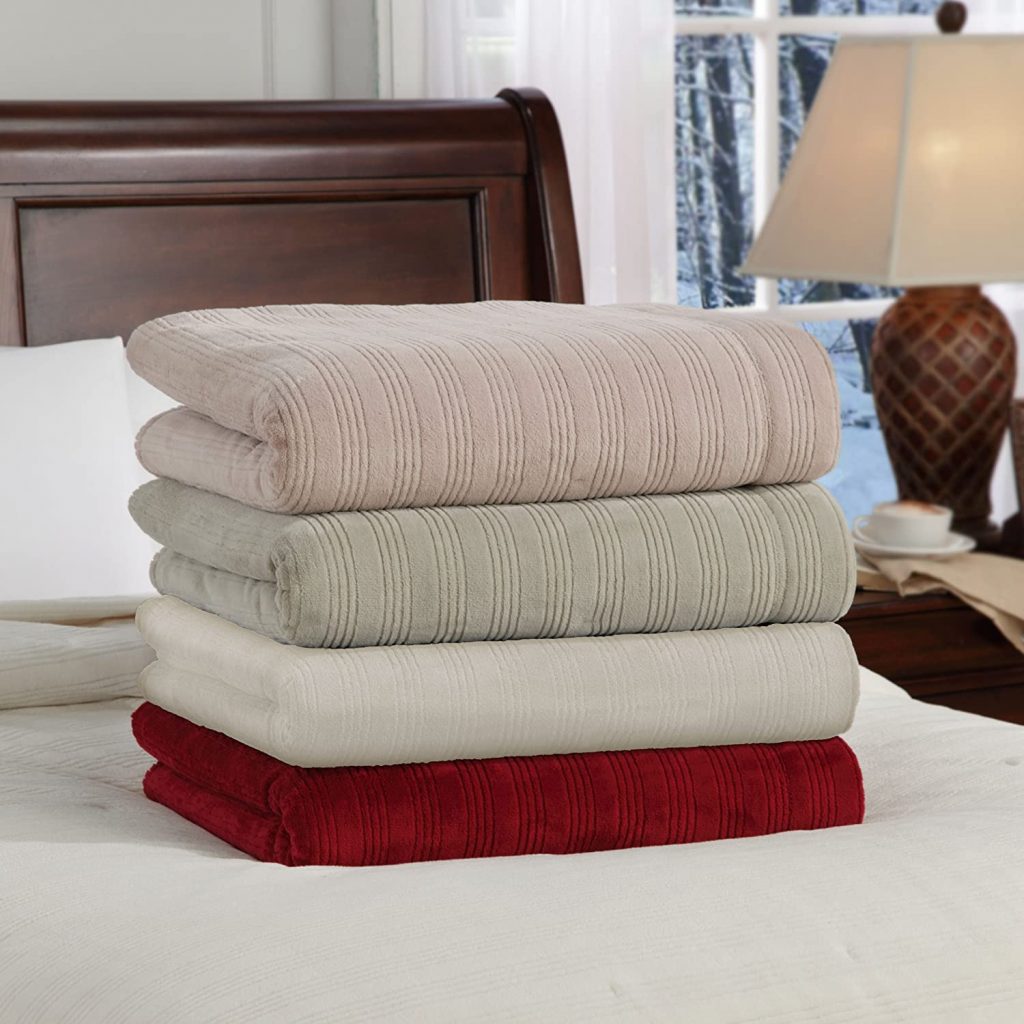 WHY WE LIKE IT – This blanket is made with incredibly soft micro-plush material for ultimate comfort. The blanket is also divided into two separate heating zones that come equipped with two separate controllers. These two zones only come in queen and king-size blankets.
With those controllers, you have access to 10 personalized heat settings. The blanket is machine washable and features wires that are 75% smaller than normal electric blankets, so you may never feel wiring again. The Perfect Fit will automatically shut off after 10 hours.
PRICE – $75.97 on Amazon for a twin.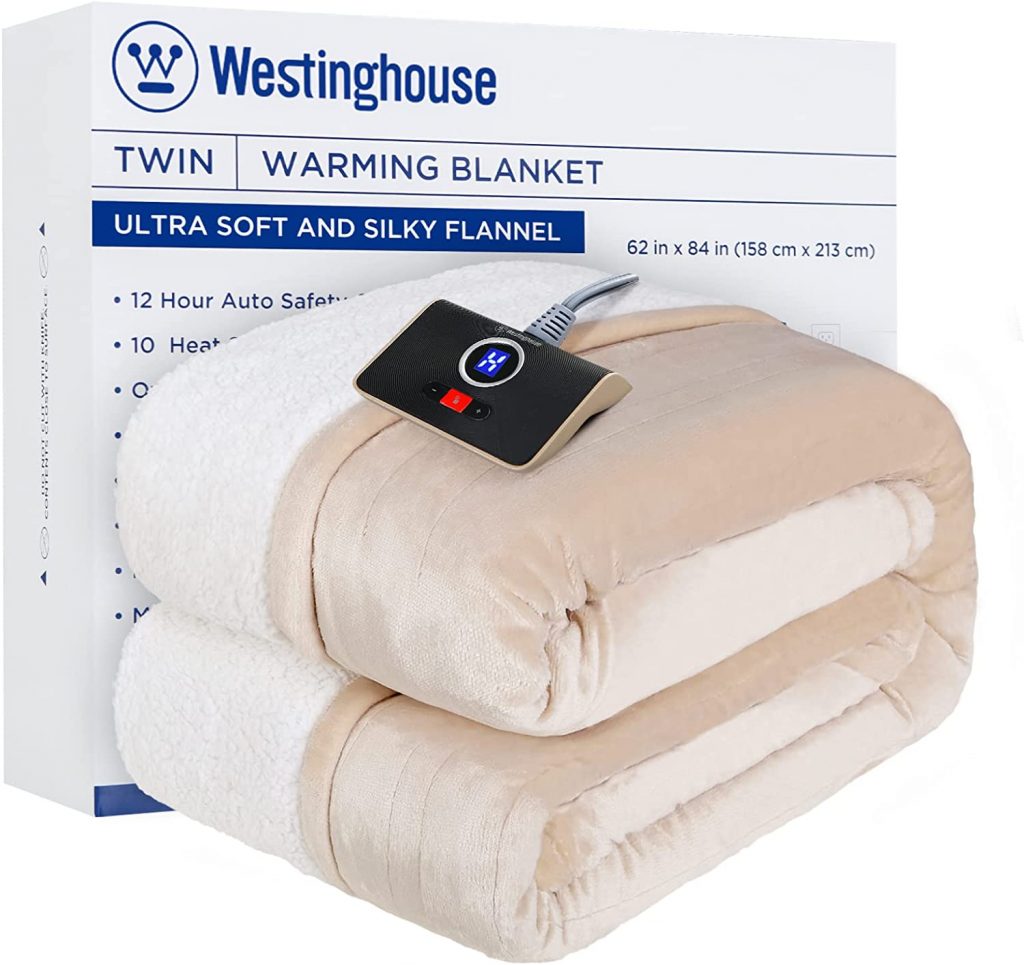 WHY WE LIKE IT – This blanket, made with flannel and Sherpa, heats fast for the ultimate in warmth and comfort.
The blanket features controls with 6 different heating levels that raise or lower in 5° increments. It heats evenly and has a 12-hour automatic shut-off for safety.
PRICE – $74.99 on Amazon for a twin.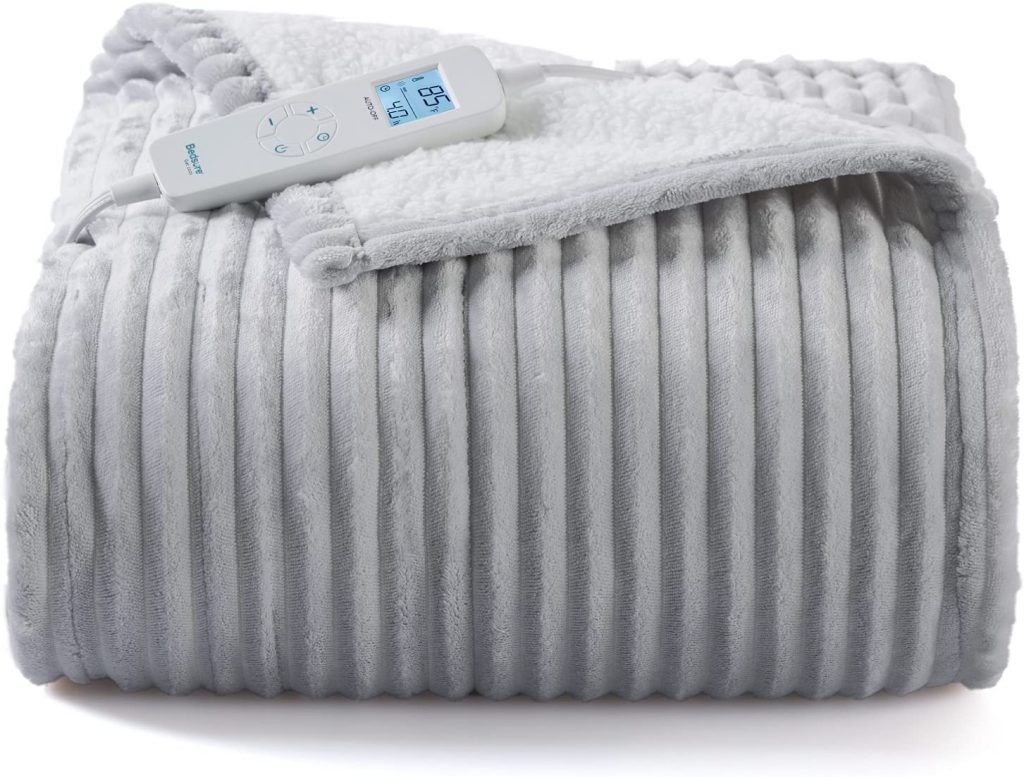 WHY WE LIKE IT – While this blanket can easily be placed across your bed, it is built for the comfort of moving around. The throw electric blanket is built soft and comfortable. It has 6 heat levels ranging from 85° to 110°.
Article continues below headlines
---
The blanket comes in two sizes (50"x60" and 62"x84") and has a 10-foot-long power cord allowing you to take it virtually anywhere. Machine washable, this blanket will automatically shut off by default after 4 hours of continuous use.
PRICE – $56.94 on Amazon for a 50"x60".
FINALLY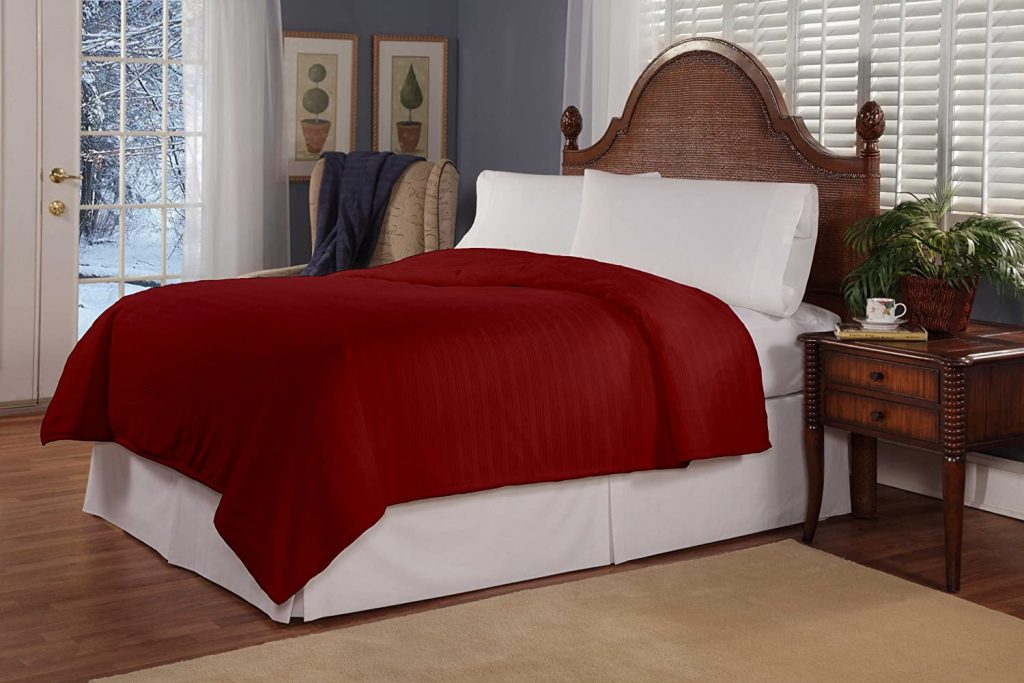 The benefits are many when it comes to opting for an electric blanket. You can save money and with most of these, in their larger sizes, the dual controllers allow for one side of the bed to stay warm while the other side resembles the pits of hell. You know who you are that prefer it that way.
So, why not let your significant other coo with scorching delight? You will only have to put up with it for three out of the four seasons (fingers crossed). Merry Christmas.