The best Sleep Pod options include the hooded version, the move, and the classic.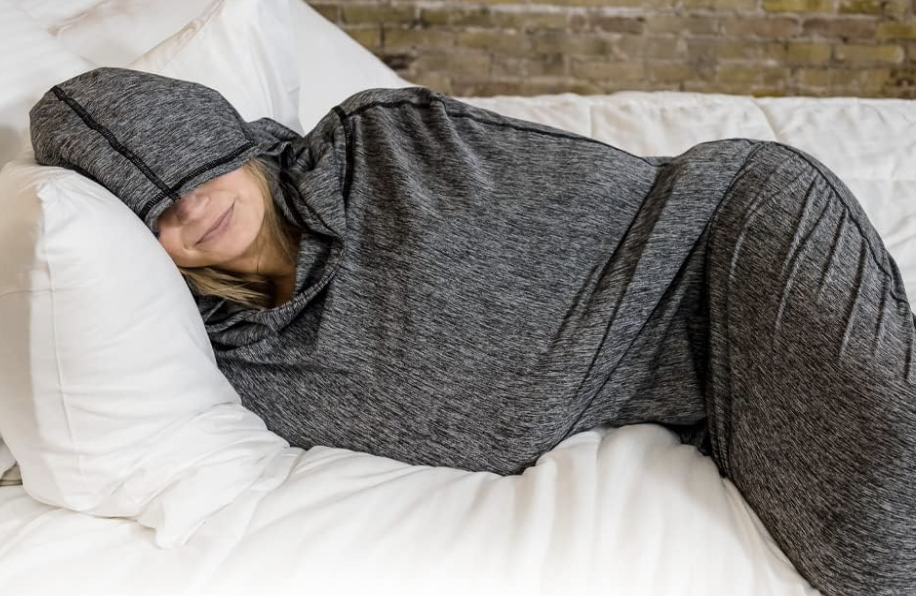 People spend around 230,000 hours sleeping during a lifetime; that's essentially a quarter of an average lifespan. Since sleep is such a vital part of life, humans are always searching for ways to improve their quality of sleep. One of the things that could enhance the quality of sleep is a Sleep Pod, a cocoon-shaped blanket that provides compression over the entire body.
Let's take a look at what we know about Sleep Pods, how they help, and some of the best options to consider when making a purchase.
A SLEEP POD AND A NAP POD ARE DIFFERENT THINGS
Let's break it down. A nap pod, sometimes referred to as a sleep pod, is entirely different from the option we are discussing here. The nap pod is a physical structure, usually a capsule or a chair-type structure, that is often found at airports, where people can sleep inside for a few hours.
Some large companies, like Google, provide nap pods at work for their employees to take a quick nap and enjoy some downtime. But if you don't work at a massive tech company, and want to have an affordable way to mimic some of the benefits, there are options out there.
SLEEP PODS ARE COCOON-LIKE BLANKETS
As mentioned above, a Sleep Pod is a cocoon-shaped blanket providing gentle compression. On Season 12 of Shark Tank, Mark Cuban and Lori Grenier made a deal, and this product came to be. This revolutionary product is made in the United States. It utilizes a patented technology, making this product one of a kind and totally unique.
They are made from a lightweight, buttery soft fabric. The fabric is flexible with a four-way stretch. While it provides a soothing compression, the material is still flexible and moveable. Sleepers can rest in complete comfort, as the pod is temperature regulating and does not trap heat inside the breathable fabric.
Using a Sleep Pod is easy and straightforward. Once lying in bed, just slip the uniquely designed compression blanket over the body, from the feet up. Users have the option to decide how far they want to pull it up the body.
Some users find that pulling the blanket up to about their chest is comforting, and others may pull the pod all the way up to cover the shoulders. Either way, users can decide and feel for themselves what feels best and even alternate back and forth.
IT IS LIKE A BABY SWADDLE AND SIMULATES A HUG
The product is based on the science of Deep Touch Pressure Therapy. Similar to a newborn baby being swaddled, a Sleep Pod provides calming and gentle compression to the body that feels similar to being hugged. This feeling helps to reduce anxiety and prepares the body for sleep. By assisting the body and mind to relax by simulating a hug, people can fall asleep faster and sleep longer.
A usual hug has many benefits. Some benefits of hugs include reduced fears, pain reduction, boosted heart health, immune system boost, stress reduction, and more. Sleep Pod users may experience the same benefits since the pod mimics this interaction.
THE BEST SLEEP POD OPTIONS
The Sleep Pod is available in a few different styles that all differ in price. Prices vary from $109.99 to $149.99 on the company's website. There is also a Hug Sleep store on Amazon, from the same manufacturer that sells the pods from $87.99 to $109.99. The varieties include Classic, Move (available in adults and kids sizes), and the Hooded Move.
Hooded Sleep Pod Move – $109.99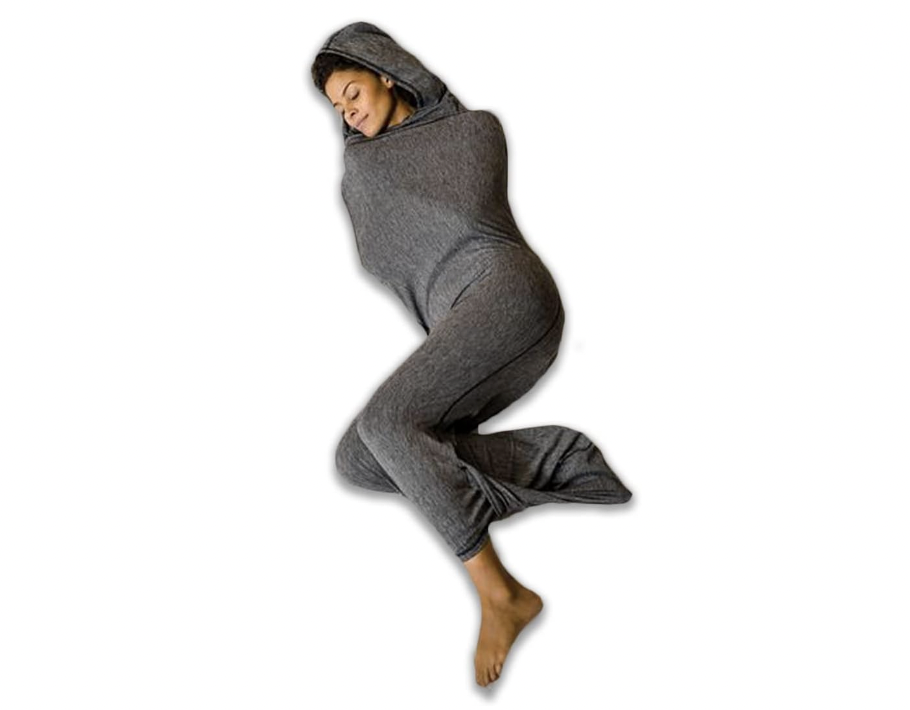 This is the ultimate version of the Sleep Pod and provides head-to-toe comfort and support. The hood provides extra comfort, security, and warmth. The bottom of the pod has a slit which gives total freedom and mobility of the feet, allowing users to remain snuggled up or to have their feet out.
This model is available in sizes Small – X-Large, which is ideal for sizes 00 – 32. No matter if you are a side sleeper, stomach sleeper, or any other type of sleeper, the Sleep Pod provides comfort and support in every position.
Move Sleep Pod – $90.99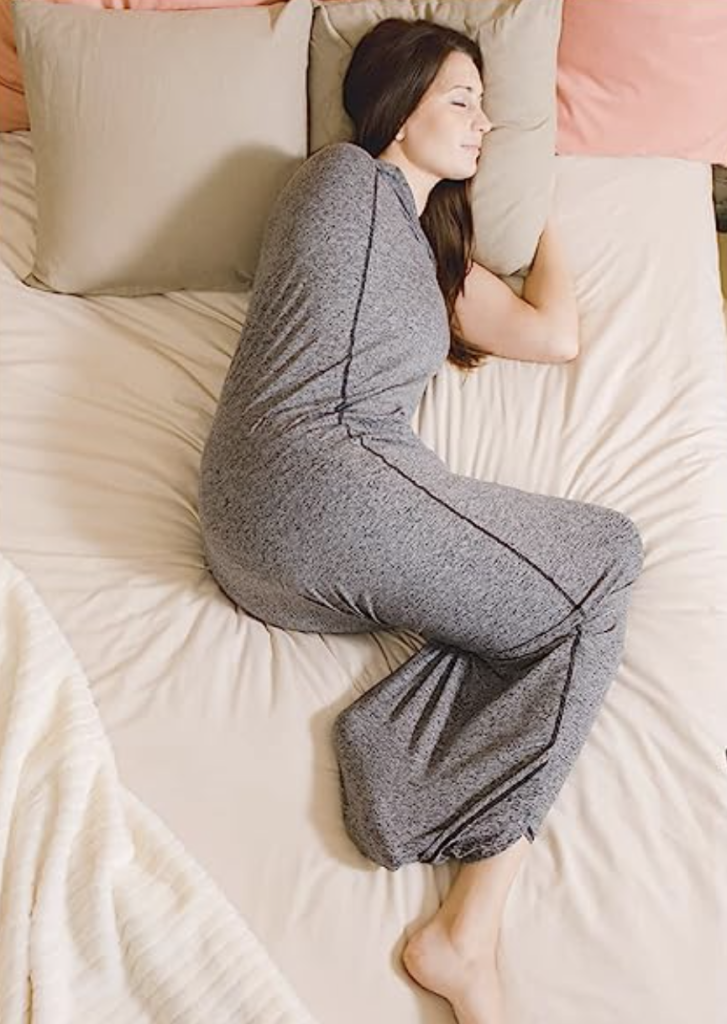 The Move Sleep Pod features an open bottom, similar to the hooded version. The difference between the two is the hood, or lack thereof, in this case. The Move allows users the flexibility to kick a foot out, maybe both, or stay swaddled up in their relaxing cocoon. The cutout even gives users enough freedom to get up and walk around without having to come out of the pod.
This particular model is available for adults in sizes small, medium, large, and extra-large. Additionally, there is a version available for tweens, approximately size 10-14, and kids sizes 7-10. Essentially, everyone in the family can enjoy the soothing effects of a hug while sleeping.
Classic Sleep Pod – $87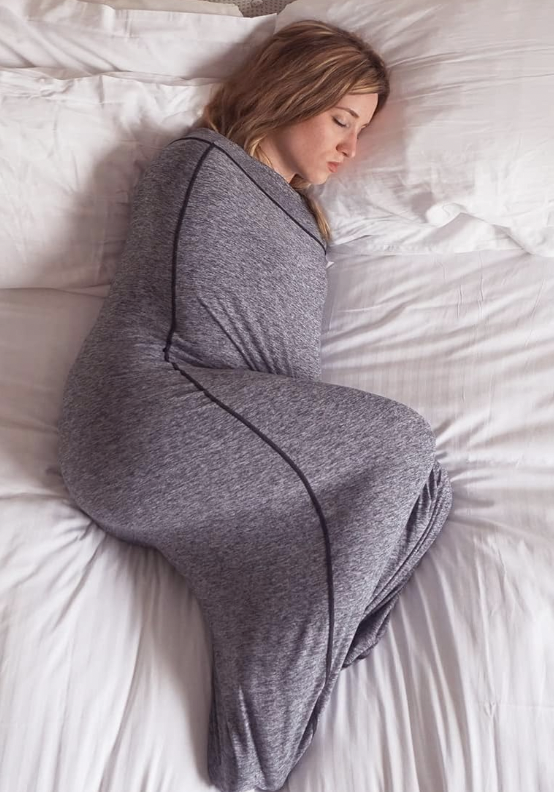 The Classic Sleep Pod is the original version of the groundbreaking product. The Classic is a simple cocoon-shaped compression blanket without a hood or slits at the bottom for feet and legs to come out. This version is available in small, medium, and large, which translates to a women's size 00-22, or men's size 22-inch waist to 42-inch waist.
Each one is machine washable. It is recommended to turn the compression blanket inside out and wash it in warm water. Additionally, the pod can be tumble-dried at a medium heat setting. Being machine washable is super convenient, adding to the functionality of this fantastic product.
A 100 percent guarantee backs all options. Customers have the option to sleep with the pod for a full 30 nights to ensure that it is the product for them. The company recommends a minimum of 10 days to test the product, as old sleep habits die hard. It may take some getting used to the feeling of the Deep Touch Pressure Therapy that is designed into every pod.
Sleep Pods are constructed from all ethically sourced materials and proudly hand-made in the United States. All pods are made from the specialized four-way stretch fabric that provides a soothing compression. No matter which option one chooses, whether the Classic, Move, or Hooded, there isn't a wrong choice.
---