Kering is who owns Gucci, having purchased a controlling share in 2004 for $8.8 billion.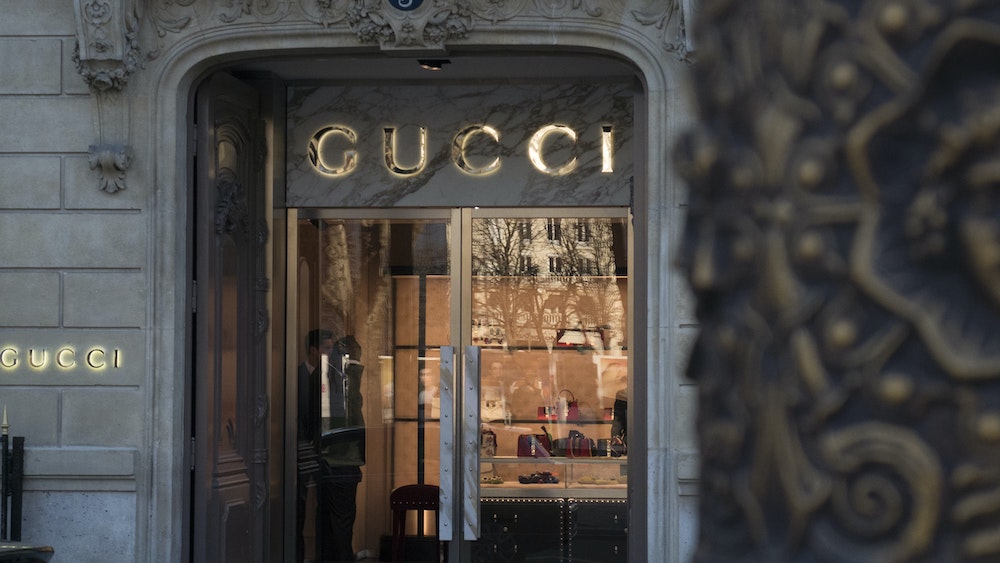 Without a doubt, Gucci is one of the best-known and most popular of all the luxury labels across the globe. Although a wildly popular luxury brand, the name has been through it all, from numerous family feuds, takeover attempts, near bankruptcy, and public listing. There was even a murder that became the impetus for the 2021 Ridley Scott film – House of Gucci – starring Lady Gaga, Jared Leto, and Adam Driver. Here, in 2022, people want to know just one thing – who owns Gucci?
FRENCH CONGLOMERATE KERING IS WHO OWNS GUCCI

The easy answer to the who owns Gucci question is: Kering, a French-based multinational corporation. They completed a total buyout of Gucci in 2004, worth $8.8 billion. But the path to Kering owning Gucci was not an easy one and there were many battles along the way.
Strangely enough, the one group Kering didn't have to fight was the House of Gucci, as they relinquished the rights to their brand many years back.
WHO OWNS GUCCI STARTED IN 1921 WITH GUCCIO GUCCI
In 2021, the Gucci brand celebrated its centenary, marking the 100-year anniversary of who owns Gucci. Guccio Gucci opened the first Gucci store in 1921 in Florence, Italy. As the story goes, Guccio got his inspiration while working as a bellboy at the prestigious Savoy Hotel in London. There, he'd always be impressed by the aristocrats arriving with their luxurious suitcases and trunks.
The business didn't jump right away for Guccio and when the League of Nations issued an embargo on Italy in 1935, Guccio was forced to find alternatives to the imported leather he was using for his products. From that, Guccio developed a special woven hemp out of Naples, Italy, that eventually became the material for the brand's first successful suitcase.
It was Guccio's son, Aldo, who gets most of the credit for turning who owns Gucci into the name it is today. After World War II, leather was back in production, and it was Aldo who brought the leather to Gucci and it became the house's signature material. It is thought that during this time, the very first bamboo-handled bag, which was inspired by the shape of a horse saddle, was produced.
It wasn't only Aldo, though, who was part of the family who owns Gucci. Guccio and his wife Aida had two other sons besides Aldo – Vasco and Rodolfo. Another name that would become important for many wrong reasons was Maurizio, who was born in 1948 to Rodolfo and his wife, Alessandra. Still, it was Aldo who truly put the Gucci name on the luxury map.
The Gucci name was growing and in 1951, Rodolfo opened the very first Gucci store in Milan. It was around that time that the green-red-green web became a Gucci hallmark. It was also around this time that Aldo knew if they truly wanted to be a global name, they would have to extend business outside of Italy.
Two years later, in 1953, Aldo Gucci opened the very first Gucci store in the United States. This was on East 58th Street in New York, at the fabulously ritzy Savoy Plaza Hotel. Money met money at that establishment. Sadly, only 15 days after the grand opening of the Gucci store at the Savoy Plaza, Guccio Gucci passed away at the age of 72.
While the loss was tragic, Aldo forged on. First, the Gucci house's crest got its trademark in 1955, and in 1961 the expansion was in full swing. Stores opened in London and Palm Beach, Florida, and Jacqueline Kennedy, wife to President John F. Kennedy, was seen with a Gucci bag, that was eventually renamed the "Jackie."
Up to this point, the Gucci brand revolved strictly around luxury luggage items. But once the '60s came, Gucci stepped out and on top of its bags, leather goods, and luggage, they began to manufacture clothing as well. Gucci was still family owned at this time.
Aldo was still intent on growing the brand, so in 1971 a store was opened in Tokyo. At that same time, Maurizio Gucci took himself to New York to help run the family business with Aldo. This is also when Gucci started to become the "it thing" in fashion, as Aldo opened a store on Fifth Avenue in New York that was strictly dedicated to clothing.
GUCCI CHANGED IN 1983 WHEN MAURIZIO GUCCI TOOK OVER
By the early-80s, Gucci remained a family-owned business, but the leadership of the business was handed over to Rodolfo. In 1983, Maurizio took over as the leader of the business and had his work cut out for him. The Gucci name was starting to fall dramatically, losing most of its once-famous luster as its "luxury" bags were being likened to cheap, duty-free bags.
In 1989, Maurizio decided it was time to shake things up in order to get the Gucci name back to the top. So, he teamed up with Investcorp, a Bahrain-based asset management and investment banking company, which purchased 50 percent of the Gucci family shares. Aldo was the last one to reluctantly sign off on the deal.
MAURIZIO GUCCI WAS KILLED IN 1995
Although Investcorp took their 50 percent, when it came to who owned Gucci, Maurizio was still in charge of the day-to-day. He brought in Dawn Mello to help jumpstart the Gucci brand. At the time, Mello was the president of Bergdorf Goodman and with her, Mello brought along Richard Lambertson, who was the head of Bergdorf Goodman's accessories department. Tom Ford joined the company to run the women's ready-to-wear department.
None of these moves paid off for Maurizio Gucci. The retail market took a massive downturn in the early 1990s, so in 1993, Maurizio made the historic decision to transfer all of his Gucci shares to Investcorp. This officially ended the Gucci family's involvement with its brand.
On March 27, 1995, Maurizio Gucci was coldly gunned down in front of his Milan office. For almost two years, the identity of his killer was unknown, until it was revealed that Patrizia Reggiani, ex-wife to Maurizio, had hired a hit man to do away with her husband.
Investcorp remained the sole owner of Gucci and appointed Domenico De Sole as its CEO. Tom Ford was the Gucci creative director and together Dom and Tom brought Gucci back from the brink of irrelevance to the luxury brand they once had been. No longer was Gucci considered a cheaper brand and it again became the brand name everyone, especially Hollywood A-listers, wanted to own.
WHO OWNS GUCCI – LVMH ATTEMPTED A TAKEOVER
Dom and Tom's success brought about the interest of Prada, who immediately jumped in by purchasing a 9.5 percent stake. Who owns Gucci was an oddly-timed question then when over a 10-month period, from June 1998 through March 1999, LVMH, which is Moët Hennessy Louis Vuitton, led by then CEO Bernard Arnault, began to snap up shares of Gucci, enough so that they eventually reached 34.4 percent. Once they hit that point, LVMH attempted a takeover of Gucci, which failed.
The battle was on and it was brutal. Both companies went to court in the Netherlands, trading lawsuits. As things began to look bleak for Gucci, riding to their rescue was François Pinault, the French rival of Arnault. Gucci was purchased by Pinault, which was then called PPR.
More lawsuits followed, but ultimately, PPR won out. After PPR foiled Arnault's takeover bid, they then changed their name to Kering. It has been that way ever since when it comes to who owns Gucci.
---
Since taking over who owns Gucci in the early 2000s, Kering has not rested on its laurels. Yves Saint Laurent, Balenciaga, Bottega Veneta, Alexander McQueen, Stella McCartney, Boucheron, and Bedat were brought (or bought) into the fold. Today, Gucci remains Kering's top brand, bringing in over $9.7 billion in 2021.
The names of those in charge of the Gucci brand have changed over the years. Dom De Sole and Tom Ford have moved on and others have taken their place. Although not one Gucci family member is part of the brand anymore, the name continues to thrive.
---