RokBlok is a wireless, portable vinyl record player that retails for $99 on the company website.
Over its 14 seasons, the popular television show Shark Tank has backed many well-known products. From apparel brand Bombas to Breathometer and Manscaped, and what is considered Shark Tank's highest revenue product, the Scrub Daddy. Shark Tank has made many happy entrepreneurs. One of these happy entrepreneurs is Logan Riley, who took his idea for RokBlok to the "sharks" to see if he could get any bites. He did.
ROKBLOK IS A PORTABLE VINYL RECORD PLAYER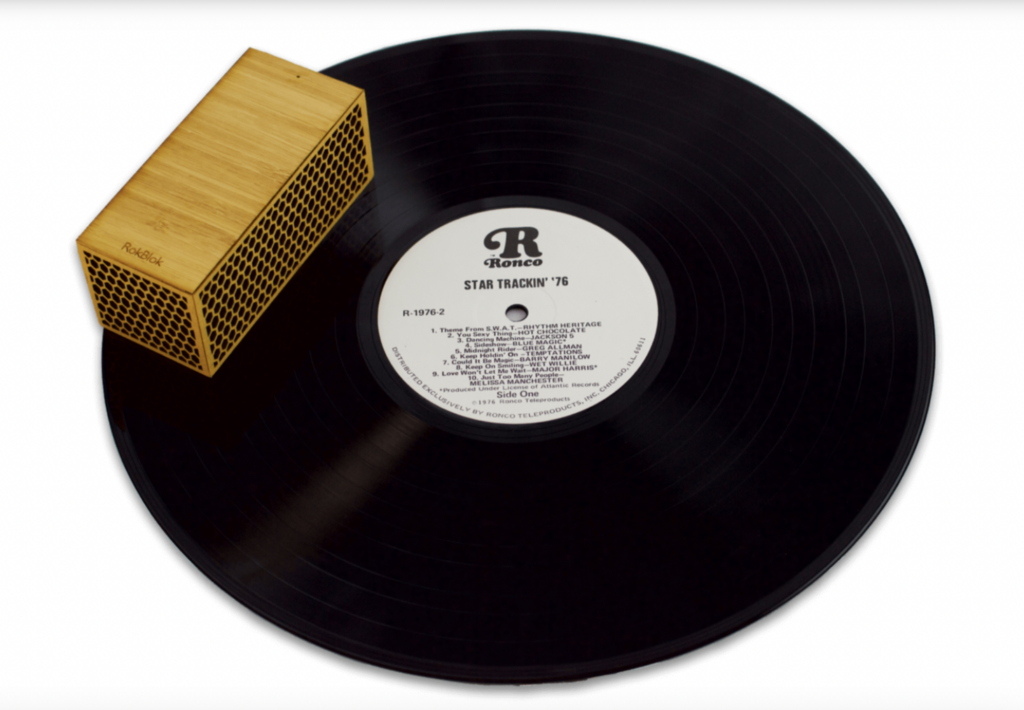 If you are a vinyl album lover (and they have certainly made a return to form) then the RokBlok might be right up your alley. The device is billed as the very first of its kind – a small portable "blok" that sits on top of albums until you touch the blok's lever.
After that, the blok moves around the album, much like an album spins on a turntable, playing the music, which can be heard coming from the blok's analog speaker.
What makes the RokBlok unique, though, is that the device can also pair with any Bluetooth speaker or headphones as far as 30 feet away. So, if the RokBlok sits on top of an album, how does it get its power? Well, the RokBlok can be charged, like many electronic devices, and will play up to four hours of rockin' fun on a single charge.
Now, for all of you vinyl-heads out there, you may be wondering just what type of records the RokBlok plays. Well, if you have singles, EPs, and even LPs, you are in luck with this device. The RokBlok will play all of your 45s and 33 1/3s.
You also might be wondering just how this device works, especially if it can sit on top of 45s and play them seeing as that 45 RPM records are not very wide. Well, the RokBlok measures in at a tiny 4 x 2 inches long. So, basically, wherever you can find a flat surface to set your album collection down, the RokBlok can play it.
On top of its compact features, the RokBlok has a bamboo and MDF construction, making it very lightweight. The device also has rubber wheels that are completely vinyl safe and a diamond-tipped needle that will play music like it was meant to be played.
THE ROKBLOK COSTS $99 BUT IS CURRENTLY SOLD OUT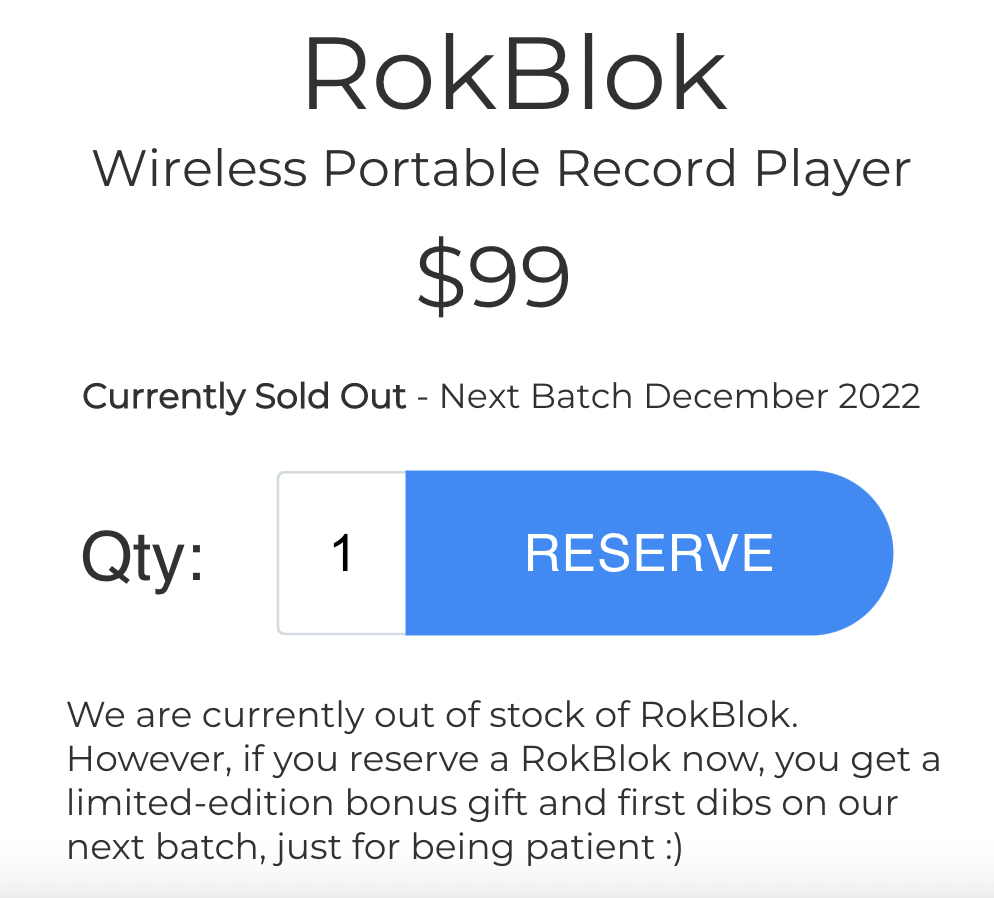 As you might imagine, the RokBlok is a popular item. The RokBlok website sells the portable record player for $99.00, but if you venture over to the website, you will see that it is currently sold out.
The next batch won't be available until December and while no specific December date has been given, the makers say you can reserve your RokBlok and if you do, you will not only get first dibs on it, but they will also throw in a limited-edition bonus gift. Patience is a virtue.
ROKBLOK'S FOUNDER IS LOGAN RILEY
The RokBlok is the brainchild of founder Logan Riley. Before RokBlok became a thing, Riley wore a few different hats. From 2007 through 2021, Riley worked for Apple as a Creative Education Lead. Riley bounced around after that, becoming a Manager at Fuze, Inc. and then a Lead Instructional Designed at Pandora.
In 2015, Riley became the founder of Pink Donut, an idea company. According to the Pink Donut about us page, their "sole purpose is to create for the sake of creating and to share our creations with others." The RokBlok was born at Pink Donut.
LOGAN RILEY APPEARED ON SHARK TANK TO PITCH THE PRODUCT
Logan Riley took his idea to Shark Tank on the 13th episode of season 9 (December 2017). He was there looking for a $300,000 investment for 15 percent equity. The "Sharks" that day were Mark Cuban, Barbara Corcoran, Robert Herjavec, Kevin O'Leary, and Lori Greiner.
Riley appeared to impress the Sharks with his RokBlok but as they began to discuss it, the potential investors started to drop out. Greiner told Riley that she was "really on the fence" about his product, but it was Herjavec who stepped forward, telling all that he was "not on the fence."
He explained to Riley his attraction to the RokBlok, saying he thought the design was beautiful, and he also thought that it would be a slow burn, meaning it was going to catch on over time, not sell millions right out of the gate, but instead the product would sell for a long time.
Herjavec kept it real with Riley telling him that while he feels Riley is a "great design guy" he feels that Riley would simply move on to his next idea. So, he presented Riley with a new offer that Herjavec called "a little bit different." He told Riley to sell it to him.
Herjavec told Riley he would pay him $500,000 for 100 percent of RokBlok. He then added in that he would hire Riley for two years with a six-figure income and on top of that, Riley would also be paid a royalty of $5 per unit sold. Riley didn't wait long to take Herjavec up on his offer, one in which you can see the entire interaction below.
SHARK TANK GAVE ROKBLOK AN INCREASE IN SALES
Riley was quick to point out that the biggest difference he saw after the airing of the 2017 episode was the massive increase in website traffic and orders. "Orders went from three to five units a day to around 100 to 200 units a day after the segment aired," Riley explained to Business 2 Community. "To keep up with the demand, we were able to grow our team to help support our customers, manage our day-to-day needs, and to ensure better quality control checks of RokBlok as they leave the factory."
While the sales continue to be impressive with Riley's RokBlok, he knows there is more business to be had. "We have started to partner with musicians and other organizations for all sorts of fun projects. We are looking to help continue finding new ways to showcase both RokBlok and the resurgence of vinyl in popular culture."
---
Riley's RokBlok isn't the only product Shark Tank has turned a profit on and America isn't the only place enjoying the benefits of Shark Tank. Not only can you follow Shark Tank here in the United States, but the show also has international appeal.
It is seen in a number of other countries, with their own version of the show, in places like Nepal, India, Australia, Mexico, Columbia, Vietnam, Thailand, and Malta, turning aspiring businessmen and women into wealthy businessmen and women.
---