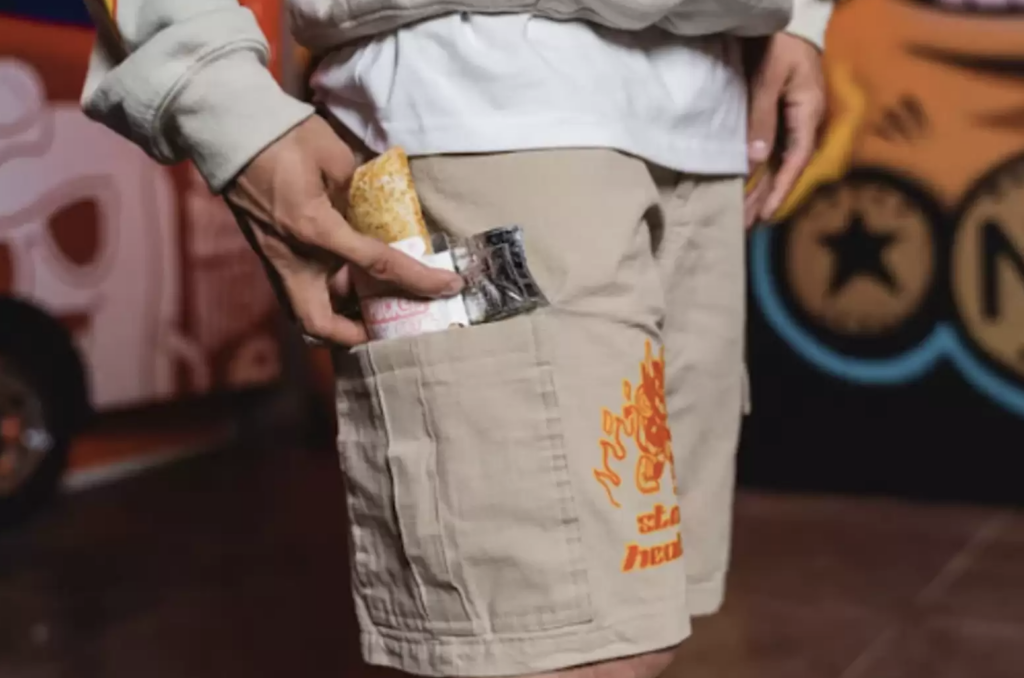 Food-related merchandise is always a hit with its niche target market as folks have been introduced to some very unique offerings. Cheetos Mac 'N Cheese created the "Fanny Mac" fanny pack designed to hold a single-serve cup of the delicious snack. And Kraft Mayo teamed up with Juicy Couture to design "The Smooth Lover's" tracksuit. Now, Hot Pockets has developed a range of shorts that promise to keep the wearer looking cool, while keeping their food hot.
Created in collaboration with Columbus Fashion Alliance, the exclusive Hot Pocket khaki shorts feature an insulated pocket designed to keep Hot Pockets warm and toasty. The design includes a label that says "hot" along with the words "insert sandwich here." The pocket on the other side is marked as "cold." According to Food&Wine, the front also features an image of a cartoon devil saying, "Stay heated."
To complete the look, the Hot Pockets shorts come with a matching hoodie that says "irresistibly hot" on the front and "hotter in the Wild West" on the back. It also boasts a fiery devil and flames on the sleeves. Speaking about the food-themed merchandise, the brand's marketing manager Bryan Waddell said wearing shorts in winter is an unexpected, bold fashion choice and the company saw a way to bring the heat with their creation.
"We teamed up with Columbus Fashion Alliance not only because we believe in their mission but because we knew they could help bring our consumers a functional item with an undeniably hot design," Waddell added in a press release. The organization markets itself as a collective of creatives who are passionate about the fashion industry in Columbus, Ohio. And they were very excited to collaborate on the Hot Pockets shorts.
"Our team is driven by a passion for elevating up-and-coming fashion minds and celebrating unique ideas," Director of Columbus Fashion Alliance Yohannan Terrell said. He added that teaming up with Hot Pockets to create the limited-edition shorts is an opportunity to highlight CFA's creators and artists on a national scale, all while designing clothes that are not just fashionable, but functional too.
The very unique Hot Pocket shorts will go on sale from December 12th. They will be available in sizes small through extra-large, in a men's apparel cut at no cost while supplies last. As an extra bonus, the apparel comes with a coupon for one Hot Pockets sandwich.
Developed by Paul and David Merage, Hot Pockets generally contain one or more types of cheese, meat, or vegetables. The brothers invented the packaging sleeve and dough formula to keep its calzone-like sandwiches crispy when cooked in a microwave. In 1980, decades before Hot Pocket shorts, their company, Chef America, introduced its first stuffed sandwich called the Tastywich.
Three years later, Hot Pockets replaced the Tastywiches and were sold to restaurants because they were an easier market to break into than retail stores. Then in May 2002, Chef America was sold to Nestlé after the products became a $2 billion category of frozen sandwiches and snacks. Breakfast-style Hot Pockets were introduced in 2001 and 21 years later, fans can treat themselves to the brand's exclusive shorts.
---