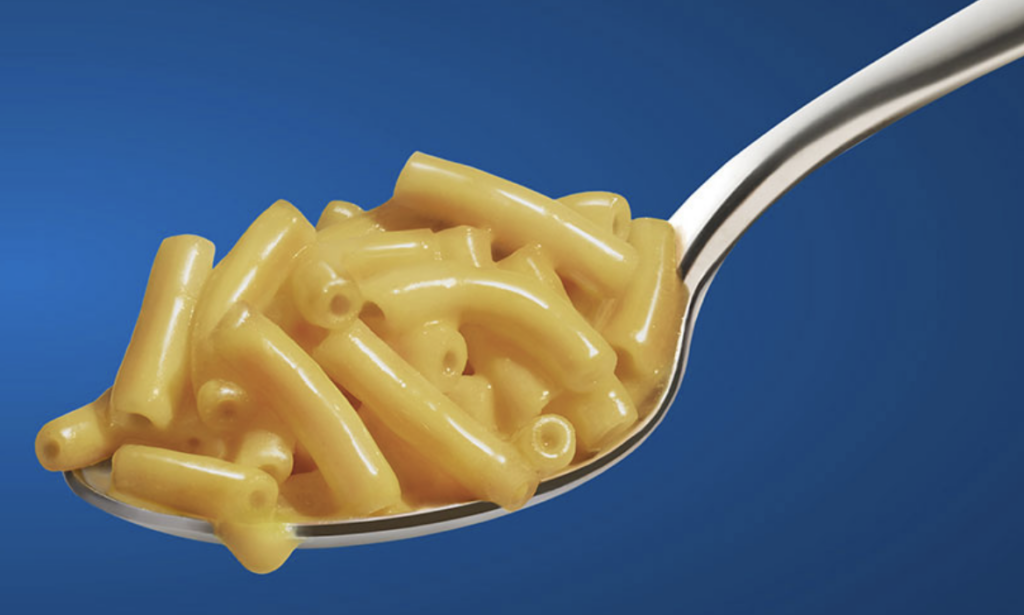 After 85 years, Kraft Macaroni and Cheese is changing all aspects of its brand identity. Along with an updated logo, color, typography, photography, and iconography, the packaging will now read Kraft Mac & Cheese. The iconic blue box now features a single shade of blue and amplifies the food company's most recognizable asset – the noodle smile. It promises to be even more delicious and dripping with creamy, cheesy goodness.
Speaking about the Kraft Macaroni and Cheese update, the food giant said the change is meant to reflect the way fans organically talk about the product. The brand's new identity aims to evolve products to distinctively embody what positive comfort looks like. "Noodlefuls of delight that lifts you and makes you happy inside and out," the press release describes. The changes also were inspired by the people who believe that comfort is crucial to feeling good, and who love a helping of delicious food to warm their hearts and satisfy their nutritional needs.
Explaining the reasons behind the new-look Kraft Macaroni and Cheese, Kraft Mac & Cheese Brand Manager Victoria Lee said, "We know that people aren't turning to comfort food as a guilty pleasure. They are positively embracing comfort, saying yes to feeling good, and saying yes to caring for themselves." Elaborating further, Lee said the product has something familiar, comforting, and positive that makes it special to millions of people around the world. And the rebrand is a reflection of what the product means to consumers.
Interestingly, this isn't the first time that Kraft made changes to its Macaroni and Cheese product. Although it was only the contents of the box that was altered, Today Food reports. In 2016, the company quietly updated its recipe, removing artificial preservatives and dyes and replacing the latter with paprika, annatto, and turmeric. The food giant even sold 50 million boxes of its new recipe before announcing the change in a cleverly designed marketing campaign.
Kraft's Macaroni and Cheese revamp is just the latest in a slew of other food brands streamlining their product and company names. This included Jamba dropping the "Juice" from their title, Dunkin' ditching its "Donuts" moniker, and KFC opting to use the acronym for Kentucky Fried Chicken. And fast-food outlets aren't the only entities keeping this trend alive. Weight Watchers shortened its name to WW to signal a shift toward wellness. It seems like the iconic blue box brand is just following suit with a more significant industry trend.
According to Food & Wine, Kraft's new-look Macaroni and Cheese will appear across the company's social channels and website this summer, while the packaging will start to hit shelves in August. Regardless of how the name is spelled, it's pretty clear that the popularity of America's favorite comfort food will remain constant. Meanwhile, the Kraft Heinz Company recently partnered with British nail polish brand Nails Inc to create a limited-edition set of two cheese-scented nail polishes. The collaboration includes two shades, a bright red called "Finger Food," and a creamy yellow color named "La Dolce Velveeta," CNN Business reports.