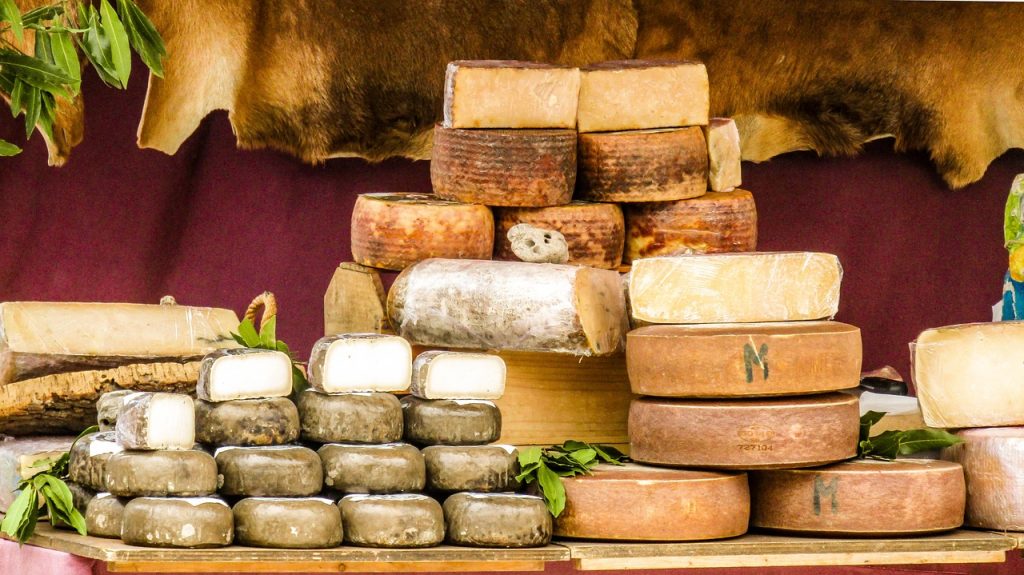 When food lovers grab a block of Parmesan cheese in the United States, most know it's not the genuine Italian stuff. But artisanal cheesemakers (like Kraft Foods) still manage to create high-quality products inspired by the original Parmigiano Reggiano brand. While these generic products are allowed outside Europe, cheese fraud is still a serious problem for producers. Now, the consortium has teamed up with Kaasmerk Matec and p-Chip Corporation to put tiny, food-safe trackers in legitimate wheels of Parmigiano Reggiano.
The Consorzio del Parmigiano Reggiano announced its cheese partnership with Kaasmerk Matec (a leading producer of casein cheese marks) and p-Chip (a creator of digital tracing technology) in late March. Together, the companies will launch a line of food-safe and secure traceability digital labels for its Parmigiano Reggiano cheese wheels. The new tracker technology will deliver previously unseen levels of traceability. It will also assist with product authentication, quality assurance testing, product serialization, consumer safety, as well as inventory tracking and control.
Speaking about the collaboration, CEO of p-Chip Corporation Joe Wagner said his company is pleased to partner with a leading global cheese brand like Consorzio del Parmigiano Reggiano. "By integrating p-Chip micro transponders into Casein tags, CFPR can better control its inventory, protect and differentiate its products against look and sound-alike brands and have access to unmatchable track-and-trace technology in the case of recalls or other issues," he said in the press release. He is also excited to see the cheesemaker realize the full potential the technology holds for their business.
According to Food & Wine, the new smart labels will be added to 100,000 Parmigiano Reggiano cheese wheels in the second quarter of 2022 as a final testing phase. After that, the company will decide whether to make this groundbreaking tracker technology a permanent part of the production process. Interestingly, Parmigiano Reggiano wheels have already featured a unique alphanumeric tracking code for the past two decades.
But now, the cheese giant has tested embedding p-Chip micro transponders into the casein label. The innovation combines food-safe Casein labels with the p-Chip micro transponder. This is a blockchain crypto-anchor that creates a digital twin for physical items. This new cheese tracker tag is smaller than a grain of salt, highly durable, and can be scanned to deliver next-generation visibility and traceability. Moreover, by being the first to incorporate this technology, Parmigiano Reggiano can continue to ensure consumers of their product's authenticity.
If you're wondering why so much effort is being used to develop cheese trackers, here's a little background. Like many European products, real Parmesan cheese has a protected designation of origin. And according to the Parmigiano Reggiano Consortium, the amount of fraud is almost as big as product sales. Sales of the real product are around $2.44 billion, while fraudulent cheese is a $2.08 billion market. Understandably, they're not very happy about that.
Additionally, both the names Parmigiano Reggiano and parmesan are strictly controlled in Europe. Only cheese manufactured in very specific parts of Italy can legally be referred to by those names. Elsewhere in the world, the regulations are less strict. While Parmigiano Reggiano is still a controlled name, generic cheeses produced elsewhere can be called Parmesan. This makes it a little easier for fraudsters to sell fake Parmigiano Reggiano worldwide, which results in massive losses for the authentic cheesemaker.