Heardle Unlimited is like the Spotify version of Heardle but players can use it more than once a day.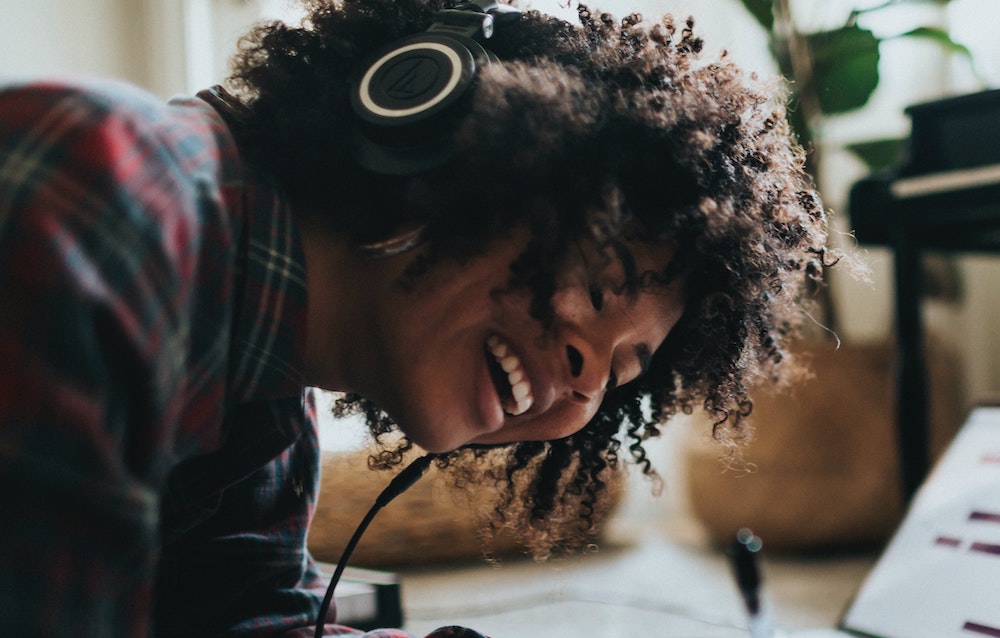 Wordle is one of the most popular daily word games on the planet and is the perfect way to kill some time while waiting for that oil change or watching the kid run around at soccer practice. Unfortunately, not all of us are that great with words, which is where the musical version of Wordle comes into play. With Heardle, game players get to take a shot at guessing songs instead. Gameplay is set up much like Wordle with players getting one song each day, but Heardle Unlimited allows players to play and guess as many times as they wish throughout the day.
HEARDLE UNLIMITED IS THE MUSICAL VERSION OF WORDLE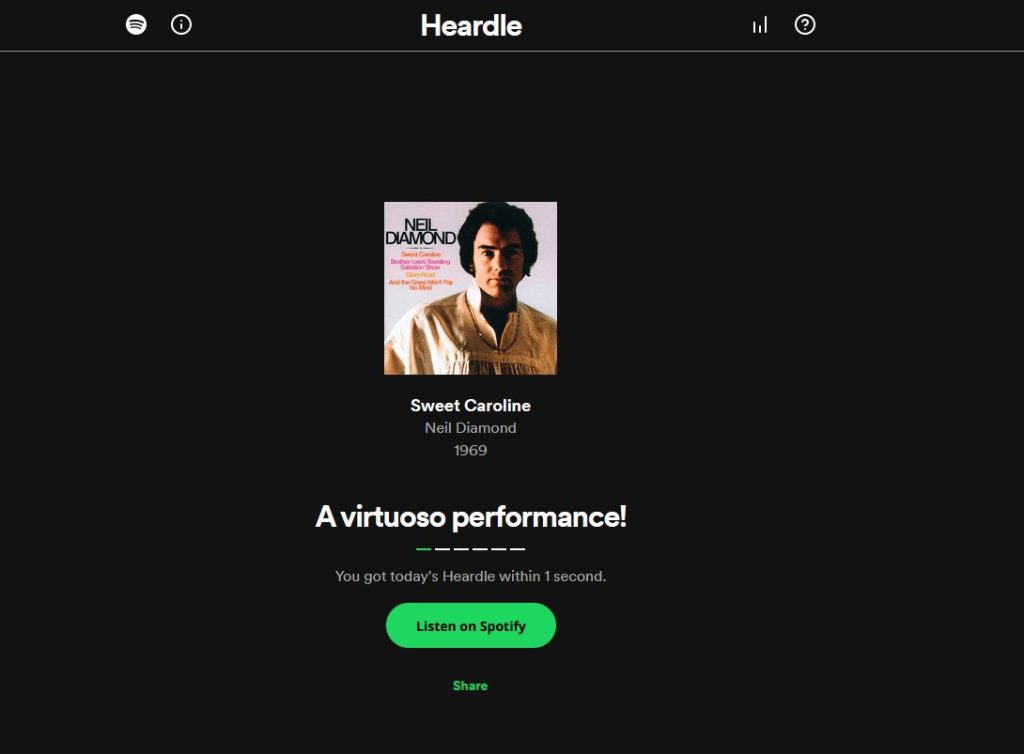 If you haven't heard of Wordle by now, then you've been living under a rock for the past couple of years. As the popularity of the game grew, tons of knockoffs started to appear. One of those knockoffs was Heardle (now Heardle Unlimited), which took the basic premise of the Wordle game, but used music instead of words.
HEARDLE UNLIMITED IS NOT ON SPOTIFY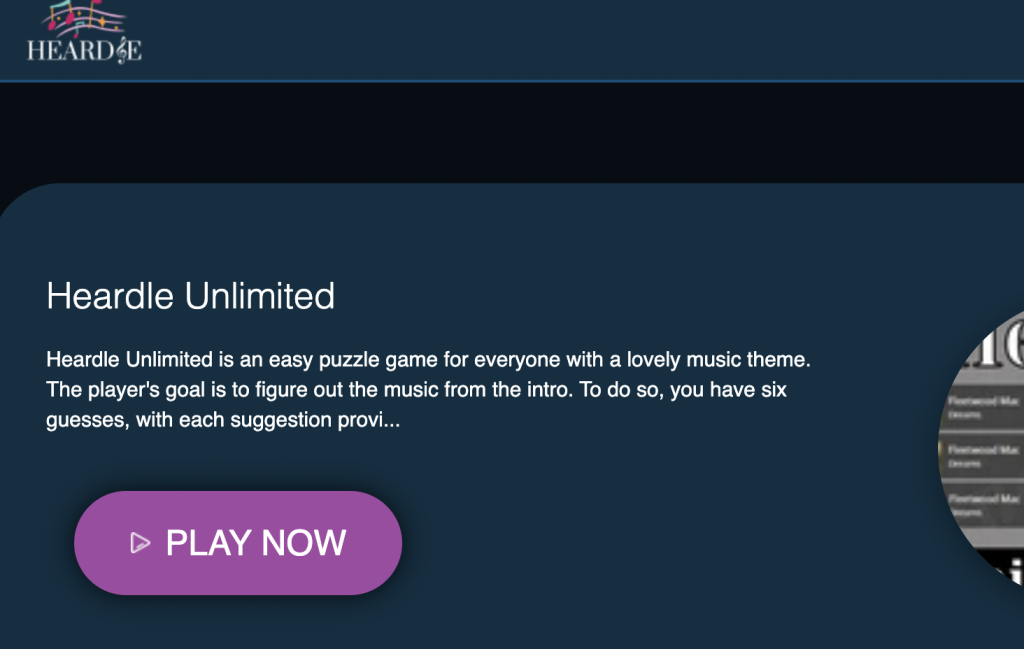 Like Wordle, the Spotify version of Heardle can only be played once a day. But there are many out there who wanted more than just one shot at guessing a song, so Heardle Unlimited was created. It is exactly the same game as Heardle, except with Unlimited, players get the chance to play the game over and over again. With Heardle Unlimited, players can truly test their knowledge of music.
The game is simple to play. Although Heardle claims it can only be played on its official website, there are other sites out there that allow for Heardle Unlimited to be played. We will use the official website as an example.
The game uses music from the most streamed songs over the past decade. Game players get brief snippets of the song and after hearing the first one, there's a chance to guess it. The snippet is one second long. If you think you know the song, type in a guess, and if wrong, move on to the next audio sample.
The second clue is two seconds long, then four seconds, seven seconds, and 11 seconds. Finally, if the song just isn't known, Heardle will give players a whopping 16 seconds to figure out the title. As mentioned, players get one chance per day to play the game, that is, unless players find their way to Heardle Unlimited.
One nice twist to Heardle and Heardle Unlimited is that players are given the opportunity to skip. The game includes a skip button, so you don't have to guess each time you hear a snippet of the song. Of course, like the popular Wordle game, players want to guess the correct answer in the fewest snippets.
WHO IS THE CREATOR OF HEARDLE?
This question is much more difficult to guess than listening and trying to guess the correct song title in Heardle or Heardle Unlimited. "It's gone massive really quickly, so I'm still figuring out how to stay anonymous," explained the person behind Heardle. What is known is that this person is a London-based web and app designer and when he spoke with Variety, it was on the condition of anonymity.
He did take time to explain just how the idea of Heardle came to fruition. "I was working for a start-up until December 2021, when they ran out of money, and I was out of a gig," said the Heardle creator. "I'm still between jobs at the moment, and like everyone in January, I began playing Wordle and posting my scores on a group chat site where my friends would also talk about their scores."
It was one of their DMs where they joked about creating their own game like Wordle, but with music. Heardle creators' friends immediately jumped on the idea, pushing him to create the game. It didn't take long, as the very first prototype of Heardle came the very next day.
The game was first released to "all eight" friends, and then finally to the world. "From there it snowballed and went from being something where I was killing time with friends to this bigger thing," the programmer explained. "It's effectively just me creating, curating and running it all."
While Heardle's creator (and to some degree Heardle Unlimited) has done a great job of remaining anonymous, there was a posting by Glenn Angelo on the Product Hunt website. In this post, Angelo identified himself as the actual creator of Heardle. In his post, Angelo claims, "A bad pun inspired me to make a Wordle-inspired musical intro guessing game."
To make this post seem a little more real, Angelo, per his LinkedIn profile, claims to be the founder and director of Studio Omakase, a London-based digital design firm. So, maybe Angelo's claims are real. In Angelo's Product Hunt post, he also spells out the simple rules to Heardle.
SPOTIFY PURCHASED THE ORIGINAL HEARDLE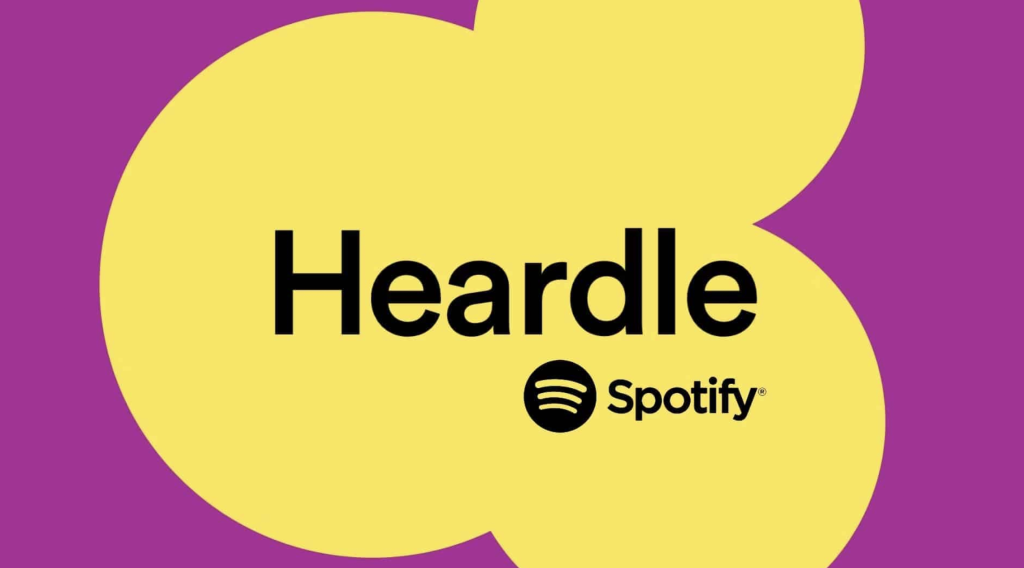 When Heardle was first created, it was designed to run on the music and audio-sharing platform, Soundcloud. That changed only a few months after Heardle was released to the public, when Spotify, acting much like The New York Times when it bought Wordle, purchased the game. This purchase is just one more way for Spotify to bring ears to their music streamer.
"We are always looking for innovative and playful ways to enhance music discovery and help artists reach new fans," said Jeremy Erlich, Spotify's global head of music, in a statement. "Heardle has proven to be a really fun way to connect millions of fans with songs they know and love and with new songs… and a way to compete with their friends as to who has the best musical knowledge. Since its debut, the game has quickly built a loyal following, and it aligns with our plans to deepen interactivity across the Spotify ecosystem."
HEARDLE UNLIMITED IS NOT RUN BY SPOTIFY
While Spotify controls the once-a-day Heardle, they do not control or run the offshoot Heardle Unlimited. In fact, we aren't sure who actually runs Heardle Unlimited. But as we described before, it is the same exact Heardle game, only with the Unlimited version, gameplay isn't limited to one song.
The games are located on different websites, but the gameplay remains the same – players will have six tries to guess the Heardle song, with the length of the song snippet increasing with each incorrect guess or skip.
HEARDLE UNLIMITED IS VERY SIMILAR TO NAME THAT TUNE
If Heardle or Heardle Unlimited sound familiar, they do share an uncanny resemblance to a popular game show that started way back in the 1950s called, Name That Tune. This show appeared on the radio when it first was introduced to the public and then it hit television. In fact, it hit television on a number of occasions.
Heardle Unlimited's predecessor's first venture on television came in 1953 and ran through 1959. The next time it was on TV was in 1974 and ran for seven seasons. It came back in 1984 but this time lasted only one season. Finally, Name That Tune was revived one more time in 2021 and had Jane Krakowski (30 Rock) as the host and Randy Jackson (American Idol) as the band leader.
---
Whether it is to kill time or because you are simply up for a challenge, Heardle Unlimited offers both. The beauty of Heardle Unlimited is that players don't have to stop playing after one try. They have unlimited chances to play unlimited games, so one can really test their musical know-how.
Heardle Unlimited joins the many Wordle knockoffs such as Lewdle, Moviedle, QWordle, Globle, SWordle, and Crosswordle. These are just a few of the new trends in word games. At least with Heardle Unlimited, players get to listen to some good jams.
---