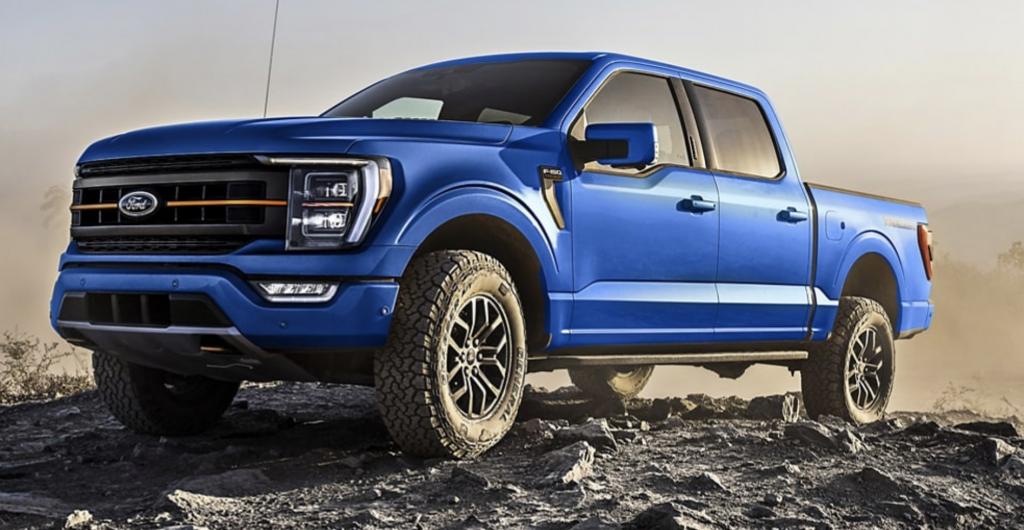 The Ford F-150 Lightning may look like plenty of cars on the company's roster, but its unique and energy-efficient nature makes it a manufacturing revolution. For starters, the F-Series is the most popular series for Ford. In 2021, the car company sold more than 750,000 vehicles from that series, catapulting it worldwide. It's impressive that the company could sell that many cars even under immense supply chain stress. Now, the company plans on making an electric version of the F-150 to continue meeting consumer demand.
The announcement that the Ford F-150 Lightning would start production occurred last May. Though many rumors circulated about when the vehicle would officially be completed, Ford recently released that the F-150 Lightning is currently in production mode. The Ford electric vehicle is already garnering universal hype, with many acknowledging that the model will be a game-changer for the automotive industry.
The Ford F-150 Lighting takes the car company's basic truck model to a whole new level. The electric vehicle will be entirely run on renewable energy, with a 98 or 131-kilowatt-hour battery pack installed that allows the car to move considerable distances. The Ford F-150 Lightning can travel 230 and 320 miles per charge, with 452 horsepower. If you upgrade the Lightning to an extended pack, you could be looking at up to 580 horsepower. With its substantial range and unstoppable force, this electric vehicle could take over Tesla's standing in popularity and sales.
Many may want to know the F-150 Lightning's power regarding towing and maneuvering heavy cargo for truck lovers. The electric vehicle has a maximum tow rating of 10,000 pounds, while its max payload is 2,235. Though it's not the highest towing amount for Ford vehicles, it is far higher than a majority of the company's truck roster. The F-150 Lightning's towing ability is closest to Ford's EcoBoost F-150 configuration, which can similarly tow up to 10,000 pounds.
One of the most impressive pieces of innovative technology available with the F-150 Lightning is its spacious frunk. For those who don't know much about trucks, a frunk is the colloquial term for trunk space located in the car's hood. Many trucks are starting to incorporate this spacious tactic, as it gives a weatherproof option to those transporting less water-resistant cargo. When the F-150 Lightning is finally released, it'll have the most ample frunk space amongst all available trucks, measuring 14.1 cubic feet. The Ford's frunk will have a 400-pound capacity, drainable floors, and electrical outlets. If you have an extra passenger riding with you, they can charge and use their phone in the comfort of the Ford Lightning's roomy frunk.
The F-150 Lightning will have speedy acceleration as well as off-roading capabilities. It has a quick 0-to-60-mph acceleration rate of about four seconds, a comfortable pace for most competent drivers. The electric vehicle has an instantaneous torque and smooth throttle for off-roading, perfect for traversing rough terrain.
Though the electric vehicle hasn't been released to the public yet, drivers are already excited about the F-150 Lightning. This vehicle will surely be a profitable success with its unparalleled power and speed.