The best white winter boots come from Whetung, Columbia, Northern Hearts, and Wild Strength.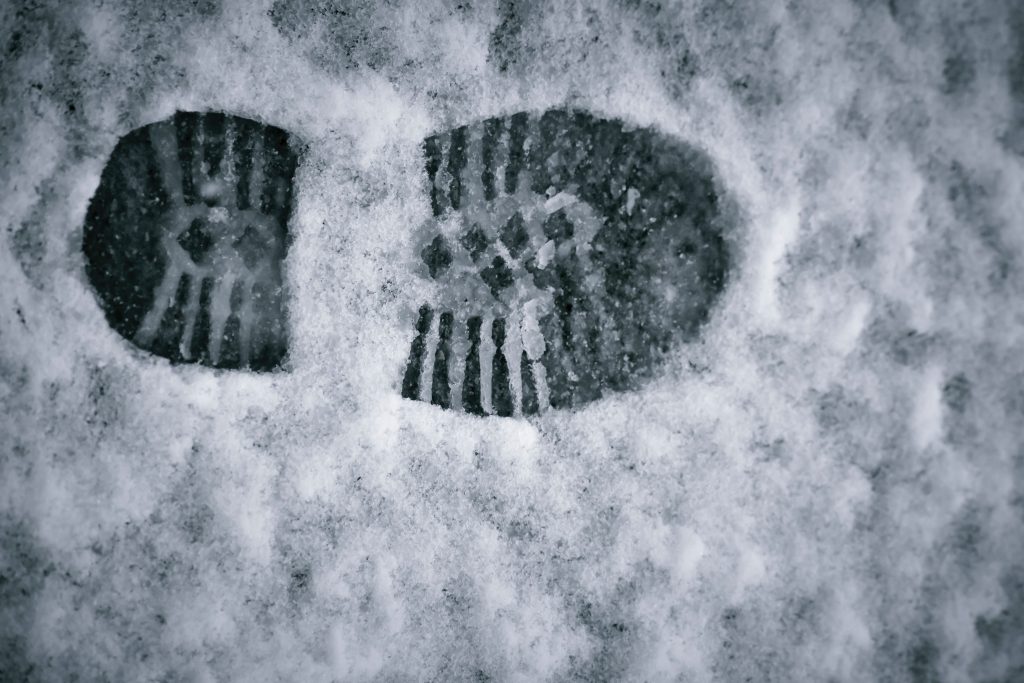 On a day when the weather is bitterly cold, and the earth is covered with snow, keeping your feet warm and dry is essential. For centuries, indigenous people have been crafting snow boots from hide from animals such as seals, bears, moose, and more. These traditional boots are still made today. When shopping for a pair of winter boots to keep your feet protected, consider a pair of white snow boots crafted in a traditional way.
Mukluk is the traditional name for snow boots worn throughout the American Arctic by the Inuit and Yupik people. Though these soft shoes can be made from various hides, the work Mukluk derives from a word that translates to bearded seal. Mukluks were traditionally lightweight, allowing hunters to run and quickly maneuver through terrain easily. 
Investing in white snow boots that have been crafted traditionally is an investment well worth it. With a traditional pair of boots, you can ensure that you are purchasing a product that has withstood the test of time and been perfected over many years.
Many artists who make traditional footwear often utilize modern aspects, such as hard bottom soles, to further add to the quality and longevity of the shoe. You will also be making a bold fashion statement.
Manitobah's Christi Belcourt Tamarack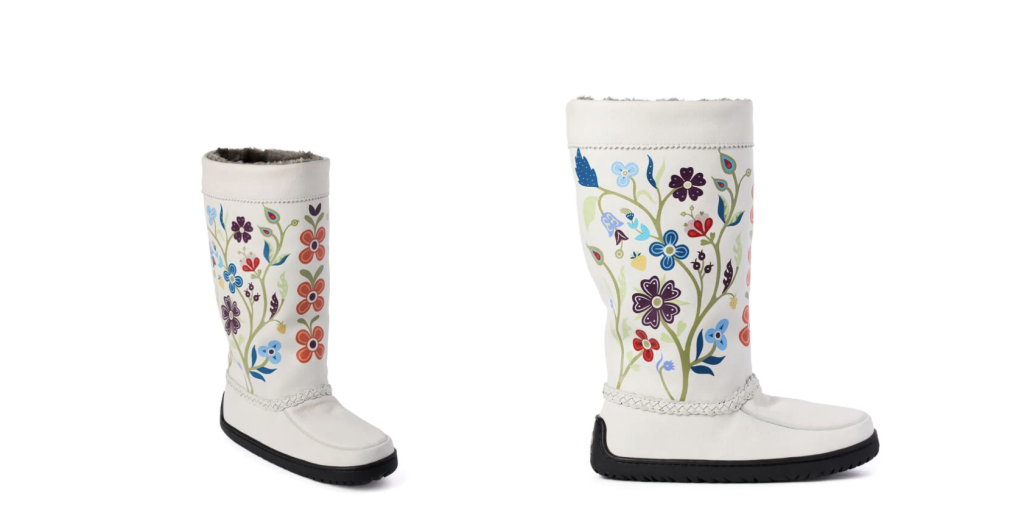 Price $325
This white snow boot features a beautiful floral design in rich, bold colors that were inspired by Métis embroidery and beadwork. The boots are a foot tall, and the inside is lined with grey sheepskin. The boots are made of white-grain leather. The sole of the shoe is a hard, black Glacier Grip Tipi.
These white boots not only serve as useful shoes during the cold winter months, but they also serve as a piece of wearable art. The floral artwork on these boots starts right above the ankle and goes up to just about the top of the shaft of the boot. The artwork displayed was done by Christi Belcourt, who is from the Métis tribe.
These white snow boots have payment installment options. One option you have to choose from is to pay the total price in four interest-free installments. Additionally, you can choose a payment plan for around $30 a month. The payment options make these boots accessible for anyone who may not have the total amount to spend at one time.
Wild Strength Real Leather MocLux with Fur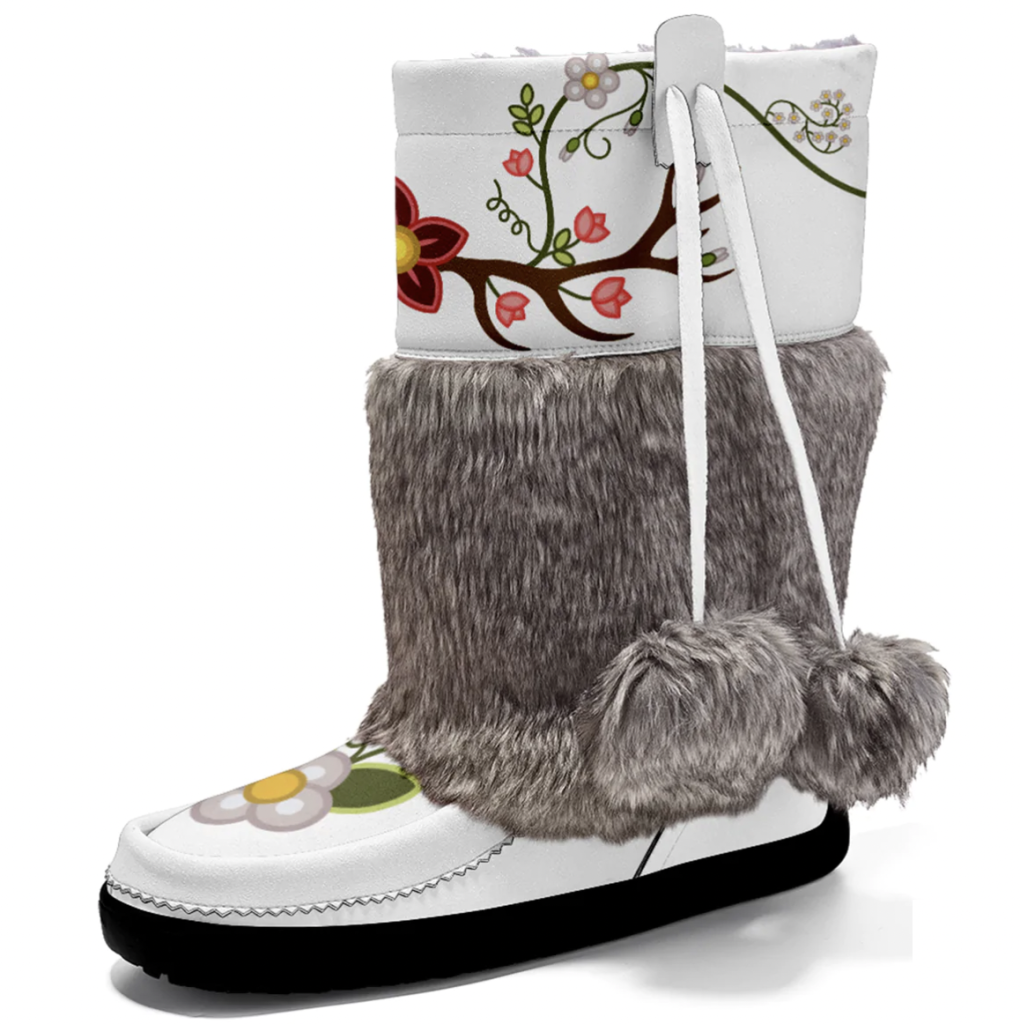 Price $199.95
These genuine leather, white snow boots, or mukluks in indigenous terms, feature an exclusive design. This means that the design on the boots won't be found anywhere else, setting this product apart and making it truly special.
The design features florals, antlers, and beautiful greenery. The design is displayed on the shoelace part of the boot, though this boot doesn't have shoe laces, and on the upper calf portion.
The boot hits about mid to upper calf. It is wrapped with fur from the ankle towards the top part of the white snow boot. Included are leather ties with fur poms. The sole is rubber, providing durability that will last years. Inside is lined with the softest and warmest Sherpa, perfect for keeping your toes warm when venturing out in any winter weather.
These mukluks are made to order. Expect to receive them within four to five weeks of placing the order. Before wearing these white snow boots, complete with fur and a cozy Sherpa lining, it is suggested to spray them with a shoe protector.
Whetung Mini Leather Mukluks-White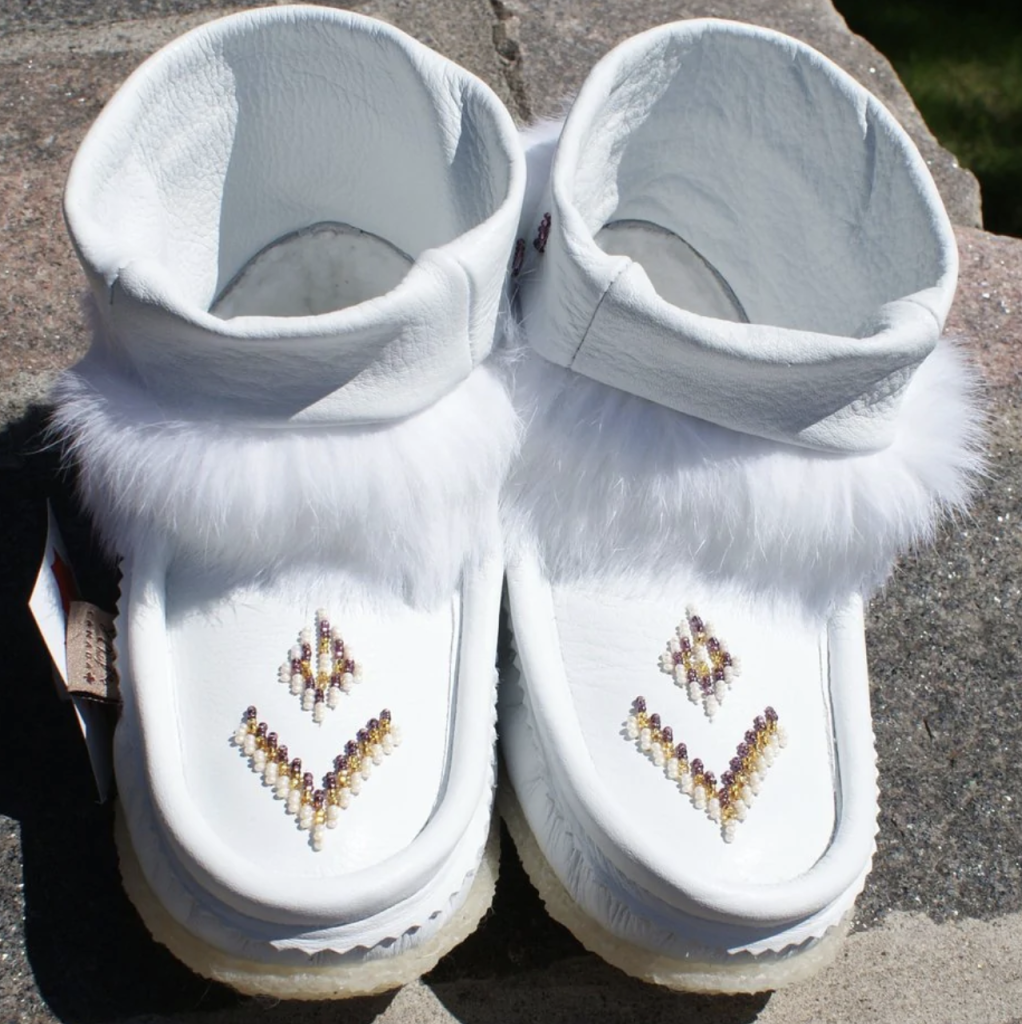 Price – $145
These white snow boots differ from traditional mukluks, which are usually knee-high. These boots stand about five and a half inches above the ankle. Like traditional mukluks, these white snow boots are sewn together, not glued together. The boots are made from genuine leather and feature gorgeous white rabbit fur on the inside.
Inside these white snow boots, toes will be warm and cozy with a fleece lining surrounding them. This pair of footwear is complete with a simple beaded design. The beads are subtle yet bold in white, purple, and gold. The bead design is displayed around the ankle portion of the boot and on the shoelace part of the boot. 
This boot has everything one would need in winter shoes. It has practicality, comfort, and style. To ensure this white snow boot can be worn outdoors, on all terrain, it has a thick rubber sole.
Northern Hearts Design Mukluks – Custom Made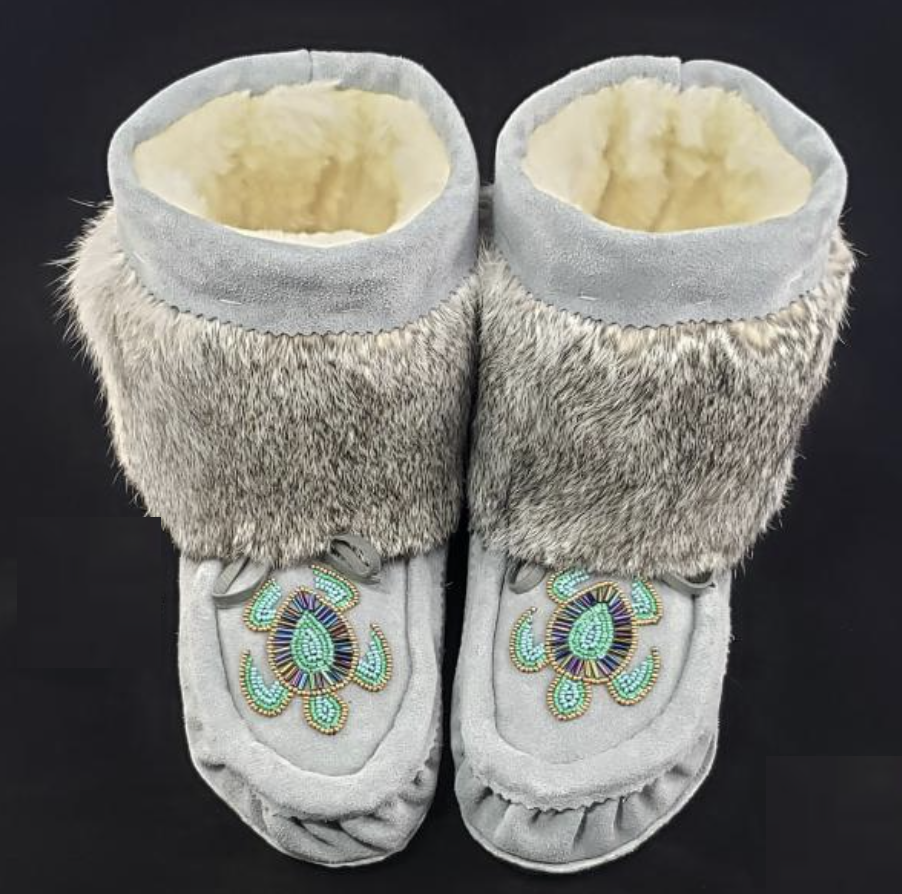 Price – Starting at $350
There could be no better option for a white snow boot than one custom-made. If opting for a custom-made pair of Mukluks, you will be opting for attention to detail and quality that is unmatched. Through the custom shoe process, you will be able to have your shoe made by foot tracing. The calf and height preferences will also be noted and included in any custom shoe build.
These custom-made white snow boots, or any other color you decide on, will be made from reinforced fur, fleece backing, and thermal insoles. The boots will also have the option of being re-soled without any damage to the body of the boot, making for a product that will last generations.
This custom option allows you to select every aspect of the design. Customize beading, colors, material, size, and more. Throughout the customization process, buyers will be in direct contact with the artist to ensure confidence with ordering. Each custom order takes around five to seven months to complete.
Columbia Women's Slopeside Peak Luxe Boot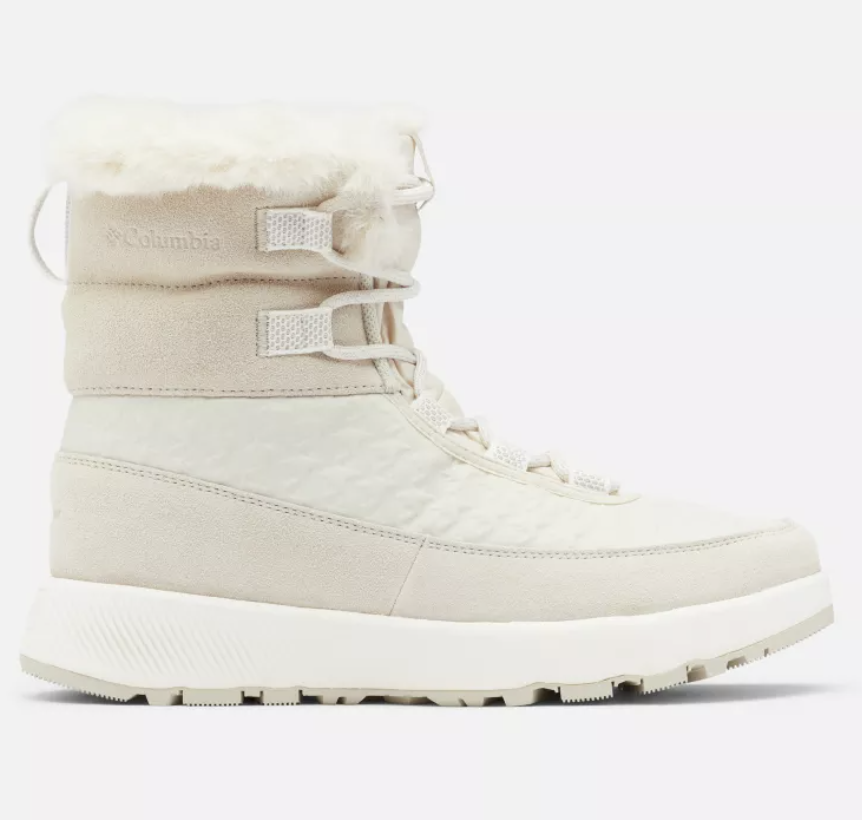 Price – $130
Though this is not an indigenous-made Mukluk, this is still a quality white snow boot made by the well-known outdoor company, Columbia. The boots are made from waterproof suede and other textile materials. Toes stay warm with 200g insulation. You can expect those feet to be warm and dry in weather conditions that are snowy and wet.
These modern-day boots incorporate a technology called Techlite. This is a responsive cushioning that absorbs impacts and gives a high energy return. You can quickly and comfortably hit the ski slopes with these white snow boots.
---