For a limited time, Burger King is bringing back its Italian Chicken Sandwich with two key changes it will feature a less-processed chicken patty and a round potato bun instead of the traditional oblong one.
Burger King has always been willing to experiment with its menu, offering customers dozens of Whopper variations, low-calorie Satisfries, ambitious Chicken Fries, and an unlikely paring called Mac N' Cheetos. Now, the eatery is bringing back its classic Italian Chicken Sandwich with a bit of a twist. Starting on November 14th, folks will be able to purchase the new BK Italian Royal Crispy Chicken Sandwich for just $5.49.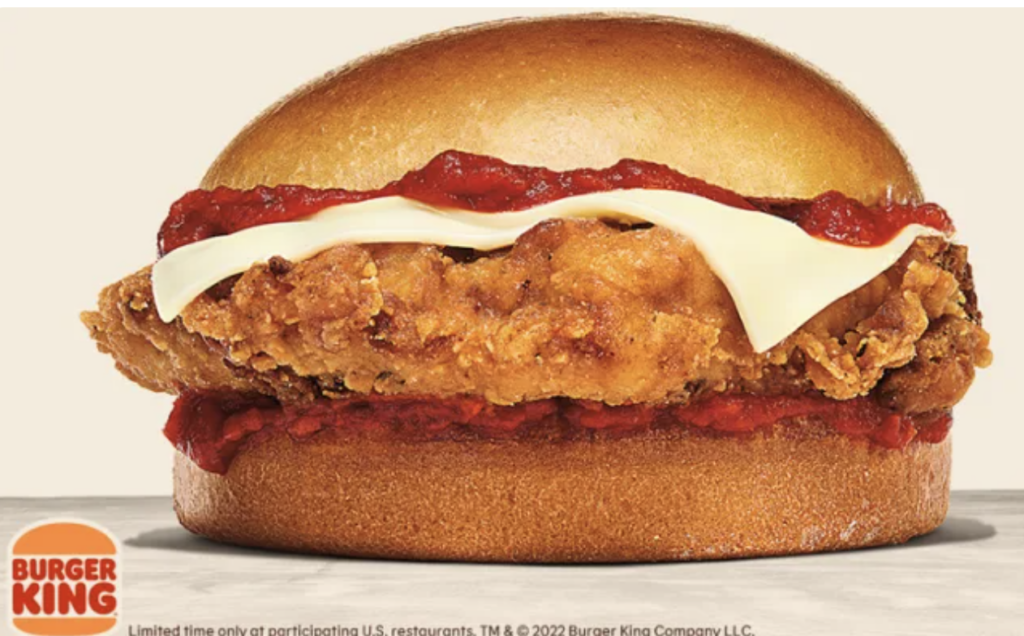 Burger King's Italian BK Royal Crispy Chicken Sandwich features a crispy white meat breast fillet topped with marinara sauce and two slices of mozzarella cheese on a toasted potato bun, The Street reports. Although the limited edition menu item seems a lot like the original, it has two key differences. The chicken patty is much less processed and more natural than its predecessor. The eatery has also swapped the long bun for a more traditional round one.
Meanwhile, Burger King introduced The Royal Crispy Chicken sandwich earlier this year with several variations. This includes the Bacon & Swiss Cheese Royal Crispy Chicken Sandwich, Southern BBQ Royal Crispy Chicken Sandwich, Royal Crispy Chicken Sandwich, and the Spicy Royal Crispy Chicken. The new menu item comes as the company tries to boost dismal sales in its American restaurants with a $400 million investment.
In an announcement made in September, the chain said $250 million will be used for a "Royal Reset" which involves revamping stores, as well as updating technology and kitchen equipment. Another $150 million will form part of a dedicated advertising budget to "Fuel the Flame." This also includes improvements to the restaurant's app to create a smoother ordering process and better-personalized deals for customers.
The fast food chain also plans to invest in more training for employees. President of Burger King North America Tom Curtis said the company is focused on creating a superior experience for patrons. "I'm very proud and thankful that our franchisees have stepped up to invest in our performance together, reflecting the genuine partnership and mutual respect we have built between the franchisor and franchisees," he said in a statement.
"I believe in this team, this plan, and a bright future as we evolve and enhance our guest experience and drive profitable growth for the business," the Burger King boss added. The news comes as Wendy's prepares to launch several new foods for the holidays. According to a post on Reddit, fans can look forward to a Peppermint flavored Frosty, an Italian Mozzarella Cheeseburger, an Italian Mozzarella Chicken Sandwich, and Garlic Fries.
Like Burger King, the sandwiches are part of a promotional push for Italian foods. The Frosty is just a fun twist for the festive season, with peppermint syrup mixed into the regular vanilla drink. Wendy's new items were immediately met with excitement from food lovers. While some mint haters complained about the loss of vanilla, most were excited to see a tailored holiday beverage.
Meanwhile, Burger King's Italian BK Royal Crispy Chicken Sandwich will only be served while supplies last, nationwide. So if you're excited to try an Italian twist on an old favorite, you might want to grab one as soon as possible.