Burger King is introducing a limited edition super spicy Ghost Pepper Whopper just in time for Halloween.
Brands are starting to release their Halloween-focused products for the spooky season. Burger King has a visually stimulating menu addition to celebrate the upcoming holiday. For a limited time only, the classic Whopper will get a spicy revamp for Halloween.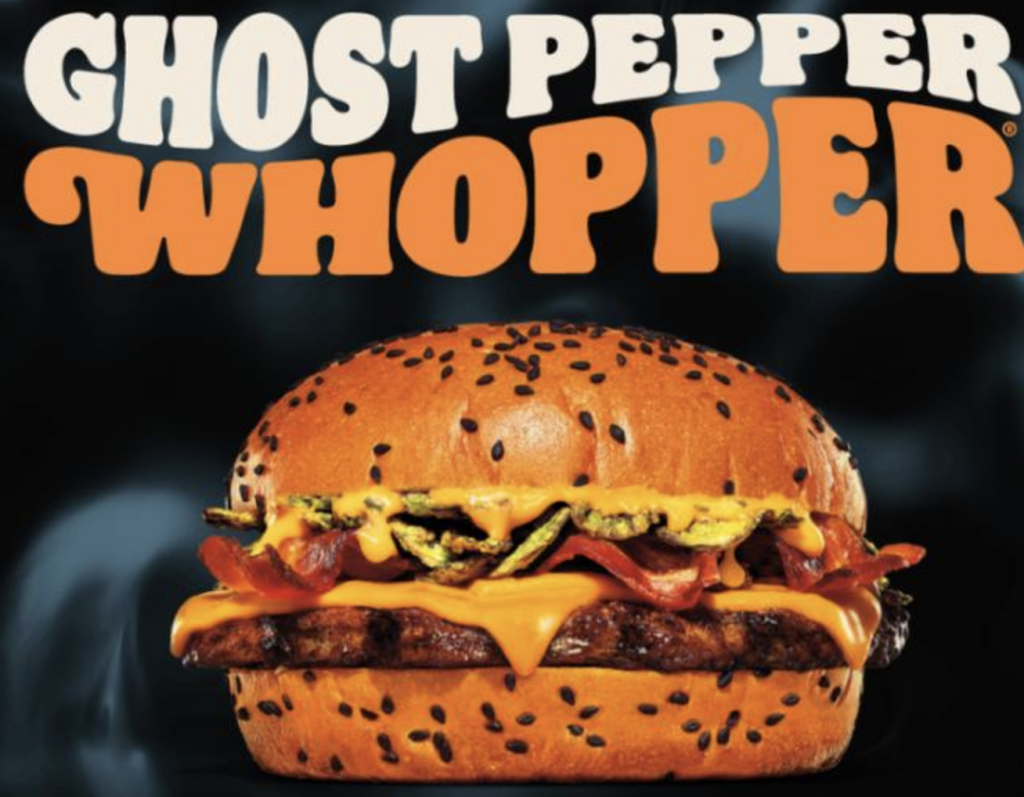 The Ghost Pepper Whopper will have the look and quintessential style of a standard Whopper with a spicier twist. Instead of mayo or another condiment, the sandwich will have spicy queso spread as well as an extra hot ghost pepper cheese. To emphasize the Halloween theme, the iconic sandwich will feature two orange-colored buns to get the public to celebrate the spooky season correctly.
Though specific Burger King locations have already included the Ghost Pepper Whopper on their exclusive menus, some locations won't have the burger until October 18th. The limited-time sandwich will be available until the end of October, giving consumers plenty of time to try the fast-food chain's spiciest offering. To honor the newest Halloween release, Burger King is adding an electromagnetic field ghost detector to those with the chain's app for users to check their surroundings for paranormal activity.
Those who are Royal BK Members will be able to have access to the virtual ghost detector, as well as a bonus prize for using the application. Those who open the detector can win a meal for two, which includes the new Ghost Pepper Whopper. Loyal customers are already tweeting about the product, applauding its extreme heat and Halloween aesthetic.
The ghost detector and the free meal will only be available for Royal Perks Members between October 17th and October 31st. Though the limited-edition feature will only last for a short time only, people can still earn Burger King rewards by purchasing through the application. For every dollar spent through the app, users can gain ten crowns which they can use to discount future purchases.
More companies are unfolding marketing campaigns and unique products to celebrate Halloween due to a prediction about October 2022's elevated revenue. Analysts believe that Halloween spending will increase by a few hundred million this year. According to the National Retail Federation's holiday survey, Halloween shopping in total was around $10 billion last year, while this year may increase to $10.6 billion.
Burger King launched a Youtube campaign to drive sales for the Ghost Pepper Whopper. In the video, spooky sounds play in a dimly-lit haunted house, playing into horror cinema's key tropes. According to the video, two Ghost Pepper Whoppers and small fries will be priced at $10 in participating stores.
Burger King is no stranger to unleashing Halloween deals and menu items to celebrate the spookiest month of the year. In 2018, the fast-food chain wanted to provide a sandwich that embodied the creepiness of the holiday, which led to a green-bun chicken sandwich. Known as the Nightmare King, the burger included flame-grilled beef, a chicken filet, melted American cheese, bacon, onions, and two spooky green buns.
Burger King's revamp of its iconic Nightmare King might not be as visually scary, but it still encapsulates the quintessential orange colors of the holiday.
---