Walmart has promised to sell all Easter food, except eggs, at prices no higher than they were in 2022, despite record inflation rates.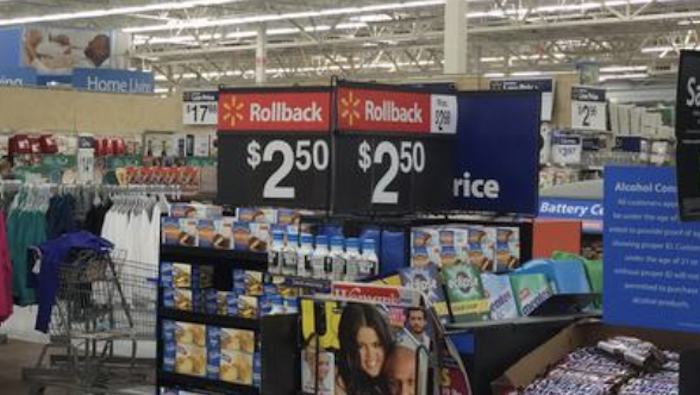 The pinch U.S. shoppers are feeling is real. With the global economy in the tank, shoppers have seen prices on foods and other essentials shoot through the roof, which does not bode well as the Easter holiday approaches. Many household budgets are already stretched to the breaking point so Walmart, taking a cue from last year's happy customers, has decided to offer its Easter goodies at 2022 prices.
That's right, the retail and grocery giant will not be raising prices on its Easter fare. Now, as we are all aware, prices for most things have risen sharply. The U.S. Bureau of Labor Statistics has reported that grocery prices alone are up 11 percent and they don't expect that number to go down, but probably rise even further.
To put it politely, things are tight. A 2022 survey showed that the cost was up 22.5 percent for an average Easter basket compared to its pre-COVID prices. This is a huge jump for families who were already struggling to put food on the table while also dealing with the higher-than-average prices on essential everyday items.
Eggs are one of the Easter essentials that have seen a price jump at an unprecedented rate. Over the past year, egg prices have risen over 70 percent. These near-record high prices have been seen since avian flu outbreaks continue to be responsible for killing over 58 million commercial and backyard turkeys and chickens since appearing on the scene in February 2022. One must wonder if egg prices will ever return to normal levels.
Walmart actually began its Easter sales last year when they offered an entire basket of "holiday mealtime essentials" at 2021 prices. It was a massive hit as Walmart customers took kindly to the savings on grocery prices. This year, Walmart looks to offer even more for less.
"We know that [saving money] continues to be true for many of our customers, so we've decided to do it again, this time for the Easter meal and basket," Walmart said in a statement. "We're offering both for less than $100 total, so our customers can celebrate Easter without compromise." So, what do these savings look like?
Per Walmart's statement, they know not much can be done about the exorbitant prices seen with eggs, so they have decided to help offset egg prices by lowering the cost of other important Easter essentials by offering an Easter meal at last year's price. This Walmart Easter meal features favorites and staples that include ham, green beans, corn, cherry pie, and many other important fixings, all at a generously low price.
Easter, though, isn't Easter without a fun basket of Easter goodies. Walmart is very well aware of this so they are also keeping an entire assortment of Easter fun at last year's prices as well. Now customers can grab that Easter basket and fill it with grass, Reese's eggs, a Hershey's Milk Chocolate Bunny, plenty of toys, and much more to make the kiddies Easter morning a fun and exciting one.
Walmart definitely has its finger on the pulse of the consumer. A 2022 National Retail Federation survey showed that 50% of shoppers said they would visit discount stores for all of their holiday shopping as prices were climbing to unsavory levels. Another 65% of shoppers say that this new round of inflated grocery food prices will have them cut back drastically on this year's Easter celebrations.
Walmart's move to keep its prices at 2022 levels is no doubt a smart one. They are hoping current customers will not only show up but also tell their friends that there is plenty of Easter savings to be had at Walmart. Easter savings has already begun at Walmart and will continue to do so until April 15.
Unfortunately, not all is Easter-licious when it comes to Walmart news. Although the world's largest retailer is doing all it can to make sure Easter is a happy and hoppy one for families, its yearly economic forecast paints a much different picture. With economic uncertainty staring them (as well as everyone else) in the face, Walmart sees its full-year earnings coming in well below its initial estimates.
According to Walmart, they are now forecasting through January 2024 earnings between $5.90 and $6.05 per share. This comes in below the analysts' estimates of $6.50 per share. Walmart is fighting a losing battle with its product suppliers which is the cause of its price hikes.
Walmart's Chief Financial Officer, John David Rainey, told Reuters, "There's still a lot of trepidation and uncertainty with the economic outlook. Balance sheets are continuing to get thinner, savings rate is roughly half of what it was at a pre-pandemic level and we've not been in a situation like this where the Fed is raising at the rate that it does."
For now, though, consumers will take what they can get. Walmart is offering great savings on Easter essentials and meals, so customers can hop on over to their nearest store and grab what they can. There is one more thing that Walmart prides itself on and can hang its bunny ears on – saving time.
Walmart is well aware that the holidays can be a busy time for its customers, so it makes shopping for Easter as fast and as convenient as possible. A simple walk through your local Walmart and customers will see aisles of Easter essentials right next to each other, making for quick selections. If time is truly an issue, then perhaps finding what one needs online will work and either having it ready for curbside pickup or delivery to the home.
Nothing says Easter fun like Easter savings and Walmart is offering both. 2023 Easter items at 2022 prices sound like a winner to us, so hop on down and snag some savings. And please, have yourselves a Happy Easter.
---